Looking to dress up those kitchen windows? You're in the right place! Your options are endless, from the classic charm of café curtains to the sleek vibe of roller shades. We're talking about everything from valances that add flair to blackout curtains that keep the sun at bay. The perfect curtain can instantly transform your kitchen, whether for a modern look or leaning toward traditional styles. So, stick around as we break down ten fabulous options for spicing up your kitchen windows.
1. Café Curtains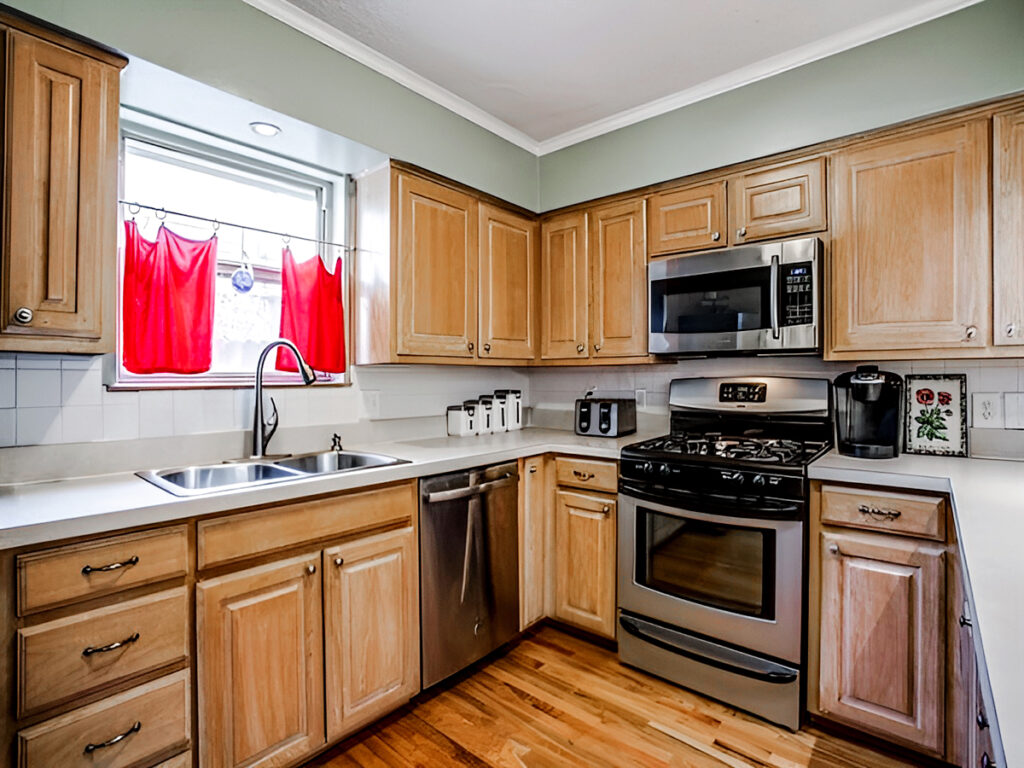 Café curtains—the darling of vintage and cozy kitchen styles! Picture this: It's a sunny afternoon, and you're whipping your famous chocolate chip cookies. The café curtains are perfectly positioned to let that gorgeous natural light flood in, but not so much that your neighbors get a free cooking show. Yes, these charming curtains cover just the lower half of your window, allowing you to have the best of both worlds: light and privacy.
But it's not just about function; it's also about style. Café curtains ooze a retro flair that takes you back to simpler times, yet they're versatile enough to fit into modern kitchens. Do you have a small window over your sink? A pair of café curtains can make it the focal point. Have a breakfast nook begging for some personality? Here's your answer.
What's even better is the endless variety. Linen, cotton, or even lace—choose a fabric that speaks to you. Try classic white, or add a pop of color to match your kitchen's palette. And let's not forget about patterns! Polka dots for a whimsical touch or stripes for a more tailored look—the sky's the limit.
2. Valances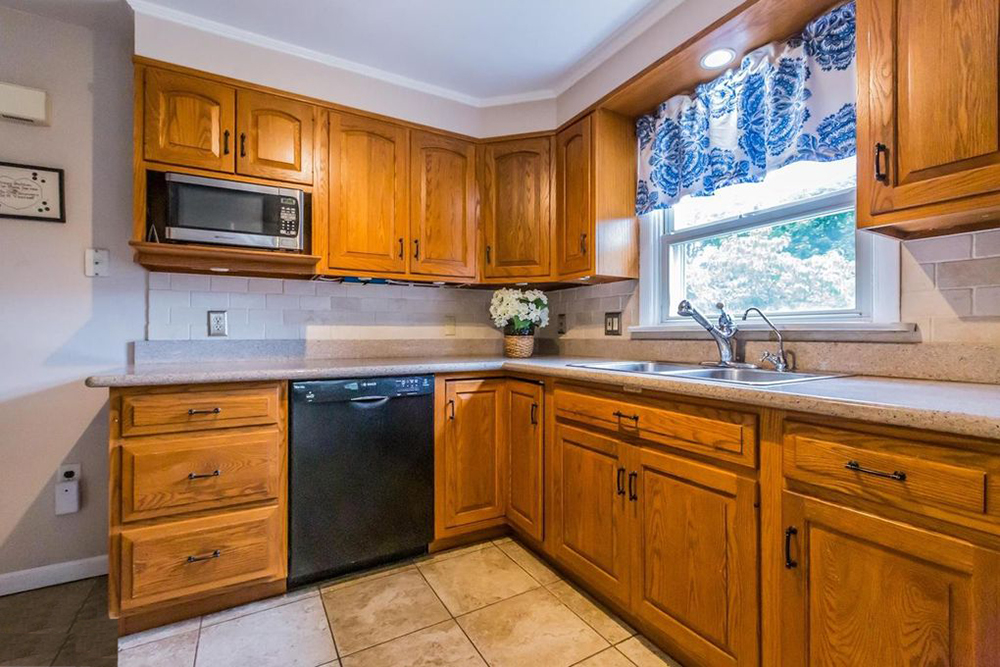 Valances are the cherry on top of any kitchen window! Think of them as the decorative crown molding of the curtain world. A valance isn't just a piece of fabric; it's a statement that screams, "Hey, look at me!" Now, if you're wondering why you'd pick a curtain style that only covers the top part of your window, let me break it down for you.
First off, valances are a decor dynamo when it comes to adding character. Are you a fan of rustic charm? Go for a burlap valance. Do you have a modern, sleek kitchen? A geometric pattern could be your jam. The beauty of valances lies in their ability to become the focal point without being overwhelming. They simply sit there at the top, quietly stealing the show.
But wait, there's more! Valances are your best friend if you're not looking to sacrifice natural light. Because they only cover the top portion of the window, you still get sunshine to brighten up your cooking space. Plus, you can combine them with other window treatments like blinds or sheer curtains for added privacy without the visual bulk.
Another win? They're straightforward to install. Most valances come with a pocket sewn into the top, so you only have to slide it onto a curtain rod. Voila! You've just added a sprinkle of style in a matter of minutes.
3. Sheer Curtains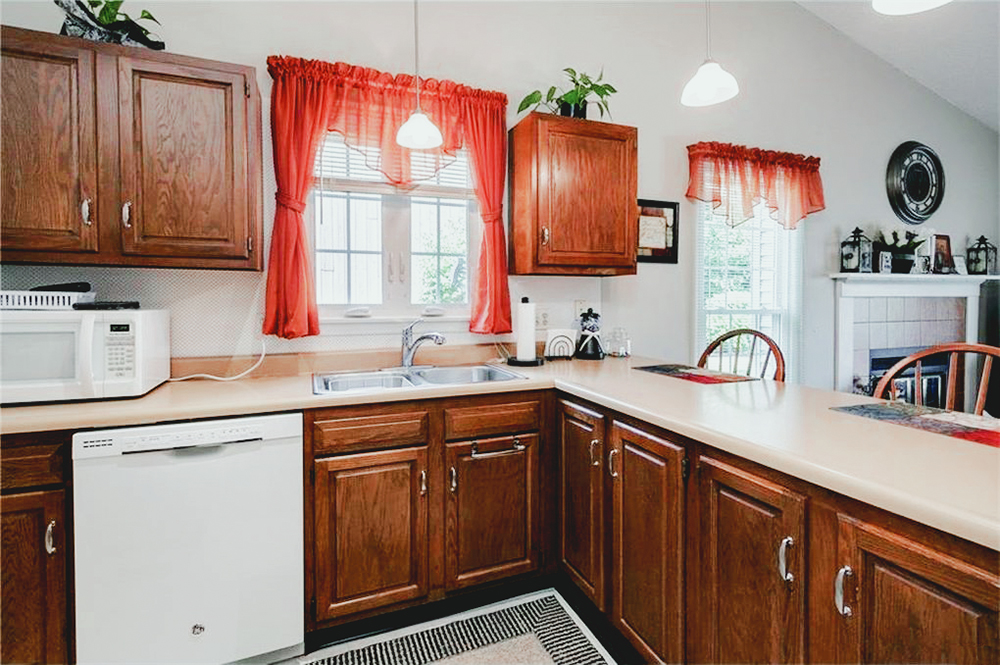 Sheer curtains in the kitchen? Absolutely, and let me tell you why they're a game-changer. Imagine walking into your kitchen, and it feels like you've just stepped into a daydream. The sunlight is streaming in, softly diffused, creating this ethereal glow. That's the magic of sheer curtains for you. They're like the filters of the home decor world—making everything look better, yet so subtle you hardly notice they're there.
If you think sheer means "lacking privacy," think again. Sure, they're not blackout material, but they do offer a level of obscurity. You get that soft light without putting your kitchen on full display for the neighborhood. So dance in your pajamas while making pancakes; the world won't see!
Regarding style, sheer curtains are like the little black dress of window treatments. They go with just about everything. You've got a traditional kitchen? A classic white sheer curtain is timeless. More of a modern maven? Opt for sheers with a subtle geometric pattern. And the color options? From icy blues to warm creams, the choices are endless.
Another big plus is layering potential. If you love the idea of versatile window treatments, sheer curtains are your canvas. Pair them with heavier drapes for a luxe look, or let them fly solo for a minimalist vibe. They're also perfect for those tricky windows—maybe an arch, a bay window, or something tiny. Sheers are so lightweight that you can easily customize them to fit any shape.
4. Roman Shades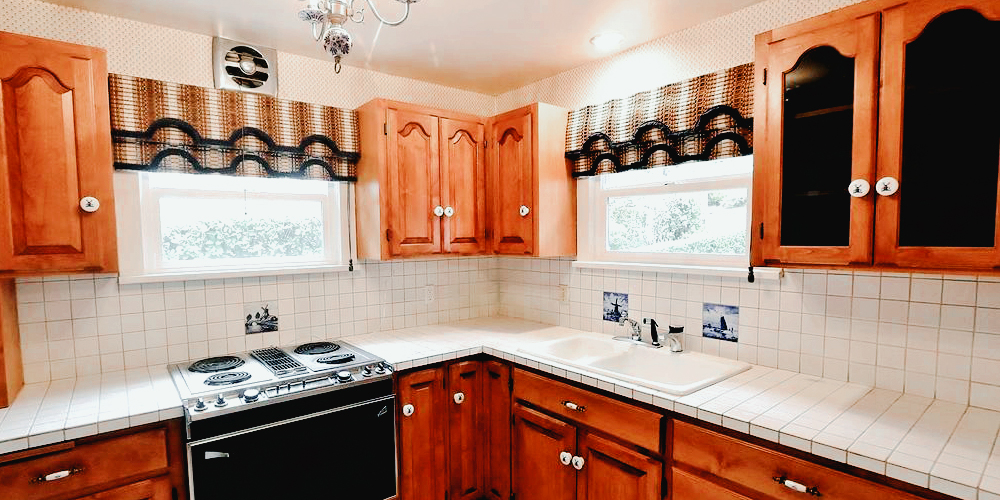 Next is the Roman shades—the epitome of chic functionality in a kitchen. Picture this: You've got a modern kitchen with all those sleek appliances and need a window treatment that holds its own. Enter Roman shades. They're like the sophisticated older cousins in the Curtain family. When you pull them up, they fold into themselves, creating this classy, accordion-like effect. It's like art for your windows, folks!
Let's talk about light control. These shades give you the reins. Want to flood your kitchen with natural light while you devour your morning avocado toast? Pull them up. Need some privacy for a cozy dinner? Lower them down. It's all in your hands—literally!
But don't be fooled by their high-end look; Roman shades are incredibly versatile. You can go as luxe or as casual as you want. A textured fabric like linen can add some rustic coziness, while a silk or jacquard can bring on opulence. And the patterns! The design options are endless, from florals for a touch of romance to stripes for some preppy flair.
Installing them is a breeze, too. Most come with built-in mechanisms, making them super easy to operate. No cords, no fuss! Just a smooth up-and-down motion that feels so satisfying that you'll find yourself playing with them just for fun.
Last, here's a pro tip: Consider a lined Roman shade if your kitchen faces the sunny side. It adds an extra layer of insulation, keeping your kitchen cool in the summer and warm in the winter.
5. Roller Shades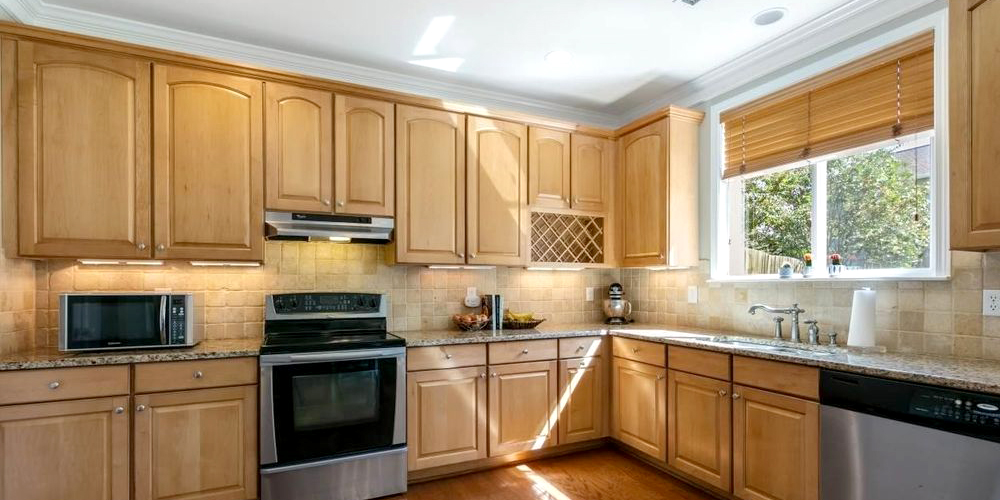 Roller shades, the unsung heroes of modern kitchens. Sleek, simple, and oh-so-functional—these aren't your grandma's window treatments. Imagine you've just finished a kitchen remodel. Stainless steel appliances? Check. Quartz countertops? Check. Now, you need a window treatment that keeps the vibe going. That's where roller shades roll in—pun intended!
First up, let's chat functionality. Roller shades are all about ease. A simple pull-and-release mechanism? Yes, please! You control the light and the privacy with a flick of your wrist. Need sunshine for your morning smoothie prep? Roll them up. Craving some privacy during a candlelit dinner? Roll them down.
But wait, there's more. The variety is unbeatable. You can opt for sheer shades that let in just a touch of light or blackout options that turn your kitchen into a cozy cocoon. And the materials! You get to pick what matches your style, from natural bamboo to smooth fabric.
Speaking of style, they are like a blank canvas. You can keep them simple and let your kitchen decor do the talking, or you can choose shades with bold patterns to make them the show's star. Either way, they offer a clean, uncluttered look that modern decor lovers will swoon over.
And let's not forget about the installation. We're talking hassle-free, folks. Most roller shades come with user-friendly brackets that make DIY installation a walk in the park.
6. Sliding Panels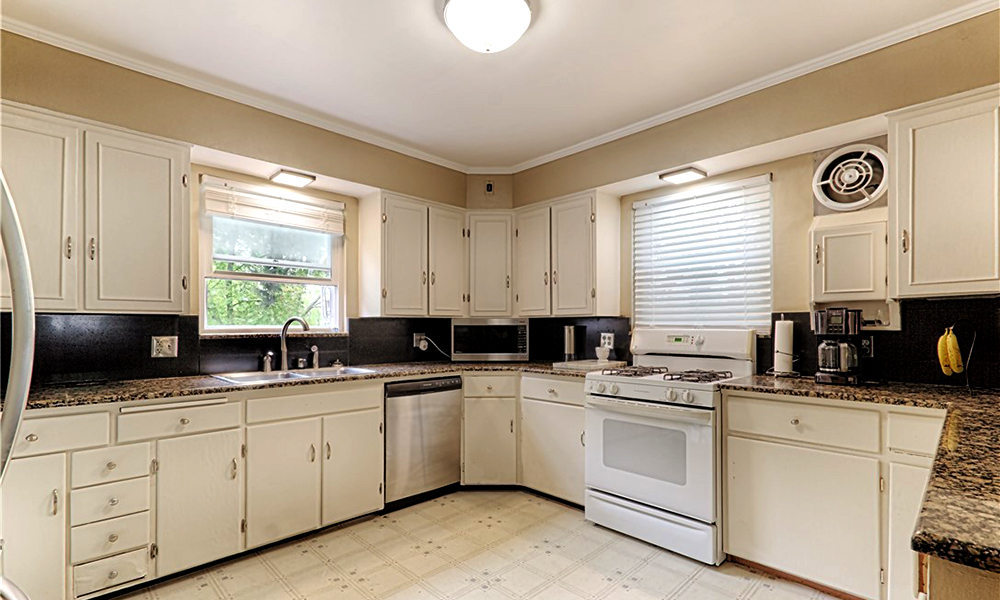 Sliding panels, folks—the ultimate "why didn't I think of that sooner?" window treatment for your kitchen. Picture it: you've got this big, beautiful sliding door leading to your patio or maybe an oversized window overlooking your garden. Regular curtains just won't cut it, and you're looking for something that matches the grandeur. Enter sliding panels, the statement makers of the window treatment world.
First thing first—sliding panels are a dream for big spaces. They slide effortlessly on a track, making it ridiculously easy to control how much light gets in. Want to let the sunshine in while you whip up some Saturday brunch? Slide them open. Need to create a moody atmosphere for a dinner party? Slide them closed. It's as simple as that!
Now, let's talk style. These aren't your average, run-of-the-mill panels; they're the epitome of modern chic. The great thing is they come in a range of materials and textures. Think woven woods for a tropical or rustic feel or sleek fabric for a minimalist look. There's something for every taste.
And customization? Oh, it's on another level. You can go for a layered look with multiple panel tracks or keep it clean with a single track. Even the orientation can be customized. Have them open from the middle or slide to one side—your pick.
As for installation, fear not. They're as easy to set up as they are to use. Most come with a straightforward track system that you can install yourself. If you can hang a picture frame, you can install sliding panels. Trust me.
7. Tier Curtains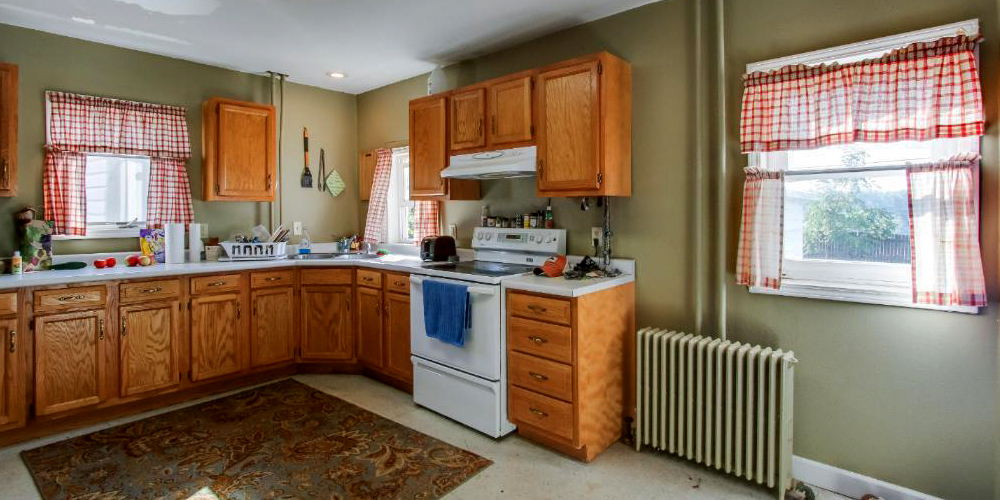 Tier curtains, also known as kitchen tiers or café tiers, are like the perfect rom-com of the curtain world—sweet, charming, and oh-so-comfortable. Picture this: You're walking into a cottage-style kitchen, maybe even your grandma's, and what do you see? Tier curtains adorn the windows, making everything feel cozy and inviting. They're not just for country kitchens. They've got a universal appeal that can elevate any space.
So, what's the deal with tier curtains? These cuties usually come in pairs and cover the lower half of your window, similar to café curtains. But here's the twist: they often come with a matching valance for the top. It's like getting two for the price of one—privacy below, flair above. It's a win-win!
When it comes to fabric choices, you're spoiled for options. Whether it's lace for a touch of vintage charm or a bold checkered pattern for a fun, retro vibe, you can pick a style that makes your heart sing. Floral prints for a classic garden feel? Absolutely. Solid colors for a minimalist approach? You got it.
Now, let's talk installation. If you're not the DIY type, no worries! Tier curtains are among the easiest to hang. Most come with simple rod pockets or tabs, so you just slide them onto your curtain rod and—boom! Instant transformation.
Another bonus? They're perfect for those awkward-sized windows. Maybe you've got a window above your sink that's too small for most other curtain types. Tier curtains are your saving grace. They'll fit just right and still let plenty of light in.
8. Grommet Curtains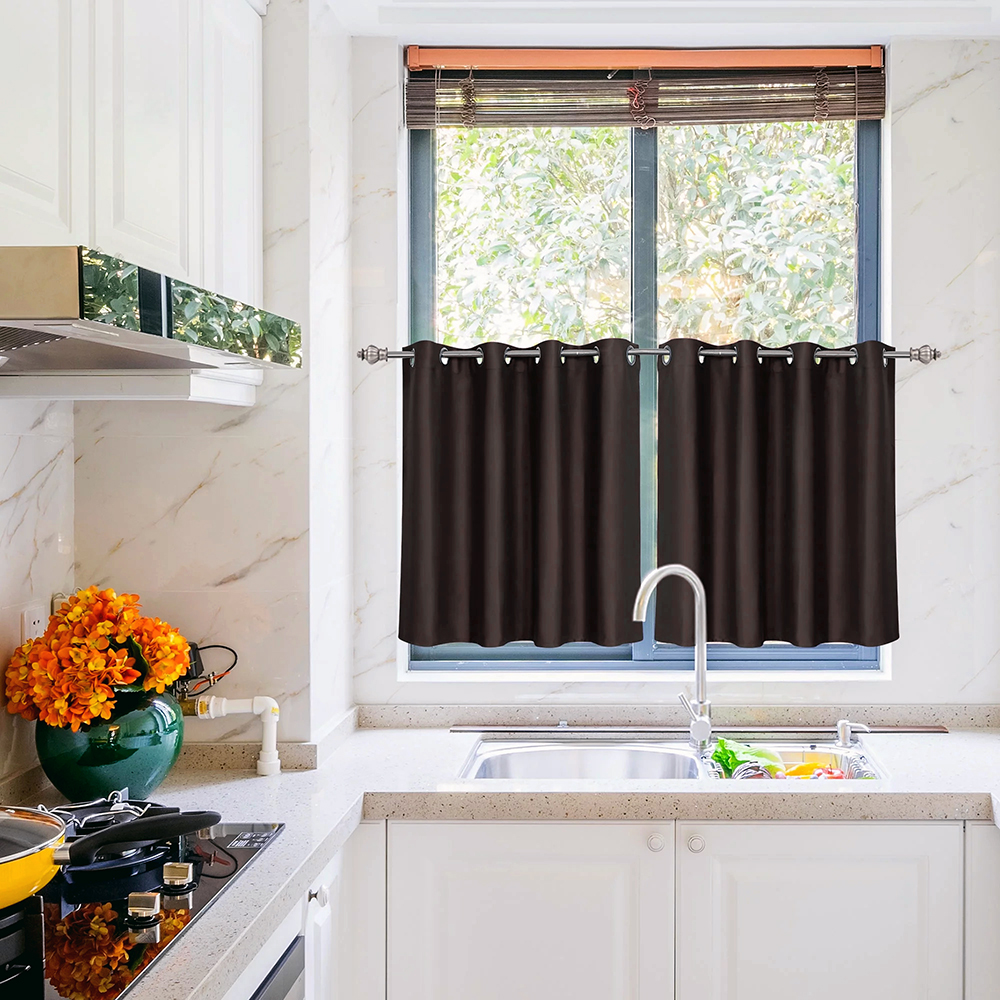 Grommet curtains, the rockstars of the curtain world! Ever walk into a kitchen and think, "Wow, something feels ultra-modern and cool here, but I can't put my finger on it?" Chances are, it's the grommet curtains stealing the show. These aren't your everyday, garden-variety curtains; these are the ones with metal rings at the top that glide effortlessly along your curtain rod.
First up is the "wow factor." Grommets give curtains a clean, crisp look that screams contemporary. They're perfect for modern kitchens with stainless steel appliances or industrial accents. But they're versatile, too. Pair them with a more traditional setting, and they'll act like the modern twist that refreshes the whole room.
Now, let's get into function. Ever struggle with curtains that seem to have a mind of their own, refusing to open or close smoothly? Grommet curtains to the rescue! Those metal rings aren't just for show; they make sliding the curtain back and forth a breeze: no tugs, no struggles, just smooth sailing.
And you won't believe the range of materials and styles. From sheer fabrics for a light, airy feel to heavy, textured materials for a more dramatic look—you name it, there's a grommet curtain for it. Want a pop of color? Go for it! Do you prefer neutral tones? They've got you covered.
Ease of installation is another big perk. If you can thread a rod through a hole, you can install grommet curtains. It's as simple as that. There is no need for hooks, rings, or any other complicated hardware. Just you, the curtain, and a rod. One, two, done.
9. Rod-Pocket Curtains
Rod-pocket curtains—the cozy, dependable friend in the realm of window treatments. Picture this: You want to create that snug, inviting vibe in your kitchen, which screams "Welcome home!" Look no further than rod-pocket curtains. They're the comfort food of curtains, always there to make your space feel homey and inviting.
So, what's a rod pocket? It's a built-in sleeve at the top of the curtain where you slide the rod. Simple, but oh-so-effective. You get a bunching effect that creates a soft, gathered look. These curtains are your jam if you're a classic or cottage aesthetics fan.
Let's chat about versatility. These babies come in every fabric imaginable. Want a lightweight cotton for a laid-back, airy vibe? Done. Craving some plush velvet for a touch of luxury? They've got that too. Patterns? From floral to geometric, your options are endless. And the color choices—oh, the colors! Whether you're into earth tones or something more vibrant, you'll find your perfect match.
Functionality? They've got it in spades. Sure, they may not glide as effortlessly as some of their more modern counterparts, but they make up for it with their classic charm. And if you ever want to give them a different look, just add some clip rings. It's like giving your dependable old friend a fresh, new haircut!
Lastly, let's talk installation. If you can hang a picture frame, you can hang rod-pocket curtains. Slide the rod through the pocket, put the rod on the brackets, and voila—you've just made your kitchen ten times cozier.
10. Blackout Curtains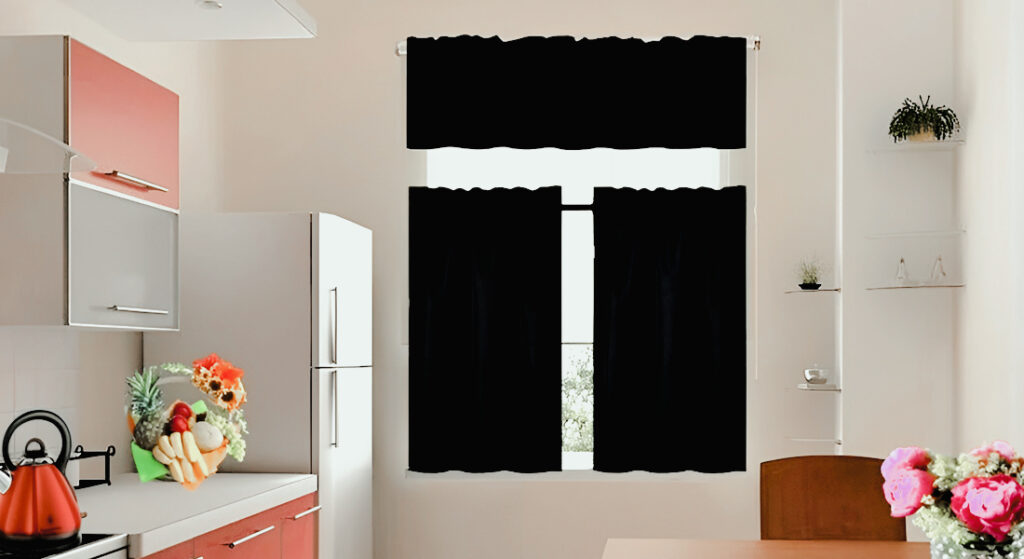 Blackout curtains, the superheroes of the window treatment world! First, let's dive into the hero feature: the blackout. These curtains have a special lining that blocks out nearly all external light. Breakfast time and the sun's too blinding? Pull these bad boys closed. Planning a romantic dinner and don't want the streetlights peeping in? Problem solved. They're also excellent for energy efficiency, keeping the cold out in the winter and the heat out in the summer.
But hold on, it's not just about utility; these curtains bring their A-game in the style department, too. Think luxurious fabrics like suede or velour or even lighter options like silk and linen with a blackout layer hidden underneath. Oh, and the color palette? You're spoiled for choice, from moody blacks and grays to vibrant reds and blues.
Let's talk flexibility. Blackout curtains are like the Swiss Army knife of window treatments. They come in various styles, from grommet to rod-pocket, allowing you to pick the one that vibes with your kitchen decor. You can find them in fun prints or patterns to add personality to your space.
And don't sweat the installation; it's a piece of cake. Whether it's a rod or hooks, the process is straightforward, usually no more complicated than hanging any other type of curtain. You're all set with a couple of brackets and a few screws.