Why black and white curtains? Because this dynamic duo is the ultimate style chameleon. Whether your kitchen screams cutting-edge modern or wraps you in a warm farmhouse hug, black and white curtains are the ticket. They're like that perfect little black dress: timeless, adaptable, and fashionable. Think about it – they can be bold, subtle, elegant, or cozy all at once! So, let's dive into 17 chic black-and-white curtain designs that can instantly elevate your kitchen.
1. Gingham Kitchen Curtains in Classic Black and White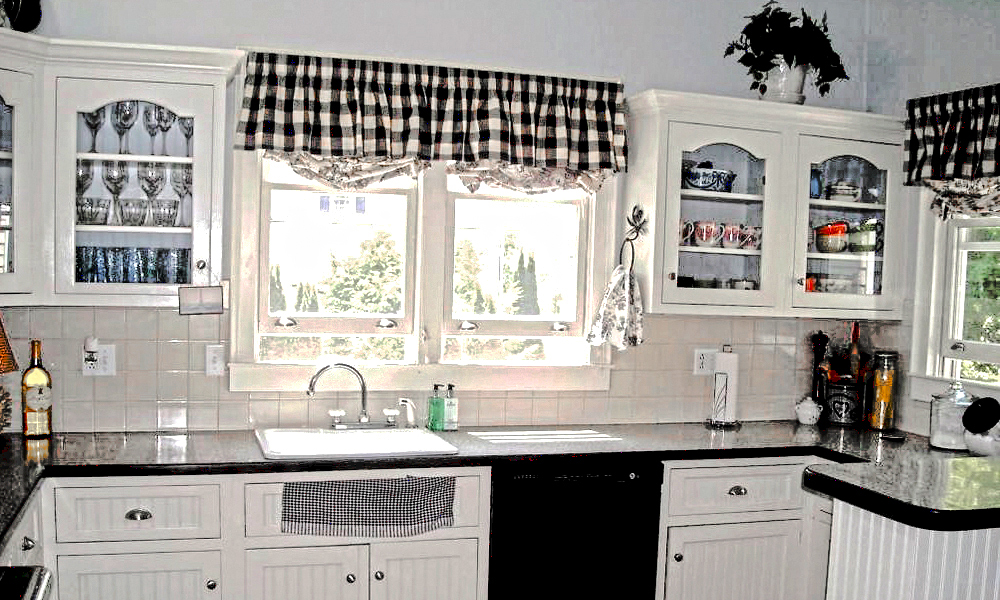 This kitchen design perfectly mixes good old charm and modern-day magic. The black and white gingham curtains immediately catch the eye, adding a rustic, country feel. The space feels clean and bright, with white cabinets and gleaming subway tiles. The glass-front cabinets showcase colorful dishes, offering a playful contrast. Altogether, it's a blend of charm and functionality.
2. Modern Zigzag Flair in a Traditional Kitchen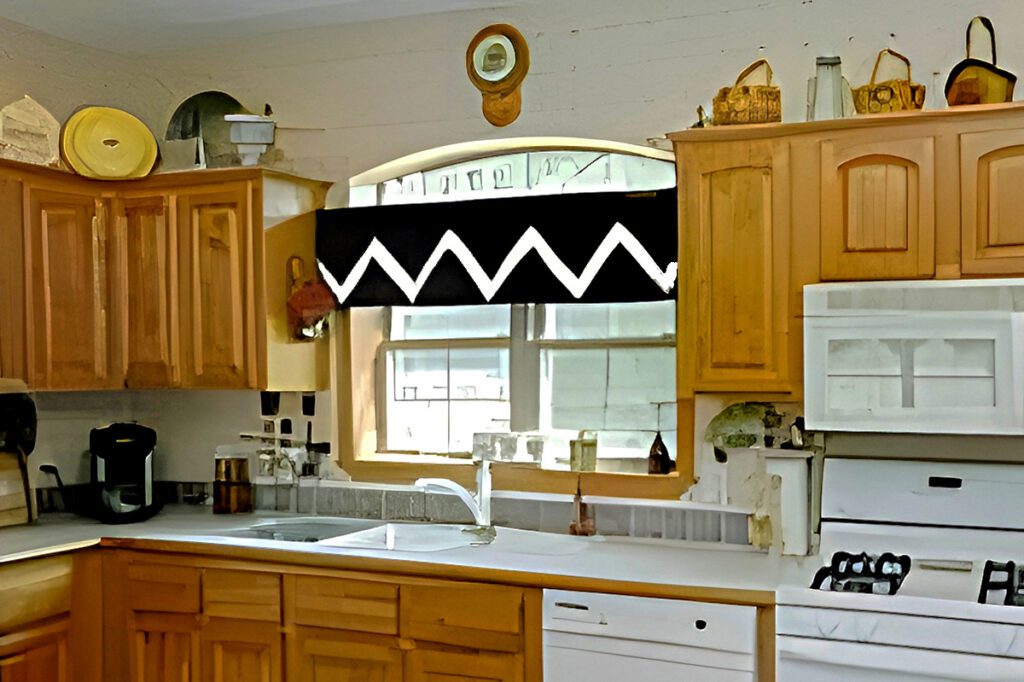 Here, we have a delightful mix of old and new. The bold zigzag pattern on the kitchen curtain stands out, adding a contemporary twist to the space. But wait, there's more! The honey-toned wooden cabinets bring warmth, while decorative pieces perched on top give a nostalgic feel. With a white stove and countertop, the room finds balance. It's a seamless fusion of modern design and traditional coziness.
3. A Blend of Classic and Contemporary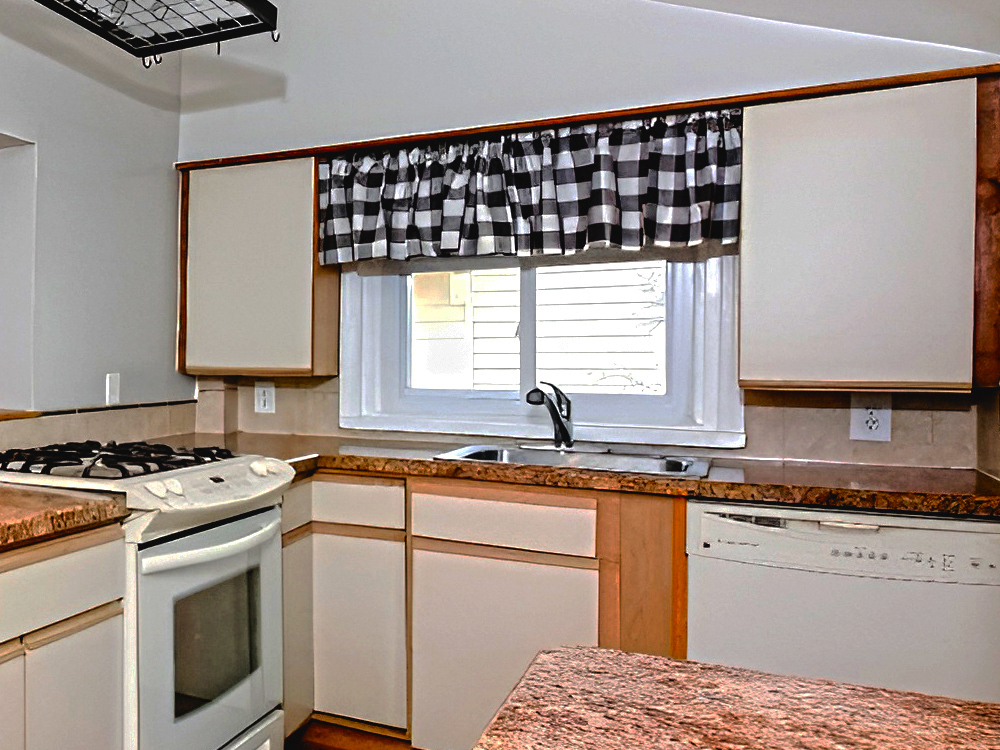 This kitchen marries the best of classic design and modern utility. The black and white checkered design adds a playful touch, breaking the monochrome palette. Next, the kitchen showcases sleek white cabinets complemented by wooden trims. The granite countertops? Simply timeless. Meanwhile, the overhead hanging rack is both functional and stylish.
4. Bold Elegance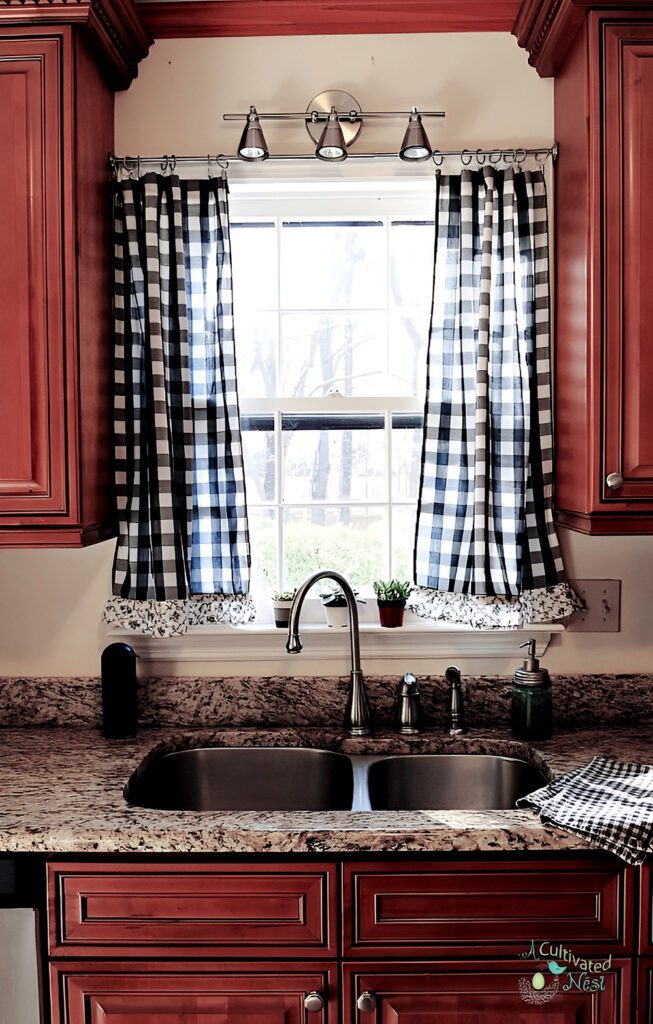 These white-black checkers and floral details are an absolute eye-catcher. The rich crimson finish exudes warmth and luxury as we glide over to the cabinets. Up above, sleek silver lighting fixtures bring a touch of modernity. And down below? A granite countertop with stunning marbling. Every piece, from the rustic soap dispenser to the vibrant potted plant, brings this space to life. Magnificent!
5. Crisp Whites with a Dash of Drama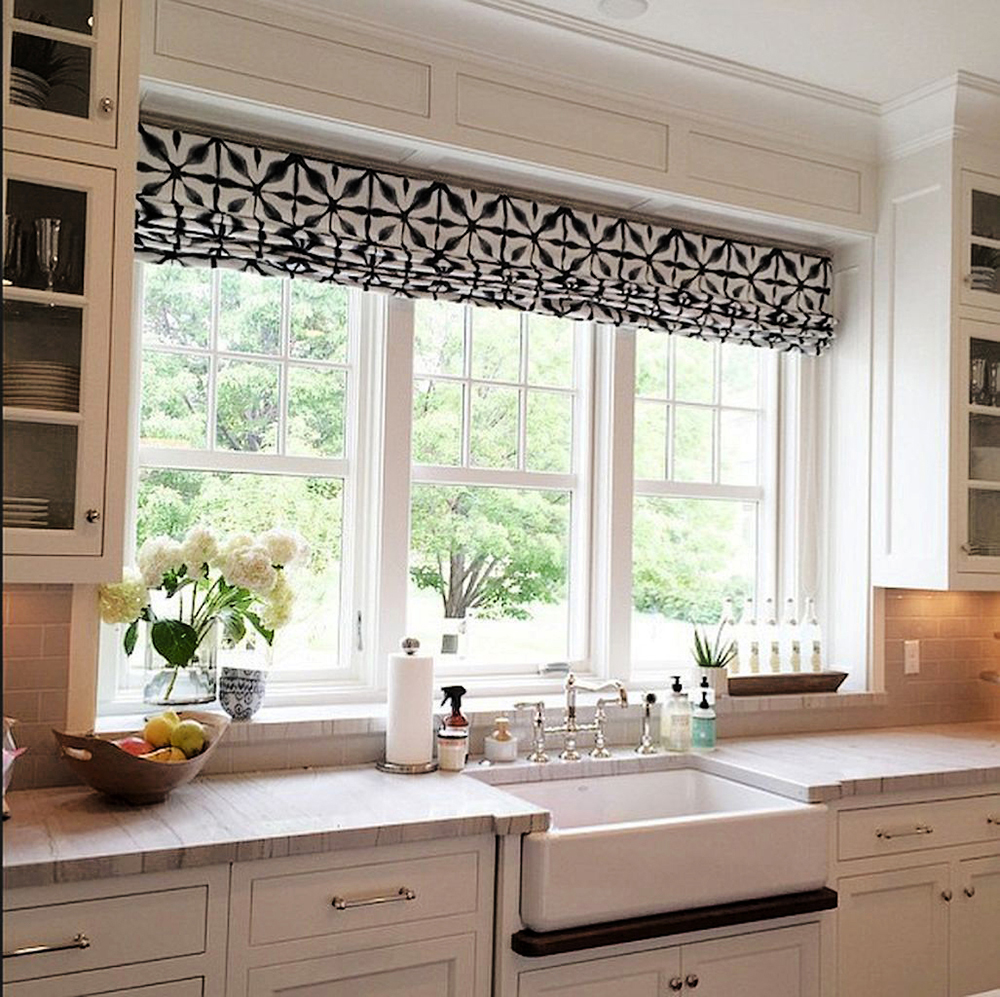 Dive into this airy kitchen, and what grabs you first? Those striking geometric curtains contrast boldly against pristine white frames. As we move along, notice the timeless white cabinetry thoughtfully designed to showcase cherished dinnerware. Over on the counter, fresh blooms meet a medley of kitchen essentials, creating a picturesque moment. The marble countertop and farmhouse sink? Simply the cherries on top of this refreshing design.
6. Monochrome Majesty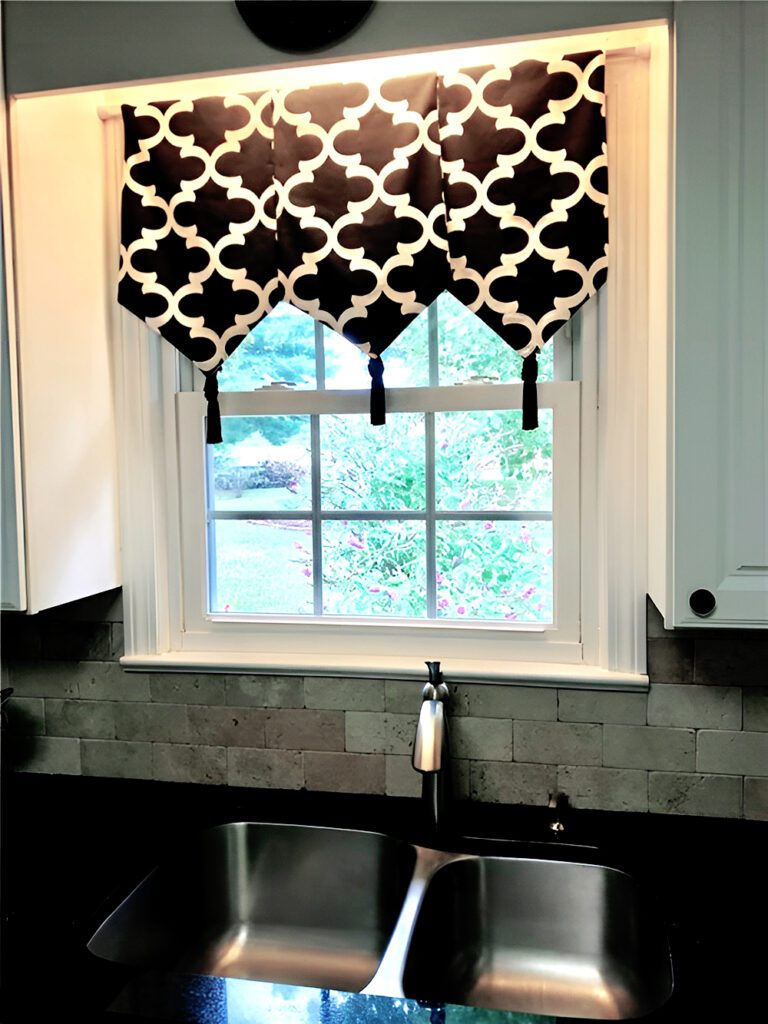 When you walk into this kitchen, your gaze is instantly drawn to the bold black-and-white curtain design. Let's take a moment to appreciate its classic Moroccan pattern, shall we? It's playfully paired with those chic tassel details. The rustic backsplash tiles exude a hint of vintage charm. And then, there's the sleek, reflective sink, providing a modern counterpoint. It's a delightful dance of contrasts, isn't it?
7. Modern Farmhouse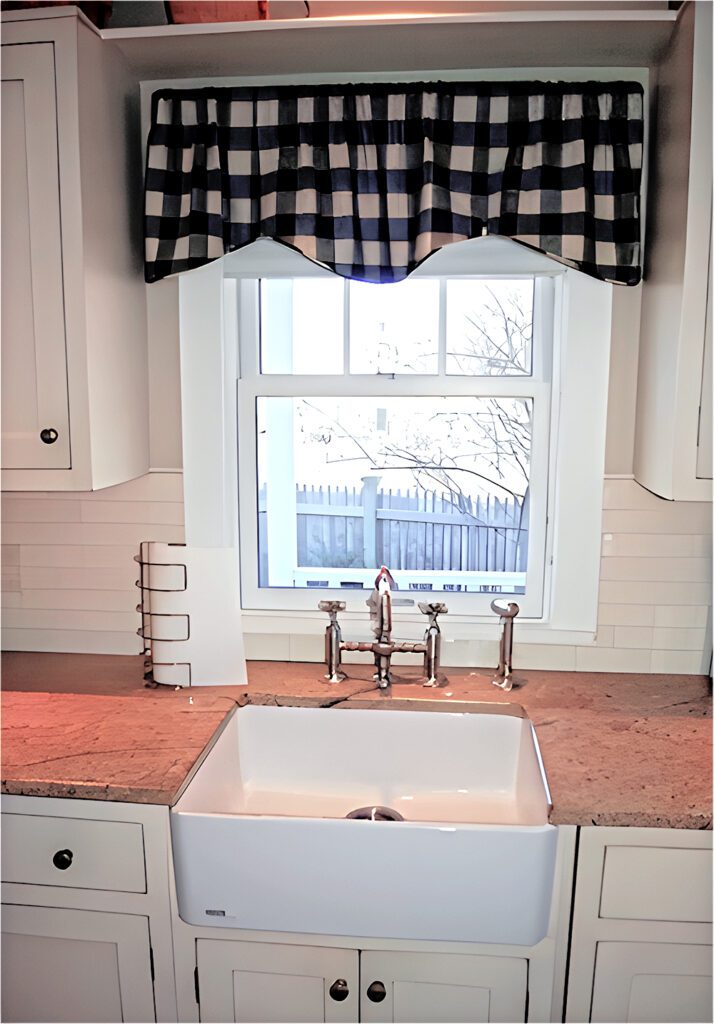 Are you looking for a splash of classic charm? Those bold checkered curtains pop right off, giving a nostalgic nod to farmhouse days. Now, let's talk details. Beneath those curtains, the gleaming window frames a cozy outdoor view. The pristine white sink? It's all kinds of chic, especially paired with that rustic countertop. And the minimalist drawer pulls? They tie everything together seamlessly. Truly, this kitchen whispers "home" in every corner.
8. Rustic Reverie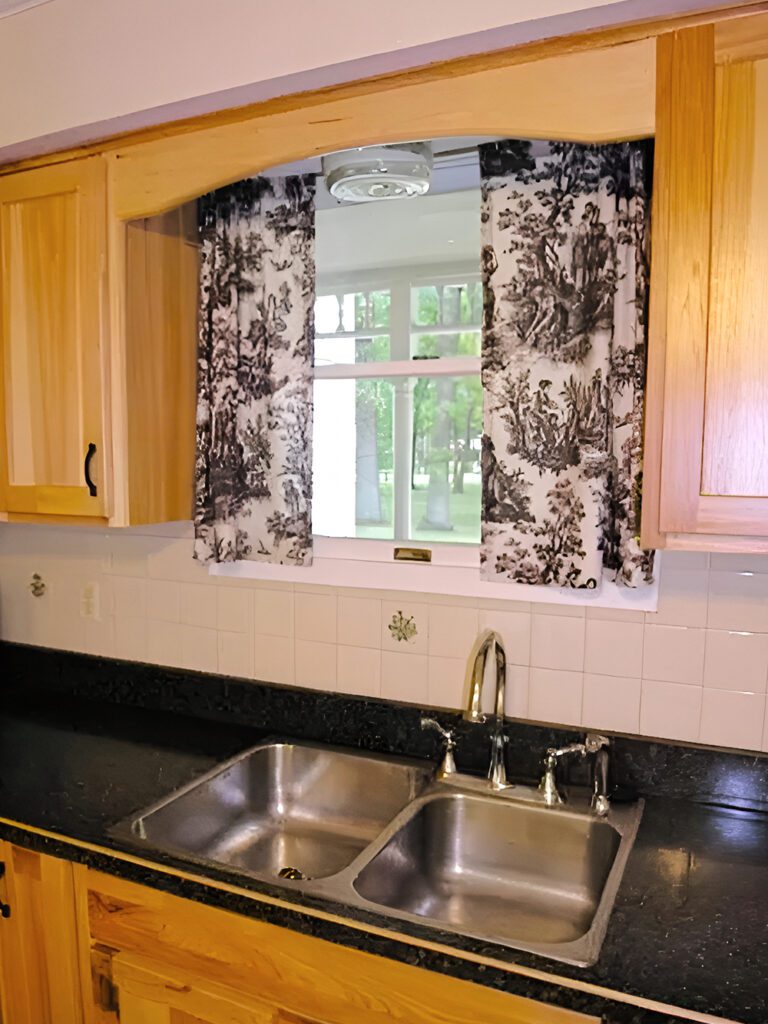 A cozy kitchen with intriguing black curtains. They flaunt a toile-inspired design, painting a scene from days of yore. Right next to them, the wooden cabinets showcase that homey, golden finish. And oh, the black speckled countertop? It plays so well with the curtains. Add the classic white tiles and the sturdy sink, and you've got a space oozing old-world allure. Cool, right?
9. Checkered Charm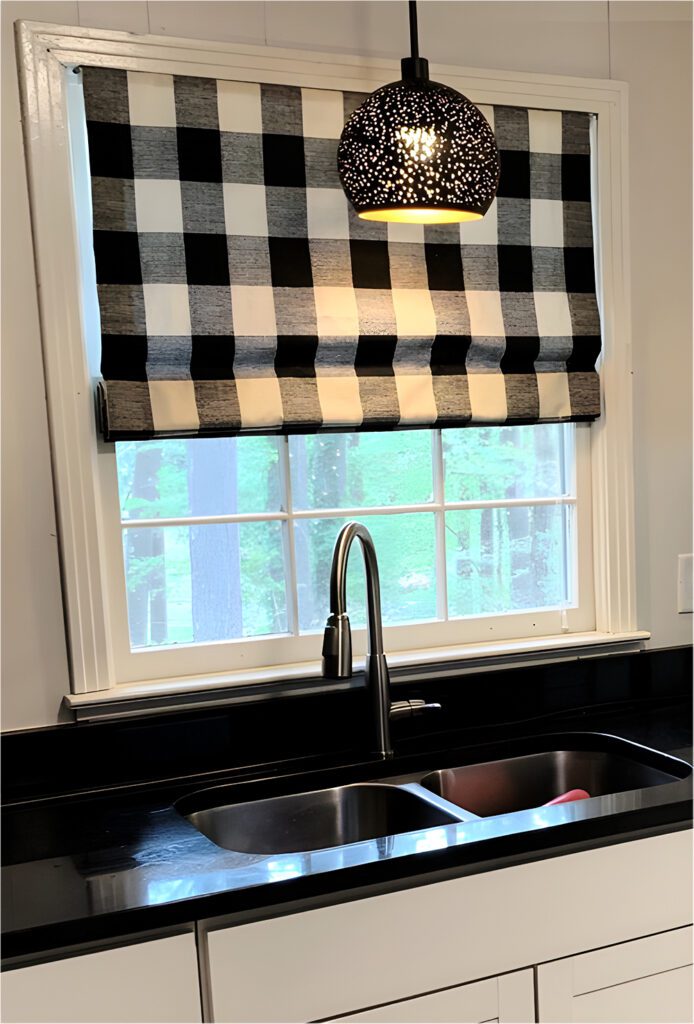 Step right into this kitchen, and what pops? Those fabulous checkered curtains! Bold and yet so timeless. They dance between monochrome shades, adding contrast and drama. Dangling above, that statement pendant light spills warm glows through its intricate design. But don't miss the sleek, black countertops that mirror the curtains' boldness. And those crisp white cabinets? They bring everything together. It's a chic symphony in here!
10. Warmth Meets Whimsy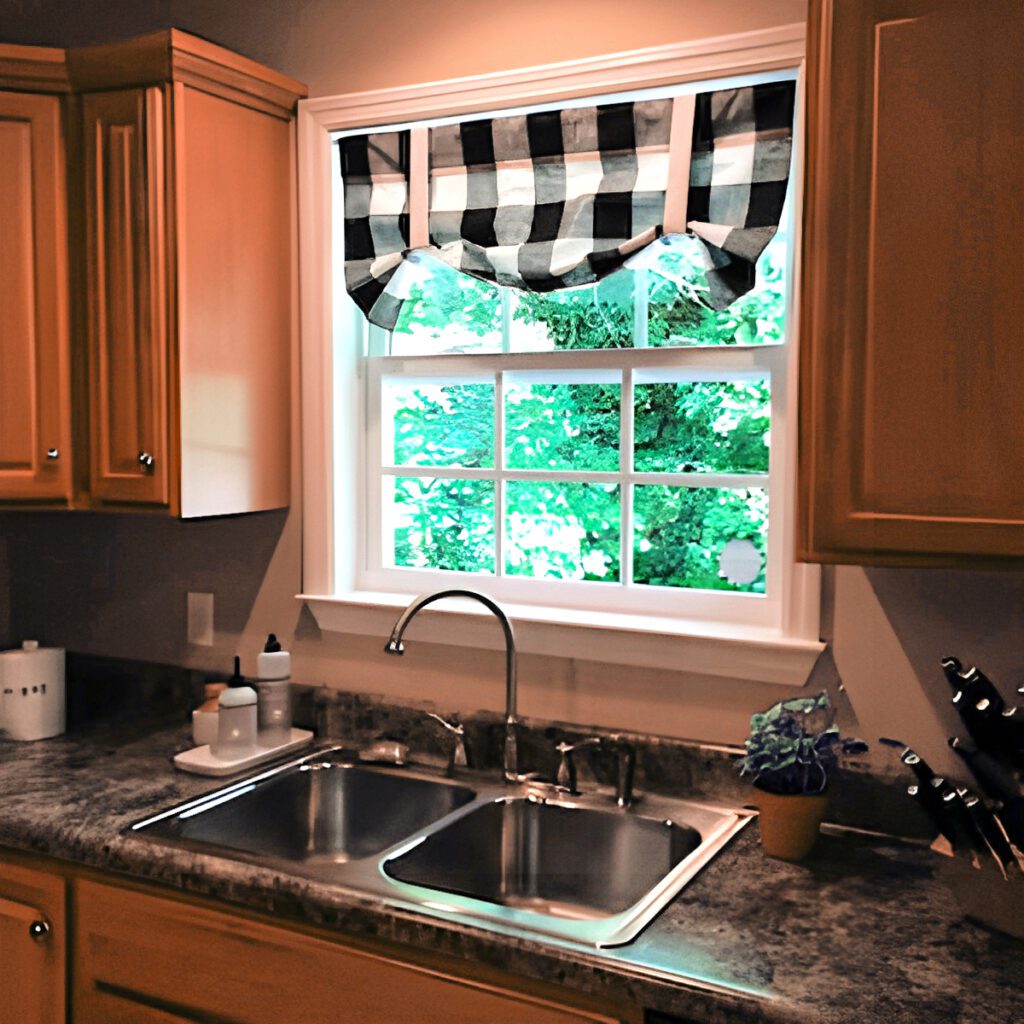 Are you looking for a cozy touch with a hint of flair? Feast your eyes on these whimsical checkered curtains. Above the sink, they frame nature's beauty, making dishwashing a delightful chore. The warm wooden cabinets sing a song of tradition, while the modern sink and faucets infuse a contemporary edge. Pops of greenery and those essential kitchen tools? They're the finishing strokes on this homey masterpiece.
11. Modern Elegance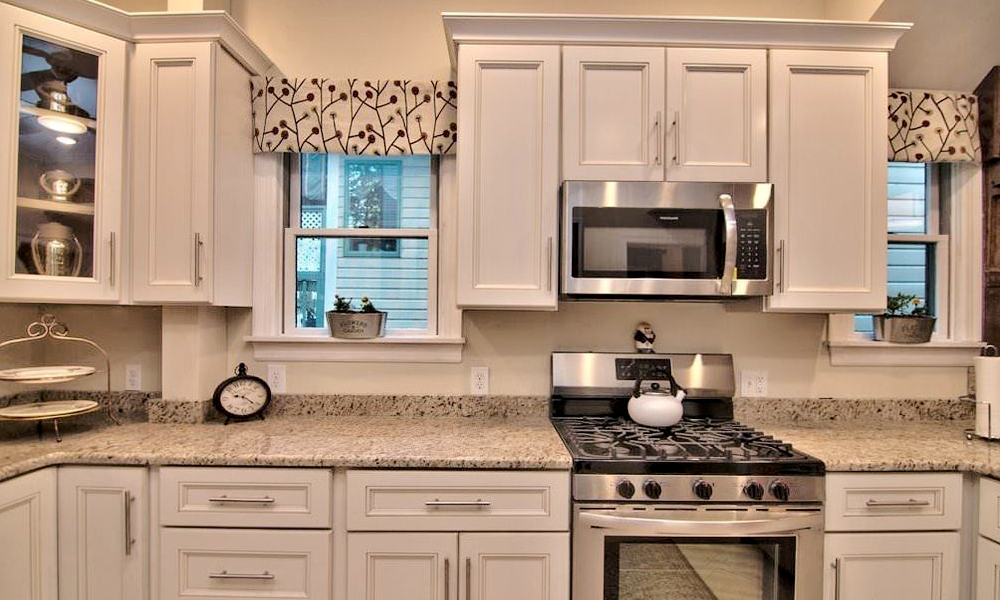 In search of the perfect blend of modernity and charm? Look no further. Those sleek white cabinets give a nod to today's style, and check out the patterned curtains – a dash of playful sophistication. The granite countertop showcases a natural beauty, grounding the space. And the stainless-steel appliances? Pure modern efficiency. With thoughtful touches like the vintage clock, this kitchen is the heart of the home.
12. Cozy Comfort Meets Functional Flair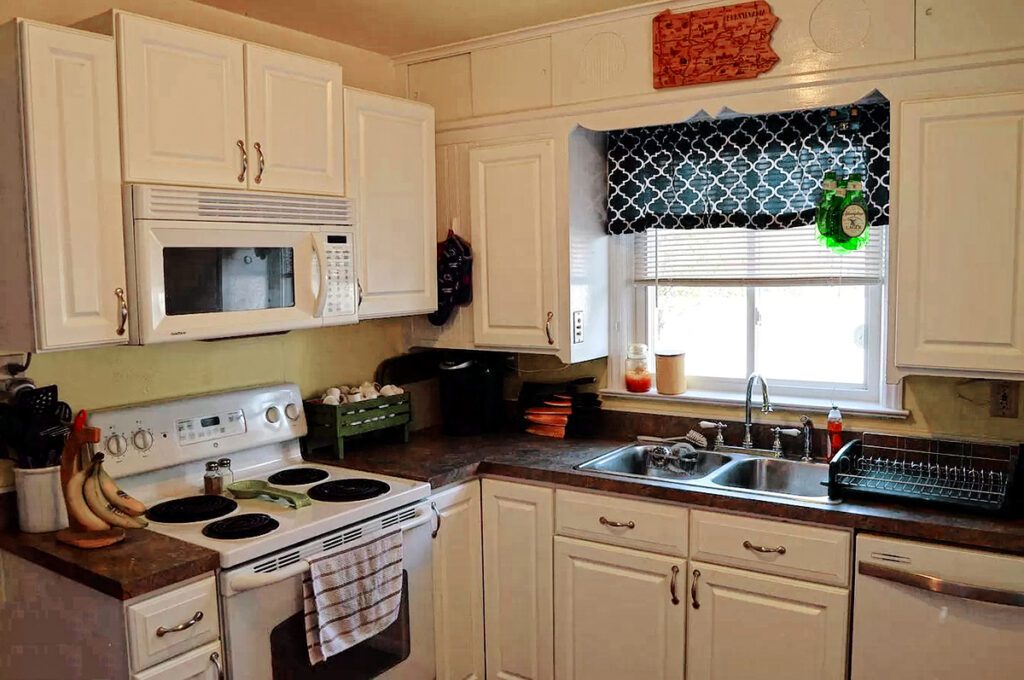 Dreaming of a kitchen that feels both homely and efficient? Here we go. Those white cabinets with classic handles exude timeless elegance. But wait, there's more! The bold, geometric-patterned curtains add a contemporary twist. The green hues breathe life into the room, Contrasting against the light walls. Tucked-in knick-knacks and those ripe bananas hint at a kitchen always ready for a hearty meal. Homey vibes, indeed!
13. Chic Elegance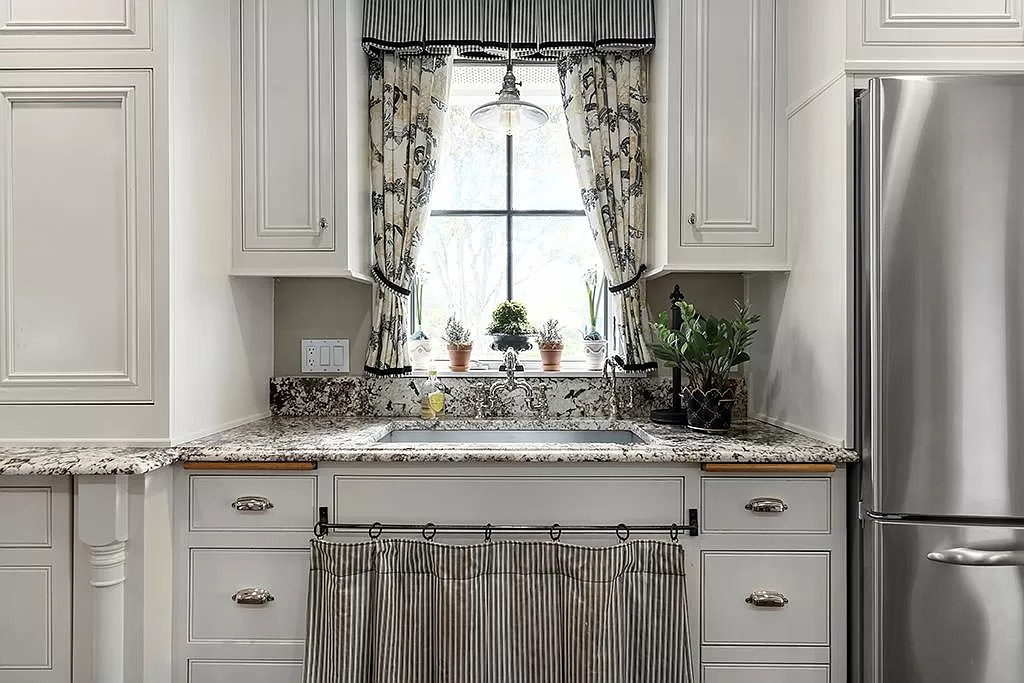 Looking for the epitome of sophistication in kitchen design? Dive into this space. The curtains immediately grab attention, blending floral designs with sleek stripes – a nod to vintage and modern aesthetics. The speckled granite countertop mirrors nature's elegance, while the gleaming stainless steel fridge offers a touch of modernity. Subtle potted plants and the lemon squeeze provide fresh, lively accents. Pure perfection!
14. Breezy Buffalo Checks Meet Modern Minimalism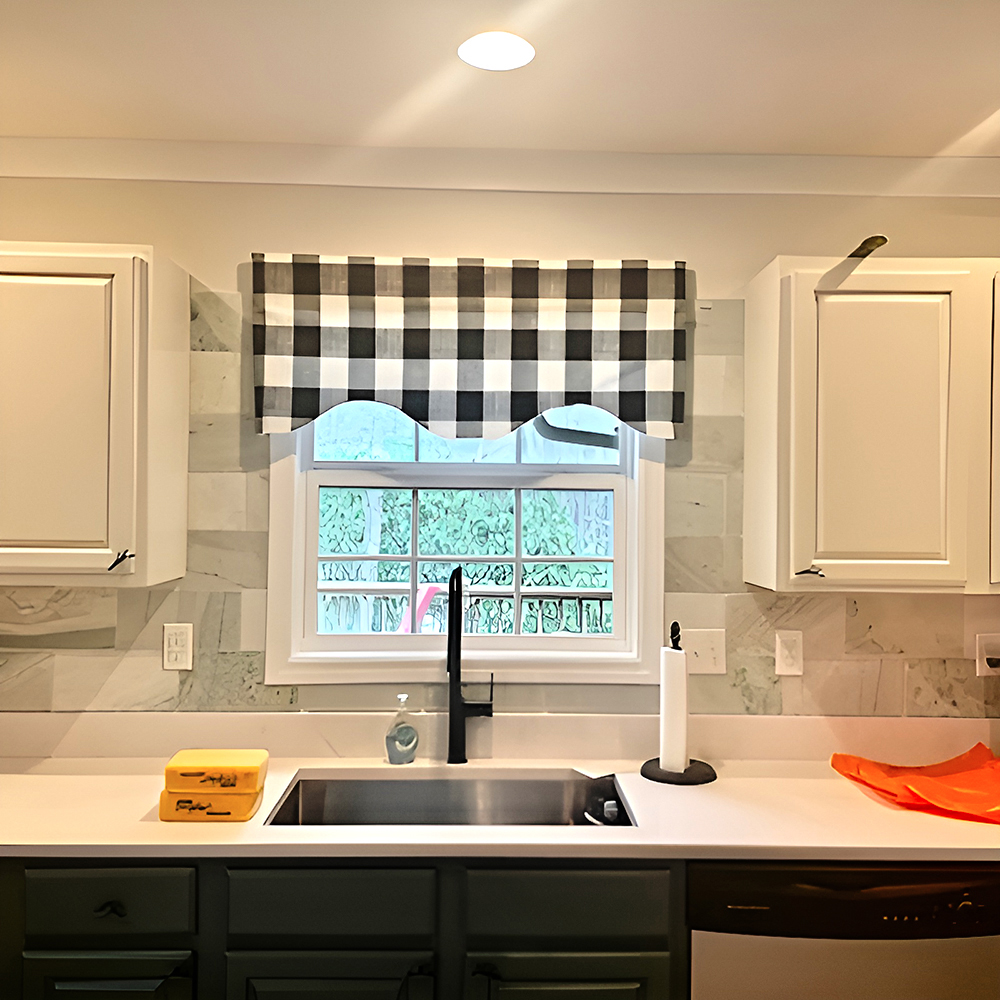 A flawless blend of classic and contemporary kitchen! Those black-and-white buffalo check curtains playfully frame the lush green view outside, offering a bold contrast. There's a sense of refined simplicity paired with marble-like backsplash tiles and crisp white cabinetry. Then, pops of color from the yellow tray and orange dish add just the right amount of zest.
15. Glistening Mosaic Meets Timeless Elegance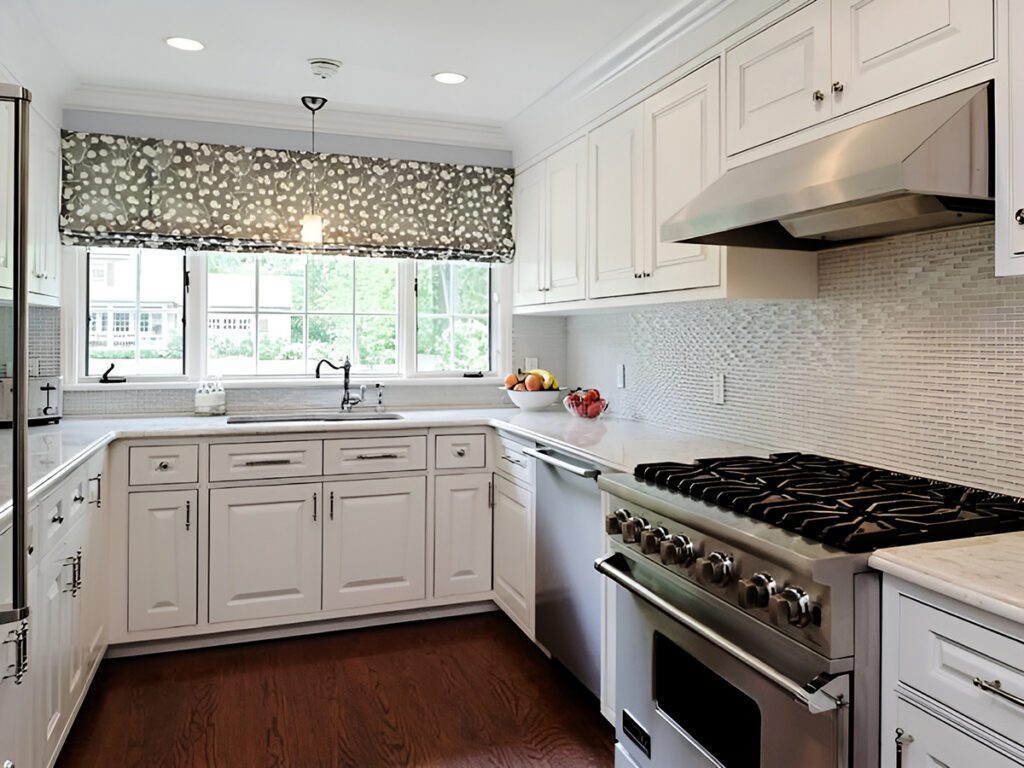 This kitchen is where traditional design meets modern finesse! Notice the curtain's shimmering mosaic pattern? It gorgeously mirrors the outside light. The sleek subway tile backsplash creates a modern flair, blending seamlessly with classic white cabinets. And that chef-worthy stove? A culinary dream! The cherry on top: hardwood floors bring warmth to the space.
16. Lattice Luxury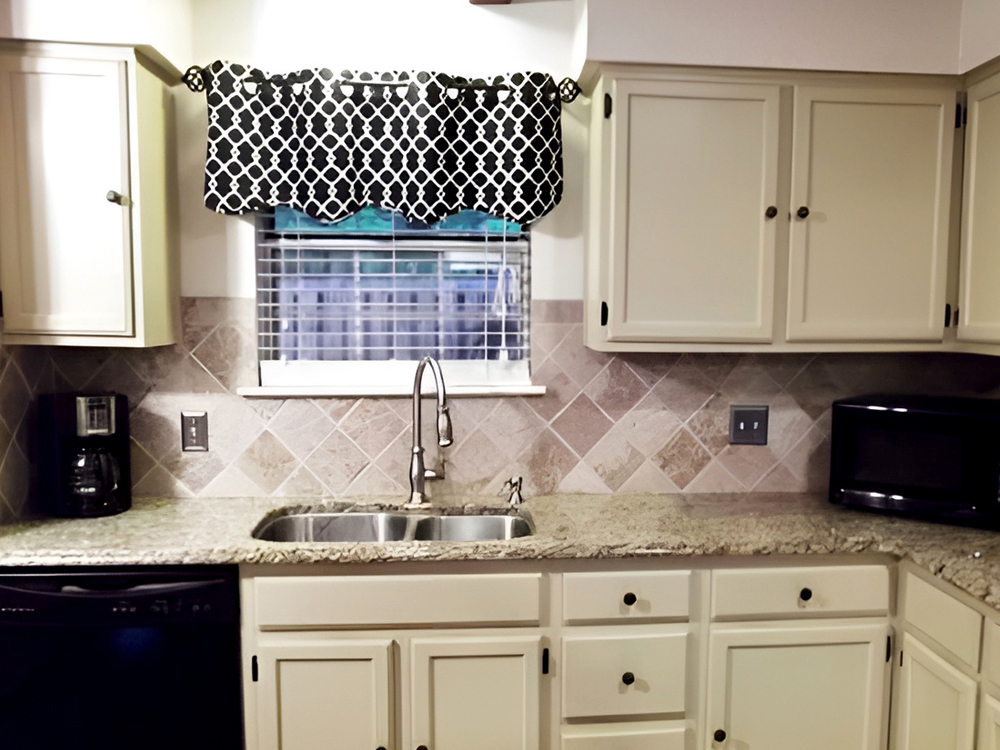 Welcome to a snug kitchen nook! The curtains? A bold lattice pattern gives a modern twist to traditional spaces. Just below, diamond-shaped tiles form a captivating backsplash, with their muted tones adding sophistication. Creamy cabinets offer a soft contrast, fitted with vintage-inspired knobs. Lastly, spot those everyday essentials – a trusty coffee maker and microwave. Cozy yet chic – that's this kitchen's mantra!
17. Vintage Vibes in Sunlit Spaces
This kitchen beautifully marries old-school charm with today's comfort. The curtains? Classic plaid in black and white, framing the window perfectly and evoking a sense of nostalgia. Look at those retro-style ceiling fixtures, radiating warmth throughout. White cabinets and dark countertops, and they play so well together.
Black and White Kitchen Curtains Decor Tips
Decorating a kitchen with black and white curtains is both timeless and versatile. Here's how you can make the most of this classic duo:
1. Monochrome Palette
Stick to a monochrome color scheme. Use varying shades of gray to bridge the gap between black and white, adding depth and dimension.
2. Bold Accents
Introduce pops of color, like red, yellow, or teal. Just a few vibrant touches can bring the whole space to life.
3. Patterns and Textures
Consider a checkered floor or a patterned backsplash. These elements can play off the curtains' design, tying the room together.
4. Metallics Shine
Silver, gold, or copper accents in hardware, lighting fixtures, or decor items complement black and white beautifully.
5. Modern Appliances
Sleek stainless steel or matte black appliances can be visually appealing against the black and white backdrop.
6. Natural Elements
Incorporate wood tones in shelving, stools, or cutting boards. Plants, too, can bring a breath of fresh air into the space.
7. Artwork
Hang framed artwork or prints that echo the black and white theme or introduce those bold accent colors.
8. Rugs and Linens
Consider adding a floor rug or table linens that complement the curtains or offer a striking contrast.
9. Open Shelving
Display black and white dishware or cookbooks on open shelves. It's functional and stylish.
10. Lighting
Opt for clear pendant lights, or go bold with black or white fixtures. They can serve as focal points in the room.
Remember, black and white gives you a neutral canvas. You're free to evolve the space over time, changing out those pops of color or textures as your tastes evolve. Happy decorating!