Ready to infuse some drama and passion into your kitchen? Look no further than red curtains! These fiery window treatments aren't just about color and making a statement. Dive into our "21 Red Curtain Kitchen Ideas". Discover how this bold hue can transform your culinary space from ordinary to extraordinary. Trust us; each design is a showstopper in its own right. Ready to get inspired? Let's go!
1. Classic Kitchen Radiant Red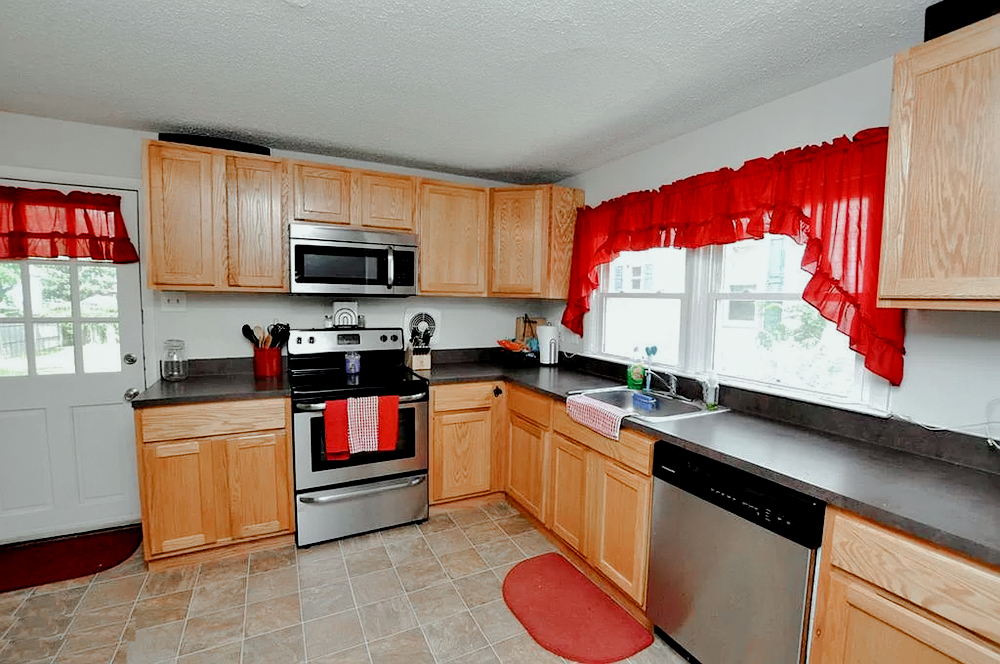 First, let's dive into this cozy kitchen, where traditional meets bold! Those fiery red curtains immediately draw the eye, bringing energy and warmth to the space. Paired with classic oak cabinetry, they pop beautifully. Stainless steel appliances offer a modern touch, while little red accents, like the dish towel and mat, tie everything together. It's a delightful blend of comfort and style, don't you think?
2. Sleek Serenity Meets Bold Elegance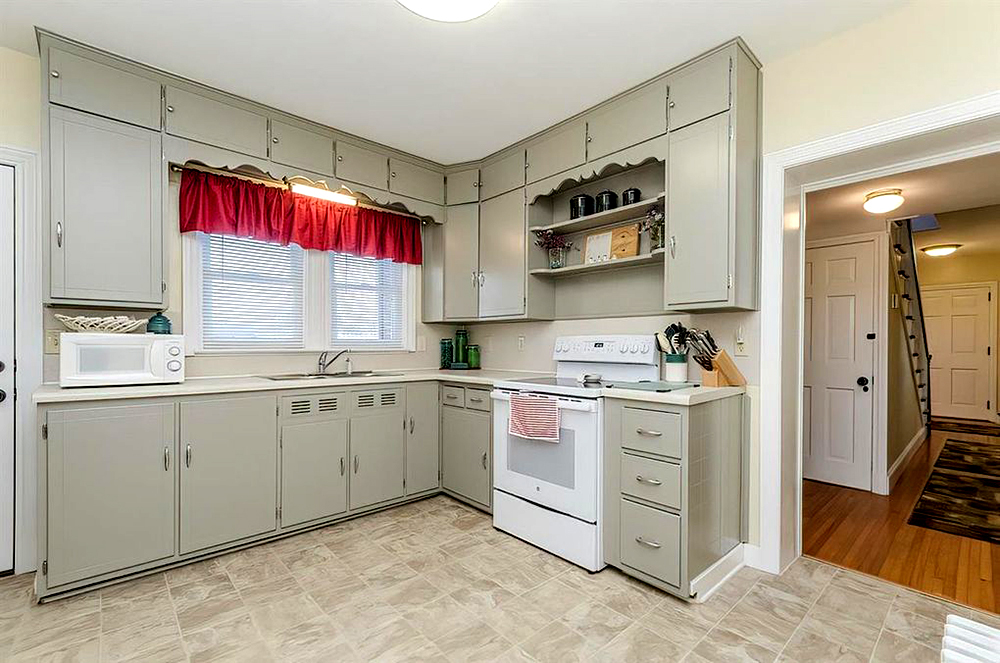 Here's a kitchen that knows balance! The calming gray cabinets form a harmonious backdrop, allowing the bold red curtains to shine. These curtains are simple yet vibrant, framing the window perfectly. Note the open shelving, holding treasures and essentials alike. The modern appliances seamlessly integrate, and the touch of a pink dish towel? A cute nod to the curtain's hue. Indeed, it is a blend of function and flair!
3. Crisp Blues and Vibrant Reds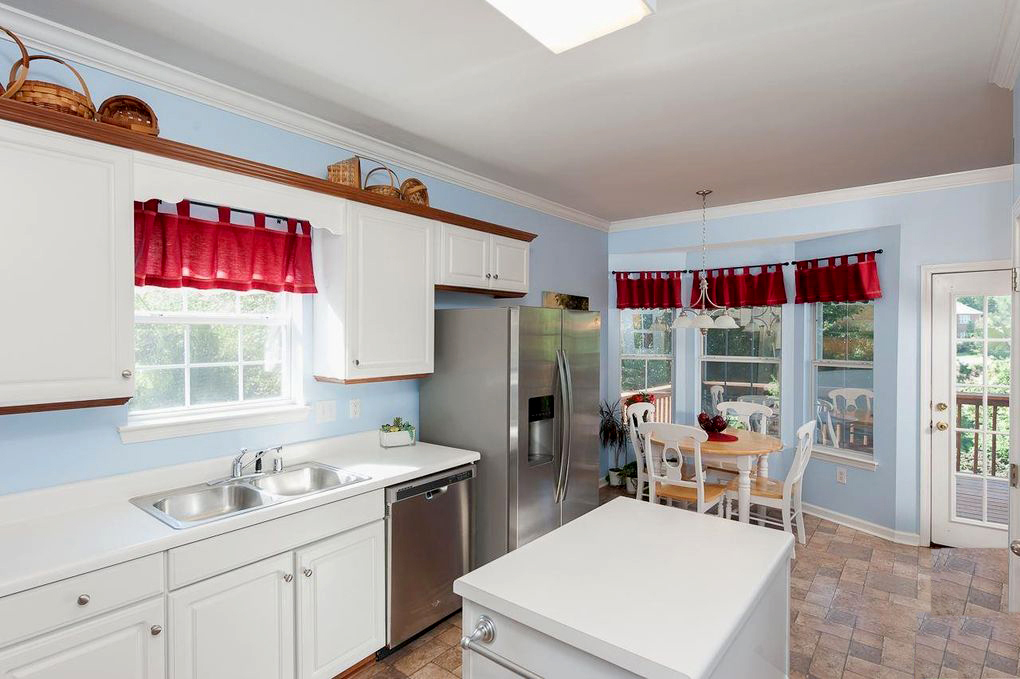 A refreshing palette kitchen! The light blue walls create a soothing ambiance, pairing beautifully with crisp white cabinets. But it's the punchy red curtains that steal the show. Hanging above both the sink and dining area, they introduce a lively contrast. Don't miss the charming baskets atop the cabinets or the sleek stainless steel appliances. Every detail here sings in perfect harmony!
4. Bold Blues and Radiant Reds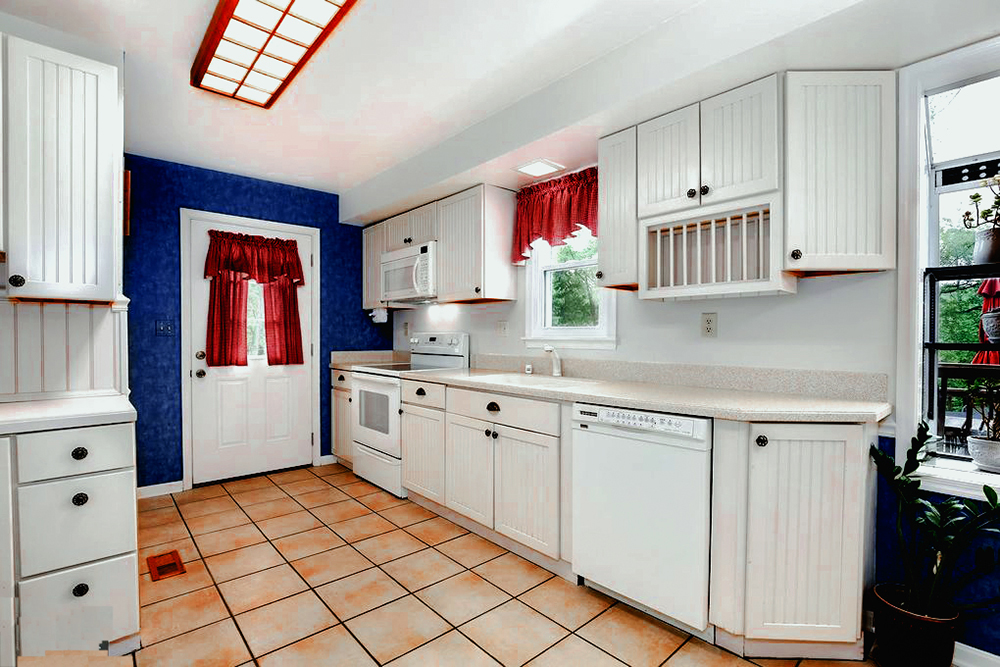 Welcome to a space where bold meets classic! The deep blue wall, juxtaposed with gleaming white beadboard cabinets, creates a visual treat. Radiant red curtains drape the door and window, adding warmth and drama. Oh, and that skylight? It shows the room with natural brightness. This kitchen is cozy and vibrant, with terracotta tiles underfoot and a dash of greenery.
5. Rustic Charm with a Splash of Red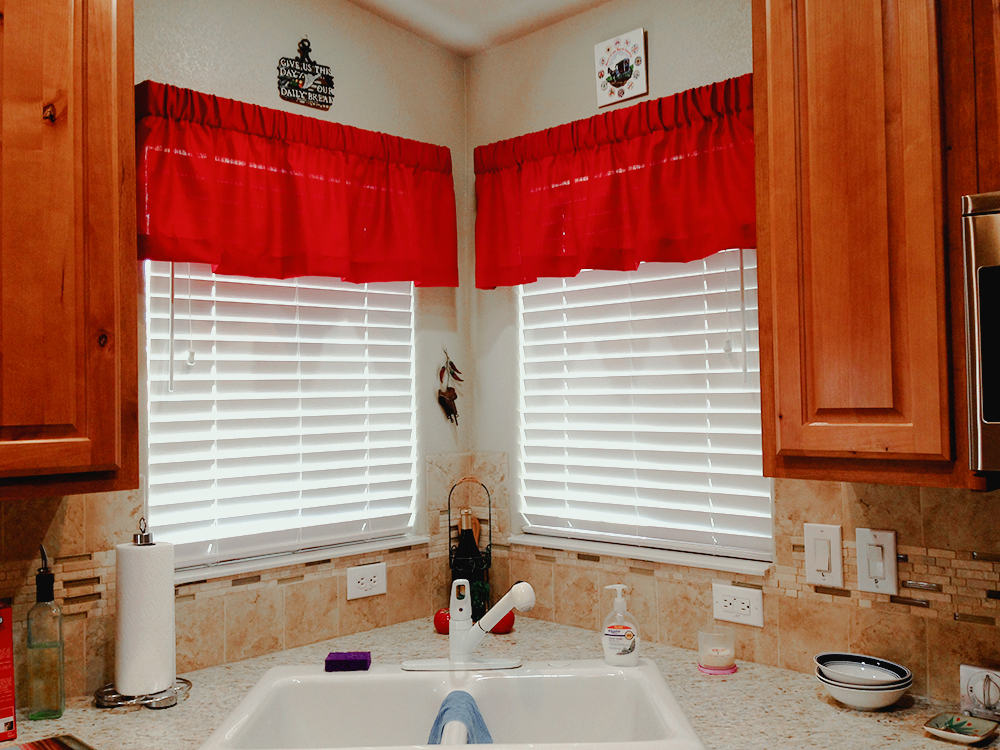 This kitchen decor radiates homely warmth! Those vibrant red curtains? They're the showstoppers, hanging gracefully above modern white blinds. Contrast them with the natural wood of the cabinets, and you've got cozy written all over. And don't miss that sweet daily bread sign-up top—it adds that touch of rustic sentiment. The tiled backsplash? Simply ties the whole warm, inviting look together. Feel at home, won't you?
6. Radiant Reds in a Cozy Kitchen Corner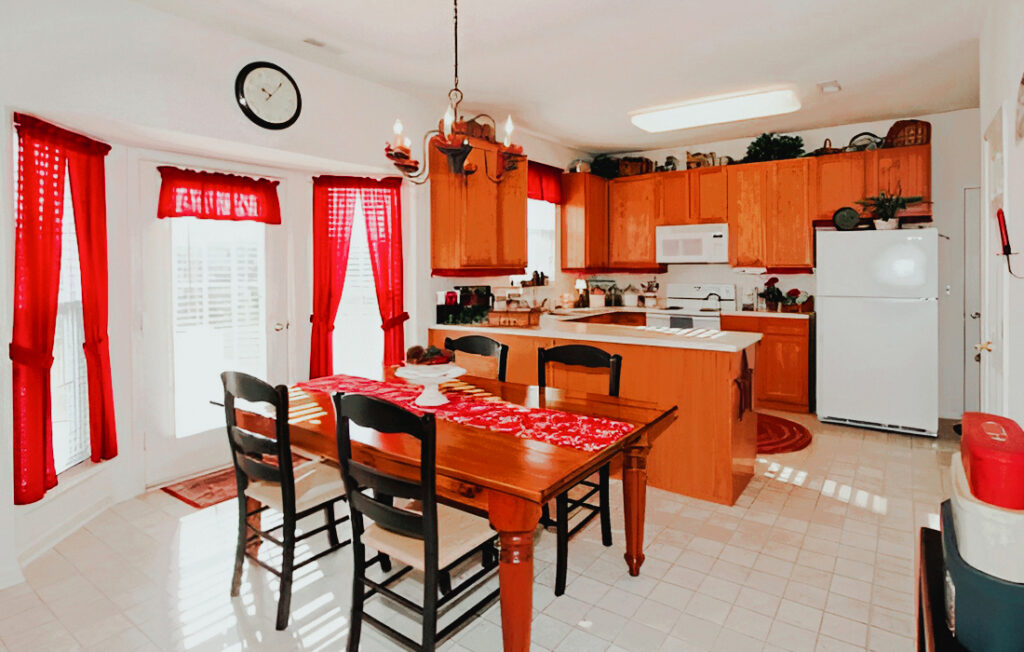 A hearty kitchen design. First off, those striking red curtains? They're ideally placed, adding color and ushering in the sunlight and warmth. Next, paired with the honey-toned wooden cabinets and a pristine white-tiled floor, it's a harmonious blend. Moreover, the wooden dining table, beautifully set with a matching red tablecloth, beckons family and friends for a meal. Lastly, add in the charming overhead light, and voila! The heart of the home has never felt more inviting.
7. Whimsical Windows and Woodsy Warmth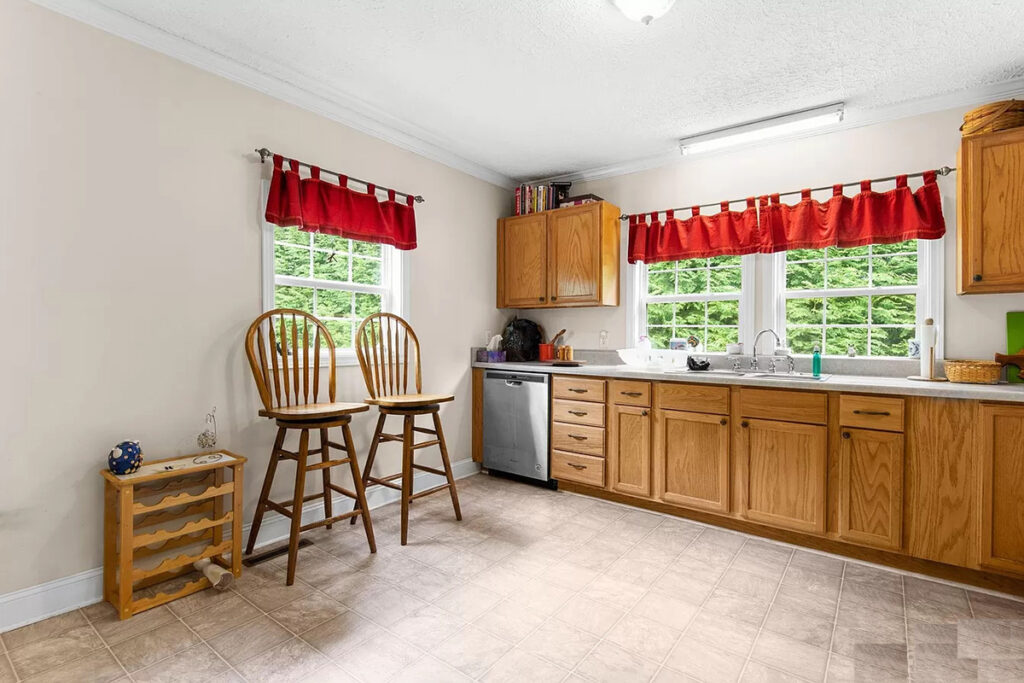 Stepping into this space, the first thing you notice? Those punchy red curtains. They playfully break up the soft beige walls, adding a touch of whimsy. Furthermore, the wooden cabinets and chairs exude a natural, homespun vibe. Plus, the countertop offers ample space for all your culinary adventures. Not to mention that little wine rack tucked away? Pure charm. Altogether, it's a heartwarming mix of color and comfort. Come on in!
8. Cozy Cookspace with a Crimson Touch
A kitchen design where every corner tells a story. The rich wooden cabinets? Timeless. And oh, that electric stove, with its sleek white design, is ready for your next meal. But let's not skip over those bold crimson curtains, offering a warm contrast to the neutral backdrop. Additionally, the white appliances and matching backsplash create harmony. So, would you care to whip something up here?
9. Rustic Elegance Meets Modern Chic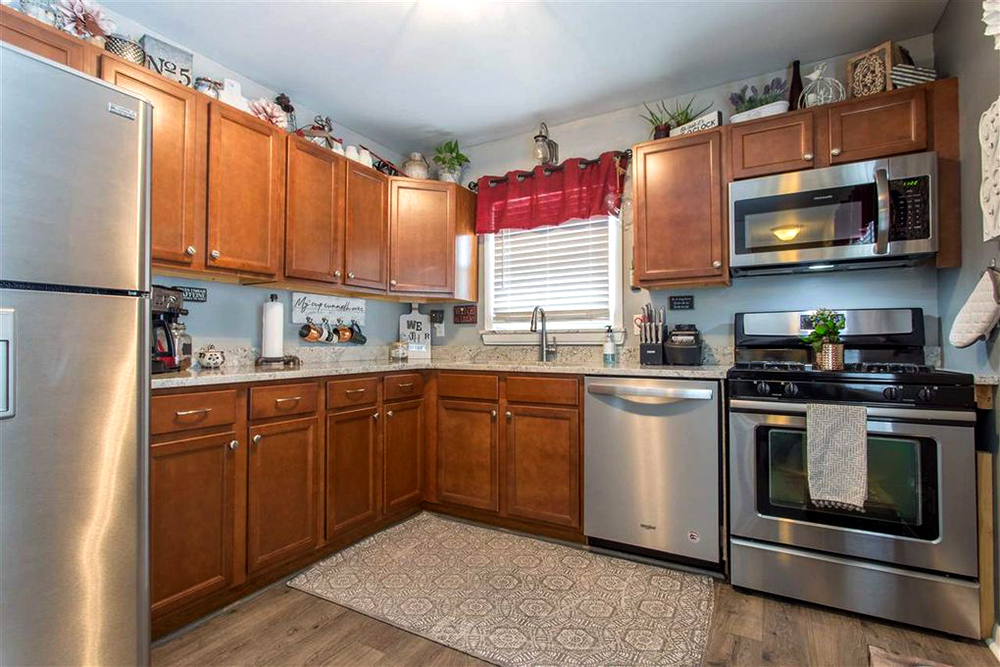 A fusion of classic and contemporary kitchen. Those wooden cabinets? They echo rustic charm. Meanwhile, stainless steel appliances shine with modern flair. You'll notice quirky decor on the countertop, adding a personal touch. The burgundy curtains? They softly frame the window, giving the room a cozy feel. Plus, the patterned rug complements the earthy tones, tying it all together. Doesn't it just invite you in?
10. Bright Beginnings with a Touch of Vintage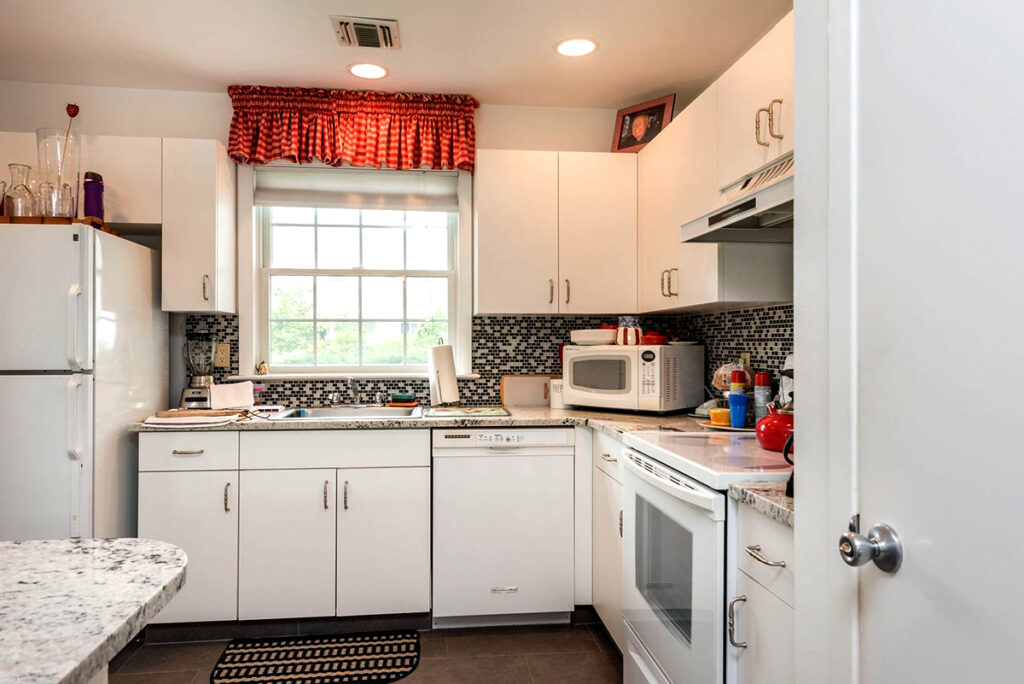 A white, bright, and oh-so-right kitchen. Sleek cabinets? Check. That backsplash? A mosaic masterpiece that adds contrast. Let's talk about those charming red-checkered curtains – they hint at vintage vibes. Not to miss, the countertops, shimmering in speckled gray, beckon culinary adventures. And those cute knick-knacks? They're like cherries on top, making the space warmly personal. Ready to cook up some memories?
11. Rustic Homey Hideaway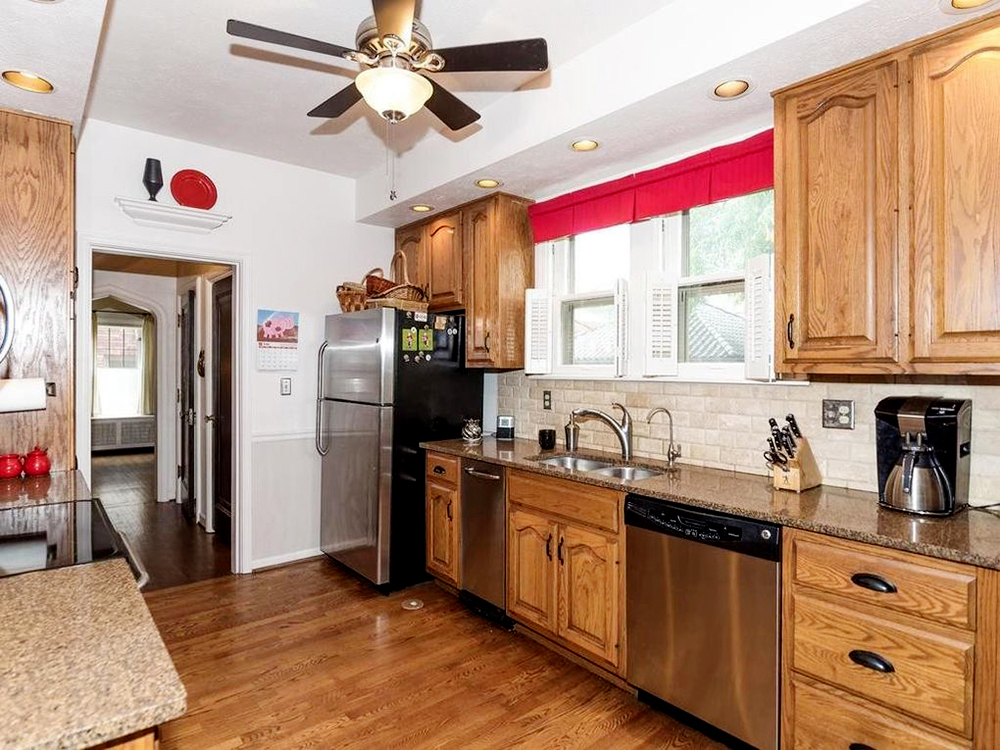 Are you hunting for that classic, warm kitchen feel? This decor nails it! Rich wooden cabinets dominate the scene, bringing rustic charm. On the other hand, the sleek stainless-steel appliances add a touch of modern flair. Pop of red from the curtains? It breaks the monotony, adding zest. Check out those quaint shutters on the windows, too! The hardwood floor? It's the cozy foundation of this heartwarming kitchen. A genuine rustic delight!
12. Elegance Meets Functionality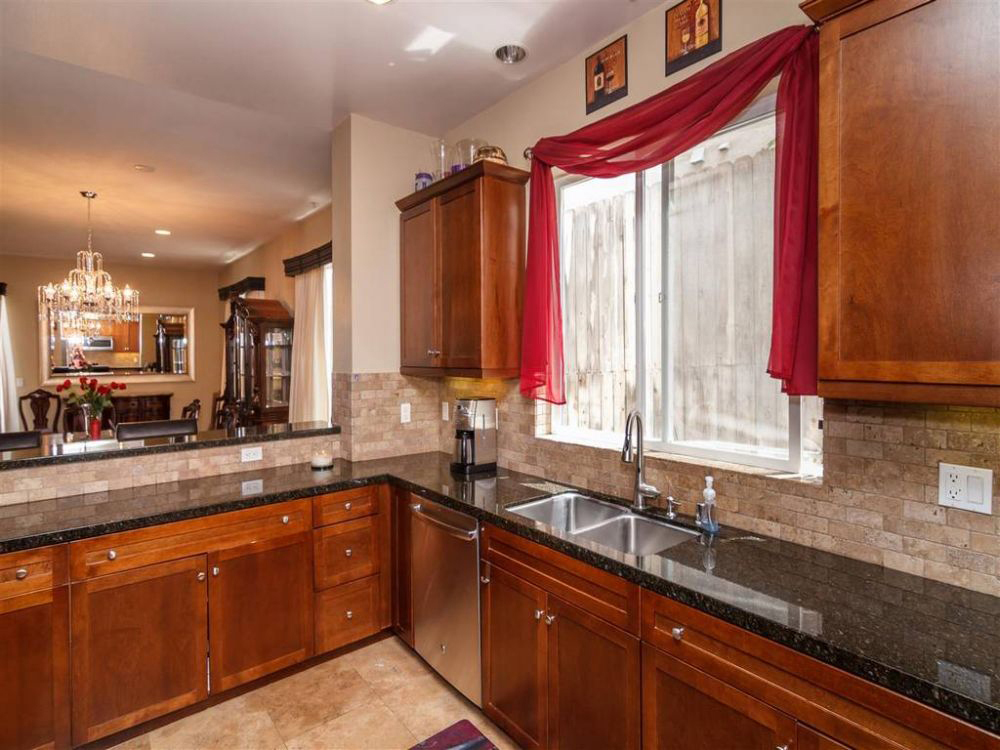 Next, an opulent kitchen design. Rich wooden cabinets? Absolutely. The backsplash? A delightful mix of tans and browns. The grand chandelier? It's the shining crown of the space. And the dramatic red drapes paired with sheer whites? They add a touch of regal flair. Meanwhile, the polished countertops and modern sinks await your culinary endeavors. Indeed, it's where luxury meets everyday living.
13. Cozy Coastal Vibes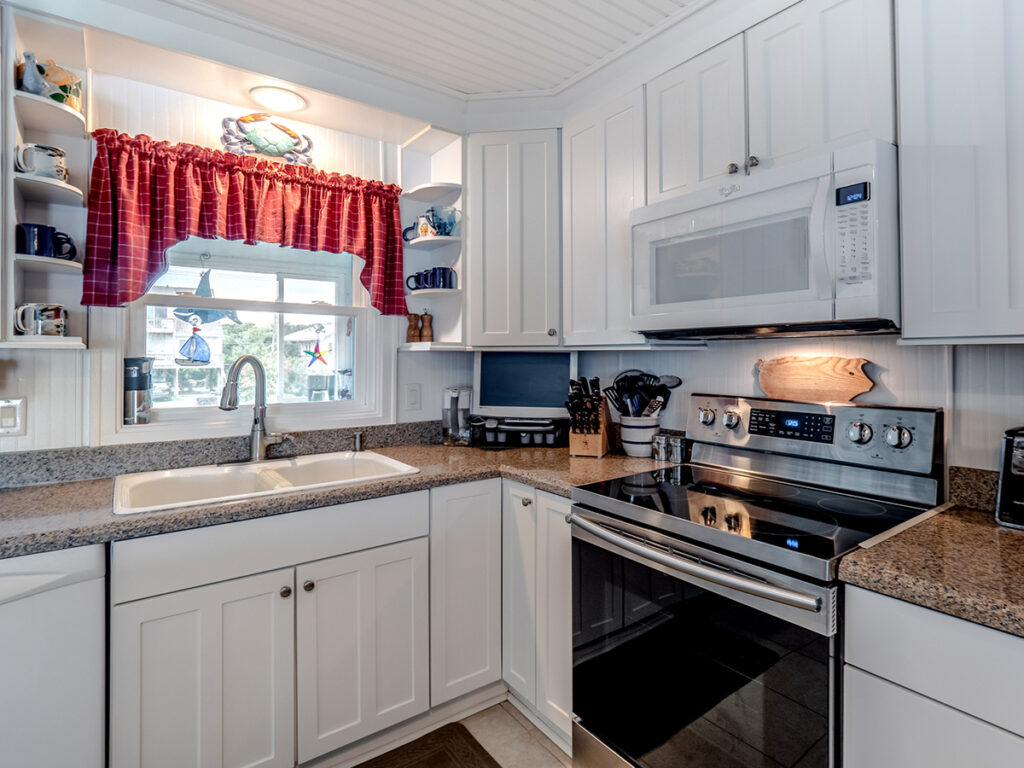 Are you looking for a coastal retreat in the heart of your home? Here it is! Crisp white cabinets give that fresh, beachy feel. The speckled granite countertops? They contrast beautifully. Notice the charming red and checkered curtains? They exude warmth. Open shelving showcases vibrant ceramics and trinkets. Modern appliances blend seamlessly. And that window? It bathes the room in sunlight. It's your seaside escape without the sand!
14. Whimsical Vintage Oasis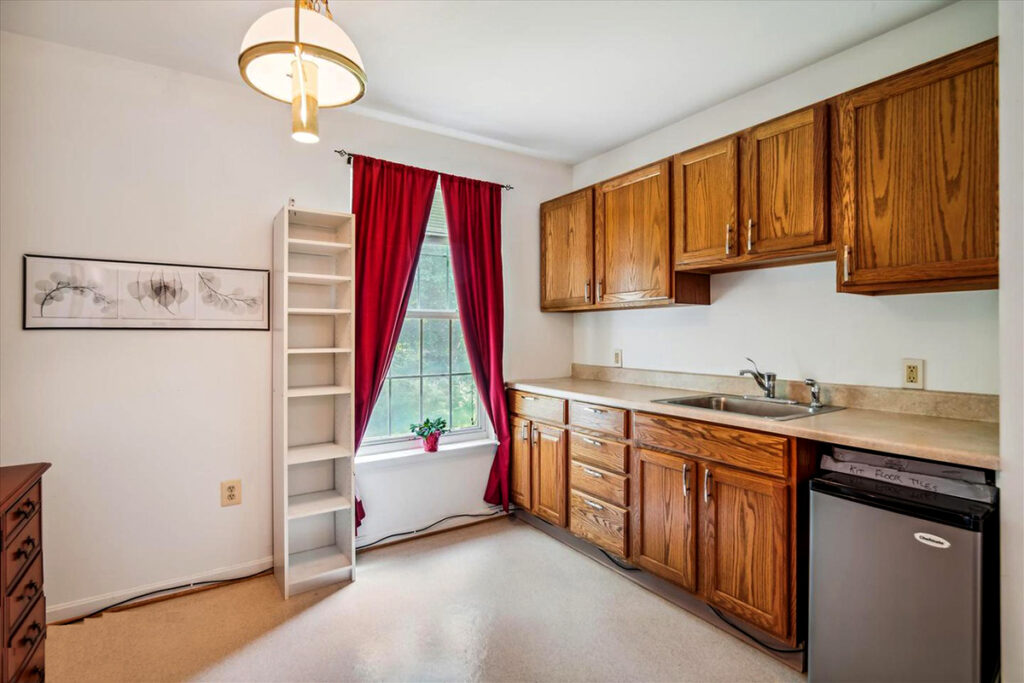 A kitchen with a vintage touch of warm wood cabinetry stands out, giving an ageless appeal. The neutral-toned countertop balances the rich hues. And oh, that artwork on the wall? A subtle hint of modernity. Meanwhile, the plush carpet is a surprising delight. The beautiful red curtains? A scene-stealer cascades by the window, keeping the greenery in view. It's vintage with a twist!
15. Countryside Elegance Meets Function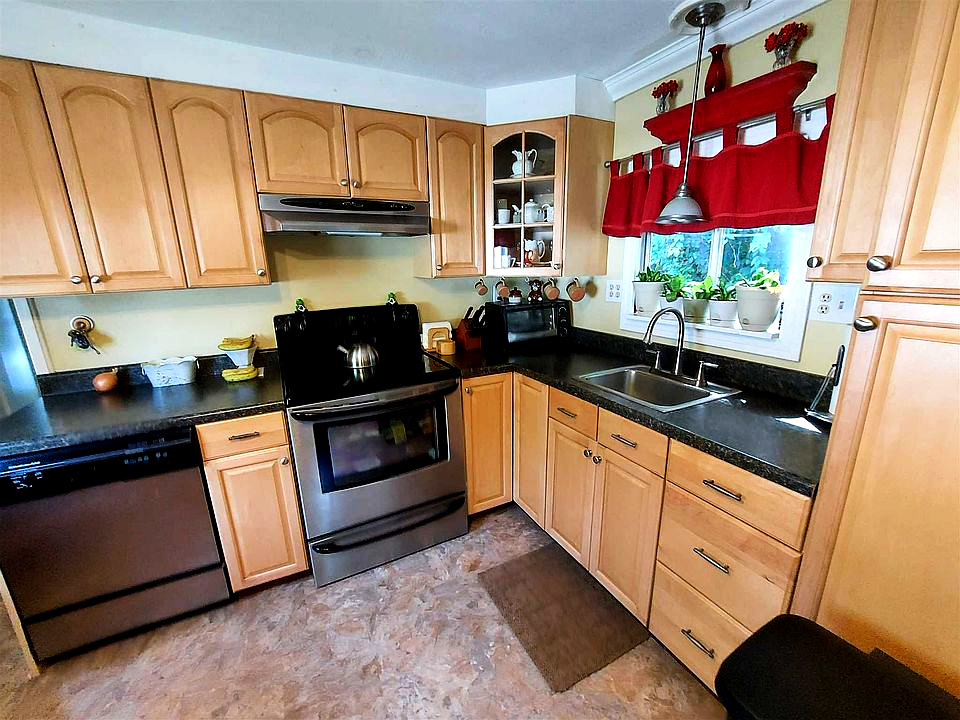 Have you ever thought of blending farmhouse charm with modern functionality? This kitchen nails it. Light maple cabinets offer abundant storage. Check out the dark granite countertops; they contrast beautifully. Stainless steel appliances add that sleek touch and the deep red curtains? Absolute showstoppers! They pop against the serene backdrop, framing the lush outside view. It's where rustic meets refined. Perfect, right?
16. Warm Wood and Timeless Traditions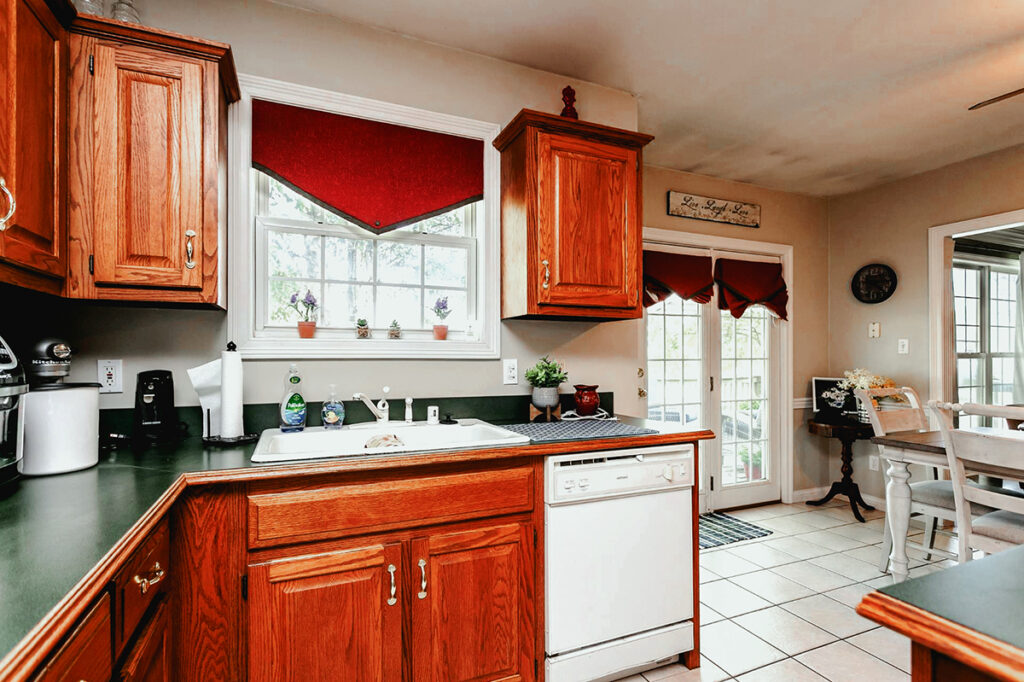 It's a space that whispers comfort in every corner. Rich wooden cabinets dominate, offering warmth and character. Notice the forest green countertops? They complement the wood beautifully. With their classic design, the red curtains bring in a touch of vintage flair. Potted lavender on the sill and that quaint dining setup? Pure nostalgia.
17. Crisp Corners and Cozy Vibes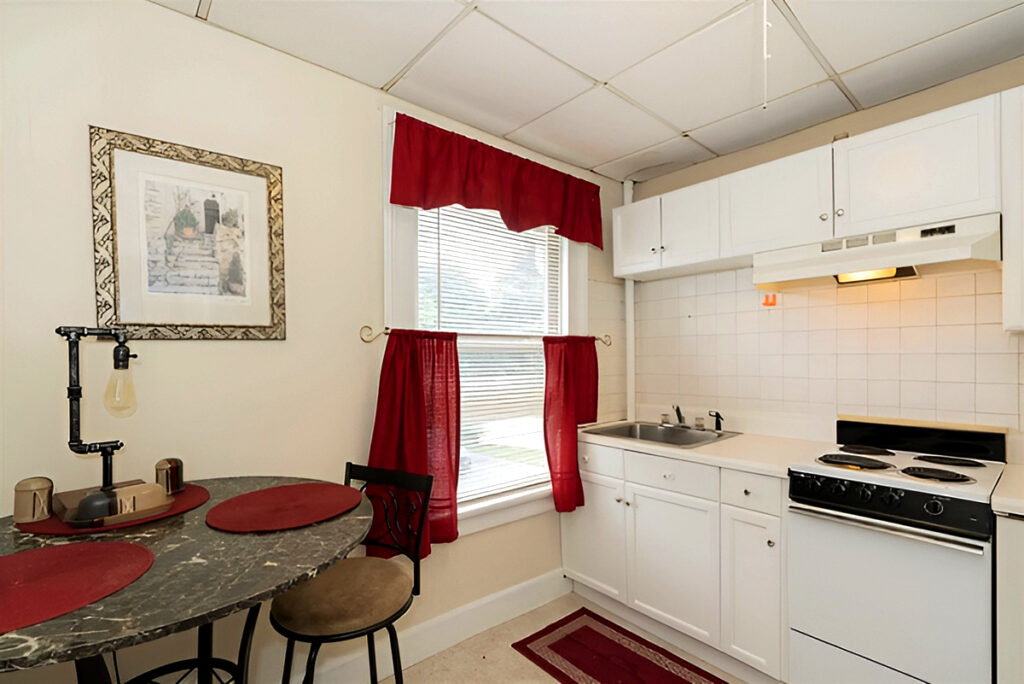 This space boasts sleek white cabinets, contrasting perfectly with the vibrant red curtains. And those curtains? Draping gracefully, they evoke a cozy warmth. Over on the wall, the framed artwork adds a cultured touch. Meanwhile, the industrial-inspired table lamp lights up the marbled dining table. Every piece here tells a story of elegance meeting comfort.
18. Classic Comfort with a Pop of Color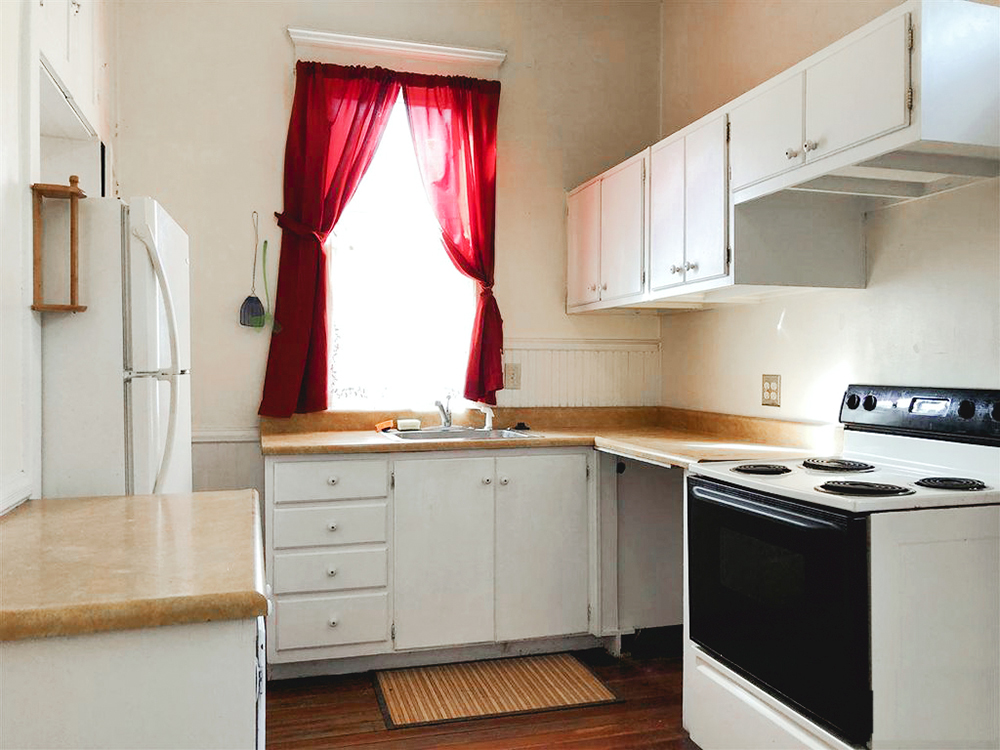 Are you searching for a blend of tradition and vibrancy? Here it is. The kitchen keeps things classic with its timeless white cabinets and counters. That beige backsplash? It brings a subtle earthiness. But those deep red curtains steal the show, offering a dramatic contrast. Plus, the open wooden shelves and playful kitchen tools hanging on the wall add that homely touch. A delightful mix of old and new, wouldn't you agree?
19. Crisp Elegance with a Fiery Twist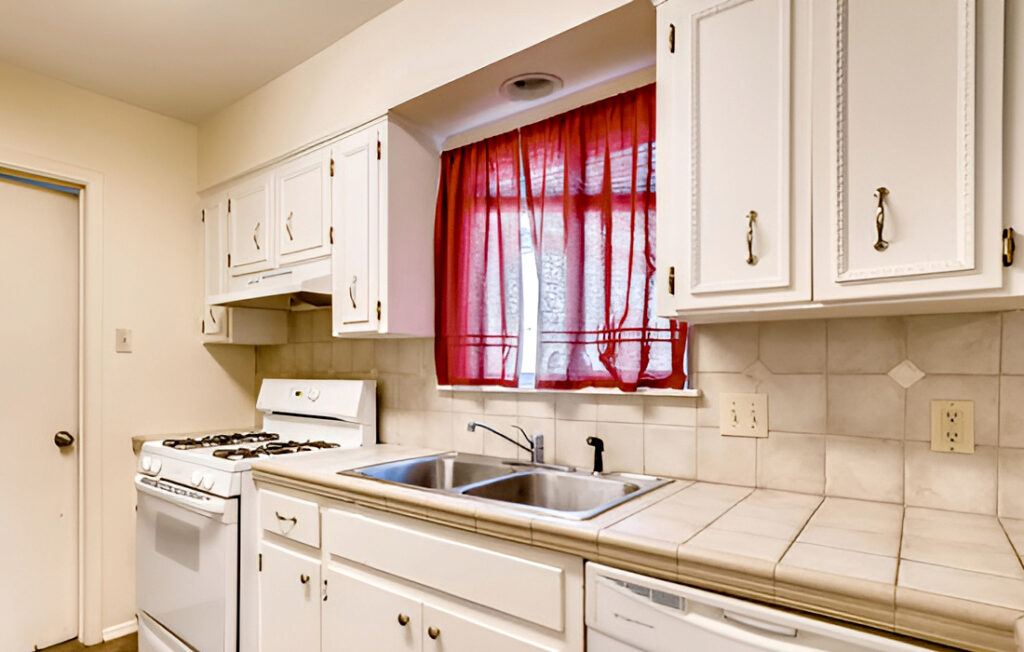 Do you want a kitchen that combines classic charm with a hint of drama? This design nails it. With pristine white cabinets and sleek countertops, the space screams sophistication. The textured beige tiles? Simply perfection. And, oh, those fiery red curtains? They inject passion and warmth, breaking the monotony. This kitchen is coupled with modern appliances and wooden flooring, a dream come true, don't you think?
20. Warm Hues Meet Timeless Design
A timeless kitchen design. The rich wooden cabinets beautifully embrace the room, setting a cozy vibe. Paired with the intricate granite countertops, it hits the elegance mark. The deep red fringed valance? It's the pop of color that ties everything together. With well-placed appliances and a hint of personal decor, this kitchen exudes comfort in every corner. Wouldn't you agree?
21. Sunlit Serenity Meets Functionality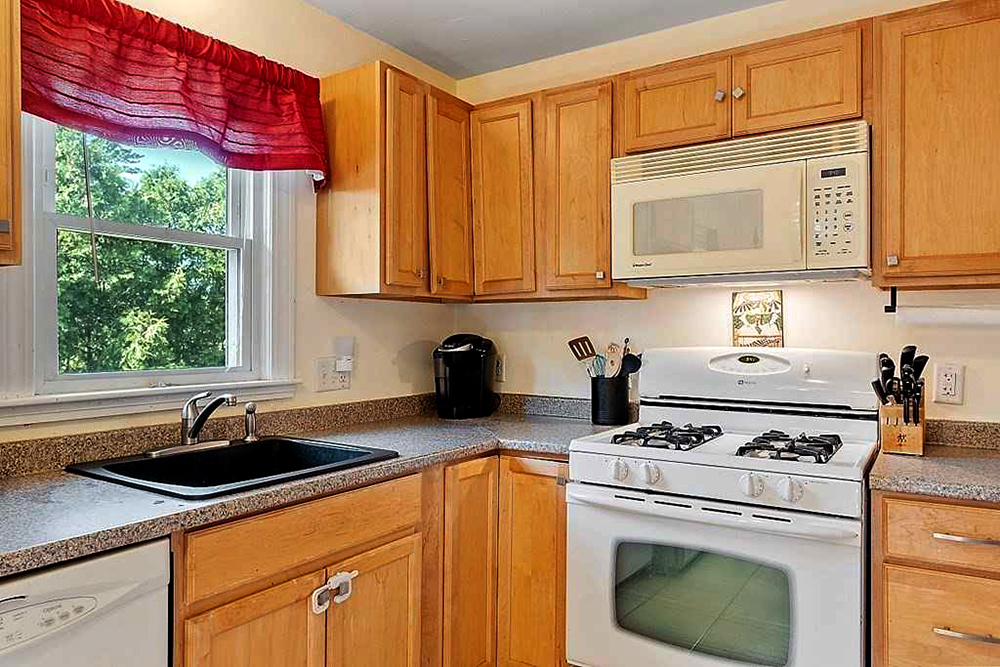 Are you hunting for kitchen inspiration with a touch of the outdoors? Here it is! Light bathes this space through a generous window with a vibrant red curtain. Classic wooden cabinets blend seamlessly with speckled granite countertops. Meanwhile, essential appliances are at arm's length, and nifty touches like the utensil holder add a personal flair. This kitchen truly offers a blend of nature's beauty and modern efficiency. Don't you think?
How to Decorate A Kitchen with Red Curtains
Decorating a kitchen with red curtains can genuinely elevate the ambiance. Here's a simple guide to help you master the art:
1. Choose the Right Shade
Not all reds are the same! It dances from romantic burgundy to vivacious cherry to sun-kissed coral. Picture this: a rustic kitchen might yearn for a wine-red, adding depth and warmth. Meanwhile, a modern space could pop with a brighter, fiery scarlet. Remember those muted tones, like brick or rose, for a more understated feel. And if you're still torn? Grab fabric swatches and see which red speaks to you in your space. The right hue can genuinely transform your kitchen!
2. Coordinate with Accents
Think of your kitchen as a stage and your red curtains as the star. But even stars need a supporting cast. Complement your curtains with matching red kitchenware, like mugs or dish towels. Alternatively, pick neutral tones like grays and beiges to let the curtains stand out. Or, if you're feeling adventurous, how about some gold or brass finishes for that extra sparkle? Remember, it's all about balance. A few well-chosen accents can elevate your curtains from simply lovely to show-stopping!
3. Consider the Curtain Type
Not all curtains are created equal! Sheer red curtains offer a gentle glow, perfect for a soft ambiance during sunny days. Meanwhile, blackout varieties ensure privacy and dimness, ideal for cozy dinners. Cafe curtains? They're a classic, giving a vintage vibe while allowing light from the top. If you fancy a modern twist, try Roman shades in vibrant red. Ultimately, the curtain type sets the room's mood. So, take a moment, envision your dream kitchen, and let the curtain type lead the way!
4. Balancing Act
While red is bold and attention-grabbing, it's essential not to let it dominate the space. Picture this: deep red curtains paired with soft beige walls or light-colored cabinetry. The contrast is both lively and harmonious. Remember, balance doesn't mean dulling the red. Instead, it's about complementing it. Introduce neutral-toned accessories or a soft-patterned rug to ground the vibrancy. When done right, your kitchen will strike a delightful equilibrium, where red curtains are the star, yet every element shines in harmony. It's a balancing act worth mastering!
5. Pattern Play
Ready to elevate your kitchen game with patterns? Here we go! While solid red curtains bring warmth and vigor, introducing patterns can add a new layer of charm. Imagine playful polka dots or sophisticated stripes in varying shades of red. These patterns can break the monotony, adding depth and interest to your space. But remember, with patterns, less is often more. To keep the kitchen cohesive, you might want to pick up subtle hues from the curtain pattern and use them elsewhere, like placemats or dishware. It's all about creating a playful dance between pattern, color, and decor.
6. Hardware Matters
Curtain rods, rings, and finials might seem like small details, but they make a big difference. Choose sleek, modern rods for a contemporary kitchen or ornate, vintage-inspired ones for a classic touch. The finish also matters: brushed nickel, antique bronze, or matte black can complement or contrast with your red curtains. And don't forget those finials – they're the jewelry of curtain hardware. Whether you opt for crystal ends or geometric designs, the right hardware can elevate your red curtains from lovely to show-stopping!
7. Natural Elements
Bringing natural elements into your kitchen adds warmth and balance to the boldness of red. Think woven bamboo shades or wooden curtain rods. Perhaps a beautiful potted plant on the windowsill? These earthy touches ground the vibrant red, making the space feel cozy and inviting. Stone countertops or a rustic wooden table can also play up this harmony. So, next time you gaze at those red curtains, consider sprinkling in some natural charm. It's the fusion of zest and zen you didn't know you needed!
8. Lighting
Have you ever noticed how lighting can completely transform the mood of a room? When pairing with bold red curtains, it's crucial to get the lighting just right. Opt for soft, warm lighting to enhance the cozy feel that red naturally exudes. Think about installing dimmer switches; they're game-changers. Let in natural light on sunny days to make the red curtains pop against the sun's golden hues. Pendant lights or under-cabinet lighting can also create a dramatic effect, highlighting the curtains' richness. So, before calling your kitchen design complete, remember lighting and those red curtains? They're a dynamic duo waiting to shine!
9. Mix and Match
Mixing and matching can be your secret weapon to elevate that kitchen design. With red curtains as your anchor, consider pairing them with contrasting colors or patterns for a bold statement. Maybe a checkered tablecloth or striped chair cushions? And hey, why stop at fabric? Think tiles, dishes, or even wall art. But here's the key: balance is essential. Too much can be overwhelming. Start small, trust your instincts, and play around. Embrace the mix-and-match adventure, and watch your kitchen transform into a lively, unique space with personality!
10. Final Touches
The final touches can truly make or break your kitchen's look. Think of them as the cherry on top! Focus on the details once you have those radiant red curtains. Maybe a vibrant vase filled with fresh blooms? Or a rustic bowl brimming with bright fruits? How about decorative red napkins or chic coasters? These little add-ons don't just complement your curtains; they weave the entire theme together. Dive into the world of accessories, pick items that resonate with you, and watch as your kitchen goes from beautiful to absolutely breathtaking.
Remember, it's all about creating a harmonious space. Red is bold, so play with contrasts and ensure everything feels cohesive. Happy decorating!