Bay windows are like the crown jewels of any kitchen space. They let in loads of natural light and offer stunning views, but it can be tricky to dress up. Don't sweat it; we've got you covered! In this article, we're diving deep into curtain ideas for bay windows in your kitchen. From breezy sheers to lush velvets, we've got something for every style and vibe. Get ready to be inspired!
1. Country Charm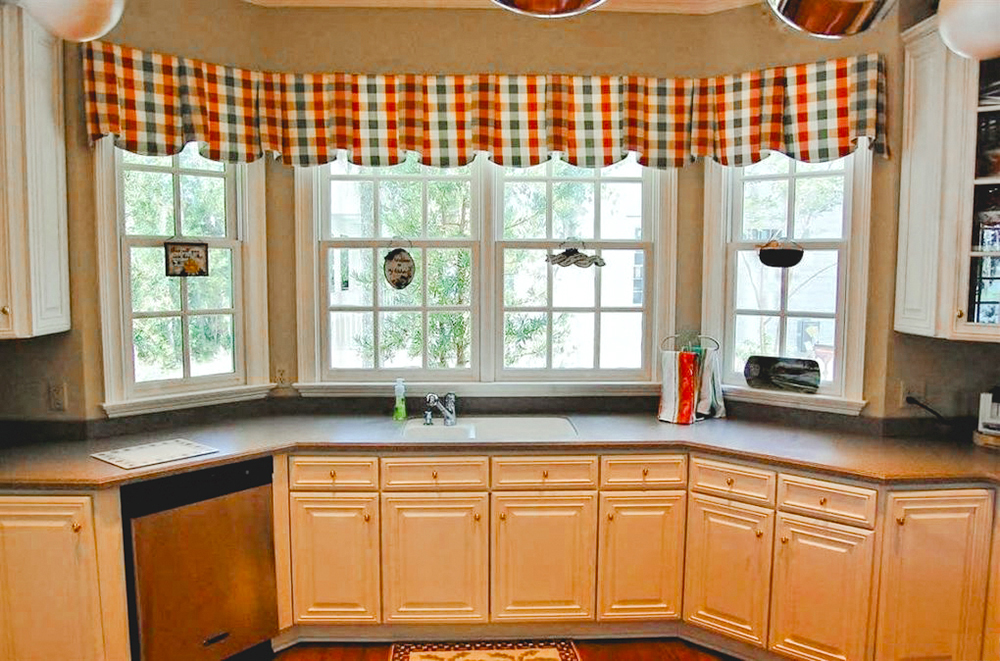 These bay windows pop with playful plaid curtain designs, bringing warmth and a touch of country flair. The red, white, and green checks seamlessly blend with the neutral tones of the kitchen, offering a cozy yet vibrant contrast. The curtains, hanging as a scalloped valance, allow tons of sunshine to pour in, ensuring the kitchen remains bright and inviting. Plus, the design doesn't overpower, ensuring the beautiful outdoors remains the main attraction. It's country chic at its finest!
2. Regal Elegance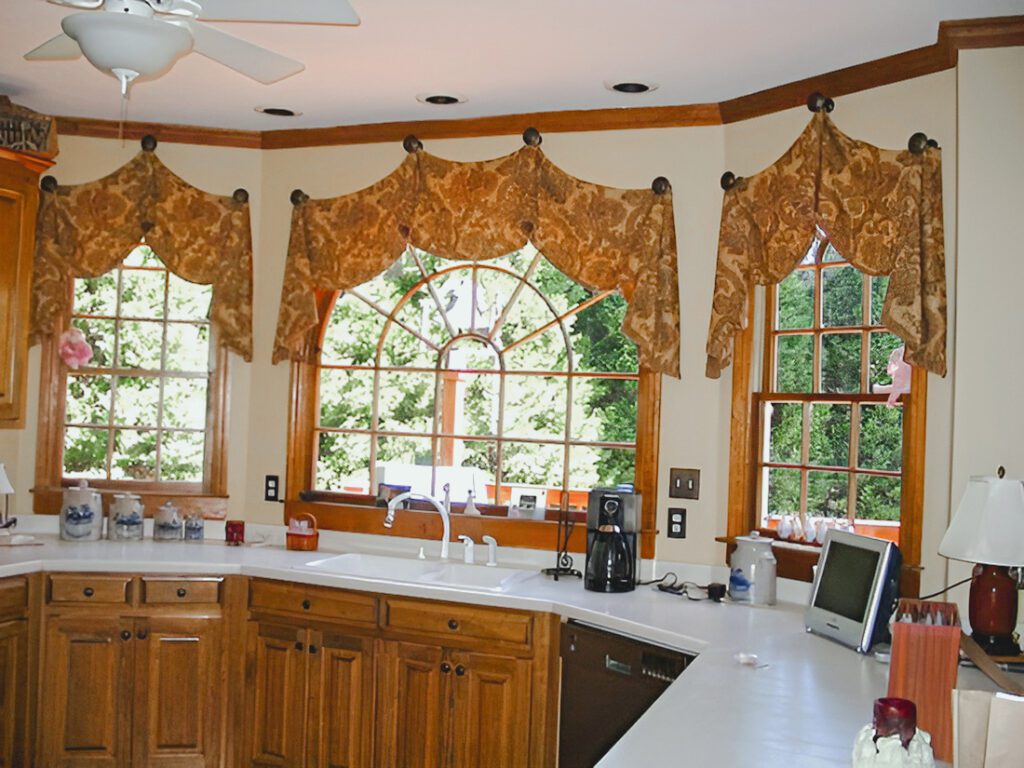 Next, let's dive into this kitchen's royal vibes, shall we? The curtains draped over these bay windows scream elegance with a capital 'E.' Featuring a rich damask pattern in earthy tones, they effortlessly elevate the room's entire feel. The design is about detail: notice the sumptuous swirls and intricate motifs. Absolutely regal! And those wooden finials at each peak? A rustic touch that balances out the luxury. By hanging just atop the windows, they allow ample light to flood the space, ensuring the kitchen feels like a blend of a modern haven and a classic chateau. Pure magic!
3. Crisp Coastal Charm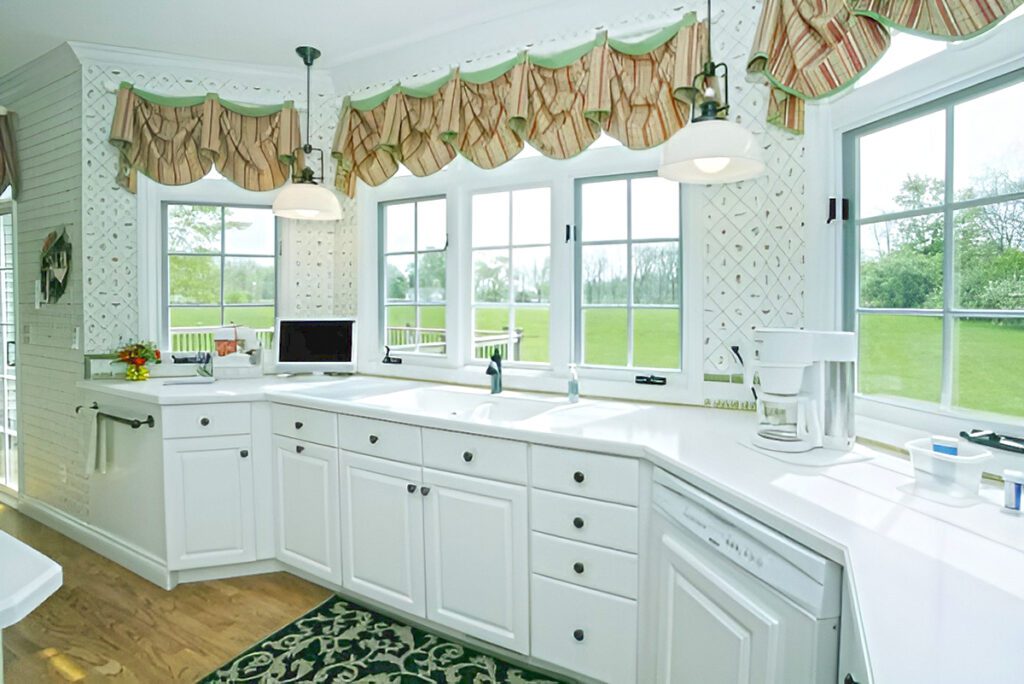 These curtains are a real breath of seaside air, don't you think? They whisk us straight to the beach with their sand and sea green striped pattern. The green accent at the top? It's like a nod to seagrass dancing in the breeze. And those shell-like finials? Pure oceanic bliss! They drape just above the windows, letting in abundant natural light. The combination is just perfect for a kitchen that wants to evoke beachy vibes, all while keeping things sophisticated. A delightful dance of design!
4. Regal Resonance
Check out these curtains – rich, bold damask patterns in a dance of gold and deep hues. It screams elegance, right? It adds a touch of royalty to the kitchen without overpowering it. And beneath? Sheer blinds that ensure privacy yet let soft, filtered light in. Notice the play between the curtains and the granite countertop? The warm tones genuinely complement each other. These drapes, paired with a neutral backdrop, are the crown jewels of this culinary kingdom. It's all about striking the right balance!
5. Gingham Curtains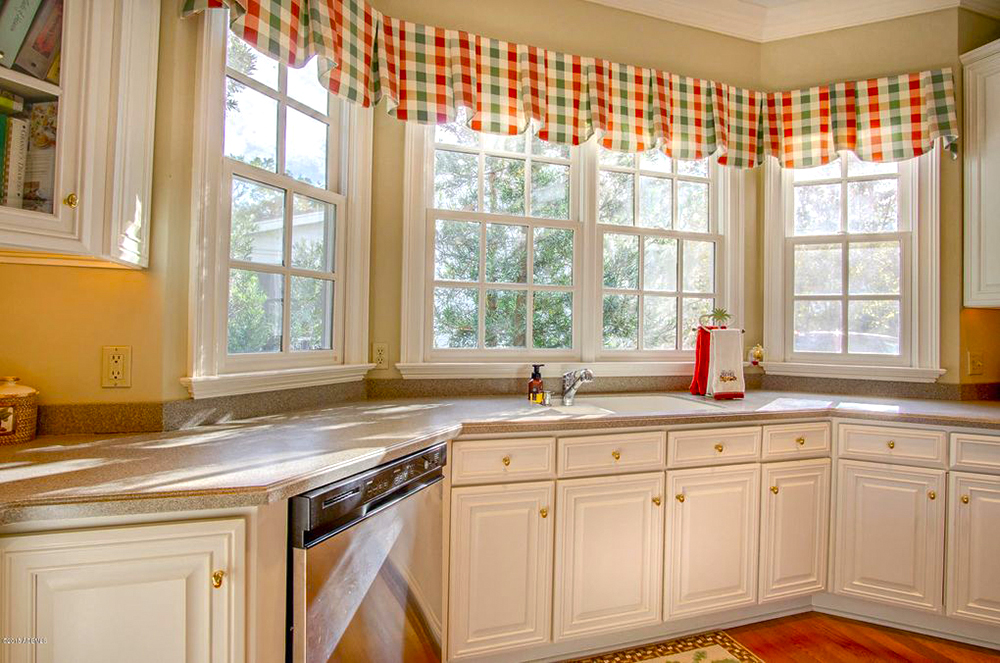 These gingham curtains are pure picnic vibes! Green, white, and red checks bring that carefree, outdoor fun into the kitchen. And the way they scallop? Cute and playful. These curtains are the antithesis of stuffy. Bright, airy windows amplify the light, and the curtains are the cherry on top, breaking the expanse of white cabinetry. The simplicity of the gingham pattern means the space feels fresh and uncluttered. Plus, paired with that warm, buttery wall color? It's the recipe for a space that's both cozy and refreshing. Cooking here would be a daily treat!
6. Elegance Meets Earth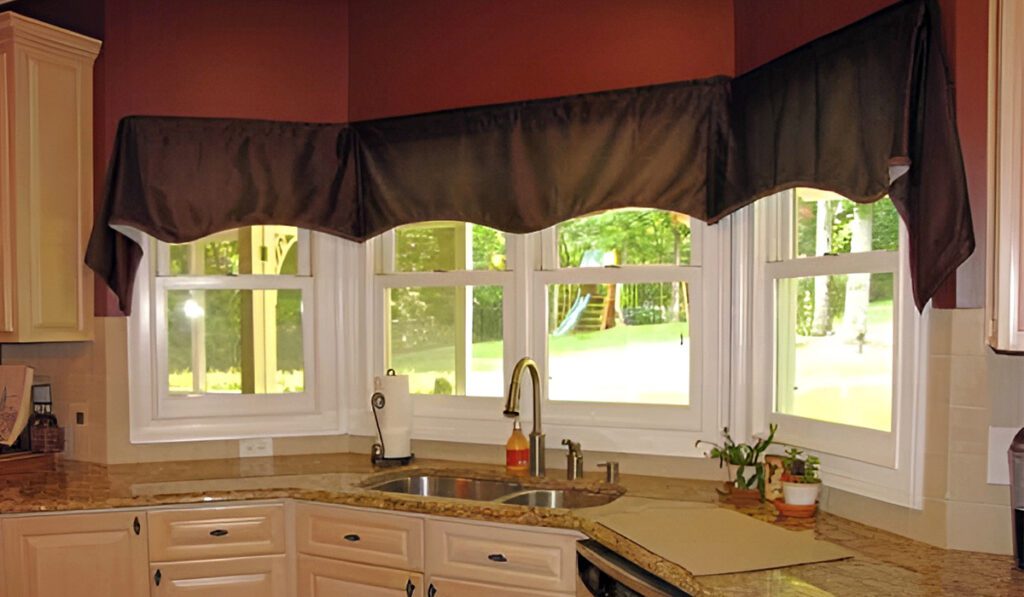 This design whispers sophistication, turning the kitchen into an inviting and regal space—the espresso-hued curtains channel deep sultry vibes. Graceful and understated, they drape above bay windows, framing the lush outdoors. That rich tone? It's not just chic; it's grounding. It harmonizes with the passionate red walls but offers a sleek contrast to the pristine white frames. The sheen on the fabric? A hint of luxe. There are no loud patterns here; the focus is on texture and tone.
7. Vintage Floral Curtains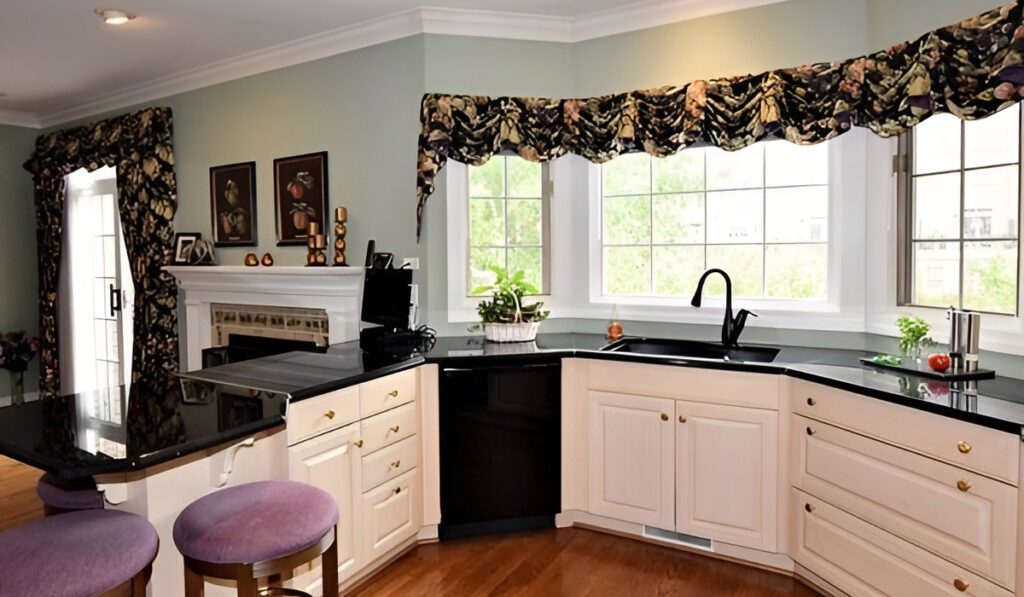 These curtains are like a blast from a chic past. Their bold, floral patterns burst with color and bring a sense of grandeur. And notice how they gather? It adds volume, lending the space a cozy Victorian feel. Paired against muted walls, they're the room's showstopper without being overpowering. But what's truly genius? How they tie in with the black countertops and lavender accents. It's an artful blend of classic and contemporary. So, if you want to merge the old with the new, this design might just be your muse. What a treat for the eyes!
8. Golden Charm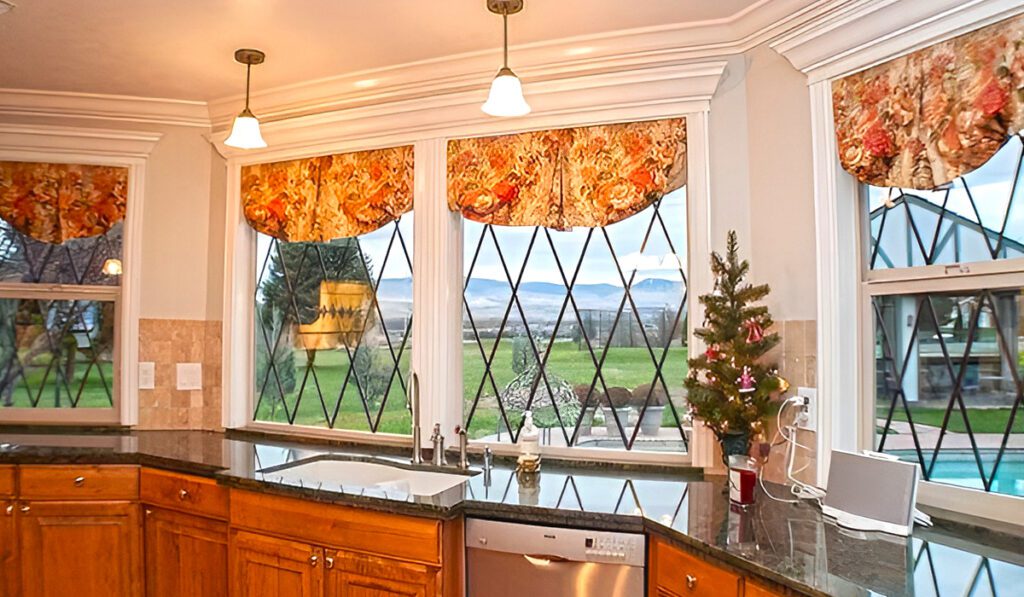 Step into this kitchen, and it's hard to miss those stunning curtains. They're like an artist's impression of autumn – golden, with vibrant splashes of red and orange. The way they drape creates a soft arch, perfectly framing the outdoor scenery. And can we talk about those diamond-shaped windows? They add a unique touch, making the view feel like a piece of art. Pair this with the warmth of the wooden cabinets, and you've got a space that's both cozy and luxurious. These curtains would be the starting point if you ever wanted a kitchen that felt like a serene countryside retreat. Pure magic, right?
9. Sunny Serenades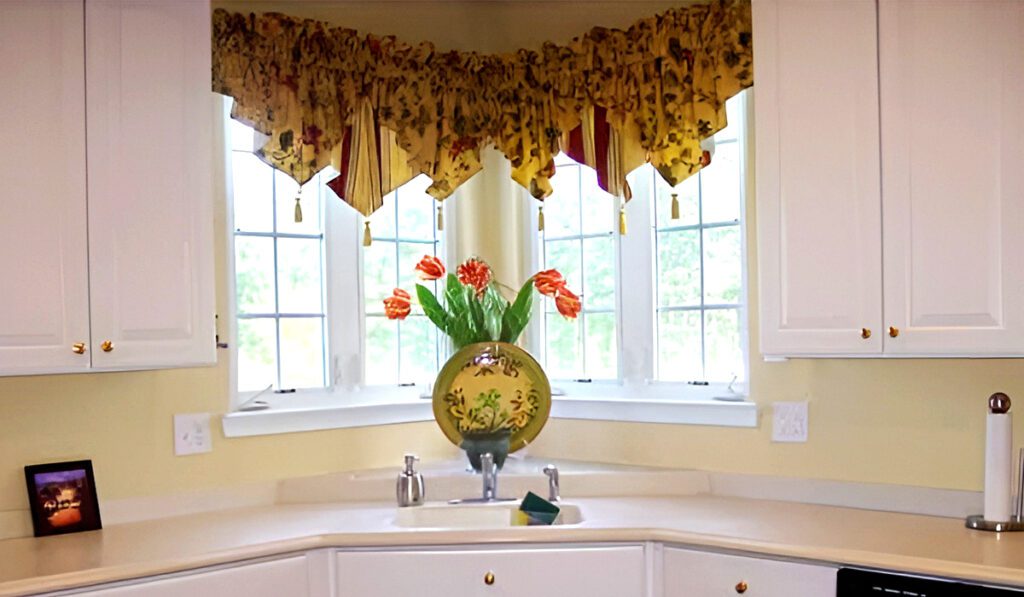 Next, let's dive right into this sunny spectacle! The curtains, painted in rich golden hues with splatters of deep red, instantly catch your eye. They're gathered in a casual yet elegant cascade, adding a whimsical touch to the space. Those playful tassels hanging down are the cherry on top. These curtains aren't just about function; they're a statement piece. Paired with the bright tulips on the counter and the clean white backdrop of the cabinets, they give the kitchen a cheerful, welcoming aura. Every morning, with such a view, must feel like a fresh spring day. Don't you think?
10. Sleek Elegance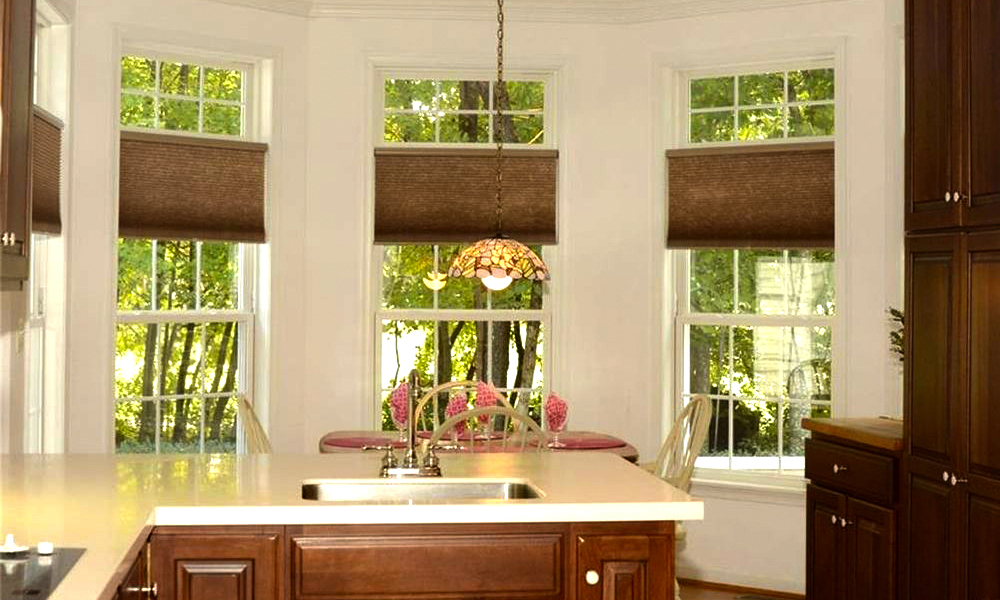 So, you're into minimalist vibes? This kitchen is speaking your language! Take a gander at those crisp, earthy-toned roll-up curtains. Simple, yet so chic, right? Their textured look adds depth without overwhelming the space. And because they can be rolled up or down, you get to decide just how much nature you invite in. The wooden accents from the cabinets to the window frames create a harmonious symphony. Oh, and don't even get me started on that stained-glass pendant light! It's the touch of whimsy that this elegant ensemble needed. Cooking with this kind of view? Pure bliss.
11. Vintage Vibes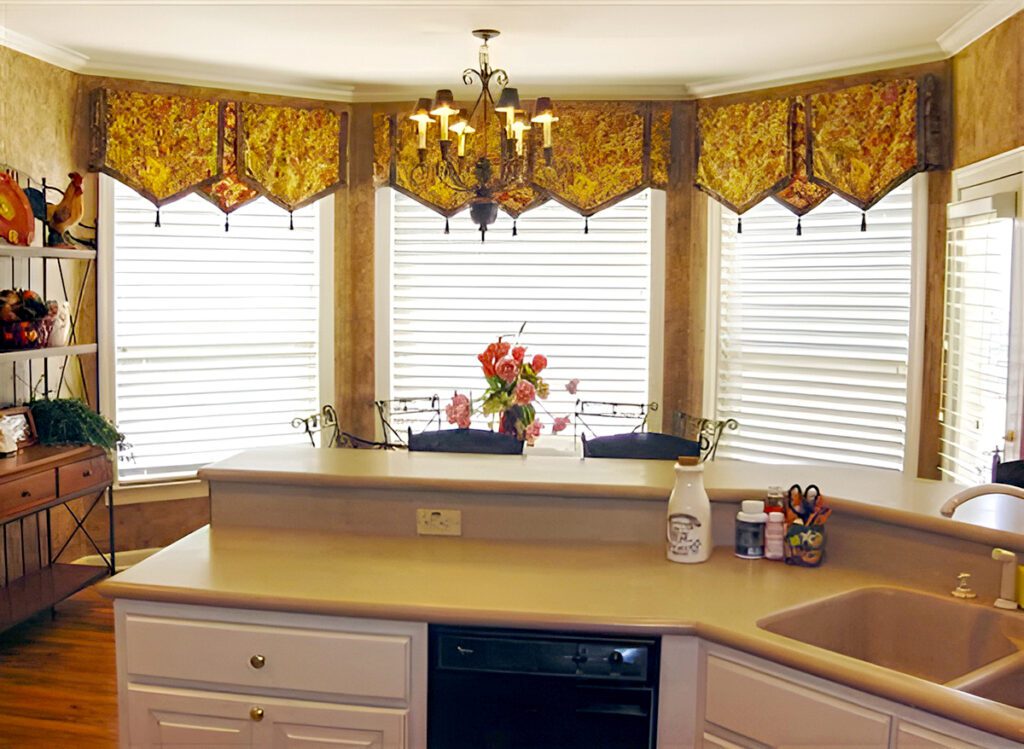 These valances are draped in rich, gold-hued fabric with intricate patterns; they ooze vintage charm. And those tassels? Pure sophistication. Beneath them, the modern blinds contrast beautifully, offering privacy when needed. The whole set-up balances the luxurious old-world feel and today's functional design. The beige walls and matching counters effortlessly tie the room together. And look at those chandeliers, casting a warm glow throughout. It's like stepping into a cozy, elegant time capsule whenever you whip up a meal!
12. Swags and Serenity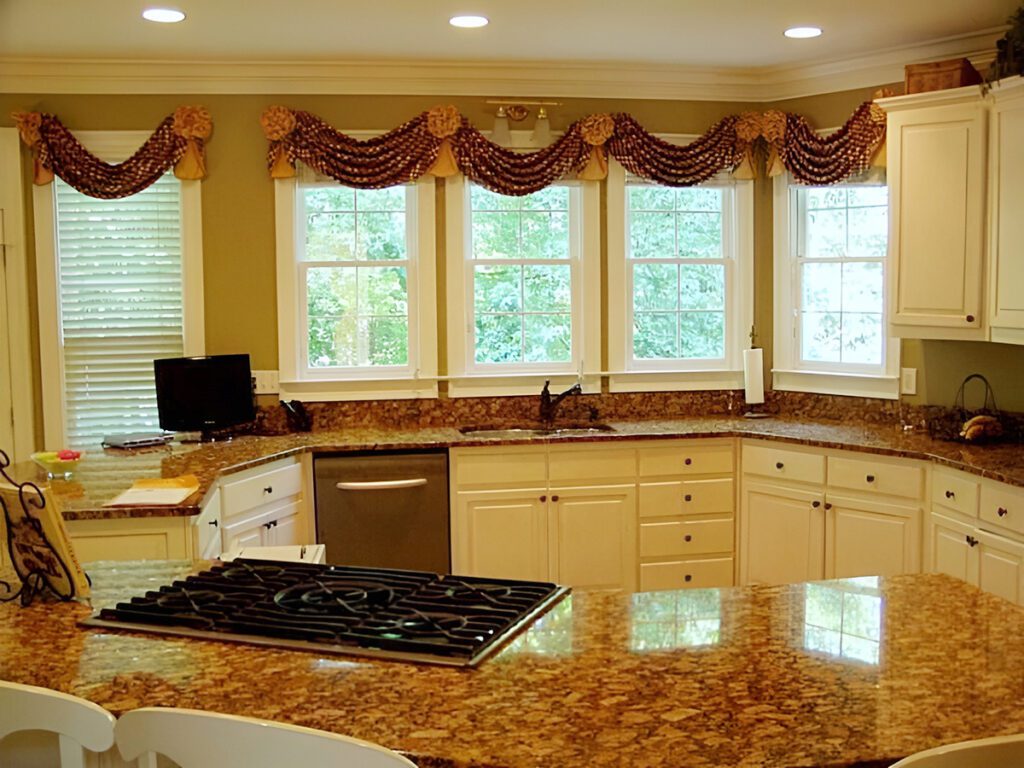 Notice those swagged curtains? Their deep burgundy and beige checks perfectly match the room's calming palette. These aren't just any curtains; they cascade gracefully, adding a touch of timeless elegance. The delicate rosette details? A cherry on top! They're the perfect marriage of classic design and playful flair. Behind them, sleek blinds stand ready to offer privacy or bathe the kitchen in natural light. Also, this space is every homeowner's dream, paired with creamy cabinetry and a stunning granite countertop. Elegant yet cozy – a true win-win!
13. Pastel Dreams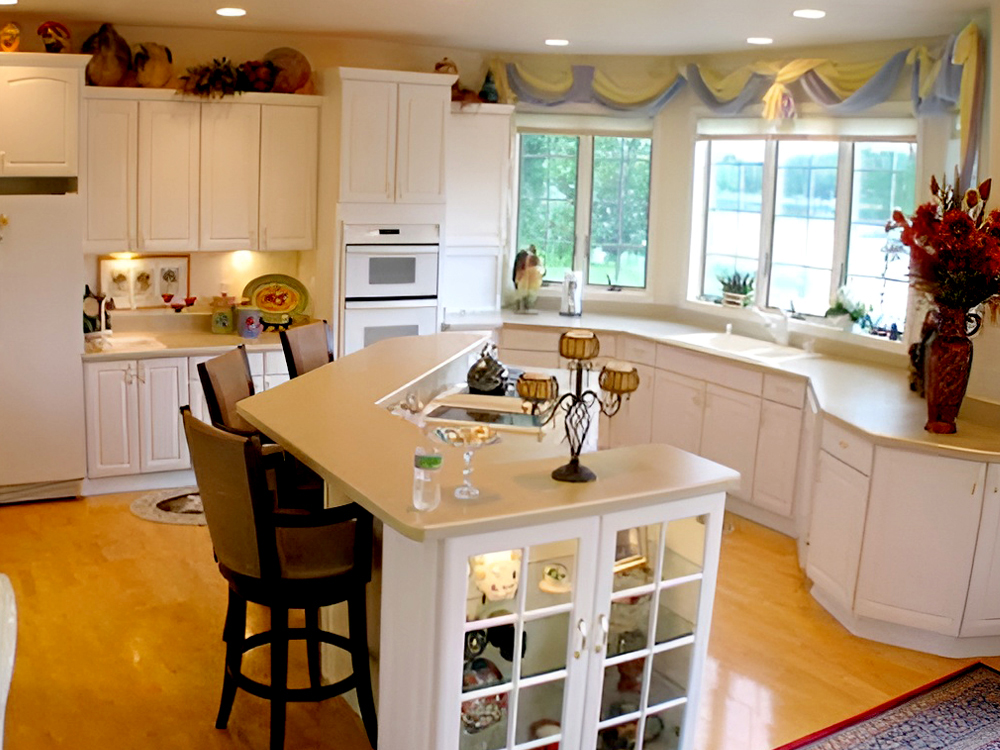 Next, let's talk about these pastel dream curtains, shall we? Just glance at the soft yellows and blues, bringing a gentle sunrise feel right into the kitchen. These scalloped valances, draped so effortlessly, lend a whimsical touch, don't you think? They're the ideal blend of airy lightness and playful charm. They frame a picturesque view above the bay windows, creating an inviting ambiance. And let's not forget the adorable bow tie-ups! Also, paired with the neutral kitchen tones, these curtains promise a daily dose of cheer. So fresh and so delightful!
14. Elegant Simplicity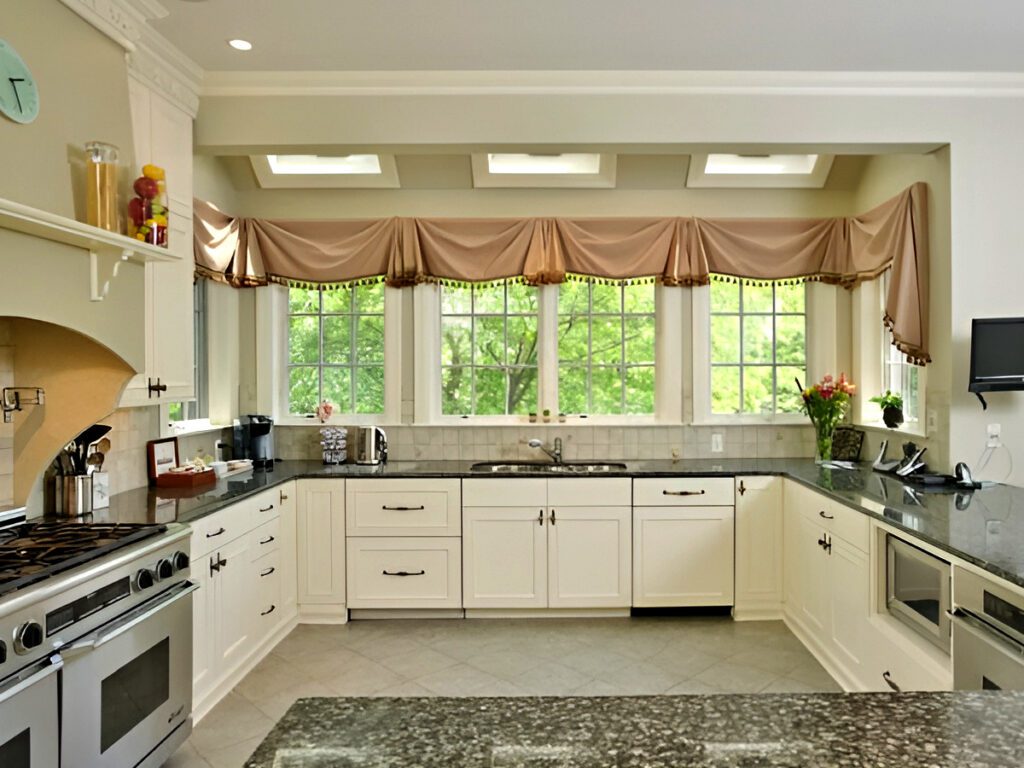 Have you seen such elegant simplicity in a curtain design? These toasted almond drapes scream sophistication. They gracefully cascade in a swoop design, allowing the lush outdoors to be the room's artwork. Notice the tassel fringe? It adds just the right touch of detail without overwhelming. The color choice, warm and neutral, complements the pristine white kitchen setting seamlessly. And those gentle folds? They convey a sense of luxury, effortlessly elevating the entire kitchen's vibe. In a space where minimalism meets style, these curtains are the icing on the cake!
15. Rustic Charm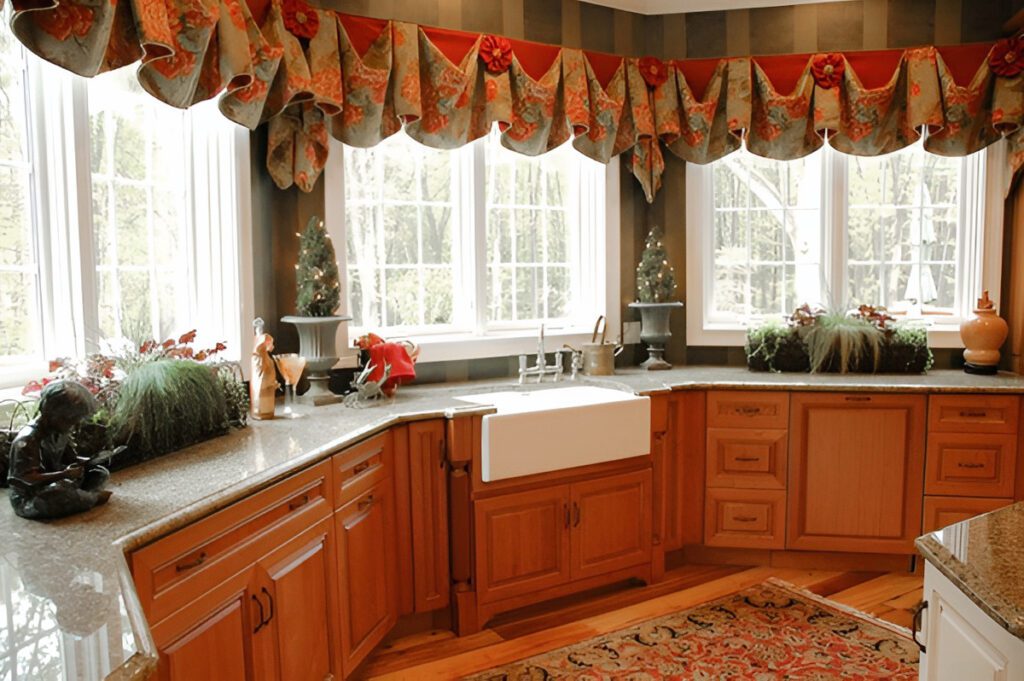 These curtains are pure rustic charm. Adorned with festive florals, they perfectly capture the spirit of a cozy holiday. The playful scalloped edges, paired with pops of rich reds and vibrant greens, add whimsy to the space. And those cute rosettes? A delightful touch! Anchored against a backdrop of tall, clear windows, they allow ample light to pour in, celebrating nature's best views. Surrounded by warm wooden cabinetry and holiday trinkets, this curtain design creates a heartwarming focal point in the kitchen. It's like a hug for your home!
16. Modern Elegance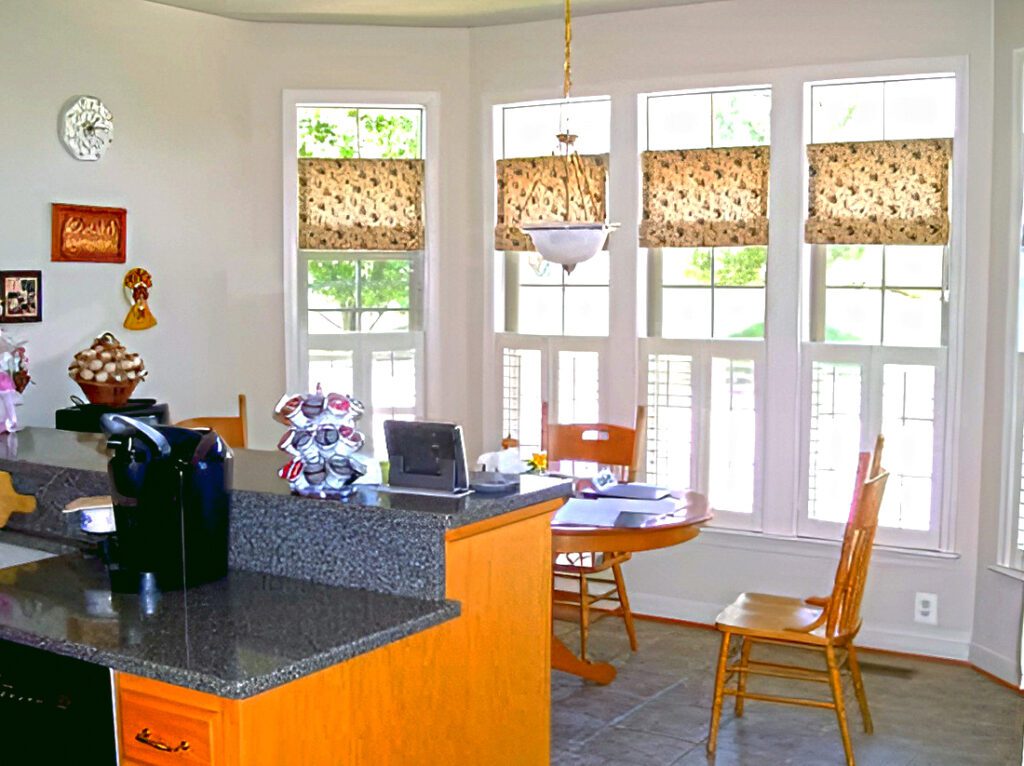 These fabulous curtains bring a dash of wild sophistication with that leopard print. Moreover, these curtains are placed atop large bay windows and are a bold choice, but oh-so-right! They contrast beautifully with the muted wall tones, adding just the right amount of pizzazz. And can we talk about the even spacing and the neat roll-up style? It's crisp and ensures the space remains flooded with natural light. This kitchen proves you can have a function, fun, and a touch of wildness. Go bold or go home, right?
17. Crimson Blooms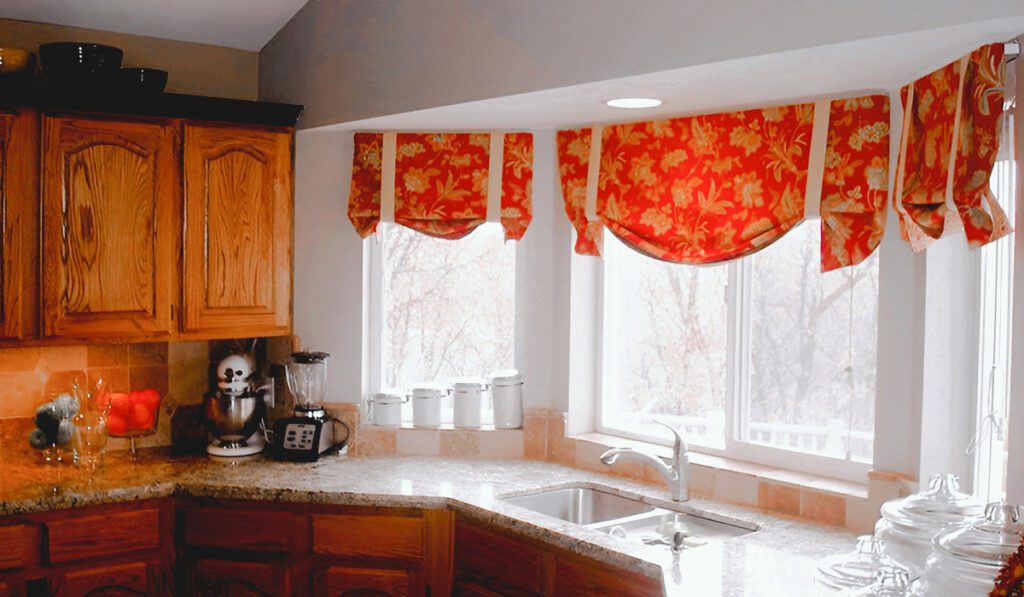 These gorgeous, red-hot curtains steal the show with a vibrant floral print that breathes life into the space. Don't you just adore how they gracefully drape in a semi-circular pattern? They add a touch of romance and whimsy without overwhelming the room. And the curtains are paired with neutral walls and wooden cabinets, becoming the kitchen's pièce de résistance. They not only add color but also frame the outside view perfectly. It's like having nature both inside and out! This kitchen is proof: bold curtains can instantly uplift any room's vibe.