Black curtains can be a fantastic choice for living rooms, and here's why. First off, let's talk drama. Black curtains instantly add a sense of drama and luxury to a space. Think of them as the "little black dress" of your living room—timeless and elegant.
Now, onto versatility. Black goes with everything, right? So, whether your living room is awash in pastels or decked out in bold prints, black curtains can complement the look without stealing the show. They act as a neutral backdrop that allows other elements to shine.
But what about light? You might think, "Won't black curtains make my room dark?" Not necessarily. The trick lies in the fabric. Sheer black curtains can filter in natural light while giving you that bold aesthetic. On the flip side, if you opt for heavy, blackout-type fabric, you've got the perfect setup for movie nights or just catching a quick afternoon nap.
Whether you're into minimalism or go all out with decor, black curtains can seamlessly blend in or stand out. We've gathered 25 jaw-dropping living rooms with black curtains that you'll love. Get ready to feel inspired and give your living room the upgrade it deserves!
1. Black Curtains Meets Lunar-Inspired Decor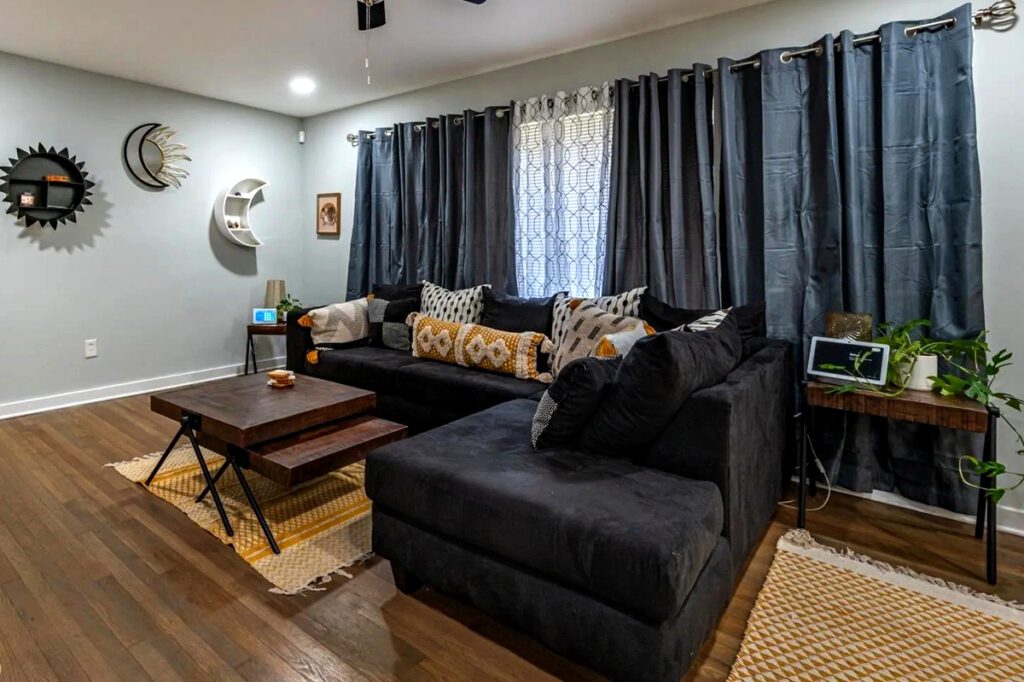 Wondering how black curtains can work in a modern setting? Just take a look at this beauty! The black curtains in this living room ooze elegance, complementing the room's sleek design. The soft sheen on the curtain's surface beautifully catches the light, strikingly contrasting the neutral walls. What's more, these curtains aren't just plain black; they pair with sheer patterned drapes that filter light while maintaining privacy. This layered look adds texture and depth to the space. The curtains and lunar-inspired wall decor infuse a sense of cosmic wonder, making the room feel cozy and boundless. What an inspiring way to play with dark and light!
2. Black Curtains Blend with Artistic Flair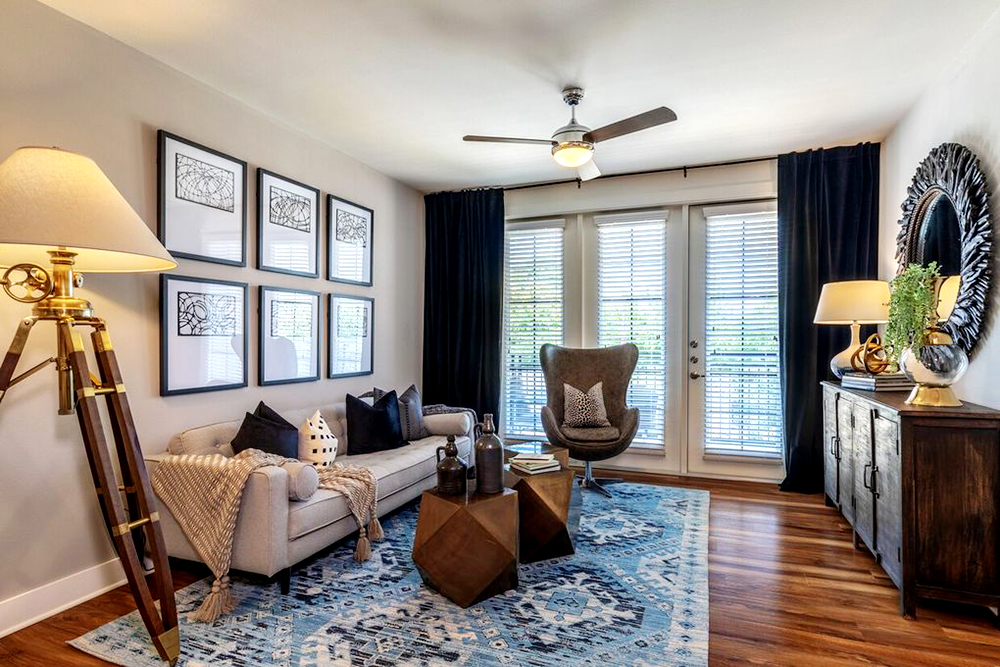 Have you ever thought black curtains could elevate a room's aesthetics? These jet-black curtains beautifully frame the glass doors, casting a silhouette highlighting the room's creamy palette. Harmoniously, they hang from the ceiling to the floor, delivering a sense of luxury and height to the space. Moreover, the curtains effortlessly juxtapose with the room's lighter elements, from the art-filled wall to the plush sofa. The living space embraces a modern and cohesive look by pairing the curtains with chic furnishings and thoughtful decor. Black curtains indeed can be the touch of sophistication your living room needs!
3. Black Curtains Mingle with Modern Vibes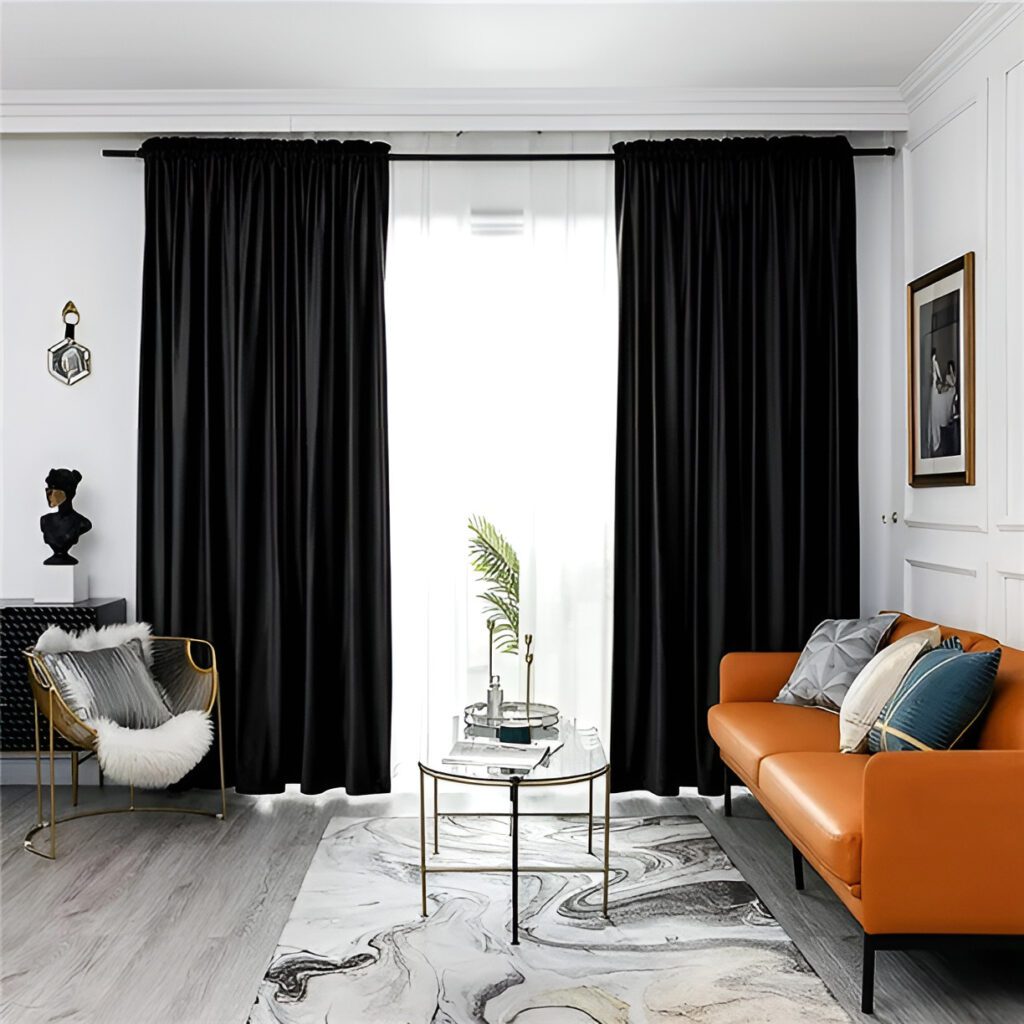 Considering a dash of drama for your living room? Look no further! These glossy black curtains add instant panache, stretching majestically from ceiling to floor. They starkly contrast the room's bright, airy ambiance, seamlessly blending with the contemporary interior. Not only do they provide a stunning visual anchor, but they also highlight the white walls and delicate artwork. Further, when combined with the room's eclectic furnishings – think tangerine sofa and marble-esque rugs – the curtains bring together a harmony of bold and delicate.
4. Black Drapes in a Cozy White Haven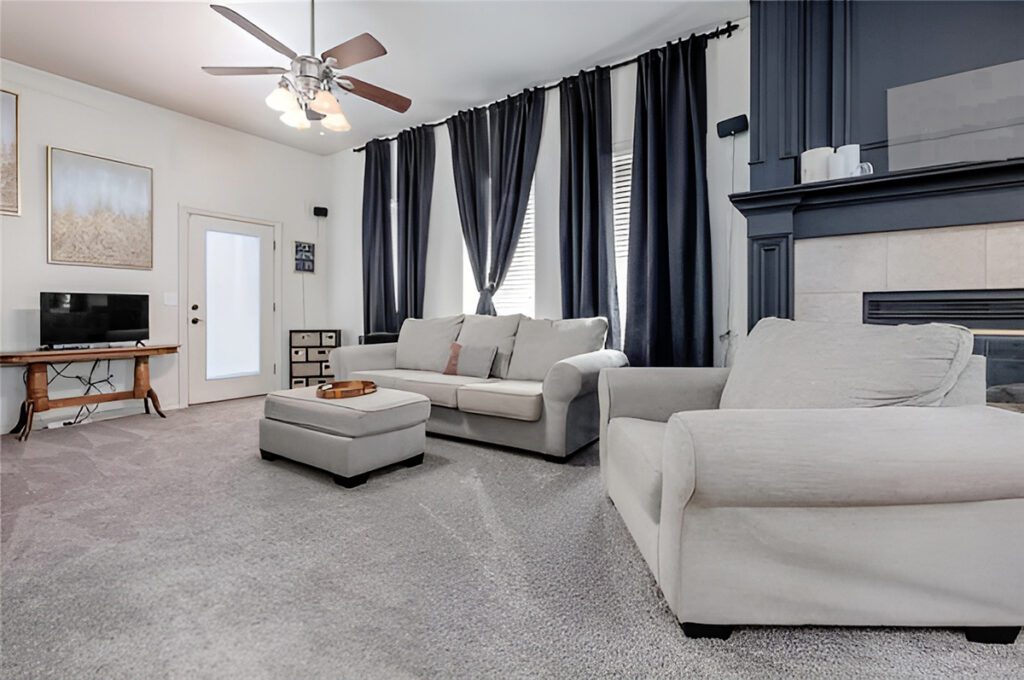 Craving a mix of coziness and contemporary? Dive right in! These deep black curtains beautifully contrast the pristine white walls, adding a touch of boldness to an otherwise soft setting. As they cascade downwards, they frame the windows and accentuate the room's height. Moreover, their subtle sheen complements the muted tones of the furniture and flooring. With soft grays and plush textures, the black drapes become the showstopper. They're more than just window dressings; they're a statement, declaring that contrast can be both daring and delightful. Who said black and white was ever dull?
5. Black Curtains With Blue Walls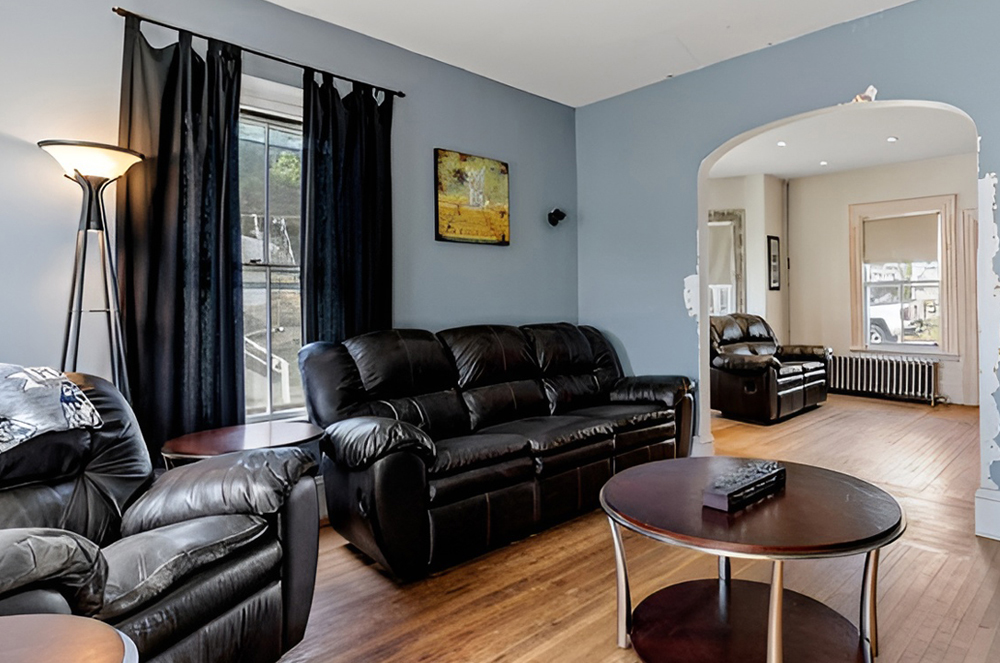 With their luxurious fall, the sleek black curtains add a dash of sophistication against the calming blue walls. Nestled beside the modern floor lamp, they create a dramatic yet elegant statement. The sheen of the curtains plays well with the glossy leather couches, providing the right balance. As these curtains pull together the room's elements, it's evident that their charm lies in their boldness. In this setting, black doesn't overshadow; it complements, proving its unmatched versatility in home décor.
6. Black Curtains Elevating Light Spaces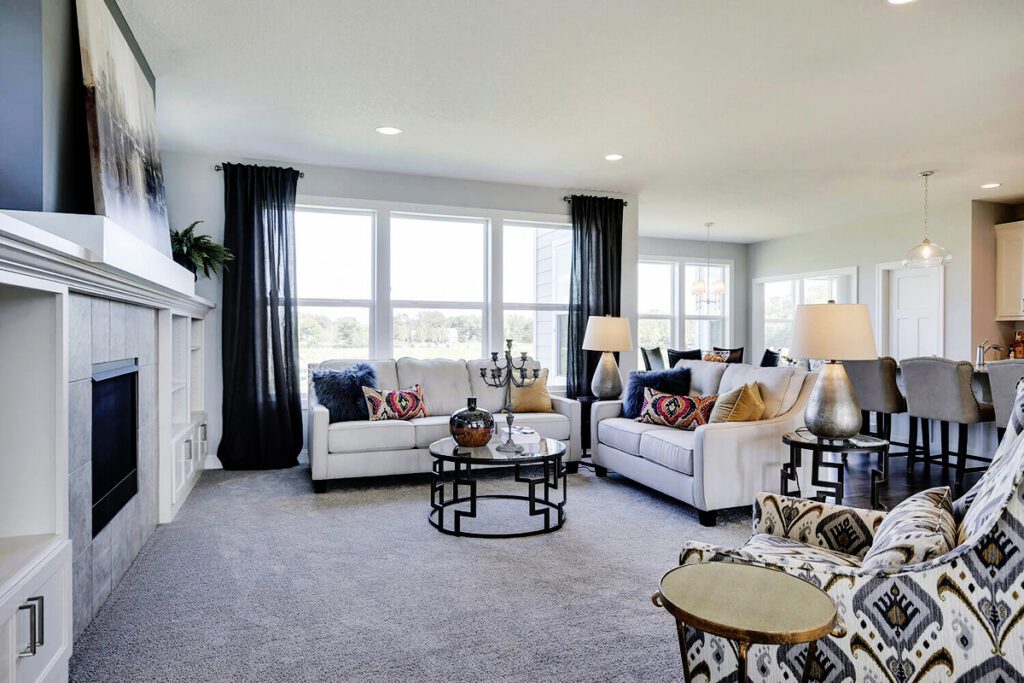 Are you thinking about a curtain color that pops? Dive into this airy living room. Here, the black curtains command attention, perfectly framing the expansive windows. They introduce an exciting contrast, breaking the room's light palette. Meanwhile, the full-length style of these curtains adds a touch of luxury, enhancing the room's height. And there's something so seamless about how they blend with the room's contemporary art and furniture. In essence, black doesn't just fit in; it stands out, making a room like this unforgettable.
7. Black Meets Sheer White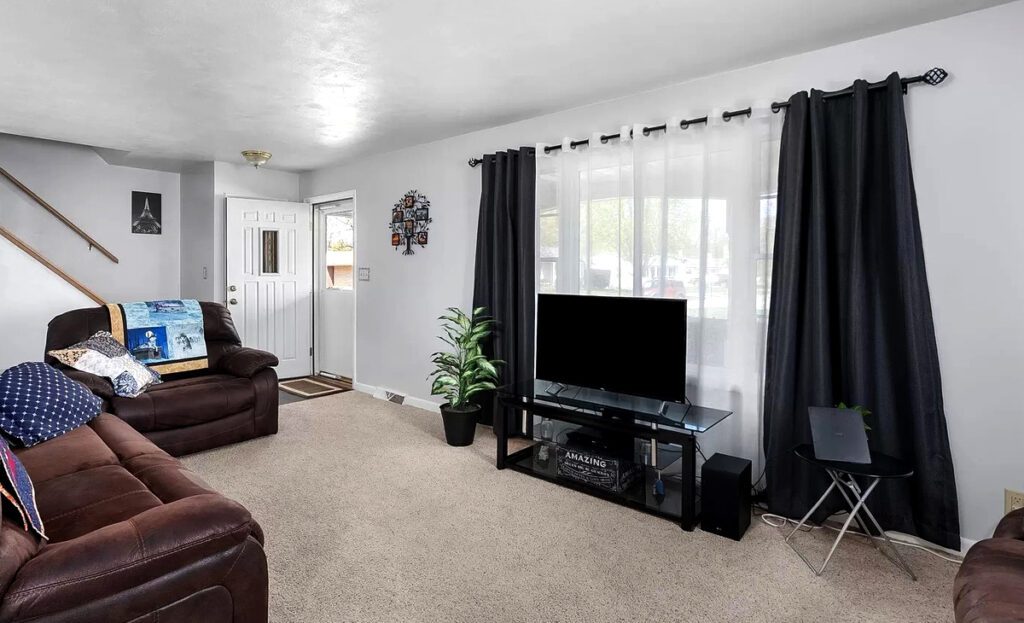 Do you want to pair sheer with solid? Take a look at this snug space. The dual-layered curtains, combining sheer white and bold black, create privacy and ambiance. The sheer layer lets in soft, diffused light, while the black provides depth and drama. Notice how the metallic eyelets and rod give a sleek finish. And the full drop of the curtains? It's elongating, making the space appear taller.
8. Elegant Ombre Black Curtains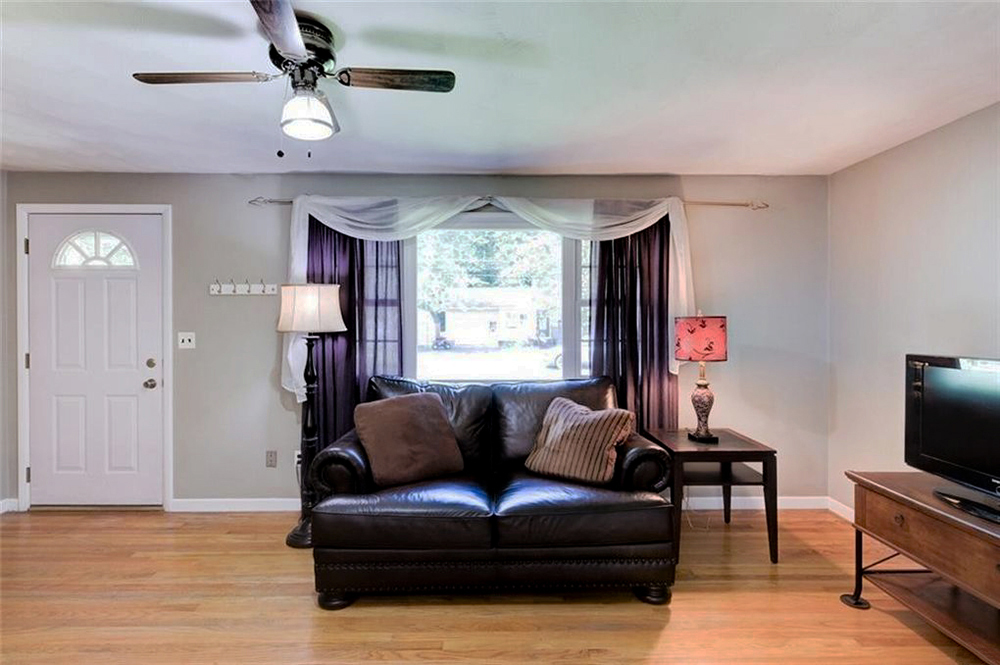 This living room nails it with ombre black curtains. Starting with a deep, luxurious black at the top, they fade into a lighter hue, offering a subtle and captivating gradient. It blends drama and softness paired with the sheer white drapes. The curtains not only frame the window but also become a centerpiece. Their cascading effect adds depth and texture.
9. Full-Length Black Curtains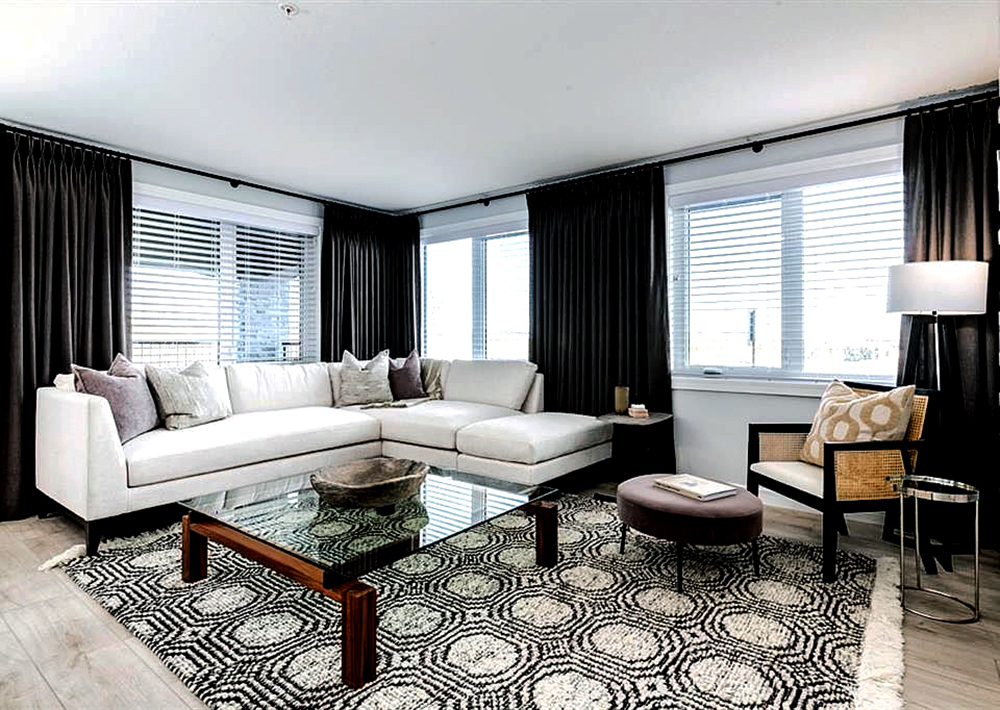 Here, sleek and full-length black curtains take center stage, offering an elegant contrast to the bright interiors. They drape effortlessly from ceiling to floor, exuding a sense of luxury. Interestingly, these curtains aren't just about drama; they're practical, too, working with the blinds to control light and privacy. Combined with the room's modern furnishings and pops of pattern, they create a balanced, harmonious space. In a nutshell, these curtains prove that black can be both bold and beautifully understated in any living room setup.
10. Black Drapes with a Twist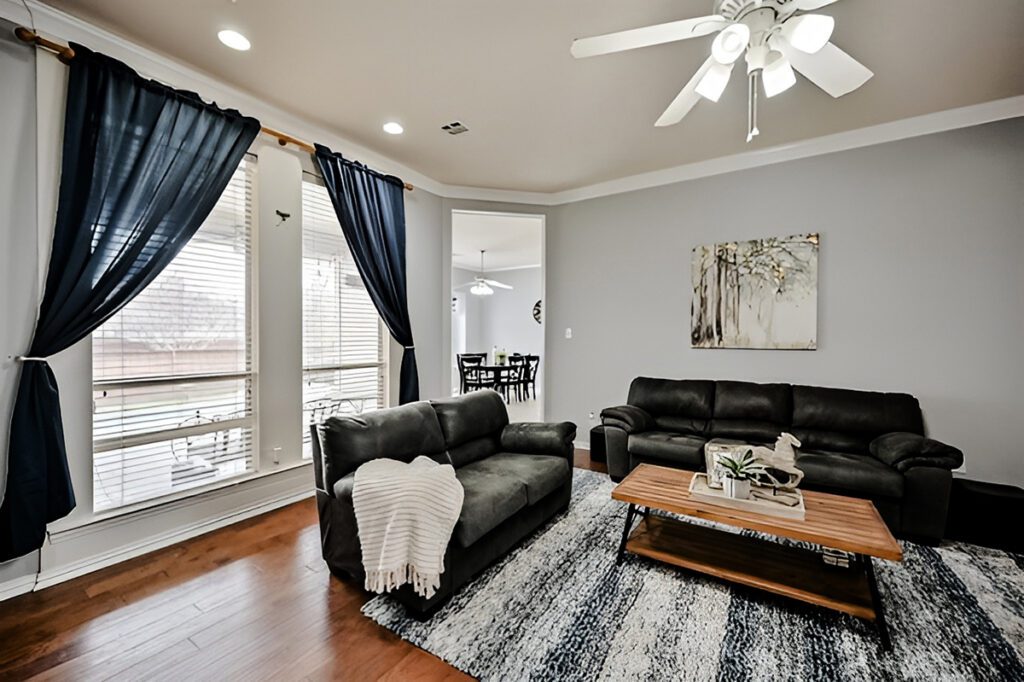 Want to add a touch of sophistication to your space? Check out these stylish black curtains. Tied back gracefully, they introduce an inviting openness to the room while still promising the coziness black drapes offer. The semi-sheer material lets in just enough light, casting a gentle, moody ambiance. Gold curtain rods add a hint of luxury, perfectly complementing the curtains' dark tone. This design seamlessly marries functionality with fashion, proving that black curtains can be versatile and chic. So, if you're aiming for a contemporary yet cozy look, these designs could be your answer!
11. Flowing Black Panels Meet Modern Living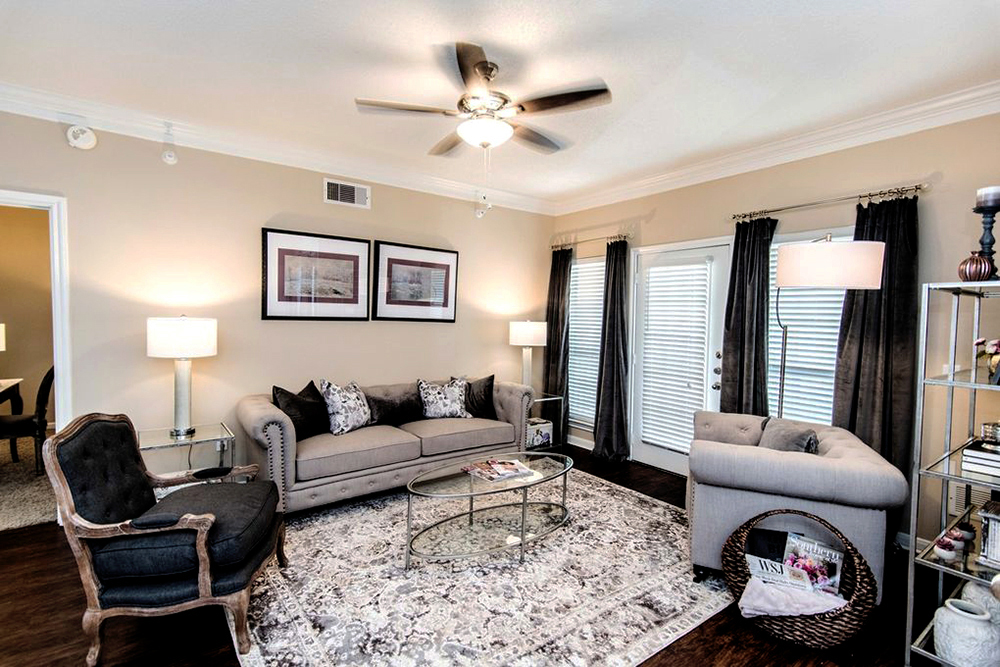 This living room blends traditional elegance with a modern twist, where luxe black curtains stand out beautifully. These full-length panels, draped next to white blinds, create a striking contrast, amplifying the room's spaciousness. Moreover, the curtains' plush texture plays well with the room's neutral palette, elevating its overall sophistication. Silver grommet finishes give a sleek touch, ensuring the drapes hang perfectly. This design showcases the transformative power of black curtains, merging classic charm with a fresh, contemporary flair.
12. Sleek Simplicity Black Drapes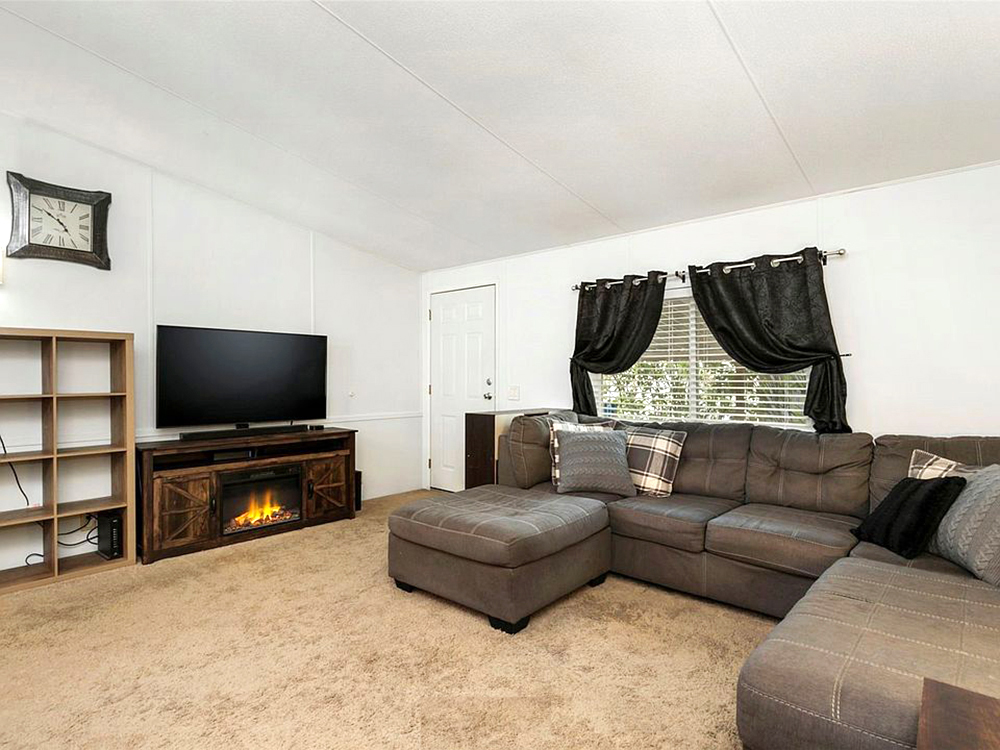 These half-drawn black curtains deliver a sense of drama without overwhelming the space. Paired with the pristine white walls, they frame the windows like a work of art. Their soft, velvety texture introduces a plush vibe, contrasting harmoniously with the room's light backdrop. Additionally, the metallic rod and curtain rings introduce a touch of modernity. As the curtains cascade, they subtly match the room's neutral-toned furnishings, proving that sometimes, less truly is more.
13. Elegance Jet-Black Curtains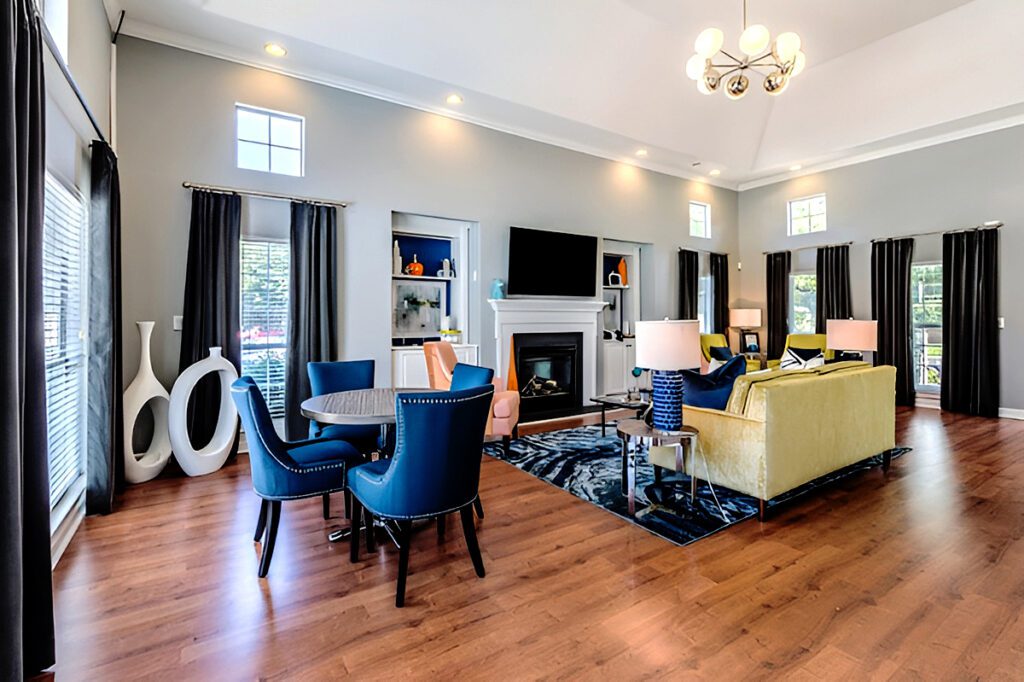 Ready to go bold? These jet-black curtains serve as a striking contrast to the light walls, perfectly blending with the room's contemporary vibe. Flowing from ceiling to floor, they add a vertical depth, making the space appear taller. The sheen of their fabric complements the glossy finishes in the room. Moreover, these curtains act as a visual anchor, balancing the vibrant hues of the furniture. Essentially, they're not just window dressings but a key design element.
14. Sleek Deep Black Curtains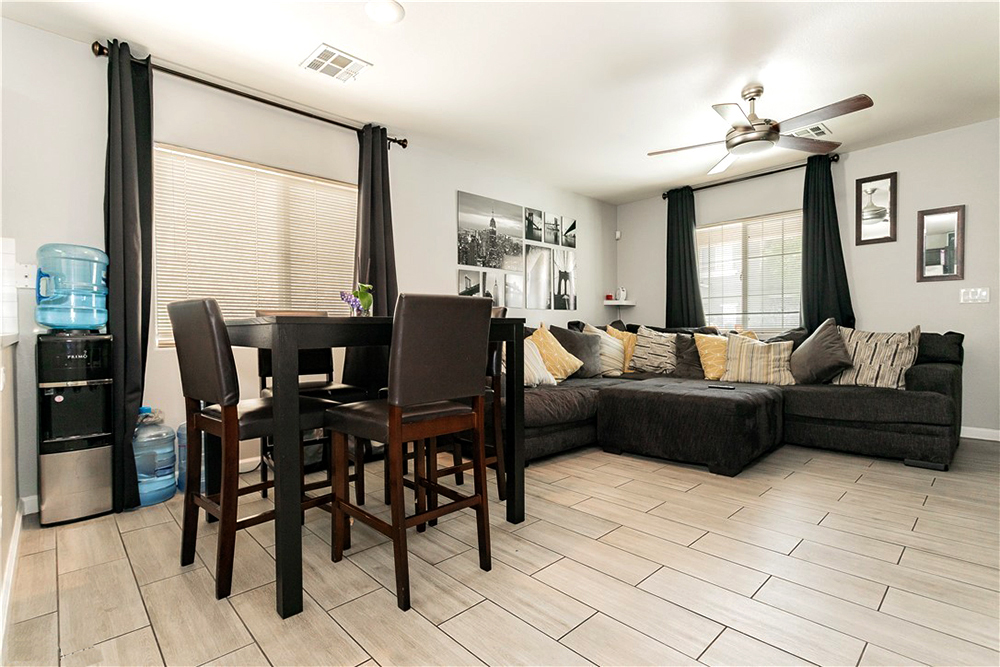 These deep black curtains provide a sophisticated edge in this cozy setting. Starting from the top, they effortlessly cascade down, flanking the window elegantly. The dark hue pops against the neutral walls, creating a captivating contrast. And here's the magic: they harmonize with the room's muted tones, from the chocolate-brown chairs to the comfy charcoal couch. These curtains don't just block light; they're pivotal in weaving the room's design story. If understated chic is your goal, these black drapes are your answer!
15. Rich Black Curtains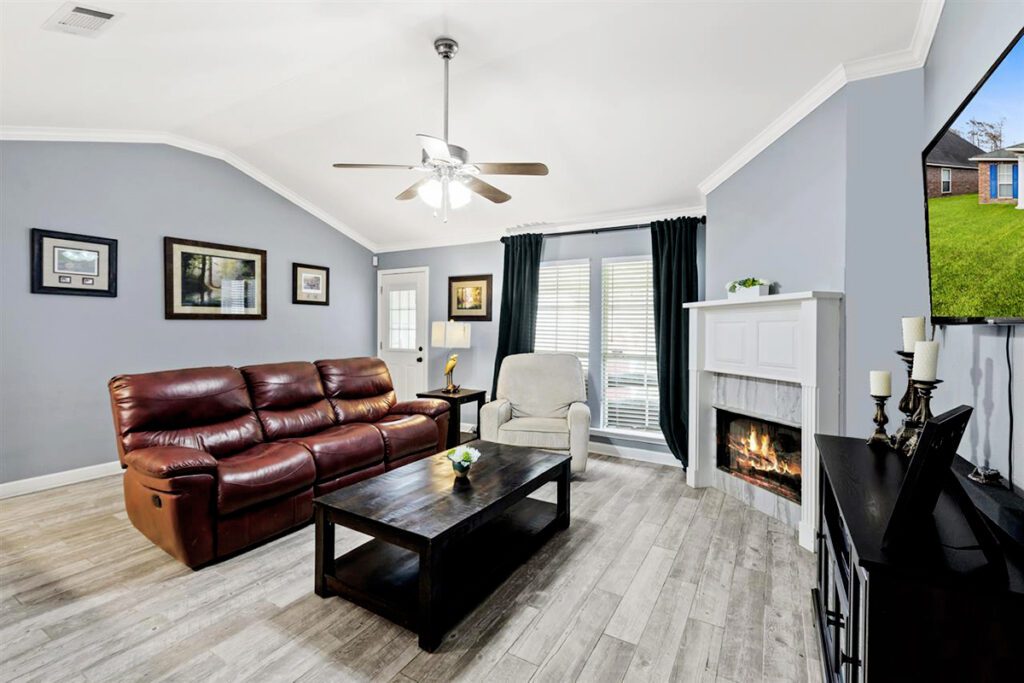 Ready for a timeless touch? These inky drapes in the living room create a dramatic yet balanced atmosphere. Pairing them with a soothing blue wall? Genius! The rich black fabric brings depth and definition, allowing the room's colors and decor to shine. But that's not all. They elegantly frame the window, adding a touch of opulence. These curtains bridge the gap with flair between the leather couch's warmth and the wall's coolness.
16. Black Drapes with Style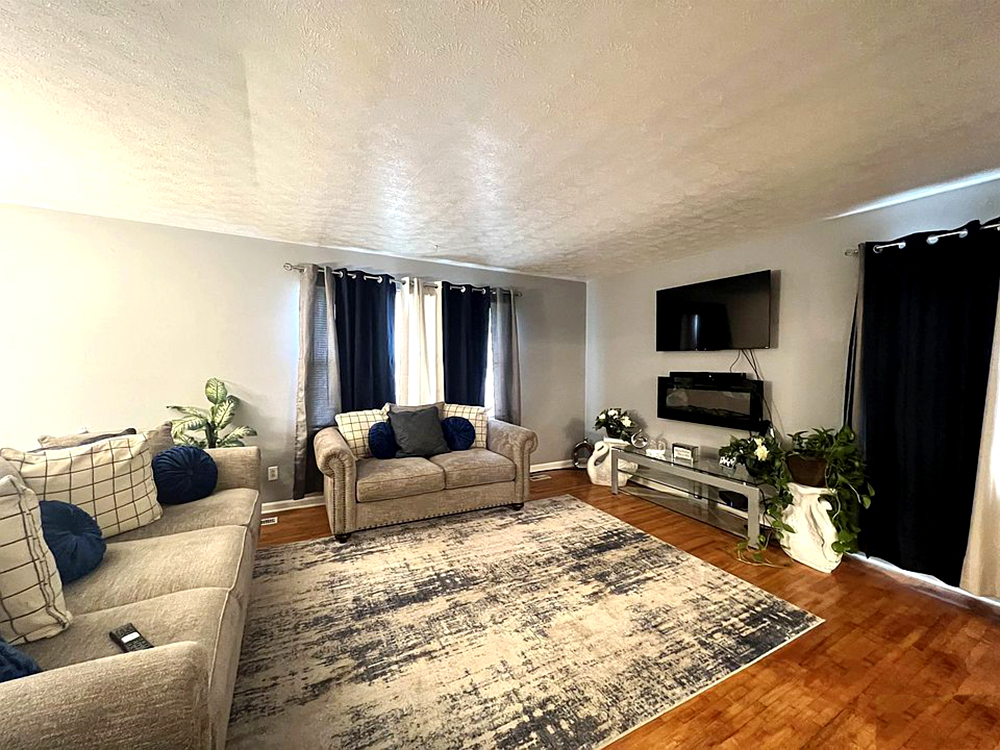 Here, the black curtains stand as a confident statement. Paired with sheer under-layers, they soften daylight without overpowering the space. Moreover, these curtains frame the window like art, drawing your eyes and adding an edge. The beauty? They mesh seamlessly with the room's neutral tones and textured furniture. And, with hardwood floors reflecting their elegance, the curtains create a harmonious blend.
17. Black Curtains Meet Modern Elegance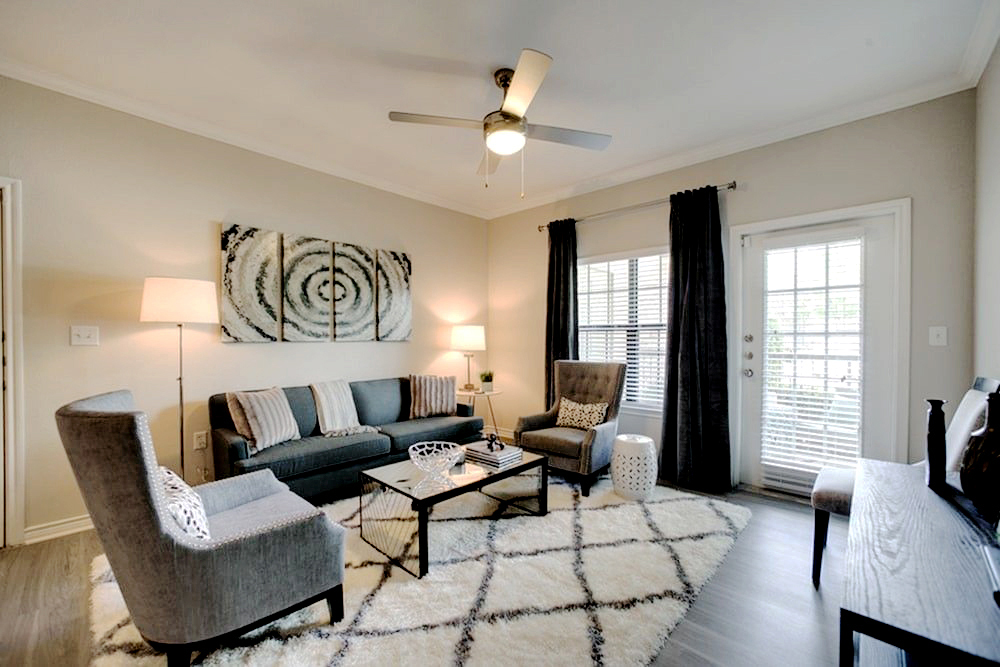 These beautiful black curtains bring depth, contrasting the room's soft hues. They also gracefully extend from ceiling to floor, adding an illusion of height. Furthermore, these curtains don't overshadow; they complement the room's muted palette and intricate patterns. The white door blinds are a perfect match. It's like a dance between light and shadow. So, this curtain choice is bold and breathtakingly subtle for those craving drama without the extra flair.
18. Urban Chic Black Curtains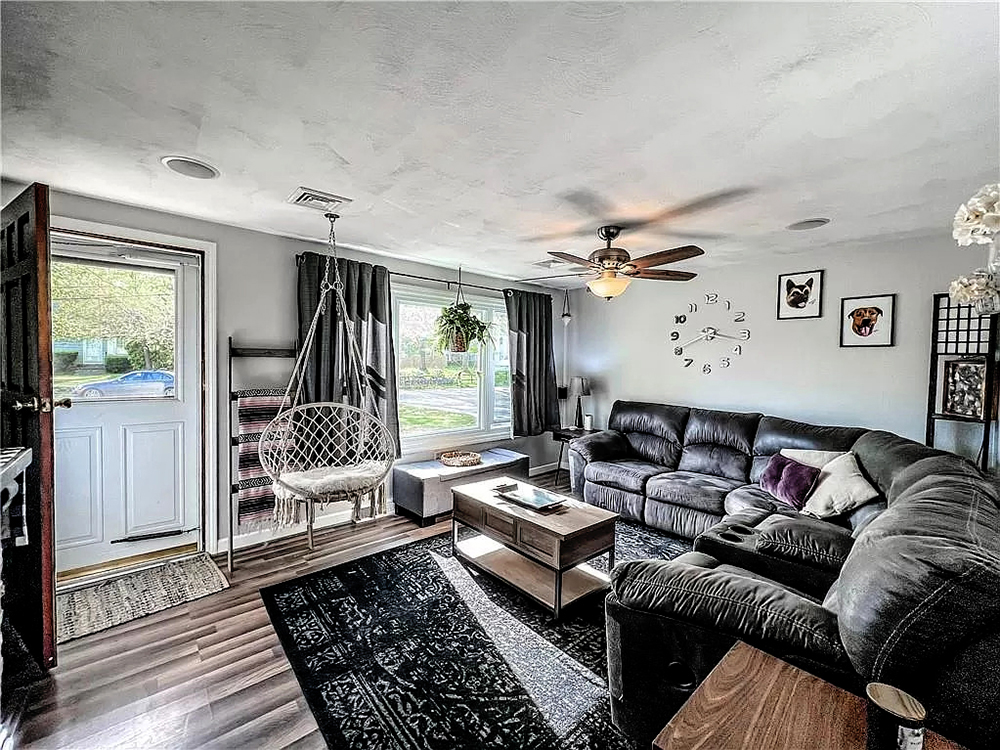 Dreaming of an urban retreat in the heart of your home? Dive into this living room's black curtains. Immediately, they set a moody tone, perfectly encapsulating the urban chic vibe. These curtains are more than just window dressings; they're statement makers, oozing sophistication. Paired against the large windows, they artfully play with natural light, creating a serene ambiance. Moreover, the curtains' rich black hue enhances the color scheme, matching the sleek furniture and decor.
19. Silken Elegance Black Curtains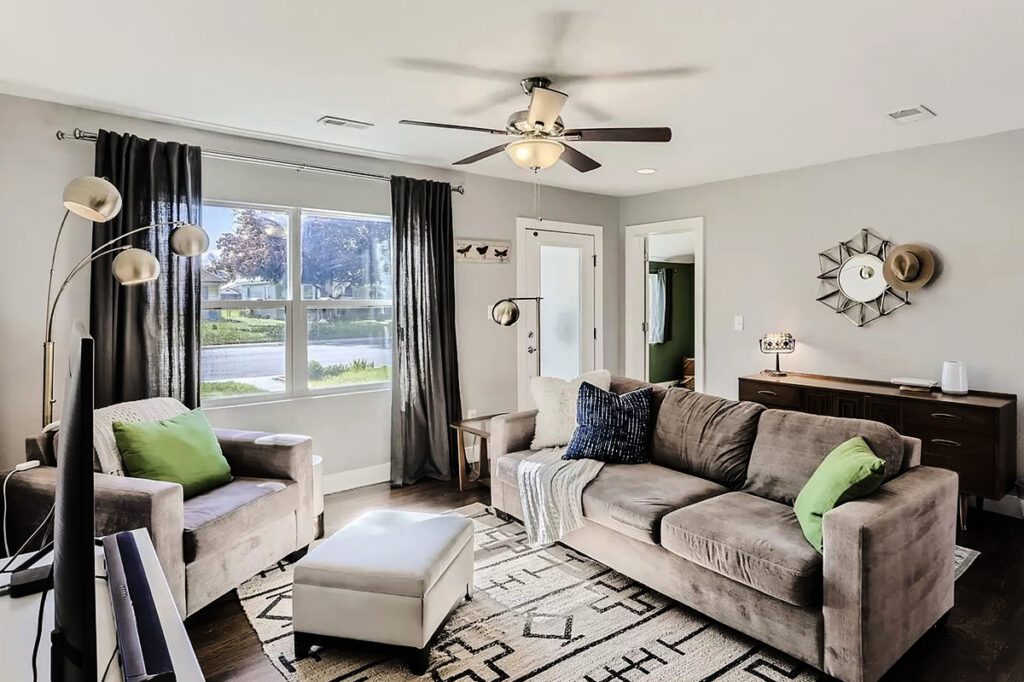 Want to make a statement without overwhelming the space? These sleek, silken drapes are the epitome of luxury, adding depth and contrast. Hanging gracefully from a silver rod, they drape down, framing the expansive windows like artwork. Their sheen subtly catches the light, contrasting beautifully with the light-infused room. Furthermore, these curtains seamlessly integrate with the room's modern aesthetics, from the plush sofa to the unique wall decor.
20. Monochrome Black Drapes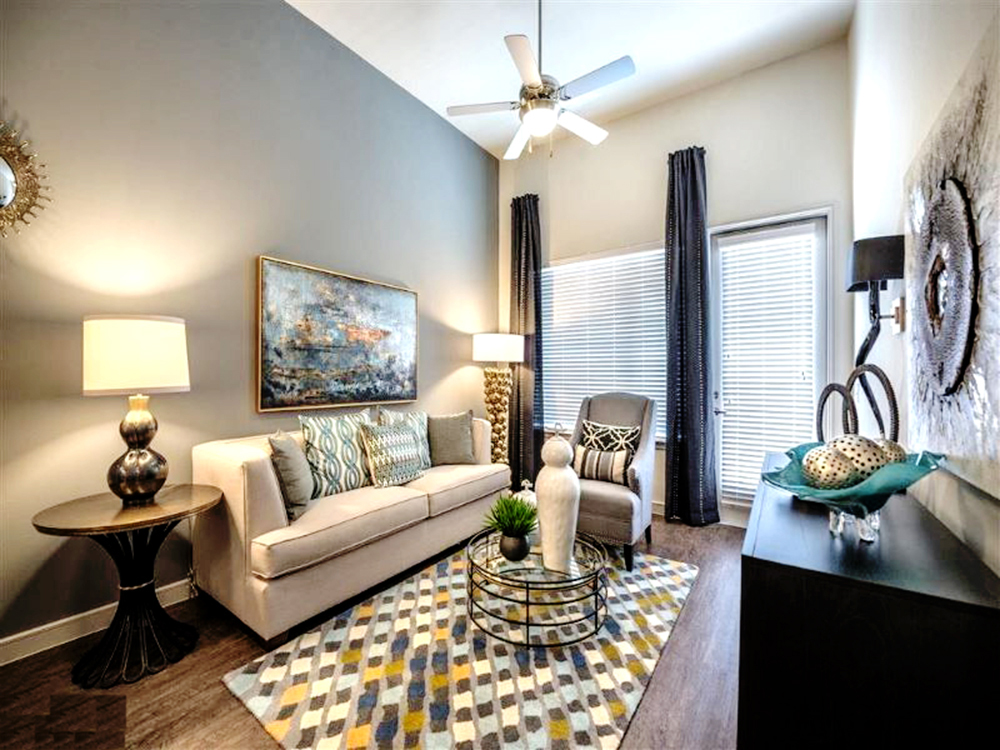 The curtains are decorated with beautiful beadwork and stand tall, adding a touch of luxury to the room. And perfectly frame the door, offering both function and flair. What's captivating is how they complement the soft-hued walls, not overpowering but gently asserting their presence. As the sunlight filters through, the bead embellishments glisten, adding a touch of whimsy. These curtains blend perfectly with the modern decor, giving you the perfect amount of boldness without being too bold.
21. Cascading Curtains in Classic Black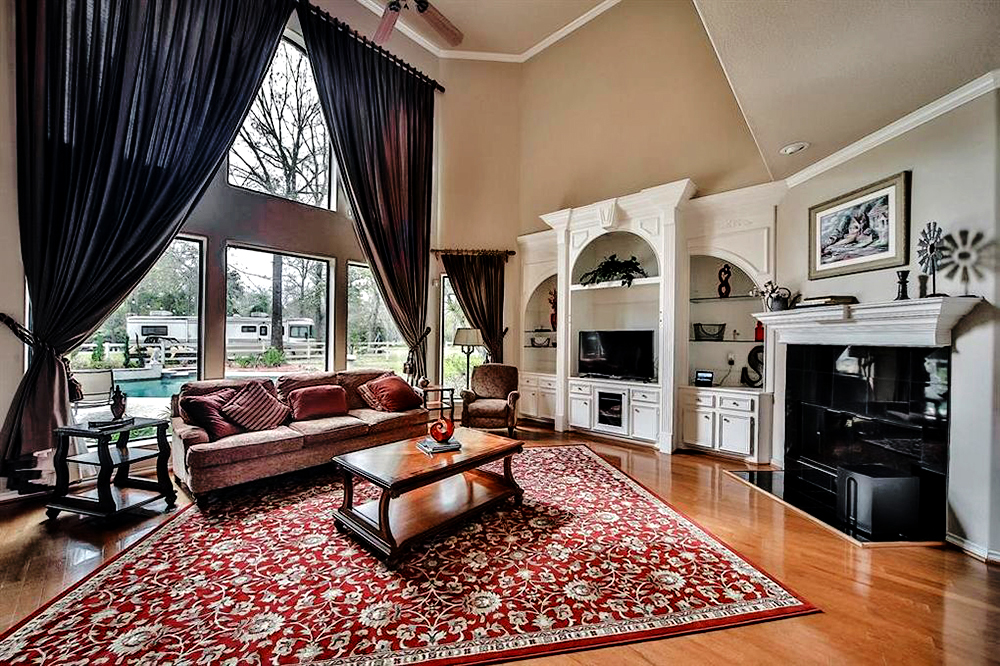 These curtains drape elegantly from the soaring ceiling, creating a regal vibe. With a rich, velvety texture, they add depth, contrasting beautifully against the room's soft palette. Their fullness showcases luxury, while the gather at the top exudes craftsmanship. As they puddle gracefully on the floor, they introduce an air of timeless sophistication. Amidst the traditional decor, these black curtains stand as a bold testament to taste and class.
22. Sheer Black Curtains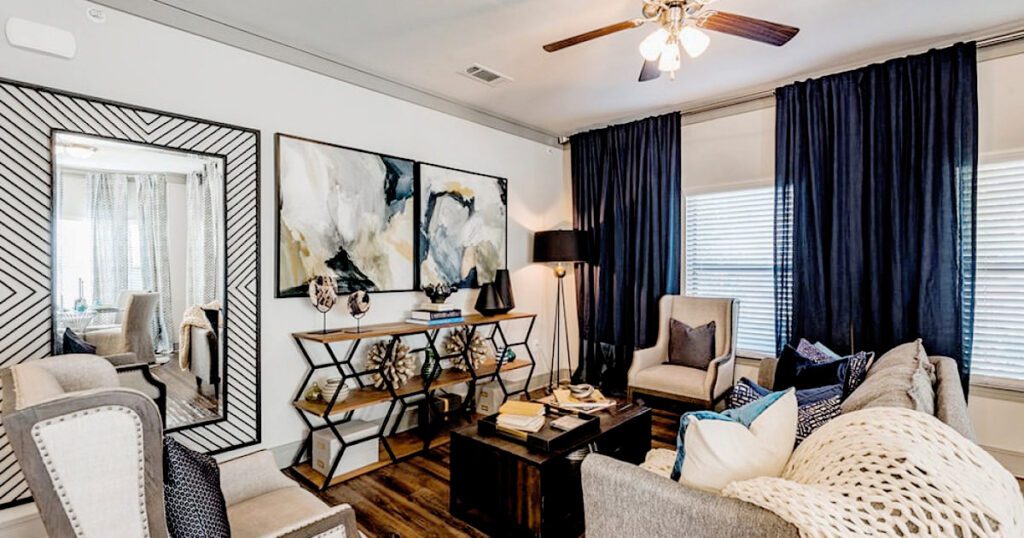 In this stylish setting, these black curtains prove that simplicity is sometimes the height of sophistication. Lightweight and airy, they effortlessly complement the room's contemporary vibe. The translucence allows a hint of light, creating a cozy ambiance. They pop with the room's muted tones, bringing drama and depth. Hung ceiling to floor, they elongate the space, making it appear grander. And the best part? The gentle flow they add as they sway with the breeze.
23. Black Curtain Bliss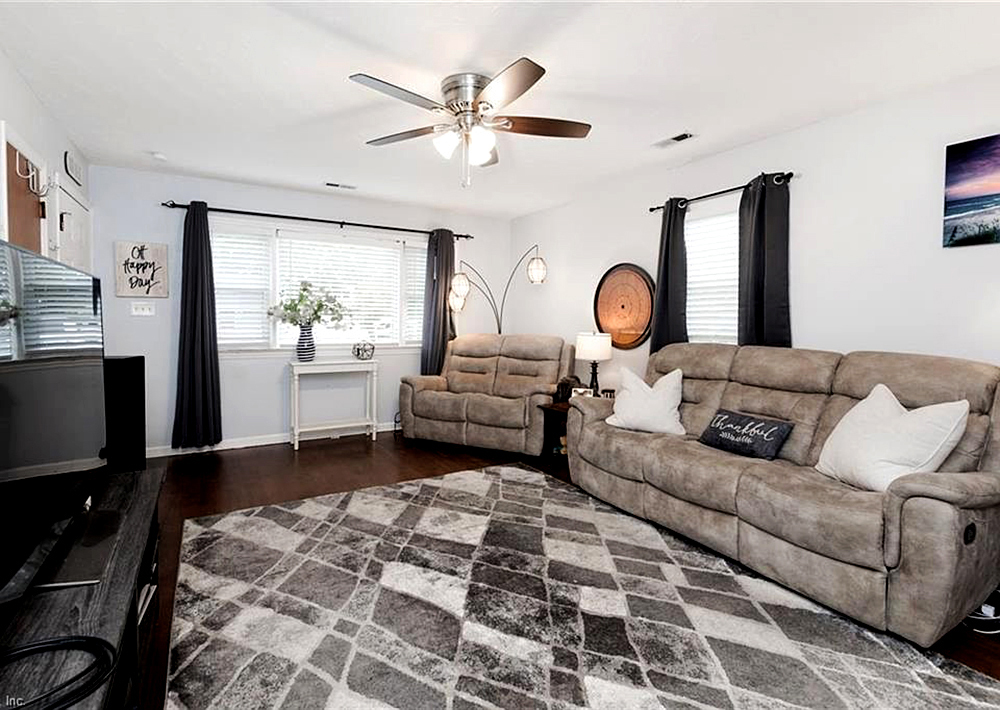 These bold black curtains, hanging elegantly from a sleek rod, create a stark contrast against the room's white walls. Their solid hue becomes an instant focal point, drawing the eye and adding depth. Not just visually striking, these curtains also offer functionality. They can easily shield themselves from excessive light, setting the mood right. They offer a balance when paired with the room's neutral palette, ensuring the space doesn't feel overwhelming.
24. Chic Contrast Black Curtains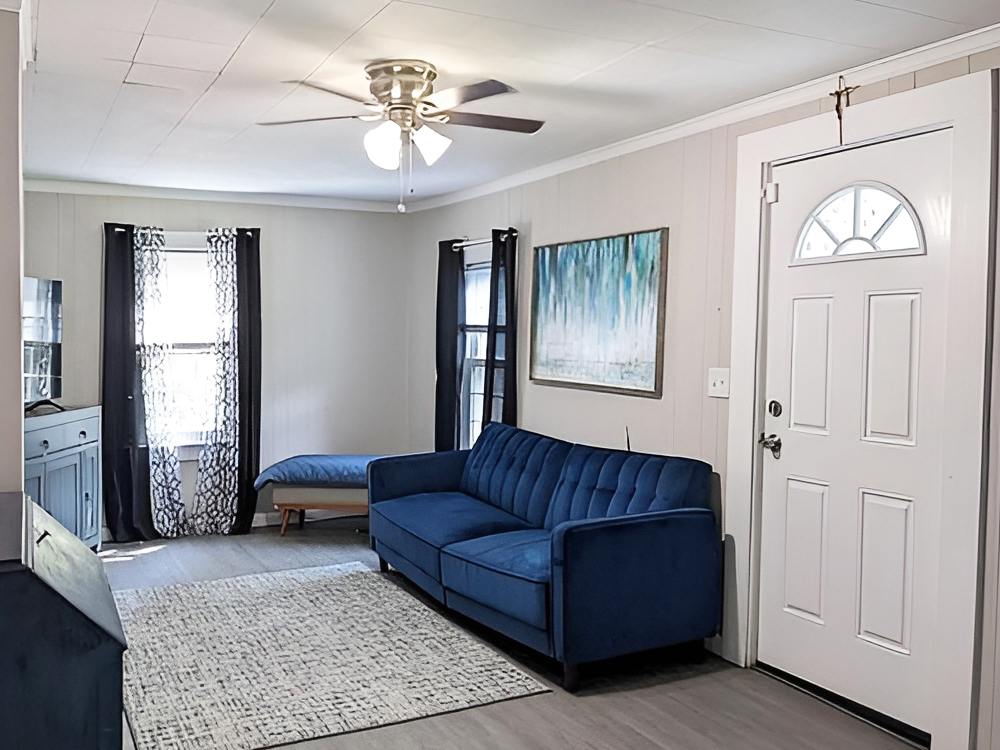 Ready to play with contrasts in your living space? These black curtains are here to inspire. Their unique lace design immediately catches the eye, allowing natural light to filter through, creating mesmerizing patterns on the floor. While bold and black, they don't overpower the room, adding a delicate, feminine touch. Paired with the soft gray walls, they introduce a refreshing balance and elevate the overall room's aesthetic. Furthermore, the curtains' length adds a sense of height, making the space appear larger. It's a perfect blend of bold and delicate, making any living room memorable.
25. Sophisticated Sleek Black Curtains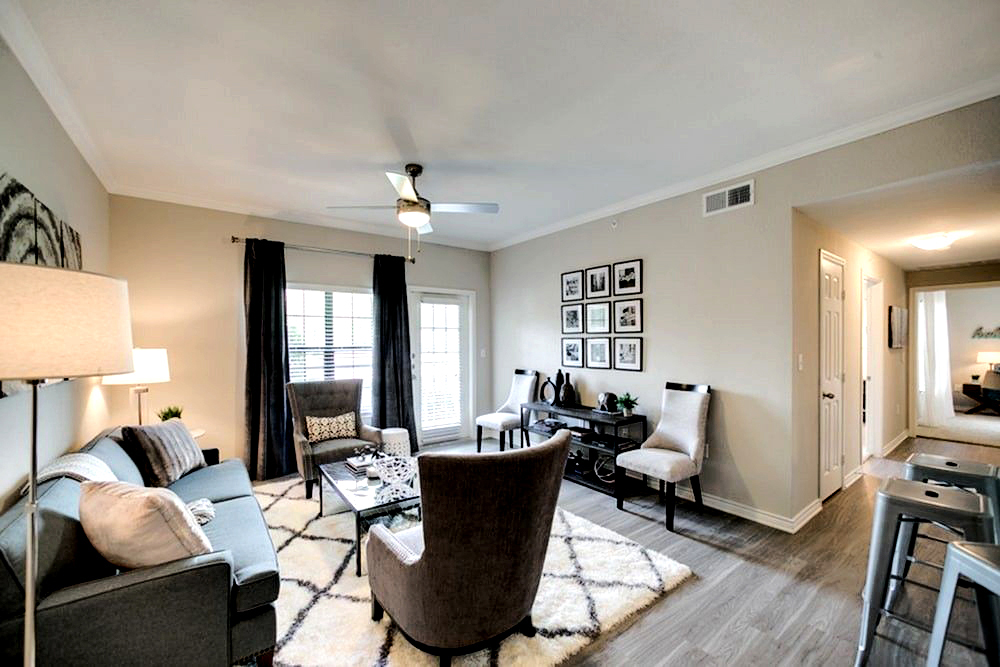 Looking for that perfect curtain color to complement your neutral palette? These sleek black curtains might just be the ticket. Draped gracefully from ceiling to floor, they bring a sense of drama and elegance. Their deep hue works wonders against the light walls, creating a striking visual contrast. And yet, they don't dominate; instead, they frame the windows beautifully, allowing just the right amount of light to shine through. The curtains blend in nicely with the furniture's beige and gray, acting as an anchor to the room's overall design.