Looking to jazz up your living space with yellow curtains? You're in for a treat! Yellow, with its sunny and vibrant charm, can be the game-changer your room needs. But how do you ensure everything else in the room jives with this bold choice? Fear not! We have a list of decor ideas to make your living room pop, turning those yellow curtains from just a statement piece to the show's star. Ready to dive in? Let's get that room glowing!
1. Golden Glow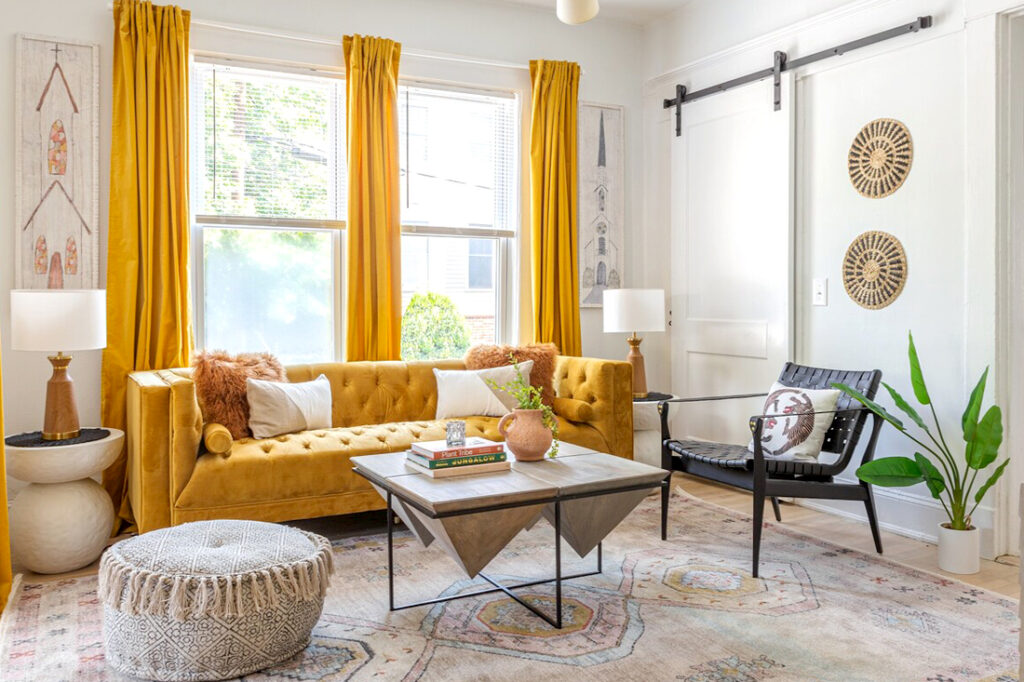 First, the golden glow! In a brilliant shade of yellow, the curtains cascade gracefully, becoming an instant focal point. They not only brighten the room but perfectly complement the golden-hued velvet sofa. And did you notice the texture play? That fluffy cushion, the sleek metal table, and the woven ottoman all bring their own charm.
Meanwhile, the white walls and neutral rug act as the perfect canvas, ensuring the vibrant colors don't feel overwhelming. Lastly, those green plants and wall hangings? They add a fresh touch and a dash of bohemian flair. This room is truly sunshine indoors!
2. Contemporary Yellow Curtains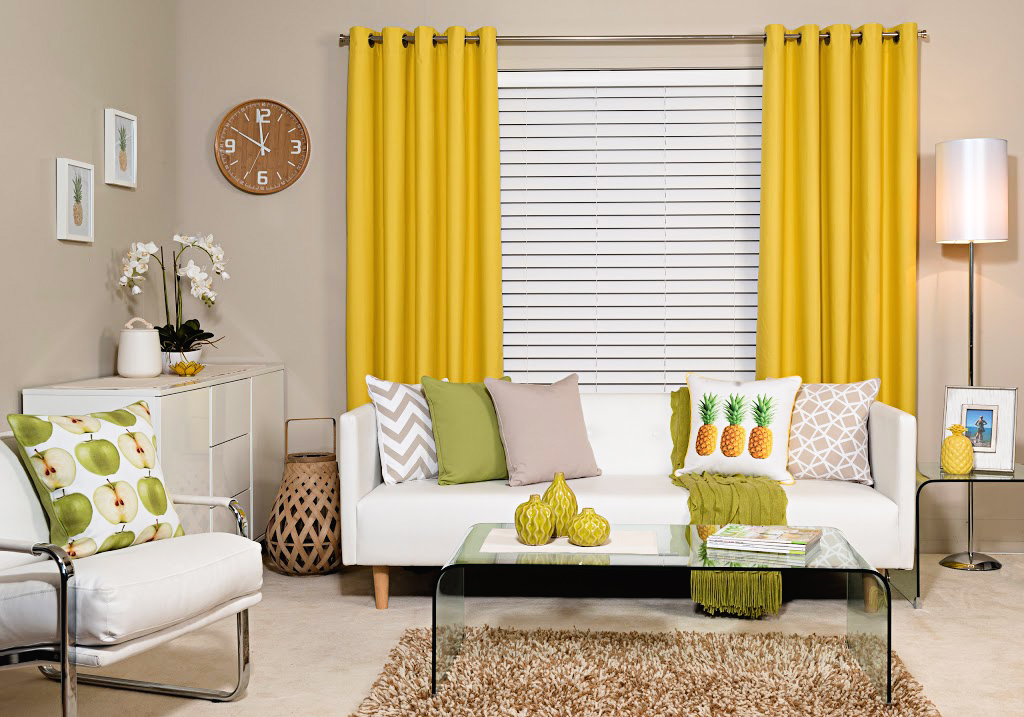 Step right into this chic oasis! The star? Those luminous yellow curtains deliver a pop of color without overwhelming the room. They frame the window like sunshine on a clear day. The fun doesn't stop there. The playful pineapple pillow and apple cushion give a nod to tropical getaways. At the same time, the zigzag patterned one introduces a modern twist. The neutral wall, adorned with minimalist art and a classic wooden clock, grounds the space. The white furniture with hints of green and that intriguingly textured rug complete the look. It's contemporary, with just the right dash of whimsy!
3. Bold and Harmonious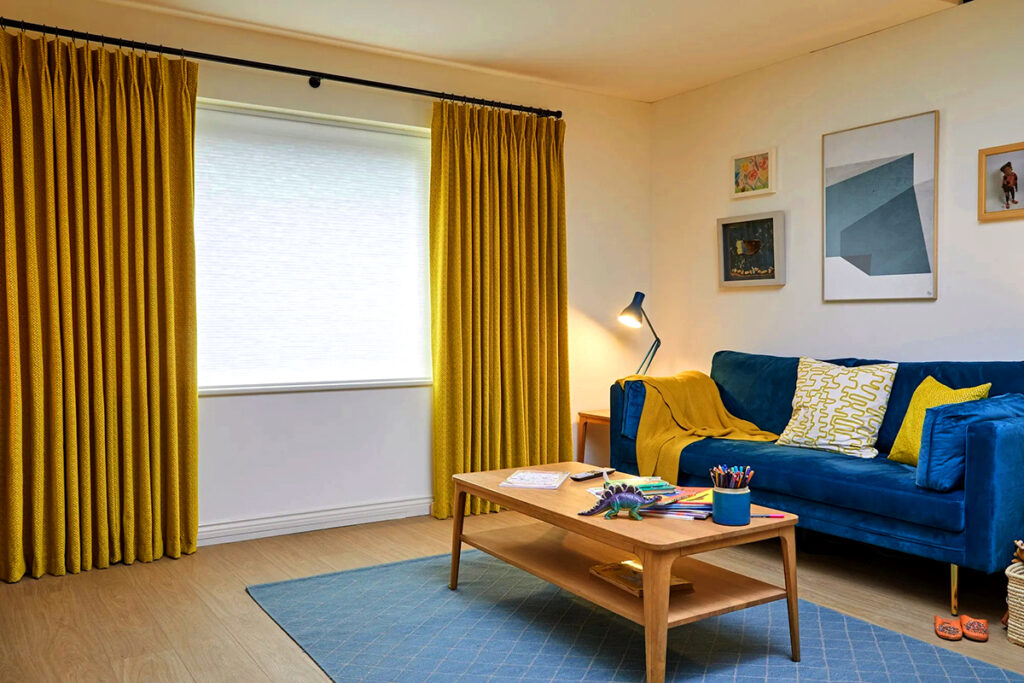 This design is a dream! Those mustard-yellow curtains? A total game-changer. They have this rich texture that's both inviting and sophisticated. And the deep blue sofa? It pairs beautifully with the curtains, offering a bold and harmonious contrast. Next, the abstract art on the walls adds a modern flair, while that wooden table screams mid-century charm. I adore the little details, too, like the matching yellow throw and patterned cushion. This room has personality in spades!
4. Vintage Meets Modern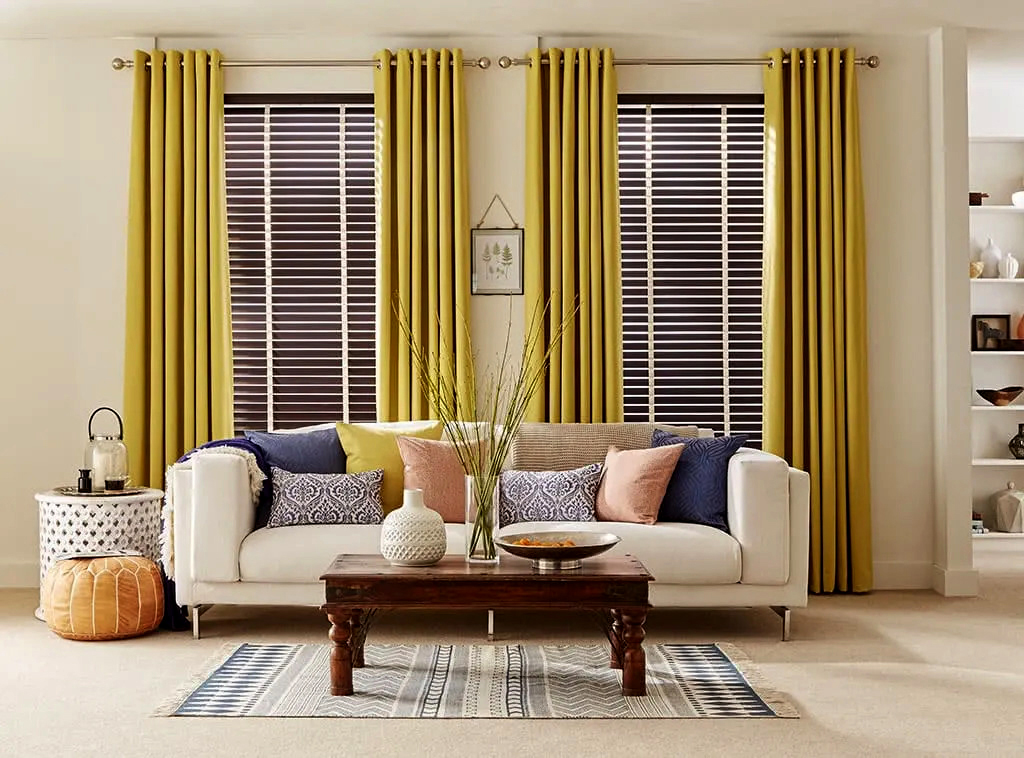 Next up is the living space where warmth meets style! The standout? Those striking gold curtains. They frame the windows like artwork, drawing eyes and bringing a sunlit vibe indoors. Pairing them with rich wooden blinds is genius – it's all about balance. The cream-colored sofa is adorned with a medley of textured cushions in blues, yellows, and even soft peach – a delightful play on color. Notice the rustic coffee table? Its rugged charm juxtaposes perfectly with the modern side stool. And that leather pouf, the decorative vases, and the patterned rug? They effortlessly elevate the room's cozy yet chic aesthetic. Talk about decor done right!
5. Gold and Charcoal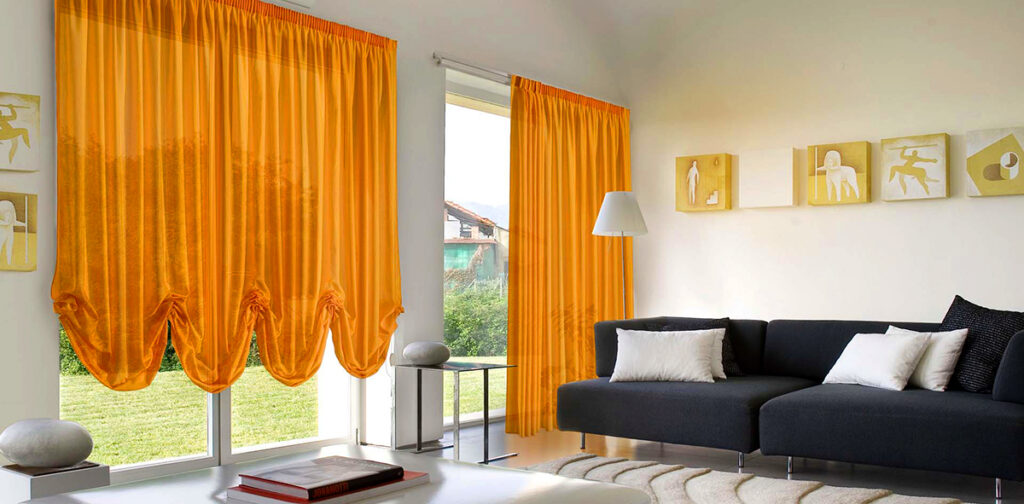 Look at this dreamy setting! The curtains are the undeniable stars here – vibrant, golden, and draped in a sumptuous balloon style. Their sheer, light-filtering quality bathes the room in a warm, sunny glow, creating an instantly cozy ambiance. Contrast that with the deep charcoal of the sleek sofas, and you've got a balance that's both modern and welcoming. The minimalistic coffee table and lamp they're understated but so effective. And can we talk about the art on the wall? Those wooden panels with silhouette art add a touch of whimsy. It's clear: this room marries simplicity with bold style choices brilliantly!
6. Bold and Beautiful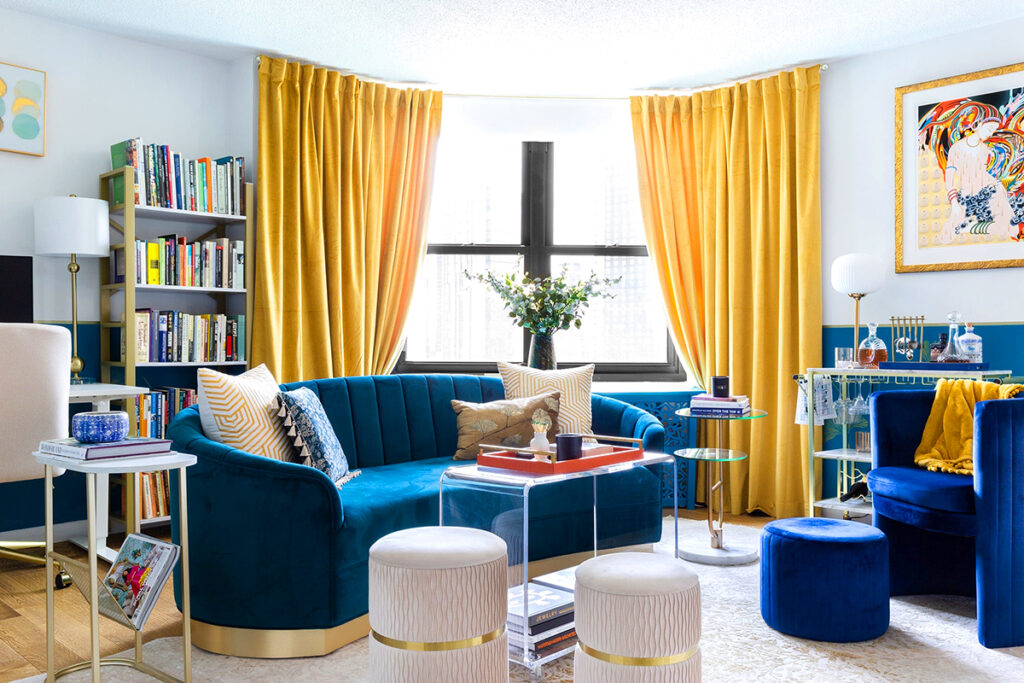 How invigorating is this space? Those luscious gold curtains radiate warmth and luxury, instantly catching your attention. They pair magically with the deep teal of the plush sofas, creating a dynamic duo of colors. The intricate side tables? Pure finesse. They hold delightful trinkets and books, adding layers of personality to the room. Those white and gold stools? They're a chic touch, aren't they? And the artwork – it adds a vibrant splash of creativity. The eclectic mix of cushions pulls the whole look together, blending comfort with style. This living room is a delightful fusion of bold hues and cozy corners. A treat for the senses!
7. Sunshine Hues Meet Cozy Neutrals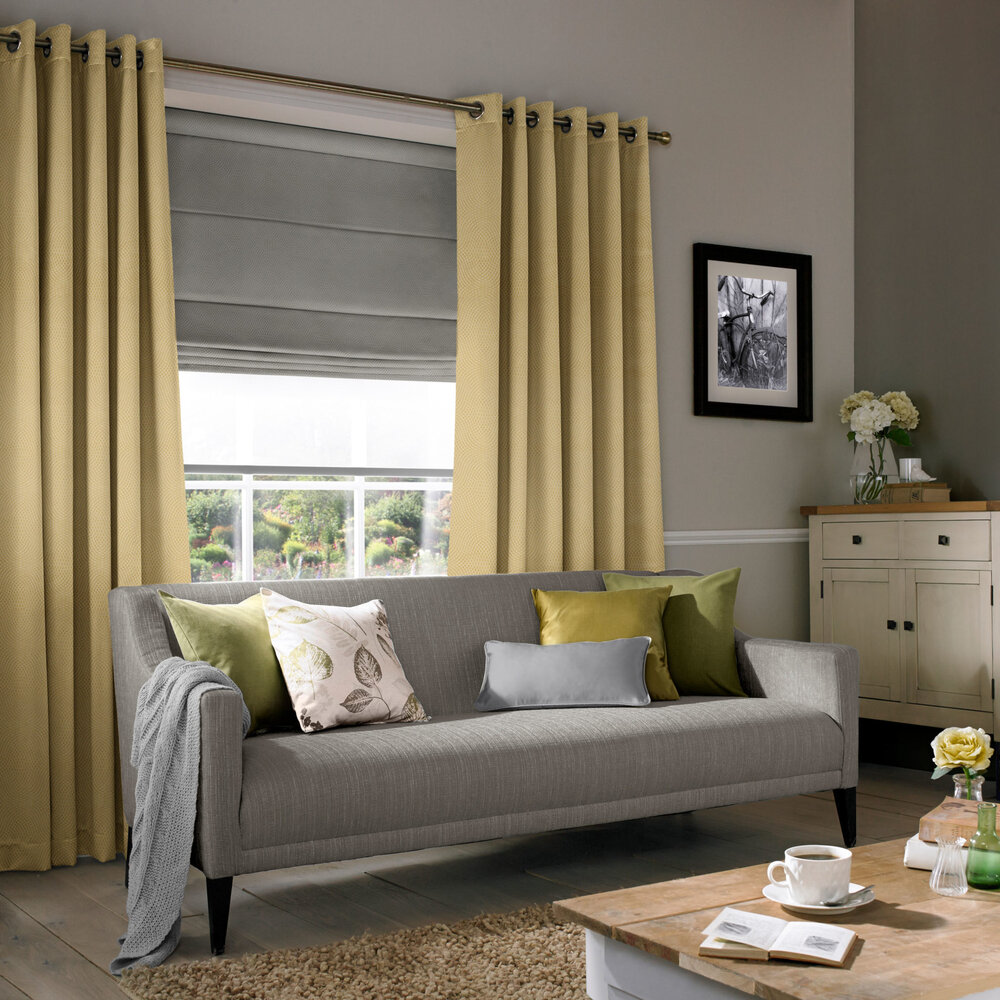 Isn't this space just a breath of fresh air? Those zesty yellow curtains pop beautifully, adding a cheery vibe that's hard to resist. They frame the window and the view, bringing the outside in. Pair that with the sleek gray Roman blinds; there's an elegant balance between vibrancy and calm. Now, the sofa's muted tone is the perfect canvas for those lively cushions. The wooden coffee table nods to rustic charm, while the chic sideboard provides functional flair. The finishing touch? That monochrome artwork adds a dash of sophistication. It's a harmonious blend of comfort and style. Pure perfection!
8. Golden Drapes and Vintage Vibes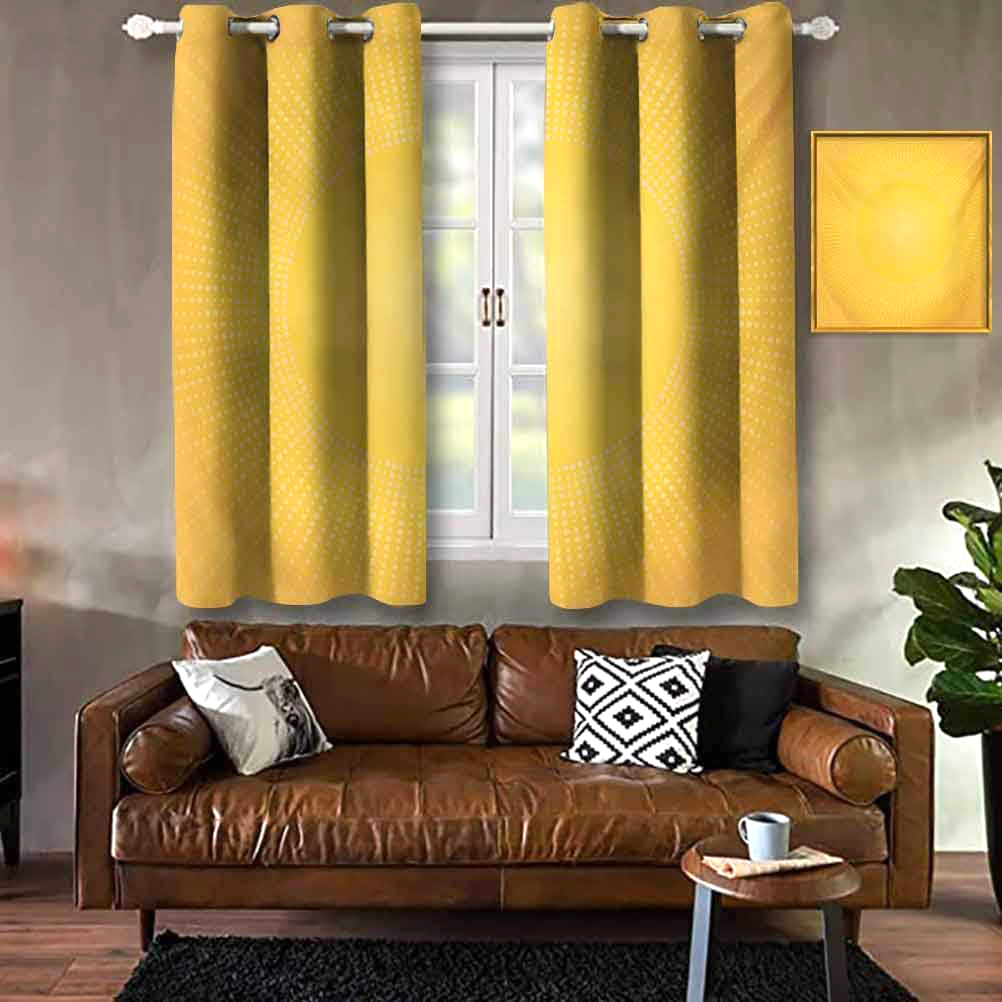 Next, take a look at this cozy corner! Those golden curtains, with their subtle pattern, are an instant mood-lifter. They add a sunny splash and exude warmth, making the room feel instantly inviting. Also, paired with that vintage leather sofa's rustic charm, it's a match made in design heaven. Don't you just love the contrast? The geometric cushion throws a modern twist, while the simple coffee setup invites you to relax and breathe. And that plush dark rug? It grounds the space, ensuring everything feels cohesive. Truly a delightful blend of old meets new.
9. Sunlit Elegance with Vintage Charms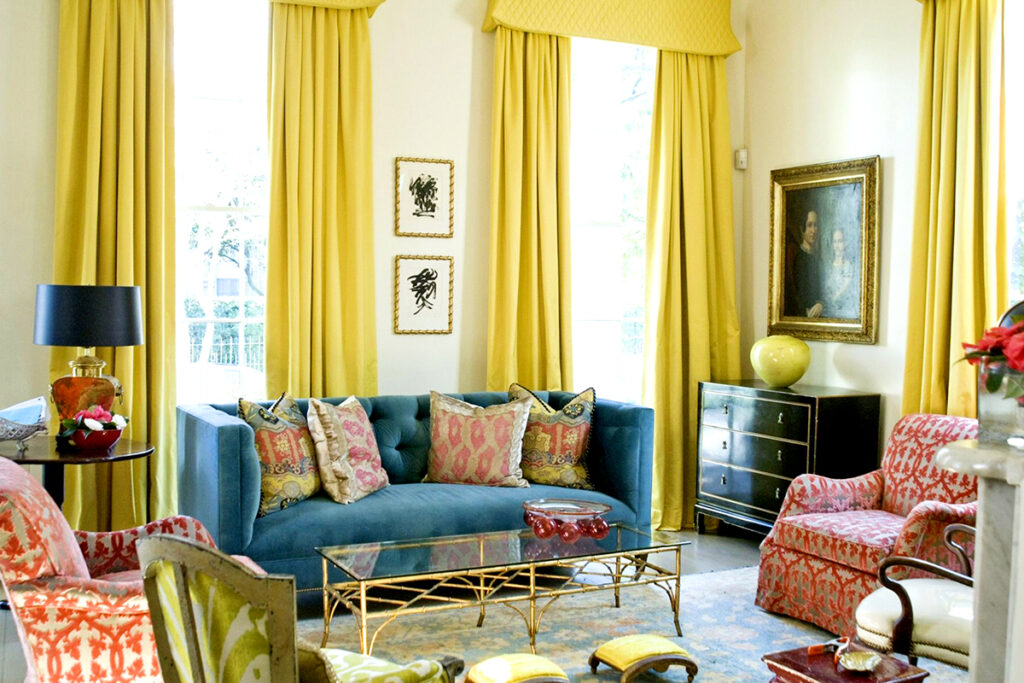 Let's step into this sunlit oasis! Those lavish golden curtains are the first to catch the eye, framing the windows like art. Then there's that plush teal sofa adorned with intricate patterned cushions, offering a perfect blend of comfort and style. And can we talk about the art? The whimsical black and white prints paired with the classical portrait convey a harmonious blend of modern and timeless. The eclectic mix of gold accents, from the ornate coffee table to the vibrant table lamp, adds just the right touch of luxury. What an exquisite fusion of eras and aesthetics!
10. Golden Hue and White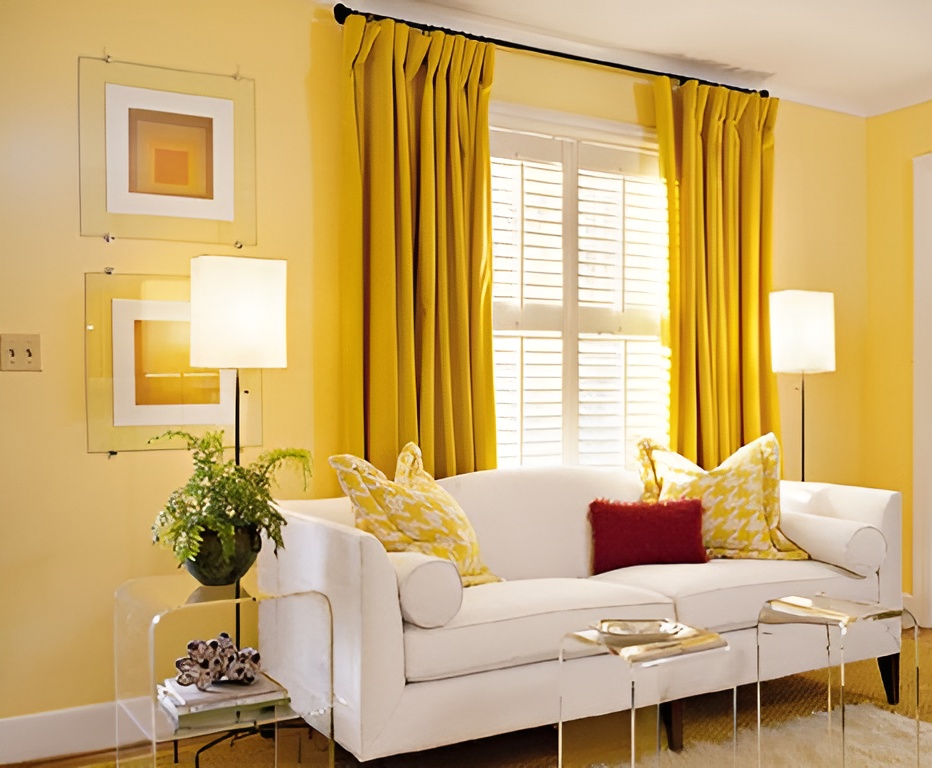 Okay, how radiant is this space? This living room is basking in a golden hue, a sun lover's dream come true. The rich yellow drapes don't just frame the windows – they flood the room with warmth, setting the stage for relaxation. Notice the clean, white sofa? Its simplicity is jazzed with vibrant cushions, while the geometric art pieces pull in that modern touch. And let's not skip over the translucent side tables and lamp stands. They add such a chic, airy feel, don't they? Altogether, it's a symphony of color and light – the ideal retreat after a long day!
11. Elegance Meets Modern Chic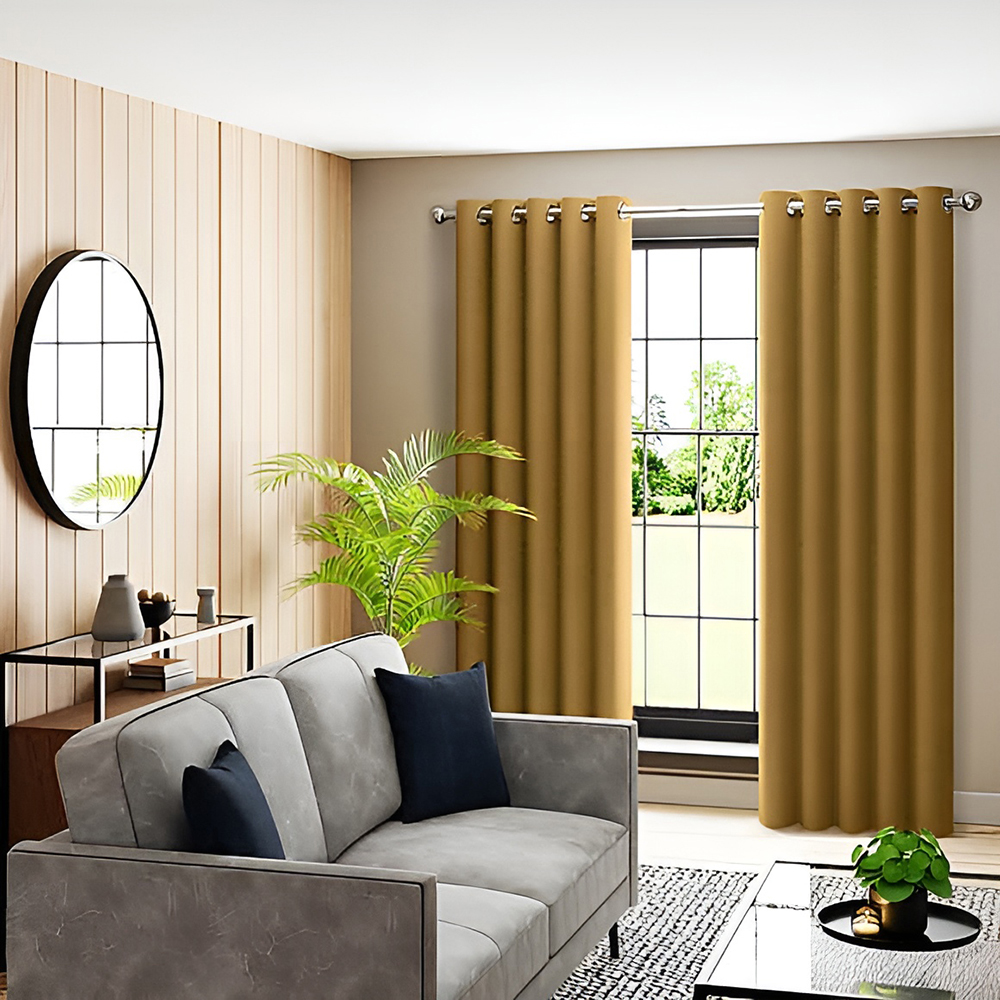 Isn't this space just so inviting? The first thing that caught my eye was the stunning combination of the vertical wood panels and those luxurious mustard curtains. They offer such a cozy yet refined ambiance. And how about that sleek gray sofa? It's perfectly accented by navy and white cushions, offering a hint of contrast. The round mirror's grid design adds a dash of modernity and makes the space look even larger. Those little touches, like the greenery and minimalistic side table, truly tie the room together. It's an ideal blend of comfort and style, wouldn't you agree?
12. Luxurious Stylish Oasis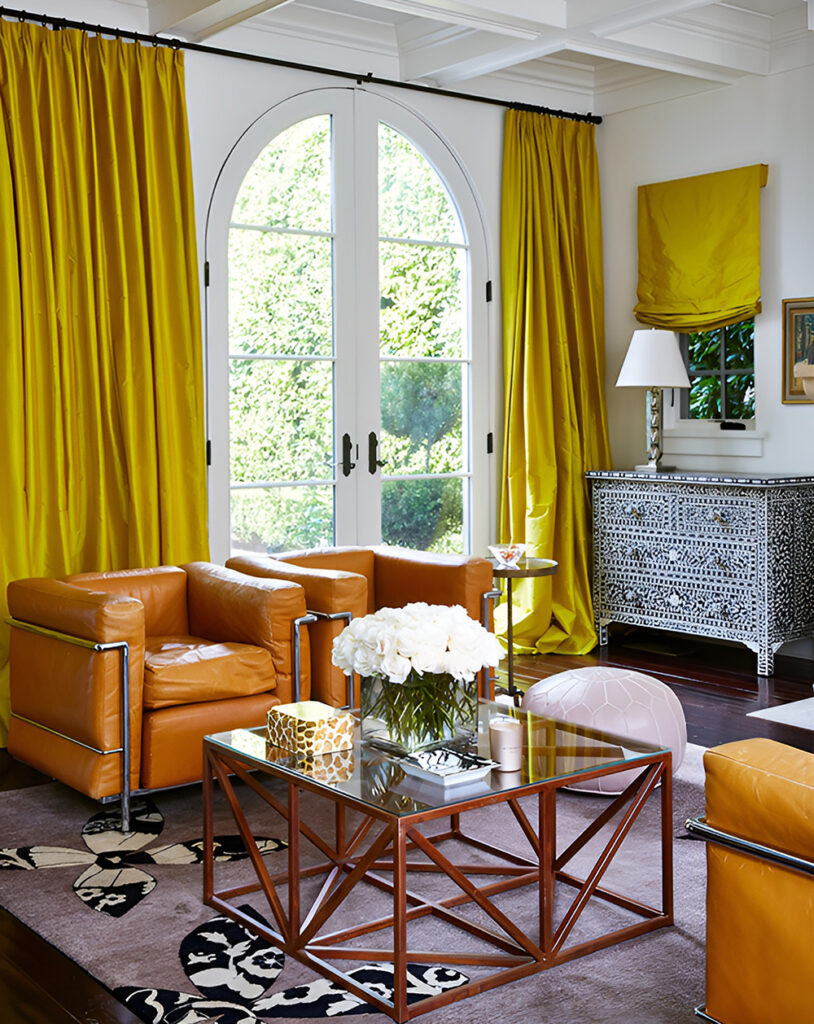 Talk about making a statement! Those sun-kissed yellow curtains certainly know how to command attention, don't they? They create such a warm and inviting backdrop, contrasting beautifully with the arched white doors. And let's chat about those leather armchairs – their caramel hue adds a touch of earthy elegance to the room. The sideboard and patterned rug inject an eclectic vibe, while the geometric coffee table centers the space with a modern flair. Fresh white flowers on top? It's the perfect finishing touch. It's a room that feels both lived-in and luxurious. Truly, a design dream came to life!