Ever stood in your dining room, gazing at the windows, and thought, "To curtain or not to curtain?" You're not alone! Whether it's about setting the mood for a cozy family dinner or keeping those nosy neighbors at bay, curtains can be game-changers. But then, in our era of minimalist chic, do we need them? Let's dive deep, weigh the pros and cons, and determine if your dining room's windows crave that curtain couture or are better left bare! Ready to unwrap the curtain conundrum?
The Pros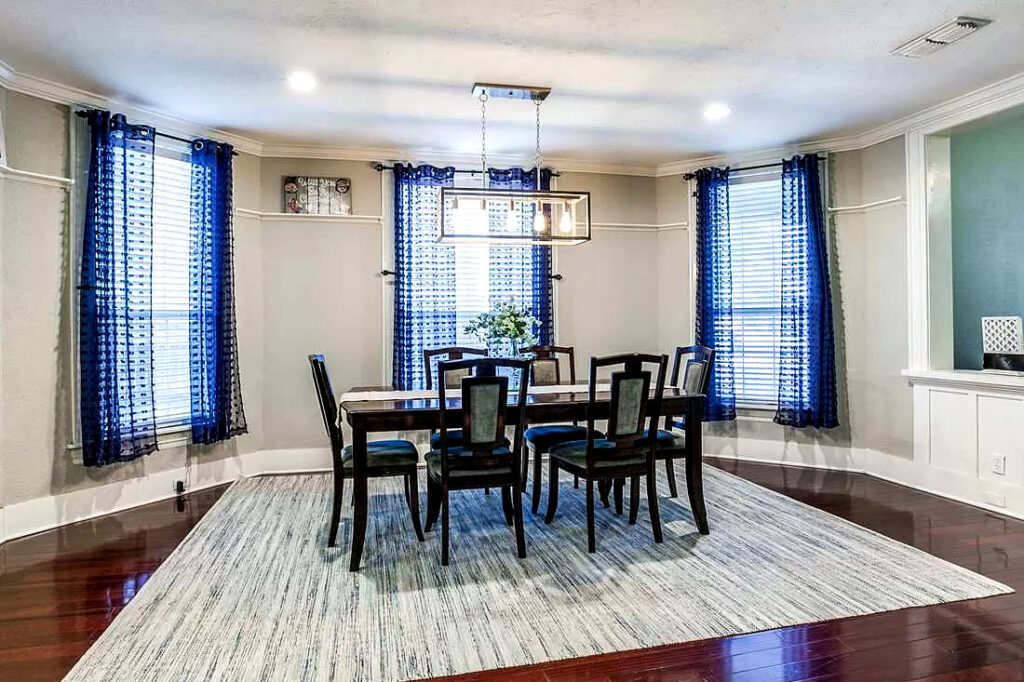 Let's discuss why draping those dining room windows might be the style splash you've sought.
1. Aesthetic Appeal
Ever walked into a room and thought, "Wow, something feels… right here?" That's the magic curtains can weave. They're like the final brushstroke on a painting, tying everything together. The color and texture options are endless, from velvety burgundies to breezy blues. And the mood? From romantic dinners under soft drapes to fun brunches with lively patterns, curtains set the stage.
2. Functionality
Beyond just looks, curtains are the unsung heroes of room functionality. Want to dial down that blazing afternoon sun for a cozy mealtime glow? Curtains to the rescue. Plus, if you've ever felt like you're giving a free show to the world while enjoying your meal, curtains offer that much-needed privacy layer. And let's not forget the insulation perks. Whether it's blocking out chilly drafts or muffling street noise, curtains got your back.
3. Versatility
Here's the fun part. Feeling a summer vibe? Go for lighter sheers. Winter mood? Thick, insulating drapes can be your choice. The beauty of curtains is that they're switchable. Seasons change, moods shift, and with minimal effort, so can your curtains.
So, are you visualizing those windows with a fresh set of drapes? Whether you're all about the look, the utility, or just love shaking things up now and then, there's no denying: curtains bring a lot to the table, or should we say, to the dining room!
The Cons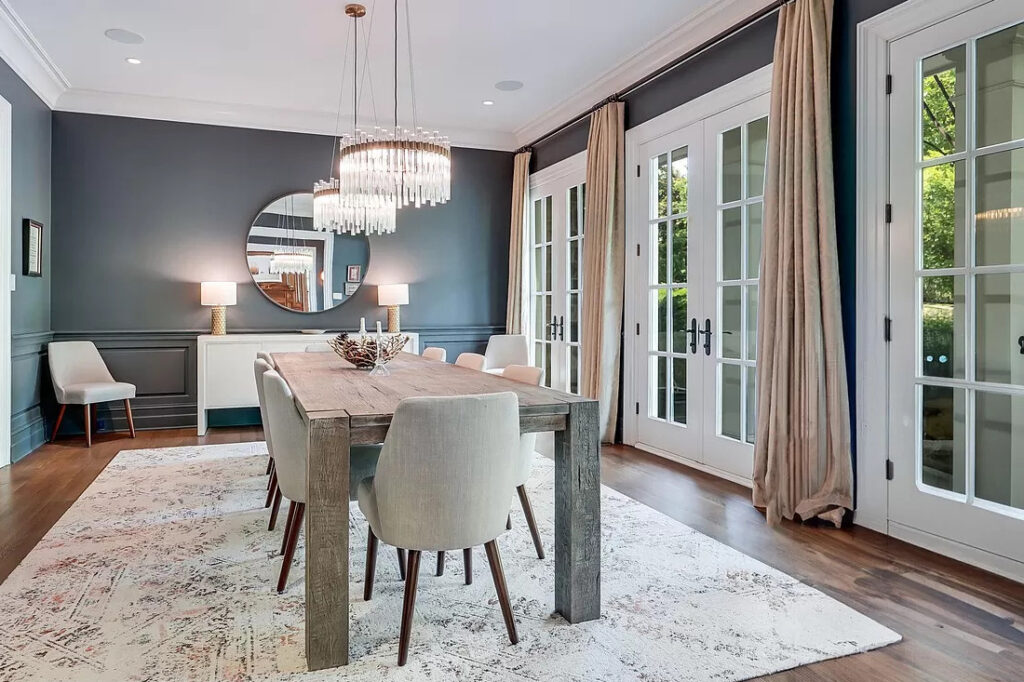 Let's flip the script and talk about why some dining rooms skip the curtain call.
1. Potential Clutter Source
Have you ever seen those sleek, ultra-modern dining spaces in magazines? The ones with clean lines, unobstructed views, and an almost Zen-like simplicity? That's the allure of the minimalist design. For many, curtains feel like an added layer, a potential clutter source. Without them, spaces can feel more expansive, open, and uncluttered. It's all about letting the architecture and core elements shine.
2. Maintenance
Let's get real. Curtains can be high maintenance. They gather dust and absorb odors, and if you're hosting a spaghetti night with kids, well, tomato sauce stains might be in your future. Going curtain-free means one less item on your cleaning to-do list. No washing, drying, or occasional trips to the dry cleaners.
3. Allergens
Sniffles. Sneezes. Allergies. Sound familiar? Curtains, especially thicker ones, can be a haven for dust mites and allergens. If someone in your household is particularly sensitive, you might weigh the aesthetic benefits against potential health drawbacks.
To curtain or not isn't just about style; it's also about lifestyle. Suppose you're leaning towards a curtain-free space. In that case, it's all about embracing simplicity, prioritizing health, and maybe just dodging a bit of cleaning! Who's up for some clear views during dinner?