Curtains are the unsung heroes of home decor—they can completely transform a dining room without breaking the bank. Whether you're all about that rustic farmhouse vibe or you've got a soft spot for luxurious velvets, we've got an array of curtain ideas to tickle your fancy. This list has something for everyone, from damask's timeless elegance to bamboo shades' breezy feel. So, let's dive into 30 dining room curtain ideas that will take your space from drab to fab!
1. Damask Drapes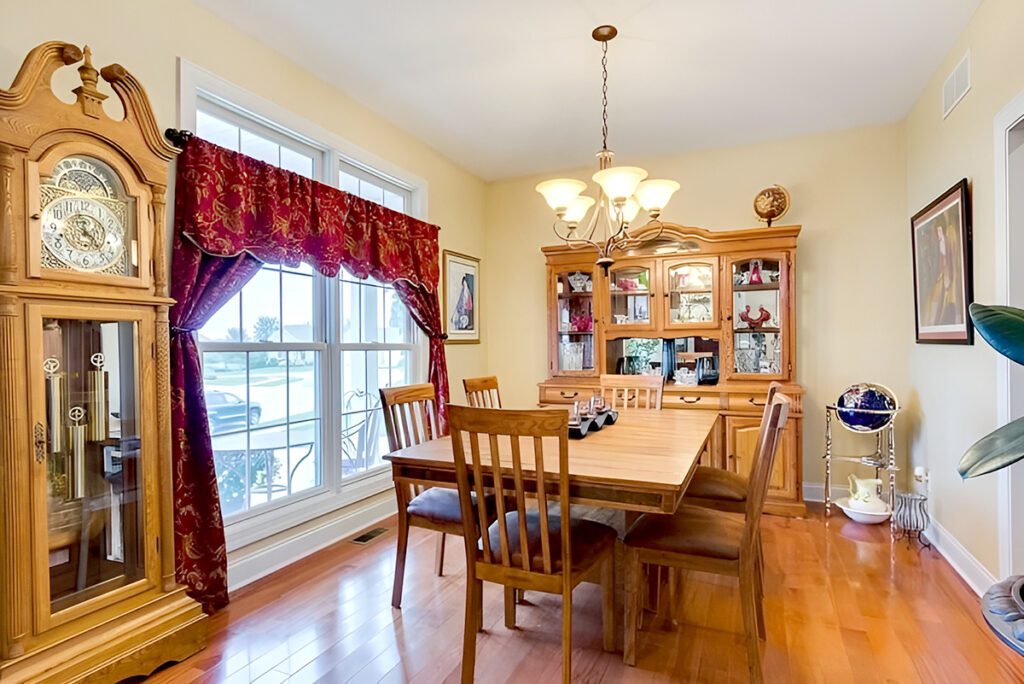 The damask drapes are the epitome of timeless elegance. These drapes are made of rich fabric with intricate patterns woven right in, often featuring florals or ornate geometries. We're talking about a texture you can see and feel. Go for a deep red or a royal blue to amp up that grand vibe. Trust me, paired with some polished wood furniture and maybe a crystal chandelier? Your dining room will look like it's straight out of a classic film. Now, who wouldn't want that?
2. Lace Panels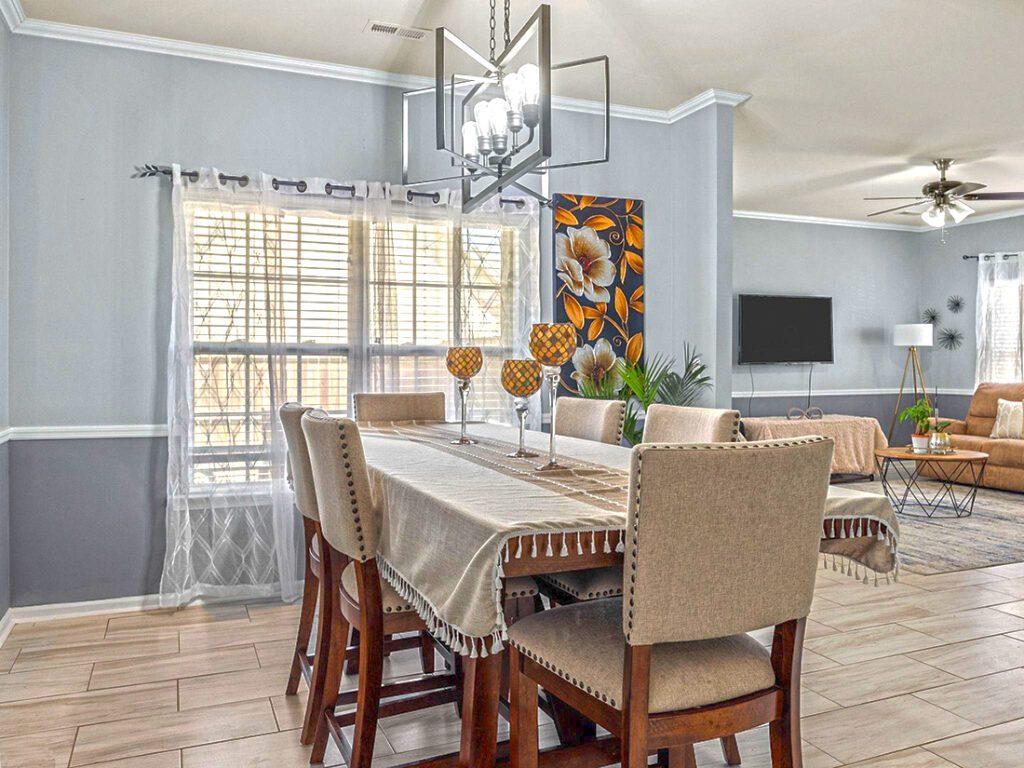 Next is the lace panels—where delicacy meets sophistication. Picture this: the sun's streaming through, casting gorgeous lace shadows on your dining room walls. Doesn't that sound dreamy? Lace is all about the details of intricate patterns that look like fairy hands have crafted them. Opt for an off-white or cream color to keep it subtle yet impactful. The beauty of lace is that it's light and airy, perfect for smaller spaces that need a boost of brightness. Plus, lace can be surprisingly versatile; it can vibe with a vintage look or elevate a more modern setting. A sheer win-win, don't you think?
3. Silk Curtains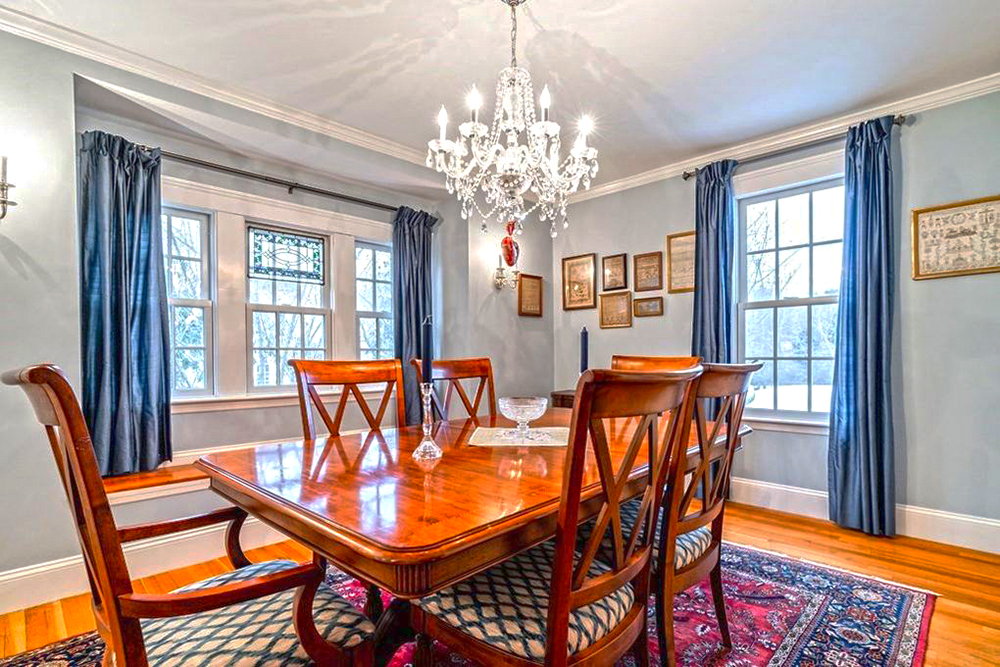 When you hang silk curtains, your dining room becomes a luxe haven. I'm talking about smooth fabric gliding through your fingers like water. Now, here's the kicker: go for jewel tones like emerald green, ruby red, or sapphire blue. These rich colors bring a sense of drama and luxury that's impossible to ignore. Imagine dimming the lights for a cozy dinner, and your silk curtains glow like they're woven from gemstones. Seriously, it doesn't get more timeless or lavish than this.
4. Gingham Check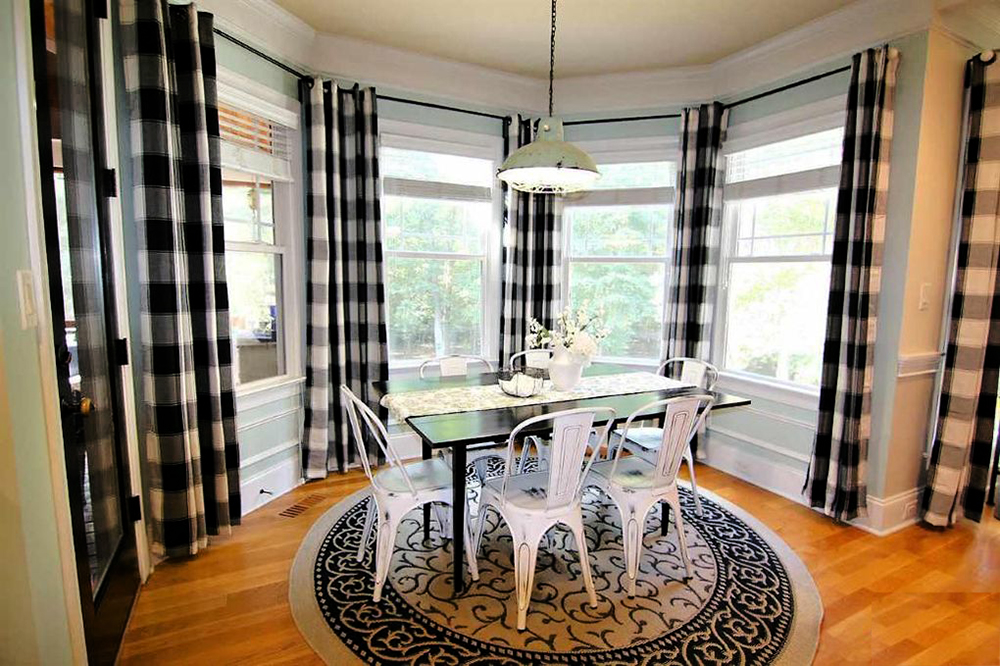 This pattern brings a slice of the countryside right into your dining room. Picture yourself sitting down to a meal and feeling like you're in a cozy cabin or a sunlit farmhouse. These checkered beauties scream comfort and nostalgia, often in warm colors like red, blue, or classic black and white. The crisscrossing lines have a down-to-earth charm that pairs well with wooden furniture and homey accents. They're like that comfy flannel shirt you love wearing—simple, welcoming, and timeless. Ready to bring that rustic comfort to your dining experience? Gingham's the way to go!
5. Burlap Layers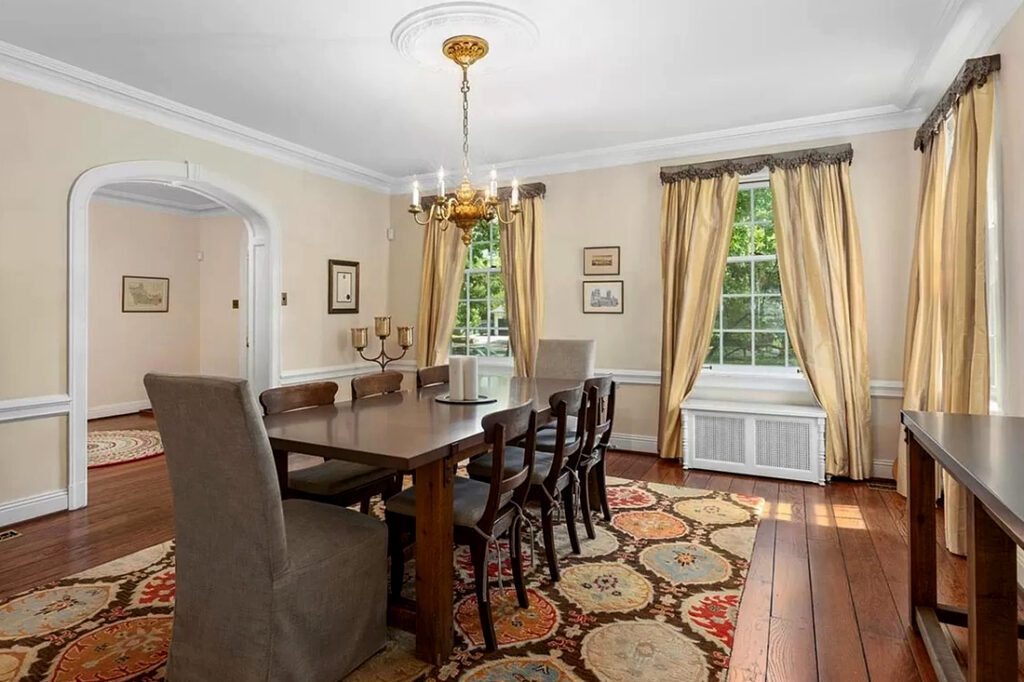 Ready to dial up the coziness in your dining room? Say hello to burlap layers. Yep, the same material you might find on a coffee bean sack can be a game-changer for your window game. Burlap has an earthy, rugged texture that instantly warms up a room. Imagine the soft glow of your chandelier or pendant light filtering through those textured layers—it's like a big, warm hug for your dining space. And don't even get me started on the layering options! You can double up burlap with sheers for added depth or keep it solo for that minimalist rustic vibe. Either way, it's a cozy win!
6. Floral Prints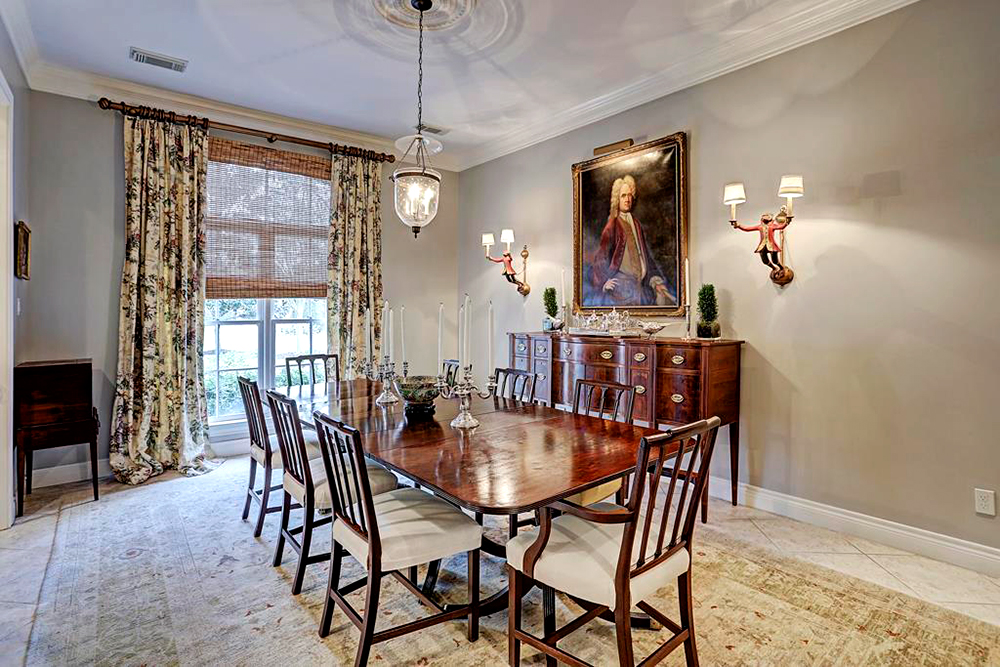 Nothing hits the mark like floral drapes when channeling that English cottage charm. These patterns usually feature soft, dainty flowers that could come straight from an English meadow. Roses, daisies, lavender—you name it. The best part? You can choose a color scheme that complements your dining room decor. Pastels for a softer look, or bold hues for a touch of drama. It's like inviting Mother Nature to dinner without the bugs.
7. Monochrome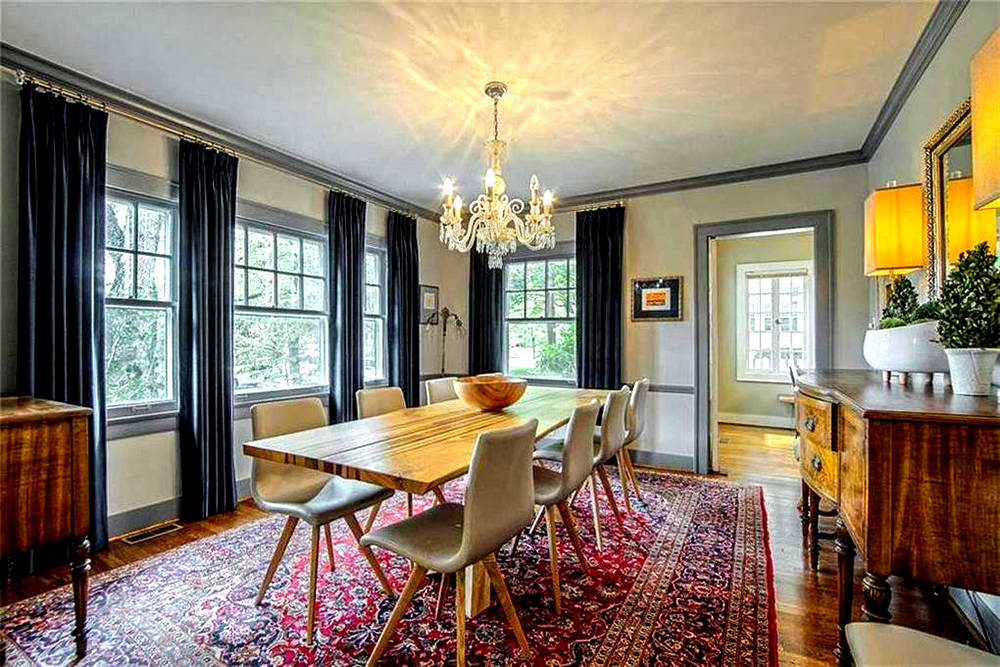 Sticking to one color is not dull; it's genius. You're making a bold yet understated statement when you go monochrome with your curtains. Think of it as the "little black dress" of window treatments. Whether it's a stark white, deep black, or even a vibrant color like cobalt blue, a single hue says, "I know what I'm about." It gives your dining room a modern, sleek vibe, allowing other decor elements to take center stage. Less really is more here. So, ready to make a one-color wonder of your dining space?
8. Geometric Shapes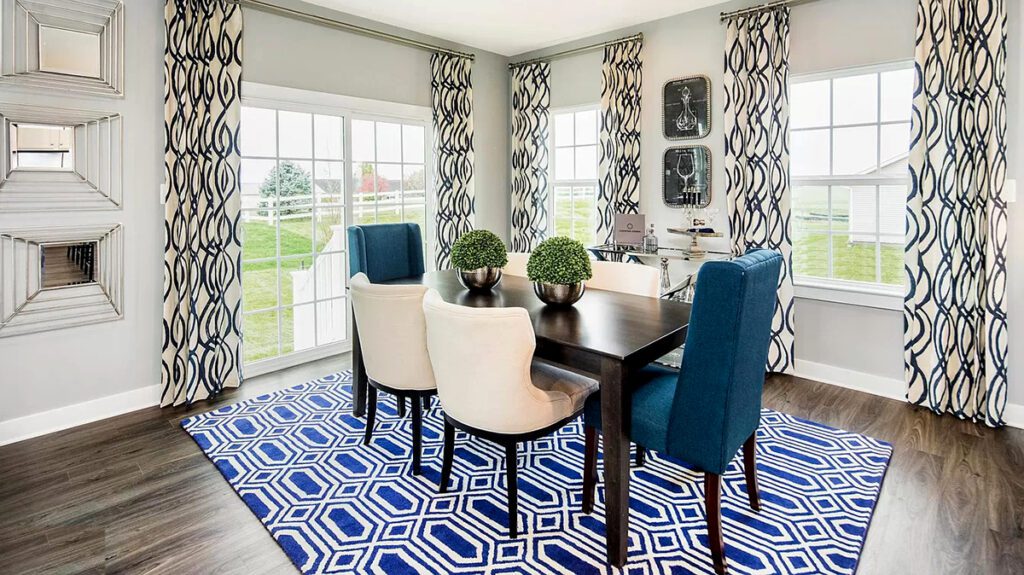 Squares, hexagons, or even triangles, these patterns give your dining room an instant boost of intrigue. It's like adding a spice to a meal; suddenly, everything's more interesting! The straight lines and sharp angles make the space feel dynamic, almost like it's in motion. Pair them with simple furniture to let the curtains steal the show, or go all out with matching geometric accents like rugs or wall art. Either way, your dining room will become a playground for the eyes. Intrigued yet?
9. Sheer Whites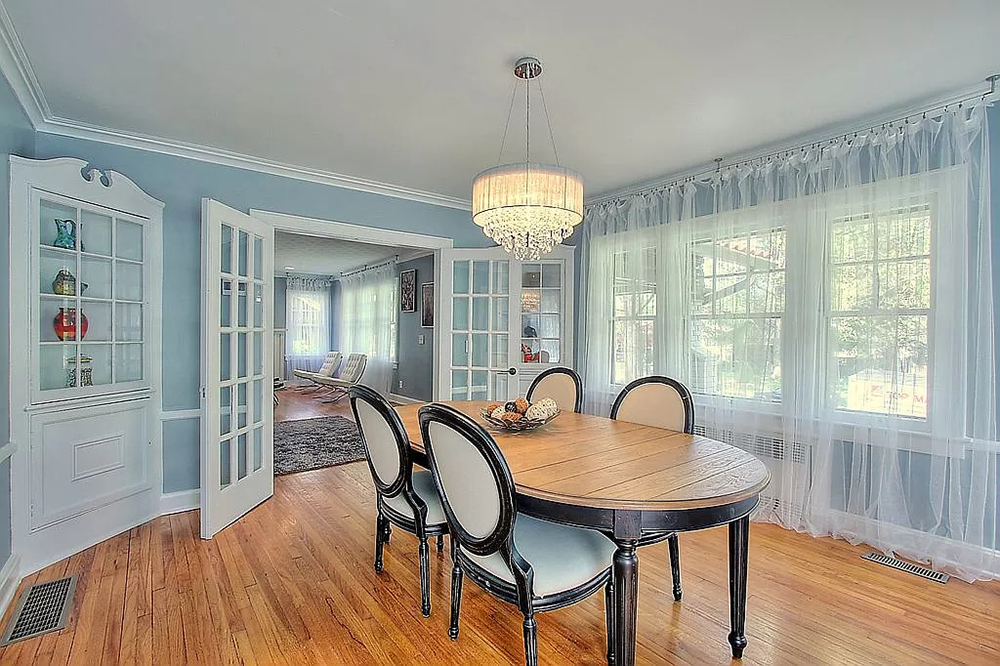 Ever walk into a room, and it just feels…ahh, refreshing? That's the sheer magic of white curtains. These gauzy wonders are light, airy, and oh-so-elegant. Picture your dining room bathed in natural sunlight, turning every meal into a photo-op. Because they're sheer, they let in a ton of light without sacrificing privacy. It's like a soft filter for your space! Pair them with darker elements to create contrast, or go all in with an all-white aesthetic for that ethereal look. Either way, these curtains are timeless, like the crisp white shirt in your wardrobe.
10. Patchwork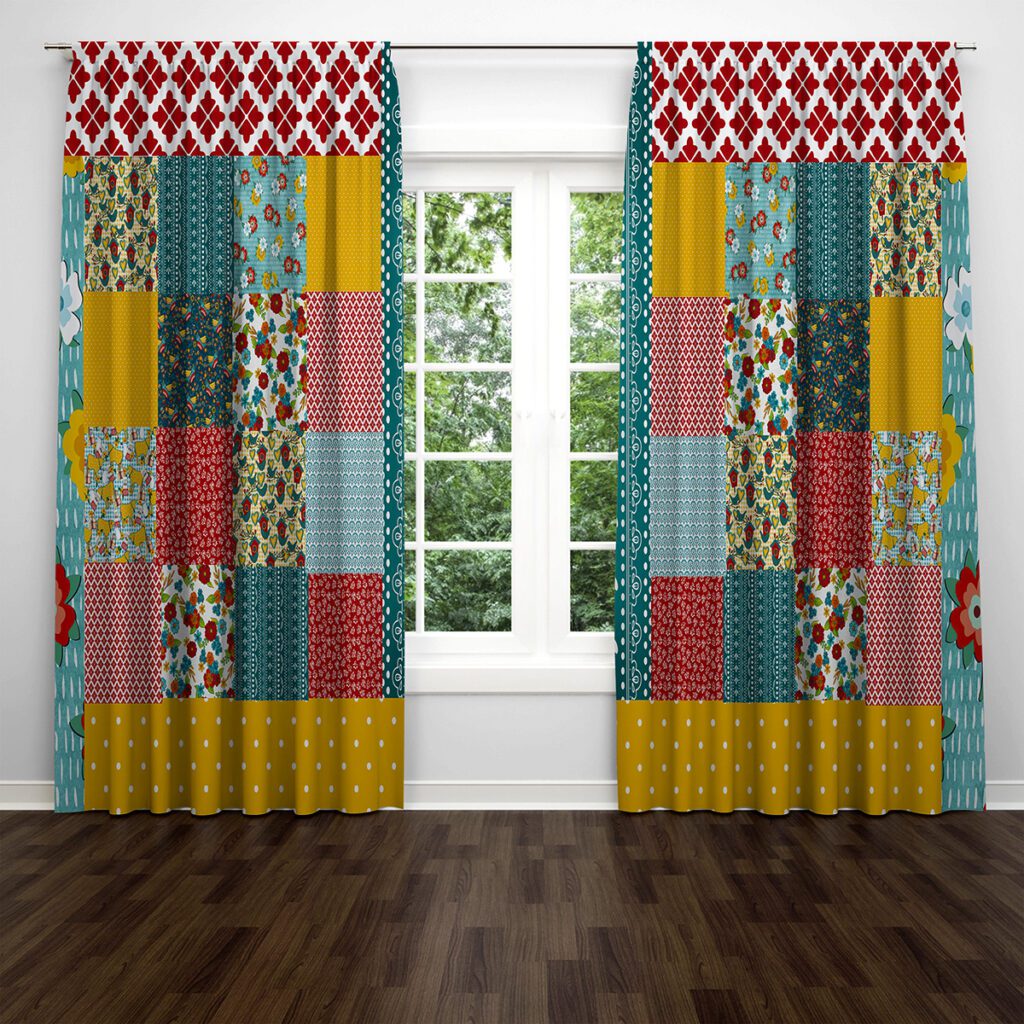 Next is the patchwork curtains. These are the rebels of the curtain world, where different patterns and colors come together to throw a little party on your window. Imagine paisleys meeting polka dots, florals hanging out with stripes—a vibrant assortment that works. It's like having a colorful quilt but for your window. The result? A dynamic, cheerful vibe that's perfect for casual dinners or lively brunches. Got eclectic furniture? Even better! Patchwork curtains are like the confetti at your décor party.
11. Macramé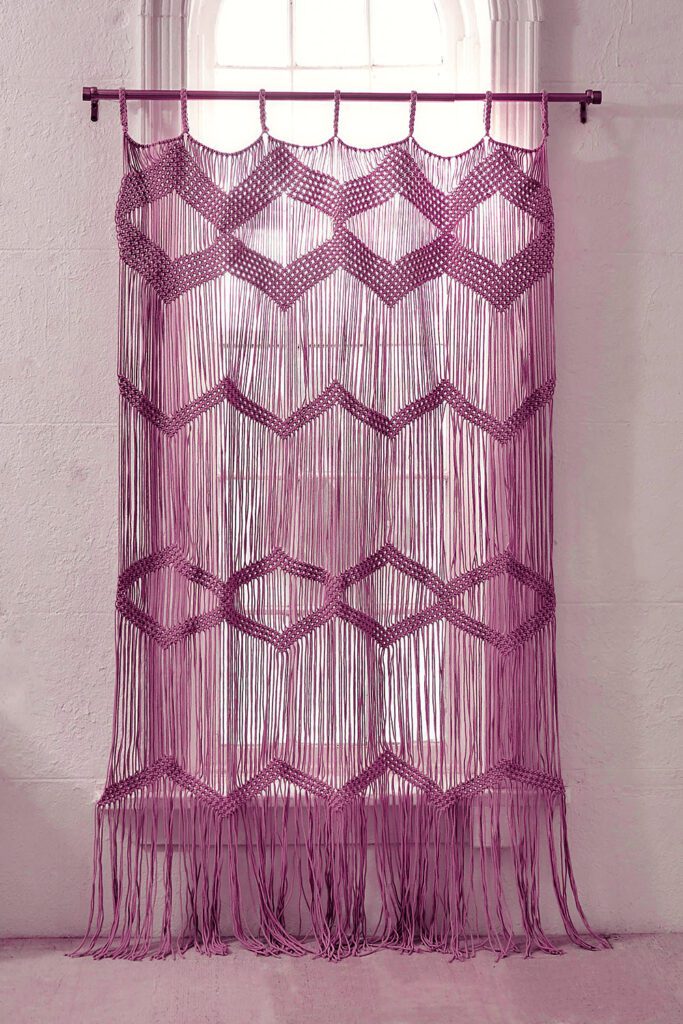 Ready for a little arts and crafts charm right in your dining room? Say hello to macramé curtains. We're talking handwoven, intricate designs that instantly bring a dash of artisan flair to your space. Imagine each knot and twist lovingly crafted to create a unique, textured pattern. It's like having a piece of art that doubles as a window treatment! These curtains have a bohemian rhapsody vibe that pairs well with eclectic or minimalist décor. Add some potted plants nearby and have a cozy, Earth-friendly nook.
12. Tassels and Fringe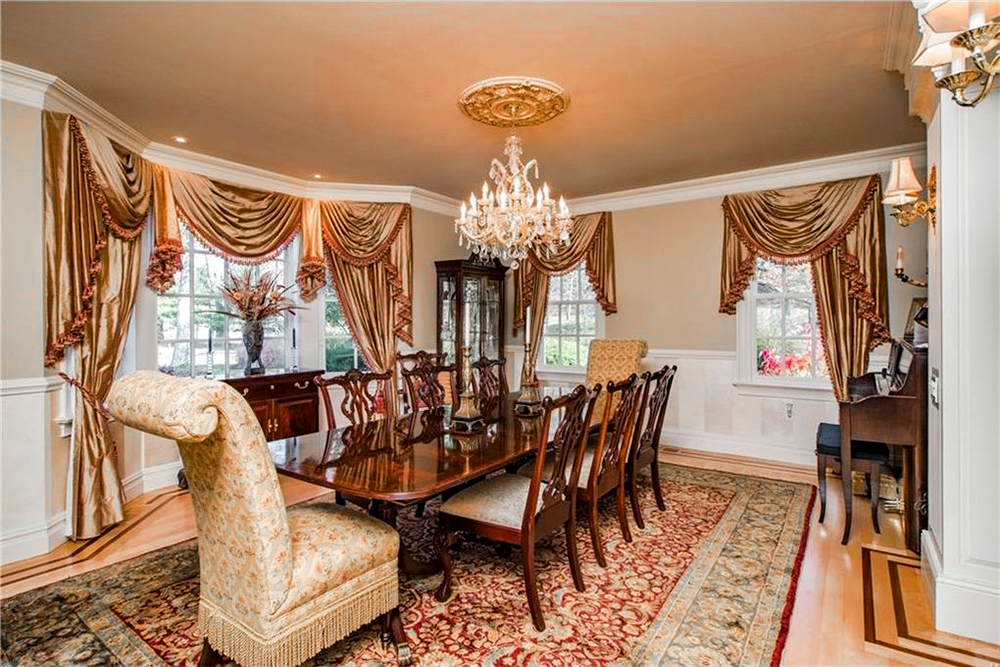 Imagine your window turning into a playful accent piece, all thanks to these delightful add-ons. When you open or close your curtains, those tassels and fringes dance around like they're at a fiesta! Adding movement and texture to your dining room without going overboard is fun. These accents bring a whimsical touch to spark conversation at your next dinner party. Pair them with solid-colored or subtly patterned curtains to let those fringes take the spotlight.
13. Nautical Stripes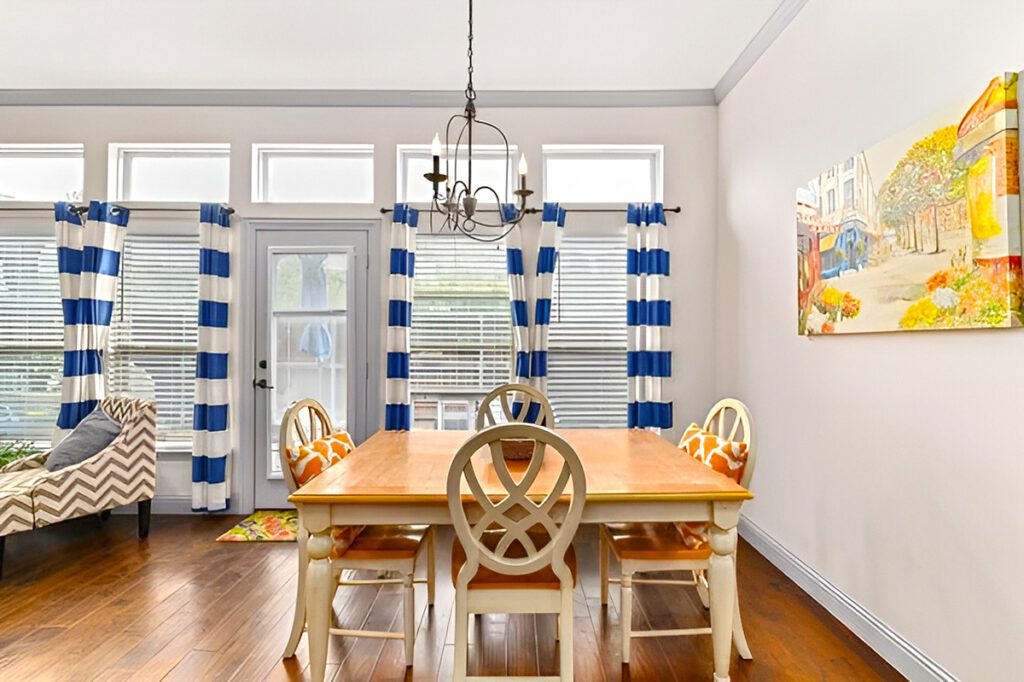 Want to feel like you're dining at the seaside without leaving your home? Nautical stripes are your ticket. Picture blue and white stripes swaying gently by your window, and suddenly, your dining room transforms into a coastal retreat. Whether navy, azure or even teal, those stripes bring a sense of calm, like waves crashing on the shore. It's the perfect backdrop for a seafood feast or a casual brunch. Just add some seashells or driftwood accents, and you're basically at the beach.
14. Seashell Ties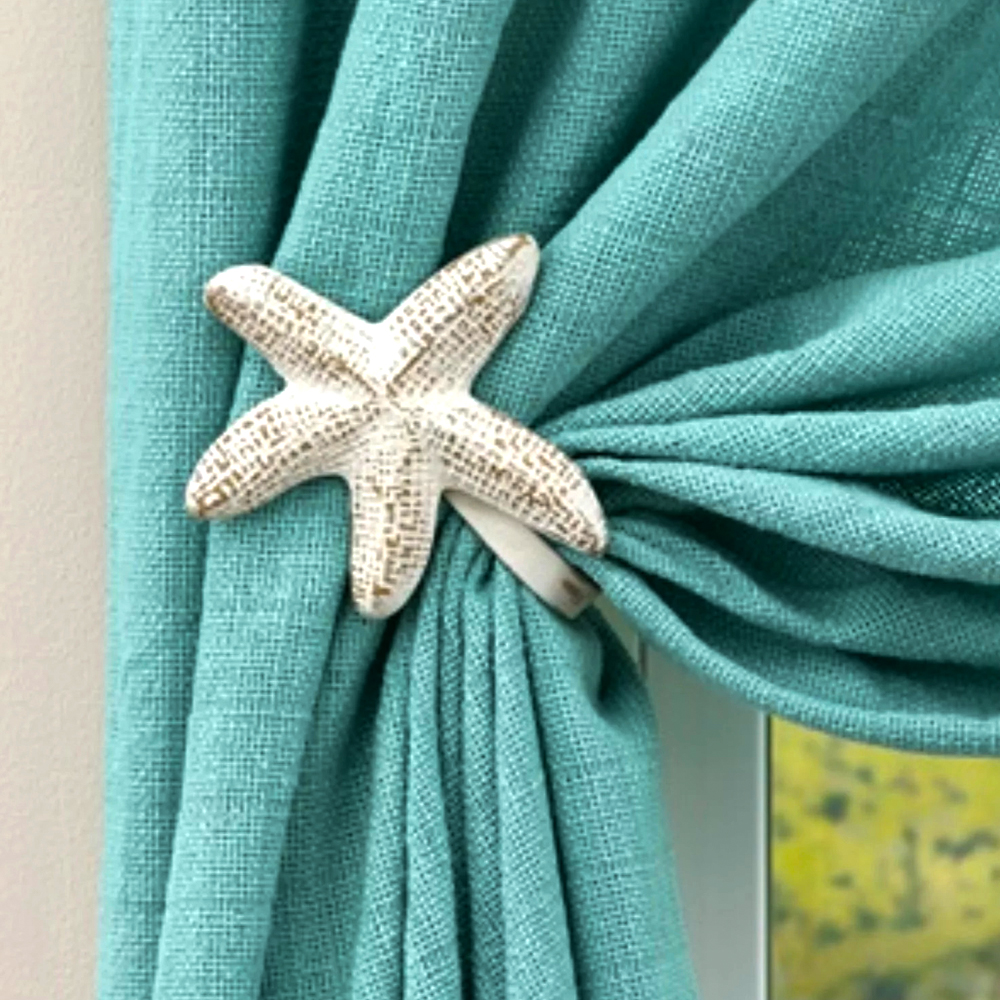 Ready to make waves in your dining room? Consider seashell ties. Imagine pulling back your curtains and securing them with these oceanic gems. It's like bringing a piece of the beach right into your space. Each tie, featuring actual seashells, creates a unique focal point and adds a whimsical touch. What's cool is that these ties work with virtually any curtain style, instantly giving them a coastal update. They're perfect for a laid-back dinner or a lively summer brunch, adding that extra "wow" factor. Pair them with nautical stripes or sheer whites for the complete beach-house vibe.
15. Light Linen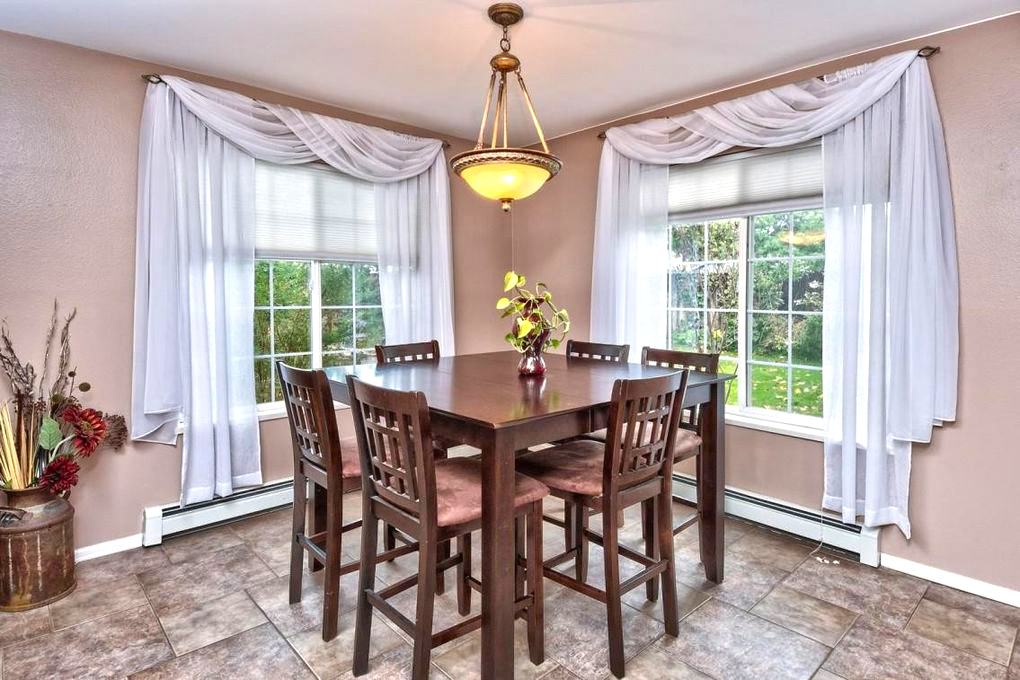 Who's ready to go coastal? Light linen curtains are your answer. Imagine the airiness of a beach cottage wafting through your dining room—sounds dreamy, right? Linen is light, breathable, and incredibly versatile. Opt for neutral shades like sandy beige or soft gray to create a calming atmosphere. You'll love how the fabric gently filters sunlight, giving off that magical, golden-hour glow. Pair it with some rattan furniture or coral accents, and you're dining in a seaside haven. So whether you're serving seafood or just a casual meal, light linen sets the perfect breezy backdrop.
16. Metallic Sheens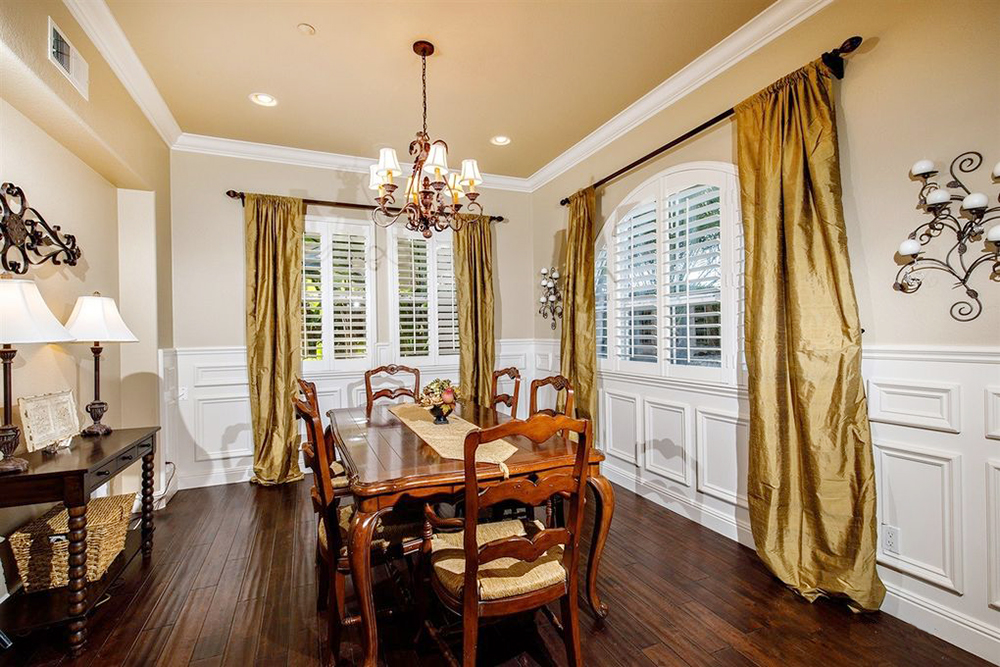 Metallic sheen curtains are where modern meets industrial, and let me tell you, it's a match made in design heaven. Picture your dining room glowing in shades of silver, copper, or even gold. Instant glam! These curtains have a reflective quality that plays well with light, giving your room an edgy sparkle. Perfect for evening dinners where you want to dial up the drama. How these metallics work with industrial elements like exposed pipes or brick walls is even cooler. It's like adding a bit of runway glam to a loft space.
17. Canvas Drop Cloth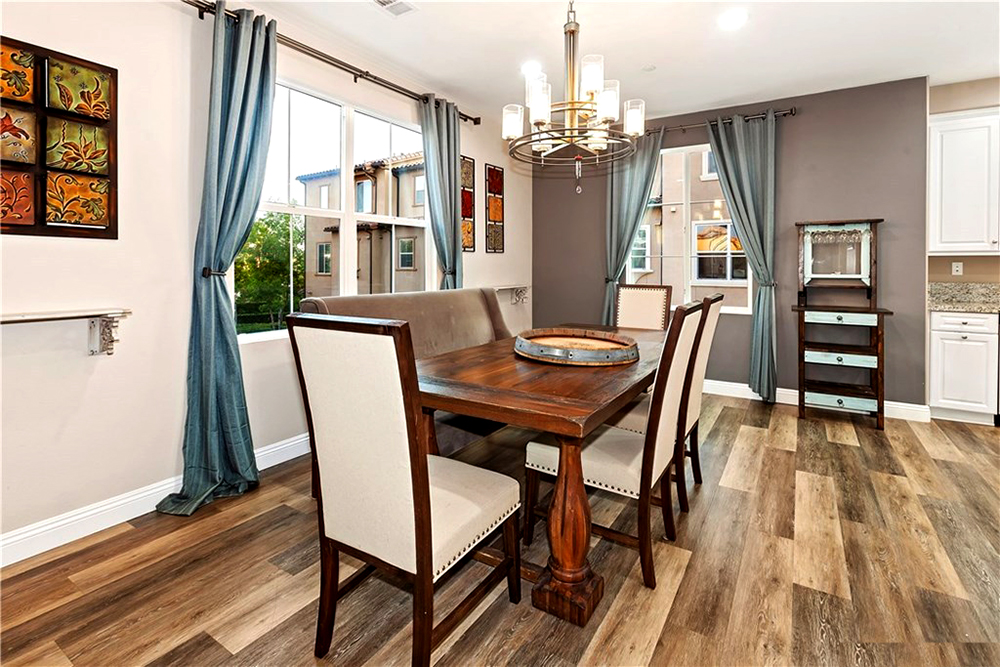 Canvas drop cloth curtains are your go-to for a décor curveball. Forget delicate or frilly; we're talking rugged, durable material that adds an unexpected twist to your dining room. Think of it as the denim jeans of the curtain world—functional yet stylish. The raw, unbleached fabric brings an earthy, laid-back vibe, perfect for casual dinners or hearty feasts. Plus, they're super easy to clean, which is always a win in my book. Pair them with rustic furniture or metal accents, and you've got a room that's both cozy and edgy.
18. Black Mesh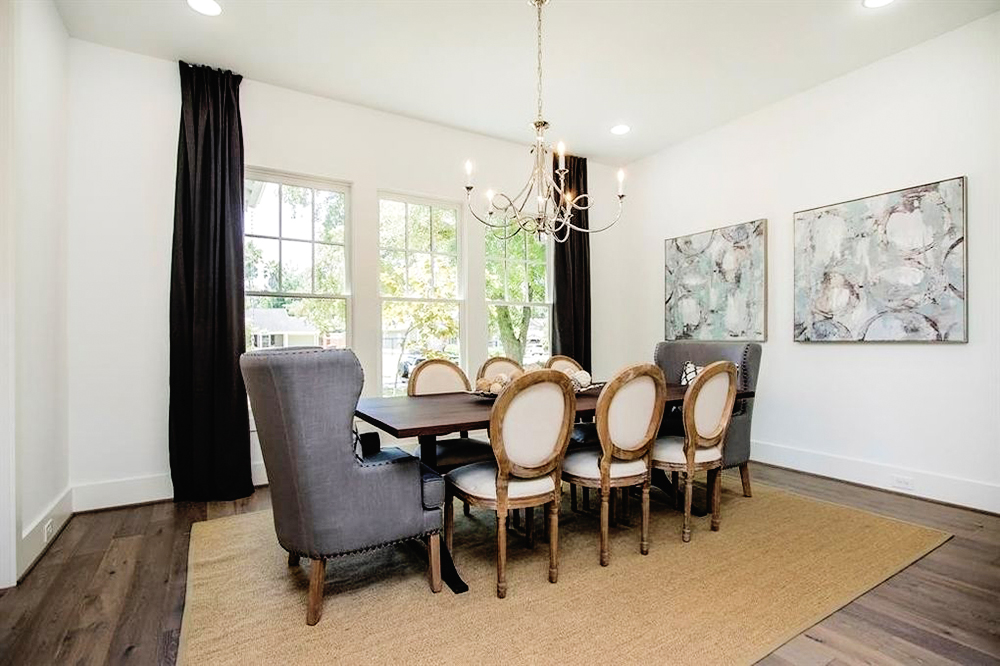 Black mesh curtains are your ticket to bring some edge to your dining room. Imagine the striking contrast they create, mainly when the sunlight filters through the perforated material. It's industrial chic at its finest! What's great about black mesh is its texture; it adds a tactile dimension that's totally unique. Pair these curtains with concrete floors or metallic accents; you're talking severe design goals. Plus, they don't block out all the light, so you still get that natural glow during the day.
19. Bold Colors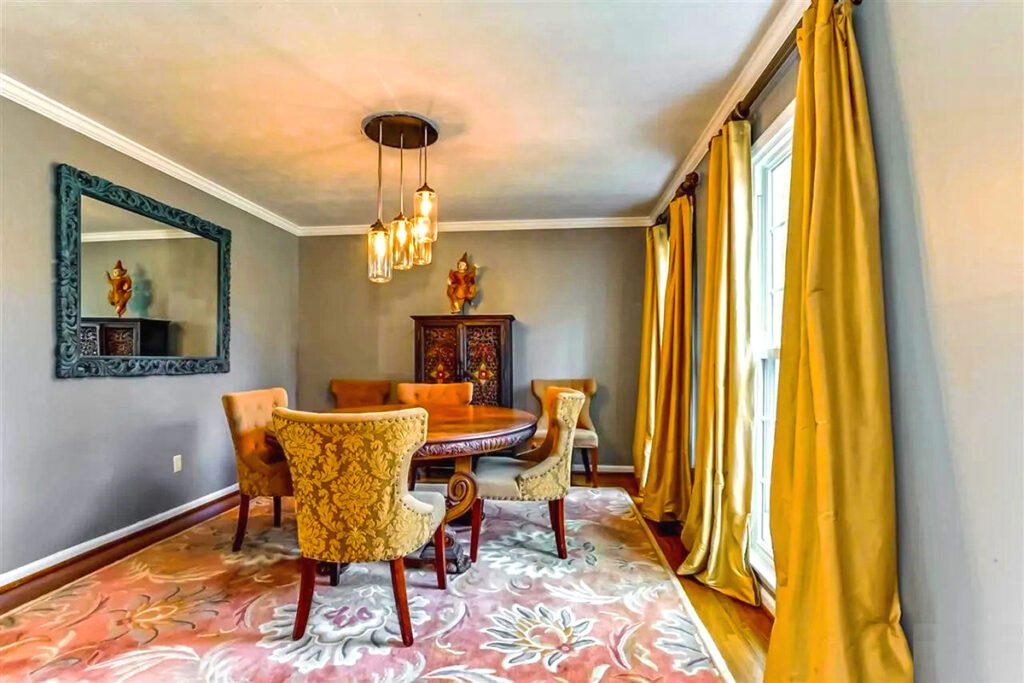 Bold colors like mustard yellow or teal are for the daring, the ones who aren't afraid to make a statement. Picture your dining room walls coming alive with vibrant shades that set the mood for every meal. Mustard yellow brings warmth and happiness, while teal adds luxurious depth. The key is balance; you don't want to overpower the room. Pair these bold curtains with neutral furniture or monochromatic accents to let them shine. Whether you're into modern or traditional styles, these vibrant colors inject personality and mood into your dining area.
20. Atomic Prints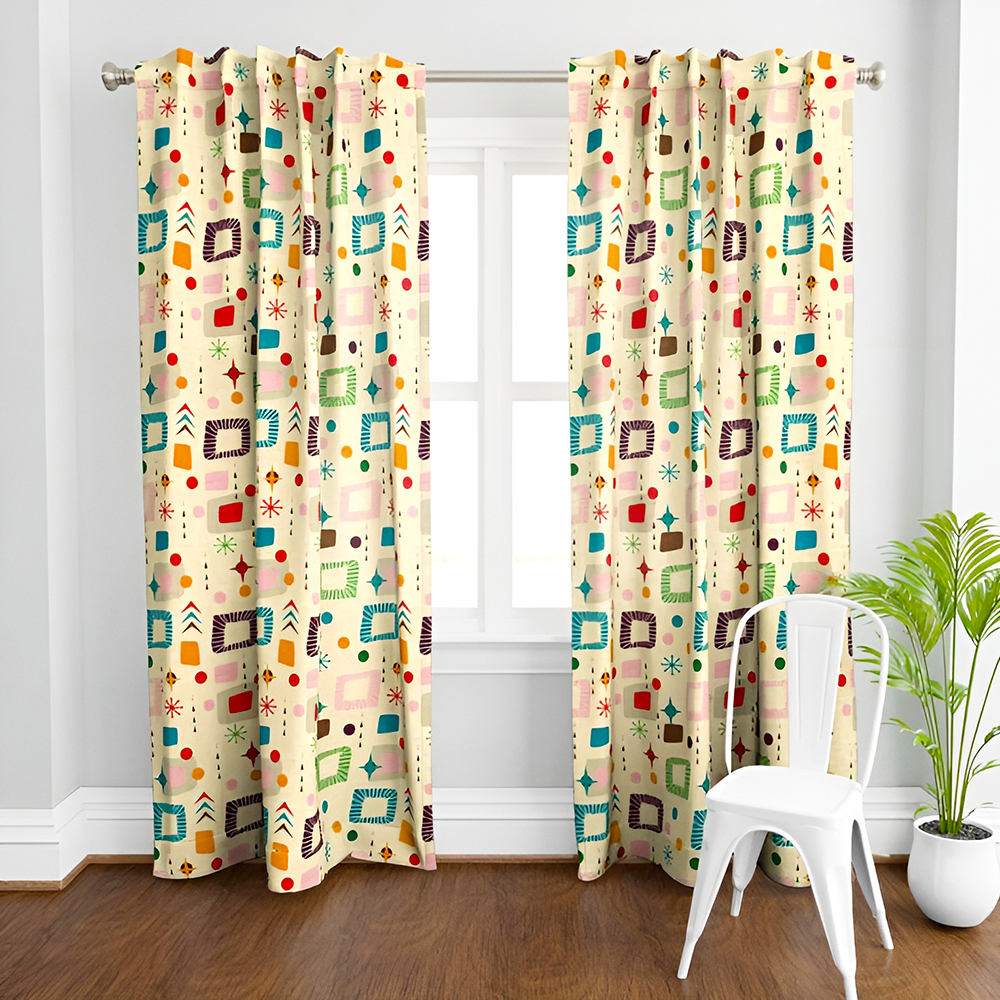 These geometric, retro wonders are like the Beatles of the curtain world—a classic that never goes out of style. Picture starbursts, boomerangs, and abstract shapes jazzing up your dining room. It's a blast from the past but in the coolest way possible. Whether you're hosting a retro-themed dinner party or love the nostalgia, atomic prints bring your space that kitschy, vintage flair. Pair them with mid-century modern furniture, and you have a retro haven.
21. Sunburst Patterns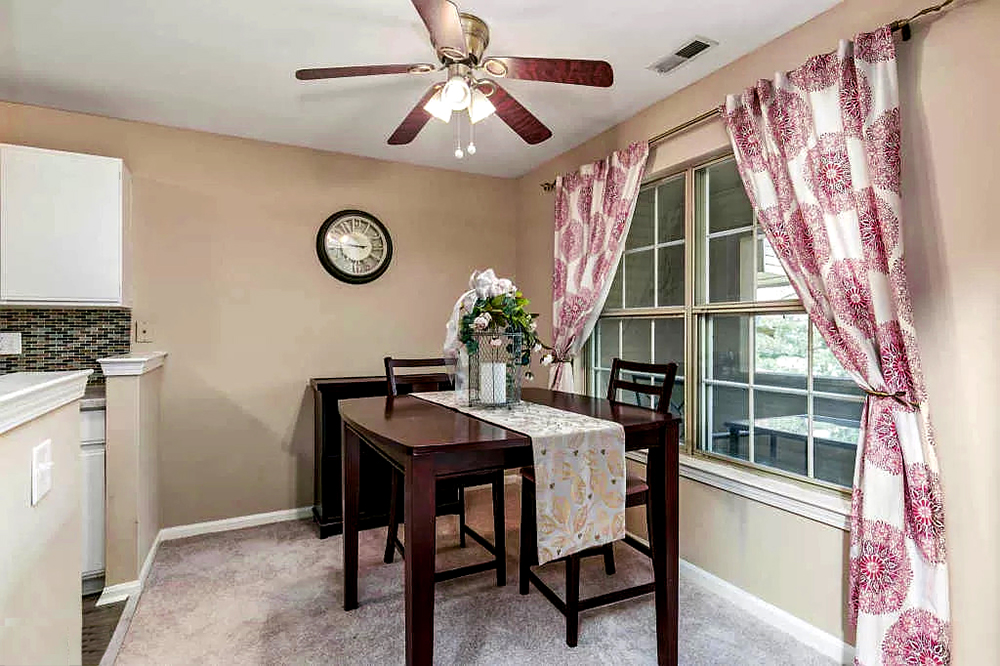 These eye-catching designs take you back to the '60s, filling your dining room with a nostalgic, upbeat vibe. Imagine sitting down to dinner with these bursts of joy framing your window; it's like having a mini Woodstock in your home. Whether you go with classic gold and yellow or shake things up with vibrant colors, sunburst patterns are always a conversation starter. Pair them with retro furnishings, and you've got a room that's sunshine on a cloudy day.
22. Gold Accents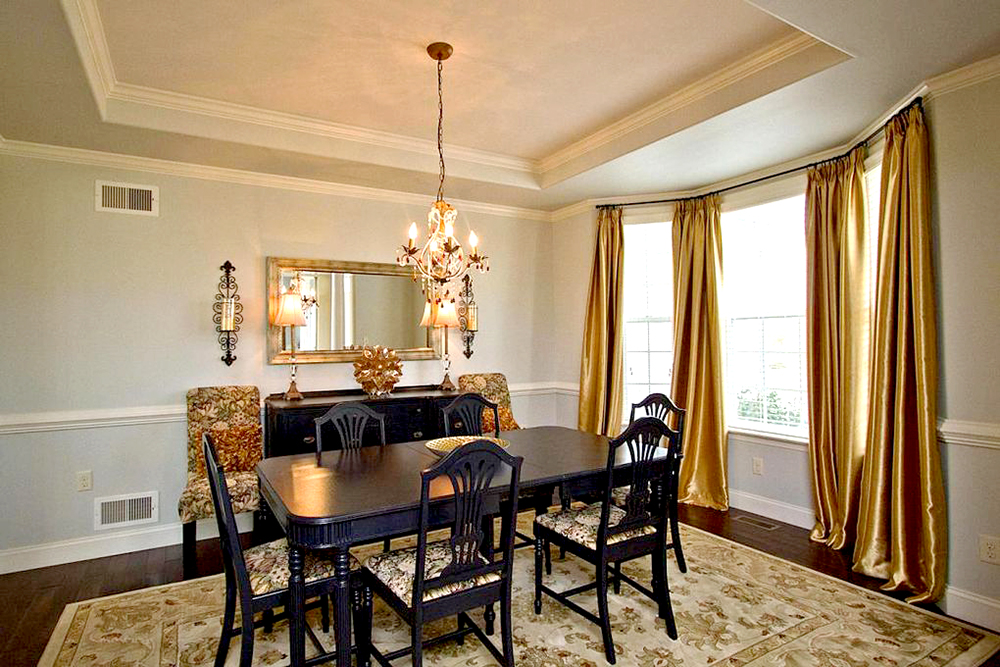 Gold accents on your curtains are like jewelry for your space. Picture this: luxurious fabric with shimmering threads of gold or silver woven in. It's subtle yet undeniably glamorous, perfect for turning up a notch's opulence. These hints of metallic catch the light beautifully, setting the stage for an elegant dinner party or a romantic date night at home. Whether you pair them with plush velvets or sleek leathers, gold accents elevate your dining room into a haven of sophistication.
23. Velvet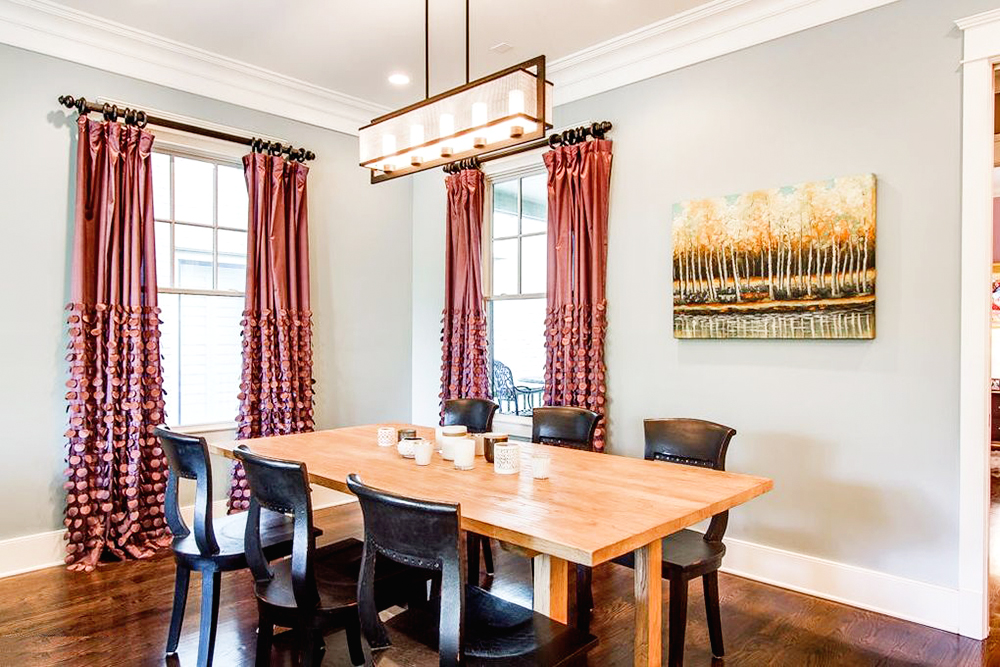 Imagine velvet's rich, plush texture cascading down your dining room windows. It's an instant luxury, right? Whether you choose deep burgundy, royal blue, or elegant emerald, the luxurious fabric makes every meal feel like a special occasion. Perfect for holiday feasts or romantic dinners, velvet adds a sumptuous layer you can't resist touching. Pair it with crystal chandeliers or gold accents; you're dining like royalty.
24. Geometric Glam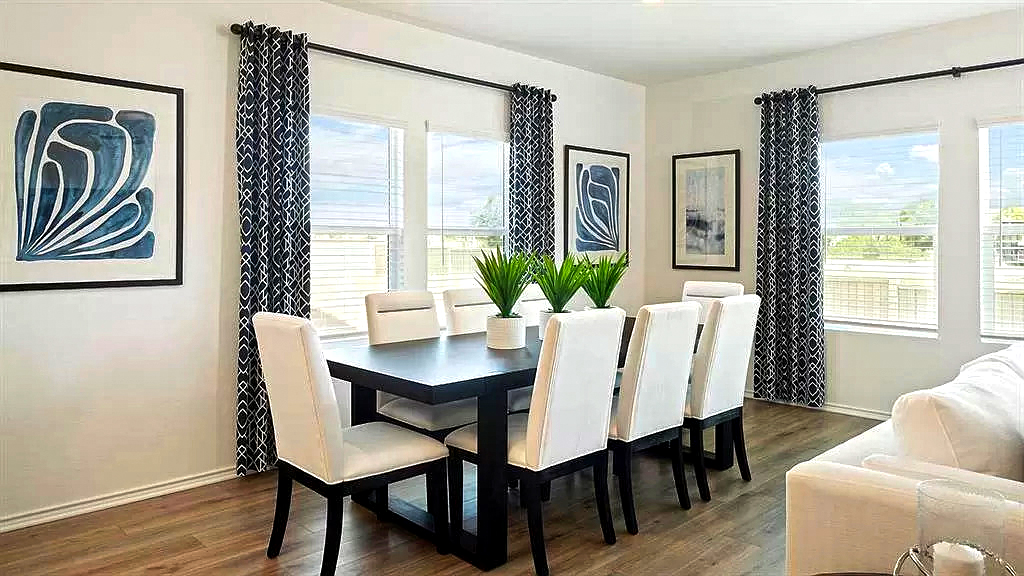 Ready to party like it's 1920? Geometric glam is your curtain call. Picture your dining room decked in bold, geometric prints that scream Great Gatsby. We're talking luxury, flair, and a dash of mystery; all rolled into your window treatments. Imagine zigzags, diamonds, and art deco motifs making a stylish statement. It's the kind of look that demands a champagne toast! Whether hosting a sophisticated soirée or enjoying a casual dinner, these curtains add a layer of luxurious glamour.
25. Bamboo Shades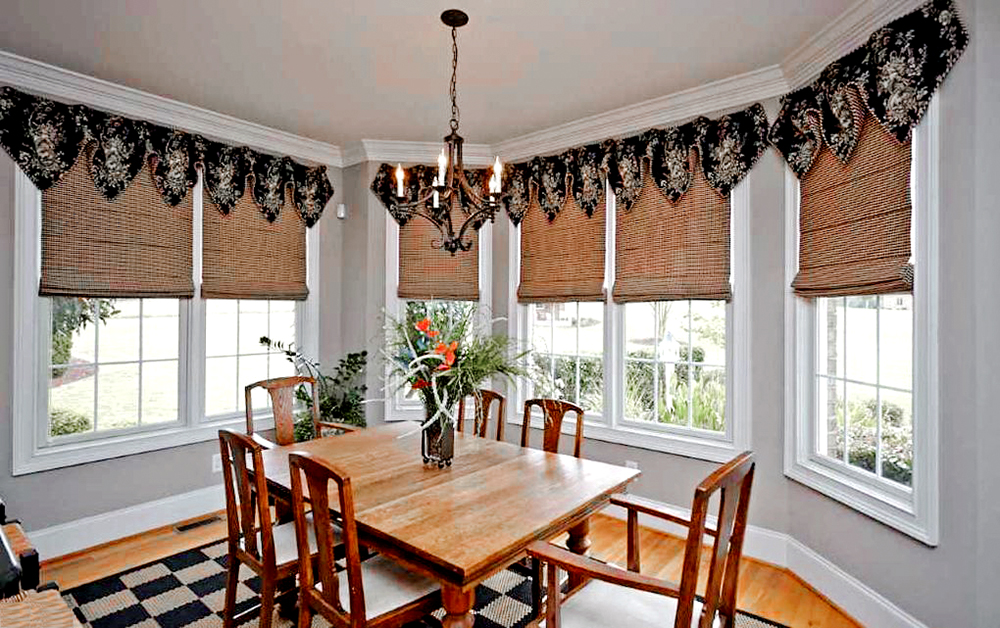 Bamboo shades are your ticket to tranquility. Imagine a woven tapestry of natural fibers gently filtering the light into your dining room. It's peaceful, earthy, and incredibly calming. These shades are not just aesthetically pleasing; they're also eco-friendly. So you can dine with a clear conscience. Pair them with natural elements like a jute rug or wooden table for a serene oasis. Whether you're into Zen minimalism or rustic charm, bamboo shades fit the bill.
26. Cherry Blossom Prints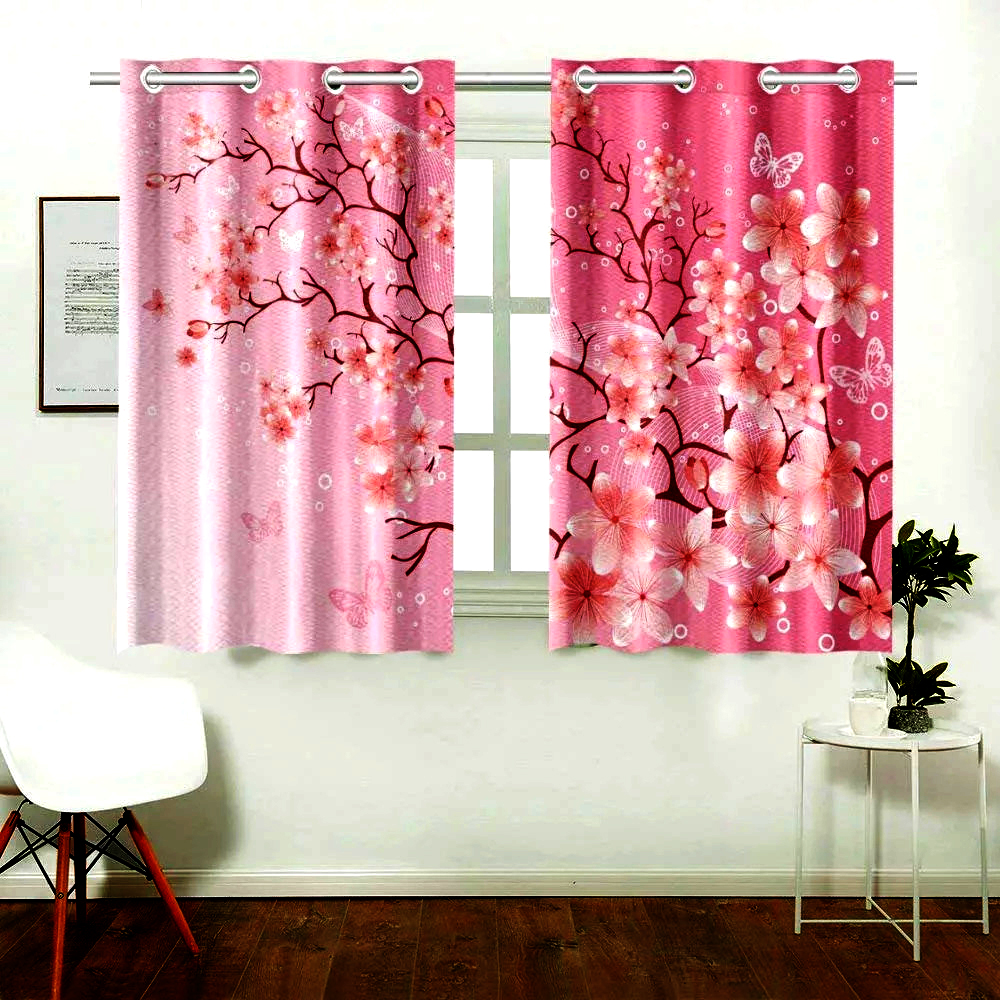 Next up, let's float into a serene world with cherry blossom prints. Imagine delicate blooms adorning your curtains, adding an ethereal touch to your dining space. The soft pinks and whites create a soothing backdrop for a cozy family meal or an intimate dinner date. Cherry blossom prints symbolize renewal and the fleeting beauty of life, so every meal becomes a little more meaningful. These prints work wonderfully with light pastels or even bolder shades for contrast.
27. Japanese Noren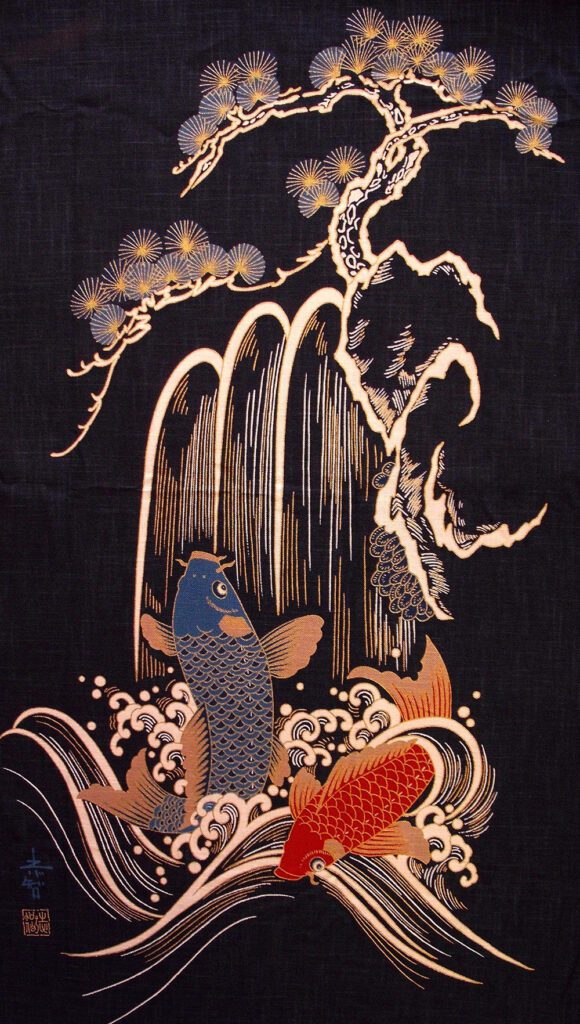 Ever thought of taking a design cue from the Land of the Rising Sun? Japanese Noren is where it's at. Imagine these traditional fabric dividers gracing your dining room as window treatments or room dividers. These are more than just curtains; they're works of art often featuring intricate patterns or scenes from nature. Want to separate the dining area from the living room without building a wall? Noren to the rescue. Choose designs that resonate with you—whether that's elegant cranes, bold calligraphy, or calming waves.
28. Grey and White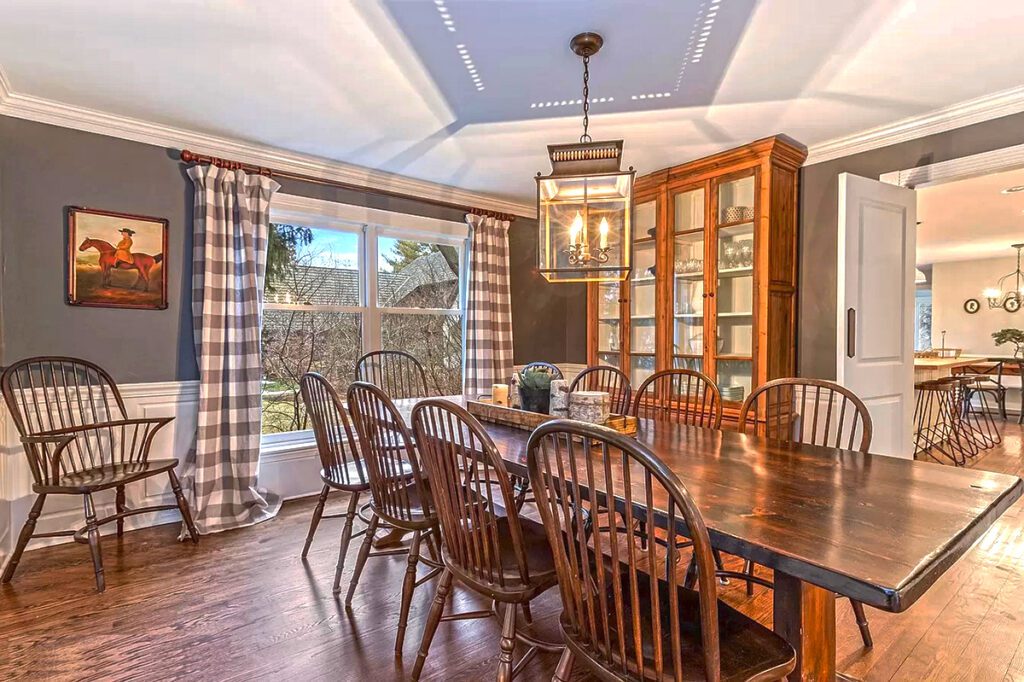 Looking for that sweet spot between modern edge and timeless elegance? Grey and white curtains have got you covered. Picture the soft, neutral hues framing your dining room window. It's like a blank canvas that works with pretty much any decor. What's fantastic about these colors is their versatility. You can go minimalist with sleek, modern furnishings or combine the coziness with rustic or traditional pieces. The grey adds depth, while the white keeps things light and airy. It's a win-win.
29. Roman Shades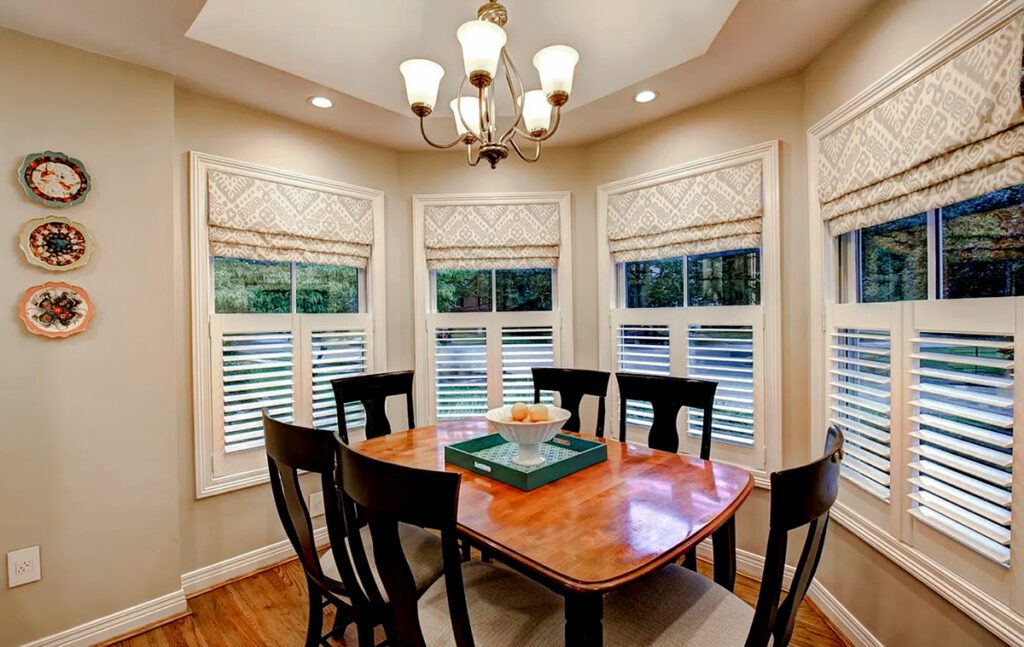 Roman shades are your new best friend to shake up your window game with a classic twist. Picture these elegant, foldable shades adding grace and sophistication to your dining room. The best part? They blend seamlessly with both classic and modern styles. Whether you opt for a bold pattern or a subtle hue, Roman shades offer that neat, tailored look that screams refinement. And let's not forget, they're super functional—easy to lift and lower for just the right amount of light.
30. Dual-Layer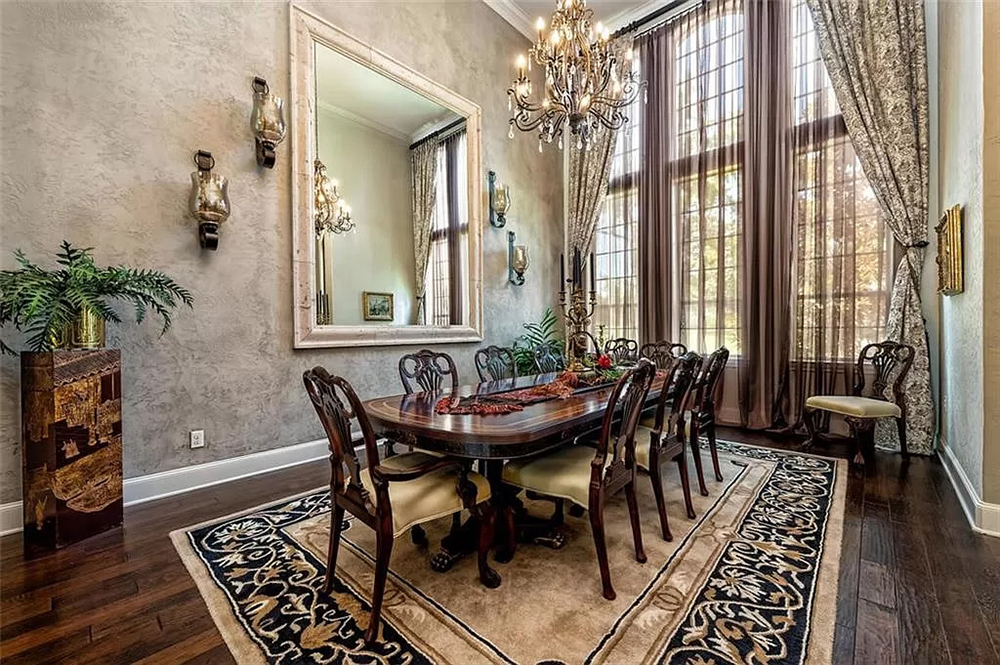 Can't decide between light and airy or dark and dramatic? Why not pick both with dual-layer curtains? Imagine a sheer curtain inside to let the sunshine pour in during the day. Then, come evening, pull the heavy drape outside for that cozy, secluded feel. It's versatile and practical, like the Swiss Army knife of window treatments. Dual-layer curtains are perfect for those who love to change the mood on a whim. So whether it's a bright brunch or a romantic dinner, you have the ideal setting at your fingertips.