Ever notice how the smallest details can make the grandest impact? In the world of interior design, valances hold that power. These simple fabric additions elevate, cozy, or pull your dining space together. Choosing the suited valance is like finding the perfect accessory for your favorite outfit—it completes the look! With that said, I've rounded up 28 standout dining room valance ideas to help you achieve that picture-perfect blend. Whether you're into subtle elegance or statement-making drama, a valance here is calling your name. Ready to discover your room's finishing touch? Let's dive in!
1. Buffalo Check Charm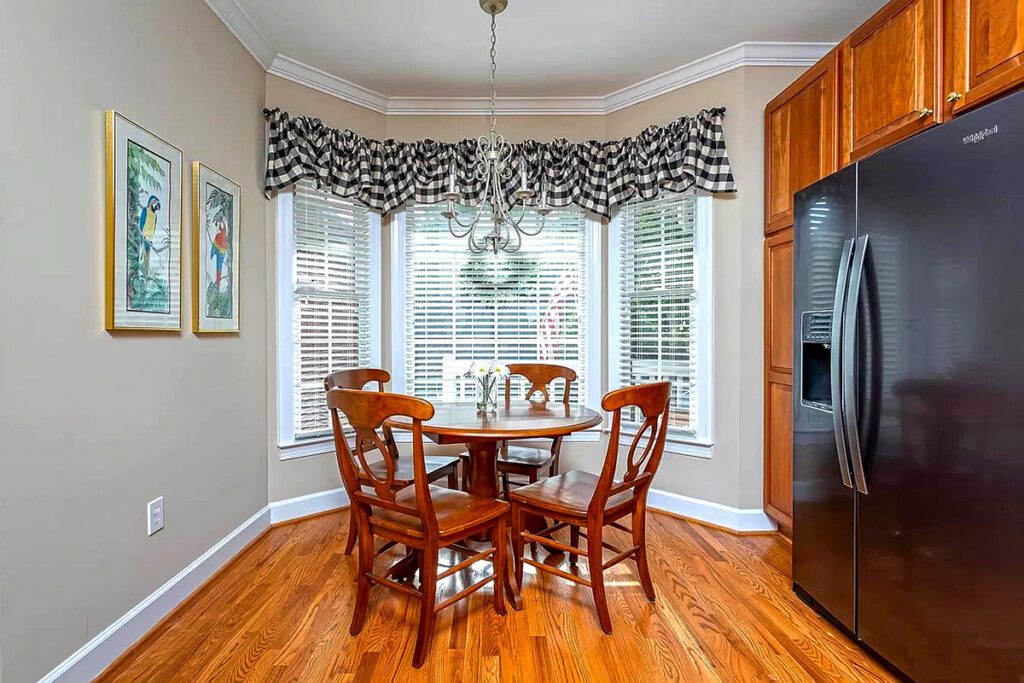 First, the buffalo check charm. These monochromatic black and white valances add a touch of modern farmhouse flair while keeping the room's overall elegance. The ruffled design gives a whimsical vibe, softening the room's edges. I adore how these valances create a visual bridge between the neutral walls and the rich wooden elements. They perfectly encapsulate the essence of cozy-meets-classy. It is genuinely a delightful touch to frame any dining room window!
2. Serene Greens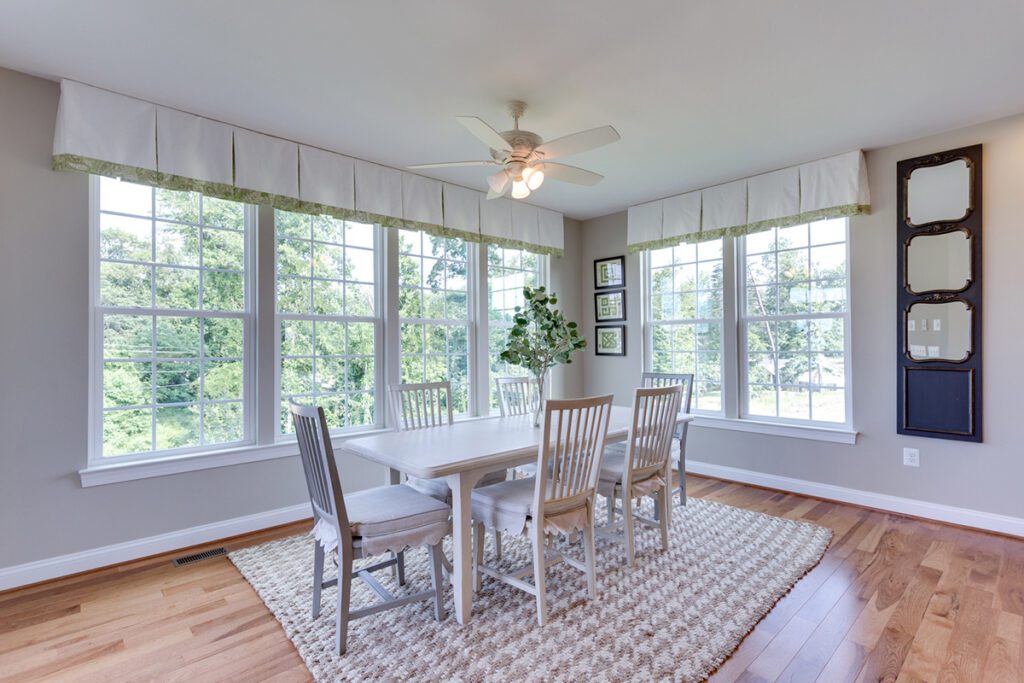 These valances are subtle, but they make all the difference. Adorned with a soft green accent border, they echo the verdant views outside. The understated design allows the room's other elements to shine while still providing a touch of color. These valances are a perfect blend of simplicity and elegance. The white base seamlessly matches the room's airy ambiance. I'm particularly obsessed with how they hang – effortlessly draping, adding a dash of sophistication. They're like that delicate necklace that completes an outfit. So chic, so understated. What a graceful touch to those vast windows!
3. Victorian Vibes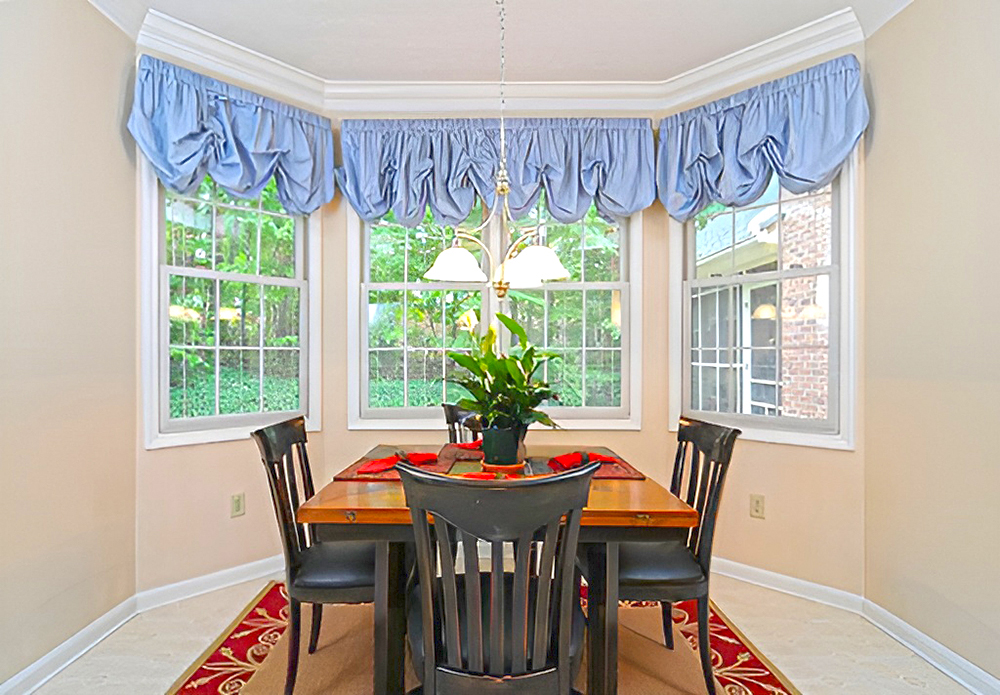 Let's step into a space that whispers old-world charm! Those valances? Truly captivating. A rich lavender hue graces the beautifully ruched design, evoking Victorian-era elegance. The cascading gathers and soft curves lend a luxurious feel, effortlessly becoming the room's star. Just imagine sipping tea beneath these beauties! Their presence contrasts delightfully with the modern-day setting, proving how classic styles can seamlessly blend with contemporary design. I adore how they frame the windows, showcasing the vibrant outdoors. And let's not overlook that sumptuous fabric – it adds depth and character. Talk about dining in style! These valances? Timeless and classy.
4. Regal Red
Swathed in a radiant red and highlighted with glimmering gold stripes, these valances scream luxury. And the design? Oh, it's all about those playful swags, creating dramatic peaks that draw the eyes upwards. They perfectly complement the room's deep gray walls, adding warmth and vibrancy. The layered, striped pattern is a nod to classic European style, making dinner feel like a royal affair. And I love how they frame the room's large windows, letting natural light flood in. Dining beneath these? Pure sophistication!
5. Tuscan Treat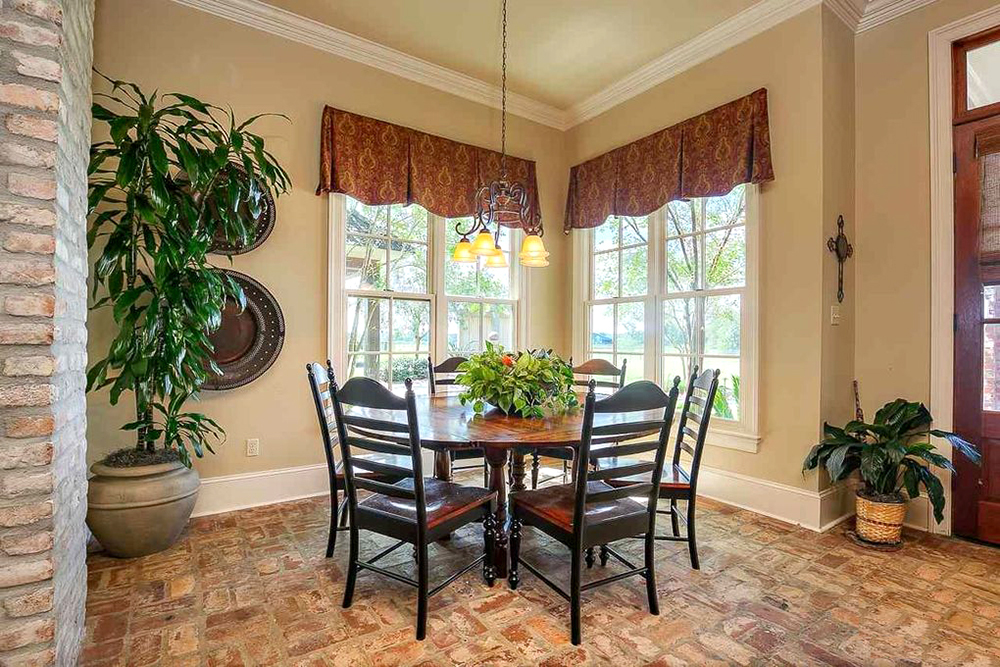 Bathed in a deep maroon with intricate patterns, these valances channel that old-world Tuscan charm we all adore. Notice the straight-cut design? It gives off a clean, polished look while letting in sunlit goodness. They perfectly complement the room's neutral palette, making the windows pop with a touch of drama and pairing them with those stunning brick accents and lush greens. A masterstroke! These valances are a must-consider if you aim to bring warmth and elegance to your dining space. Simply put, it's tasteful sophistication.
6. Modern Simplicity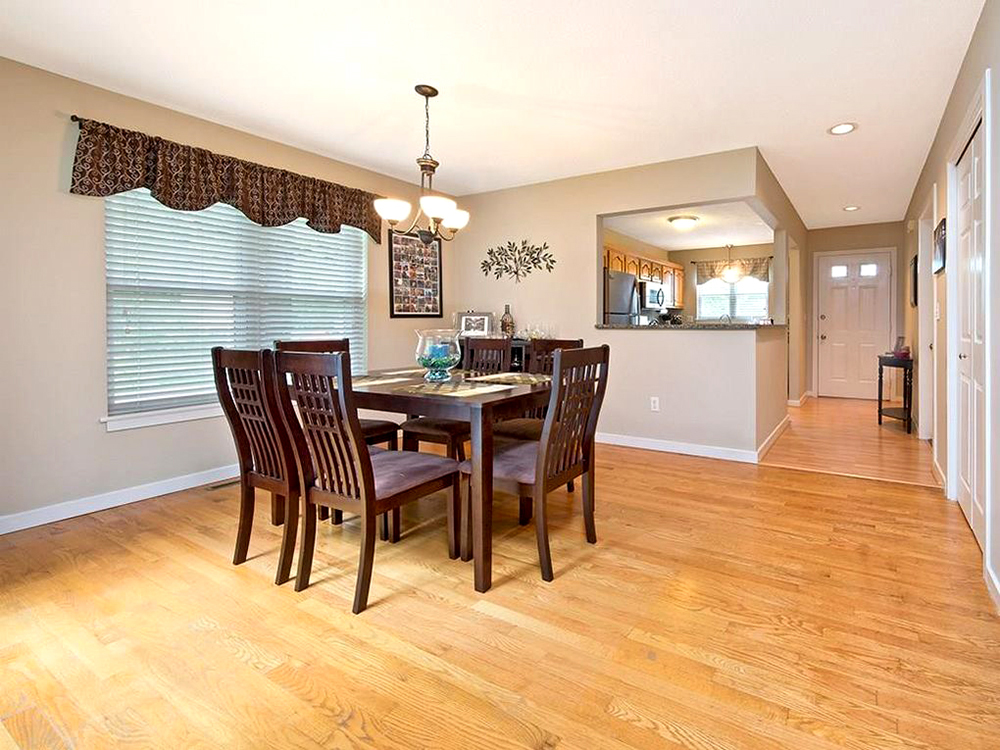 At first glance, these valances sport a rich, swirling pattern, don't they? It's a delightful contrast against the room's soft hues. The scalloped edge? It adds a dash of whimsy without being too flashy. Now, while these valances have a bold pattern, they don't steal the show. They subtly frame the bright, white blinds, creating a harmonious balance. If you're searching for a valance that brings a touch of modern flair yet remains versatile, this design might be your perfect match. Fresh, stylish, and oh-so-inviting!
7. Regal Elegance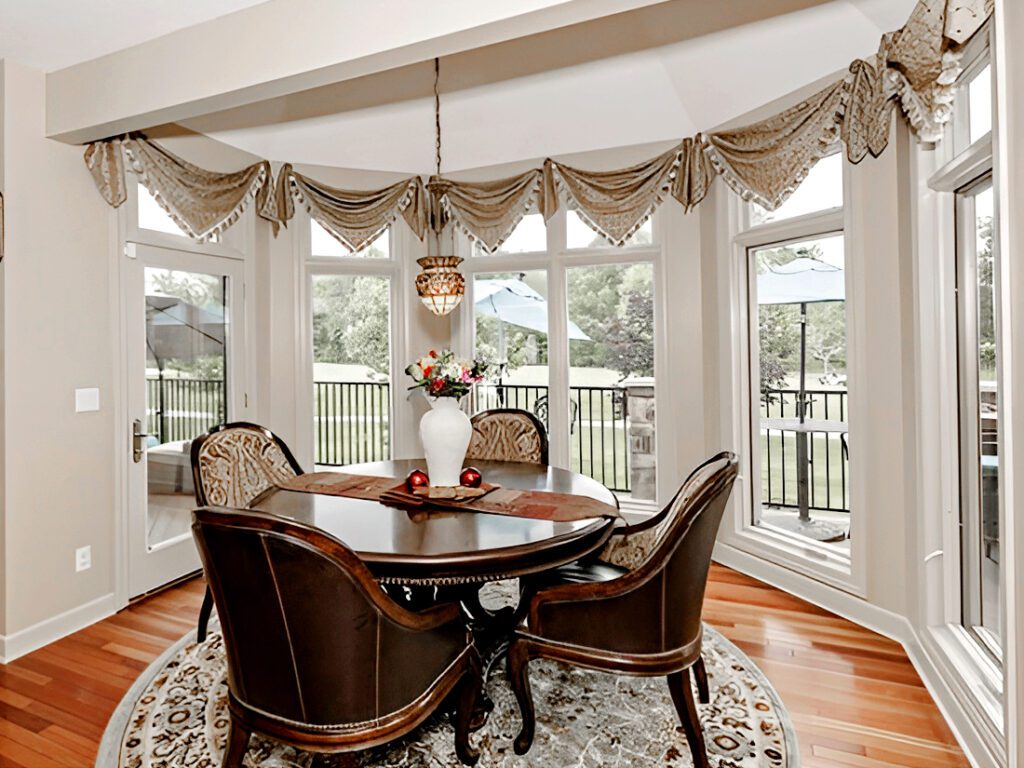 Do you want to add a royal touch to your dining room? Look no further than these valances. They're dripping with vintage allure. The cream-colored fabric boasts intricate patterns that shimmer under the chandelier's light. And those swooping drapes? Pure sophistication. The tassel details only heighten their classic beauty. These valances don't just frame the windows—they transform them into art. Pair them with grand furniture, and you have a setting fit for royalty. So, if you dream of a dining room that whispers timeless luxury, these valances might be your golden ticket. Simply stunning!
8. Burgundy and Golden Stripes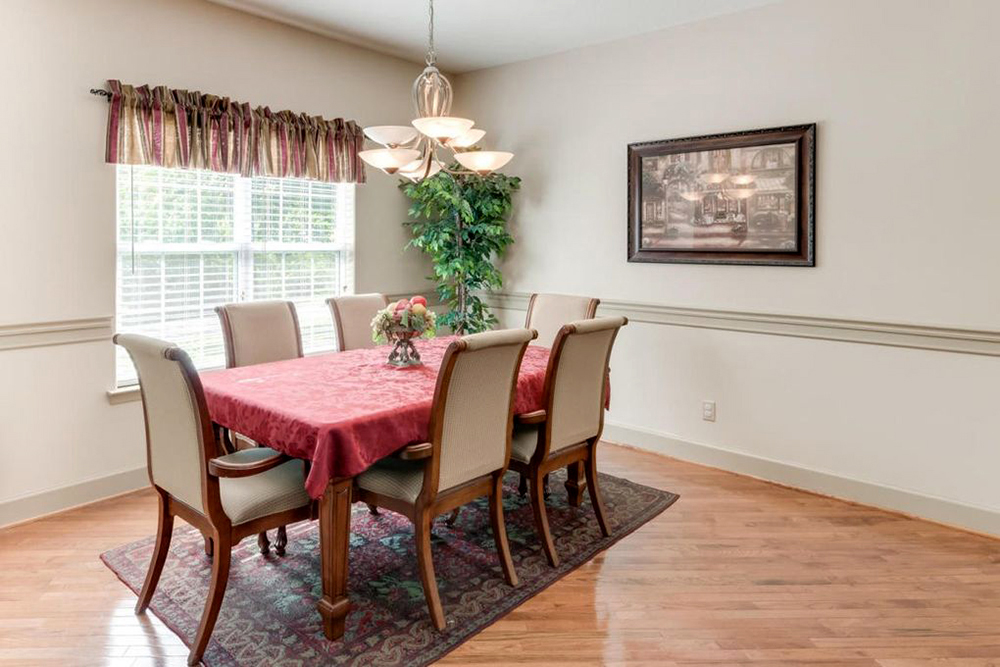 Looking for a touch of elegance without going over the top? Check out these valances! Their rich burgundy and golden stripes bring warmth and coziness to the dining area. The gentle pleats create an inviting cascade effect, marrying simplicity with sophistication. And those subtle sheens in the fabric? It's like they're winking at us under the pendant light. These valances pop above white framed windows, making the green outdoors seem even fresher. This valance style is a must-try for anyone seeking that ideal blend of comfort and class in their dining space. Delightful!
9. Checkered Charm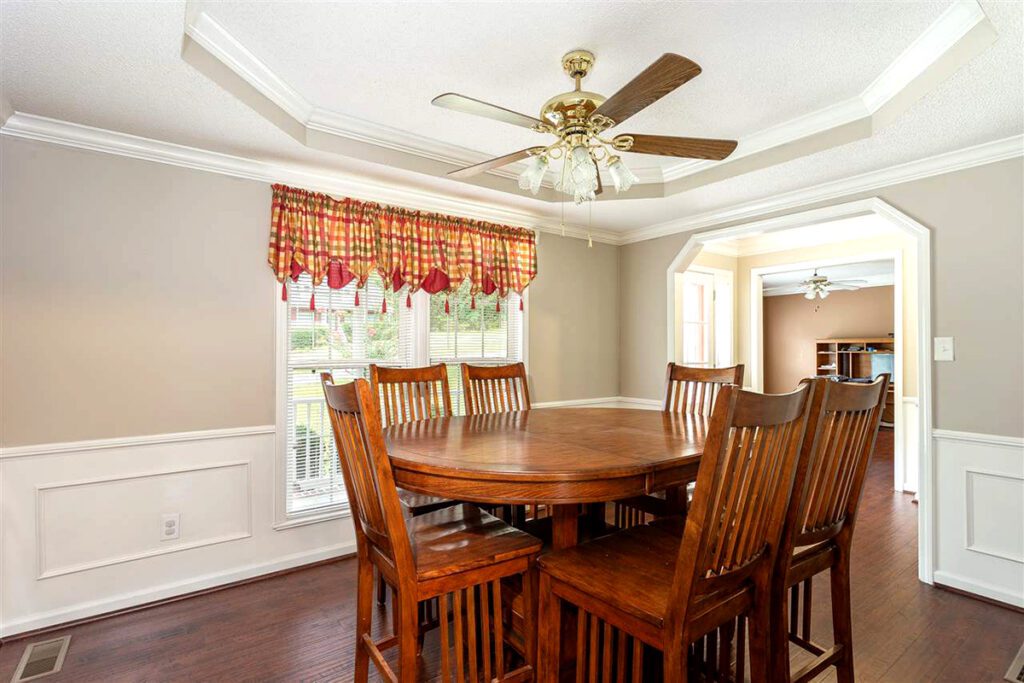 Want a dash of fun mixed with timeless elegance? Dive into these checkered valances. Their lively red and gold checks instantly brighten up the space, don't you think? The tassel trim? A playful twist that adds motion and depth. I adore how they frame the windows, letting just the right amount of light dance through. It's a look that screams "sunny family brunches" and "evening dinner parties." Suppose you're craving a blend of traditional and spirited for your dining room. In that case, these checkered valances might be the zest you've been searching for. Cheers to vibrant dining vibes!
10. Boho Elegance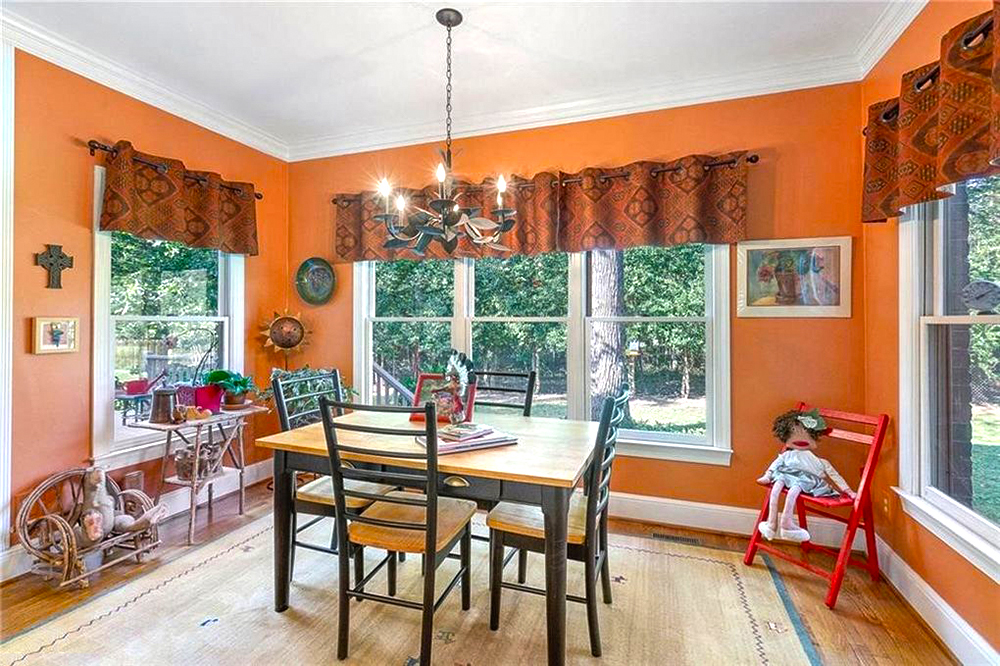 If you've got a taste for the eclectic, check out these tribal-inspired valances. Their earthy brown tones and intricate patterns tell a story, bringing worldly vibes right to your table. Don't they add a sophisticated contrast to the room's bright orange walls? I'm swooning! They drape effortlessly, showcasing a timeless design reminiscent of distant travels and artisan crafts. Paired with those sunlit windows, they set the stage for memorable meals. For those hunting for that perfect blend of adventurous and cozy in your dining nook, these valances might be your design soulmate.
11. Country Chic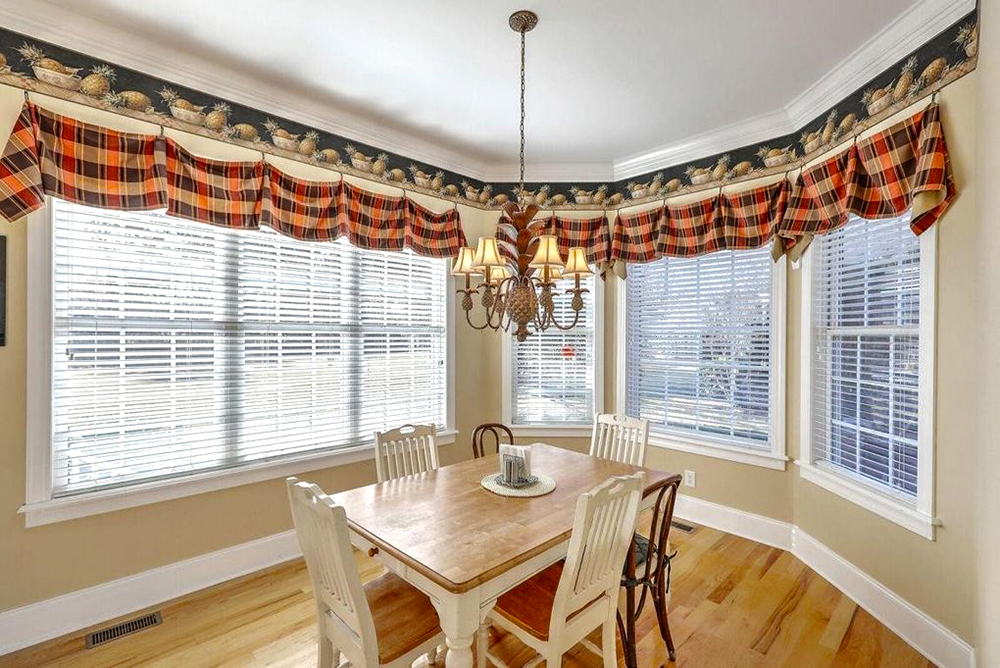 These charming plaid valances instantly whisk you away to a cozy country cottage, don't they? The blend of warm reds, golds, and blacks adds a rustic flair, while the playful swag design gives a touch of elegance. But wait, there's more! Notice the intricate pineapple pattern above? It symbolizes hospitality and warmth, perfect for any dining space. If you're daydreaming of creating a welcoming, down-home vibe for your family gatherings, these valances could be the cherry on top. Dive into the world of plaid and make your dining room pop!
12. Modern Silky Valances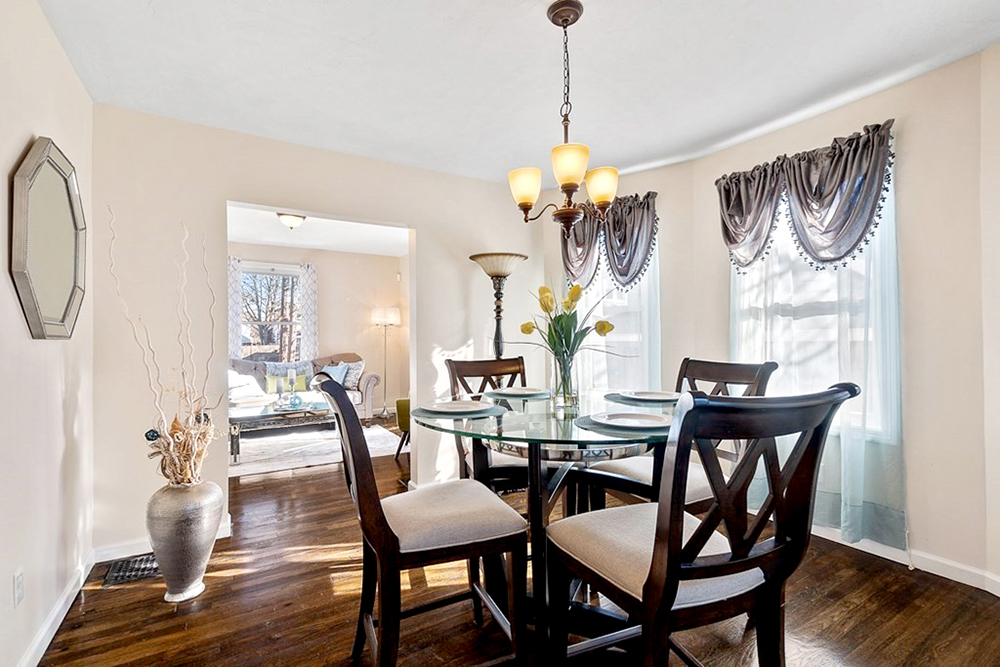 If you've got modern tastes but still yearn for a hint of luxury, this valance style is your go-to. These sumptuous valances dripping with sophistication, right? The silky charcoal gray fabric is luxuriously draped, creating a soft cascade effect. And those delicate tassel details? Pure elegance. They're the perfect juxtaposition against the light, airy curtains, ensuring that the dining area remains bright while adding a touch of drama. With such a dazzling addition, it's a cinch to transform your dining room from simple to swanky.
13. Whimsical Paisley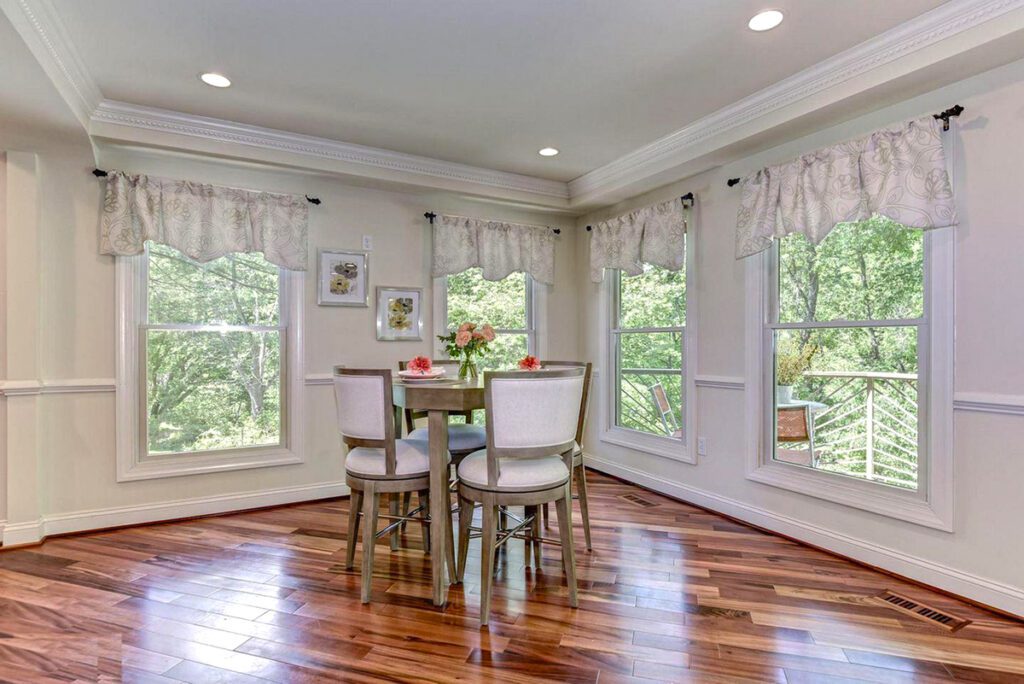 Next, let's dive into these charming paisley-patterned valances, shall we? A nod to timeless elegance, these beauties blend seamlessly with the room's neutral palette. Their gentle curves add a touch of softness, while the intricate paisley design brings depth and dimension. Paired with the pristine white frames of the windows, they're a dreamy addition, giving the space a cozy, inviting feel.
14. Bold Black and White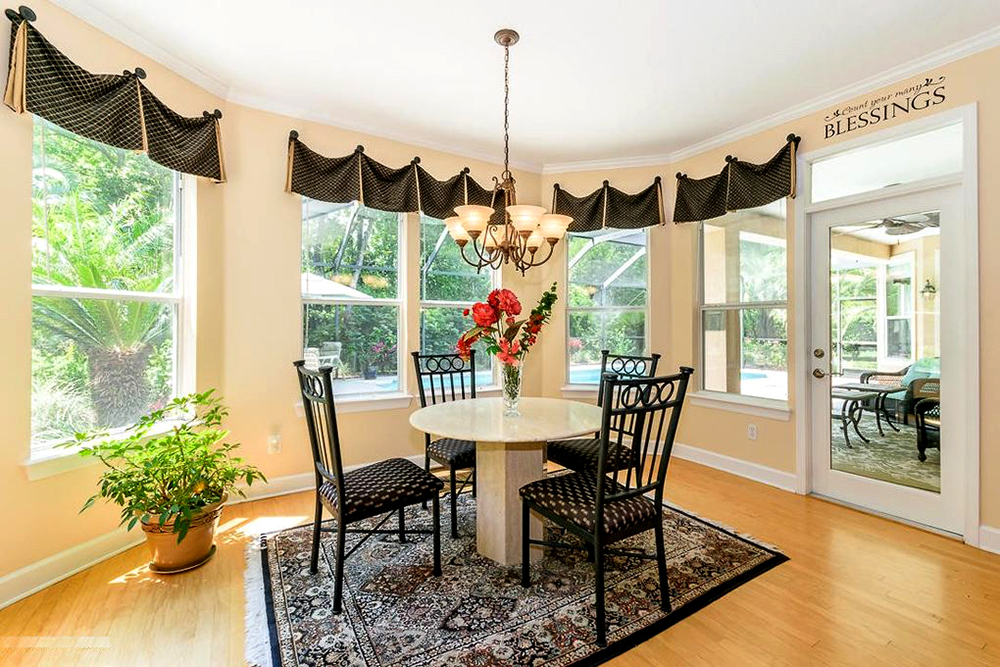 Searching for a way to jazz up your dining space? These valances are the ticket! They blend tradition and trend perfectly, elevating the whole space. The bold black-and-white checker infuses the room with a dash of drama and contrasts beautifully against the soft peach walls. The swagged style adds an old-world feel, while the checkered pattern provides a modern twist. Remember, it's all about the details – and with these valances, your dining room will surely stand out in style!
15. Vintage Elegance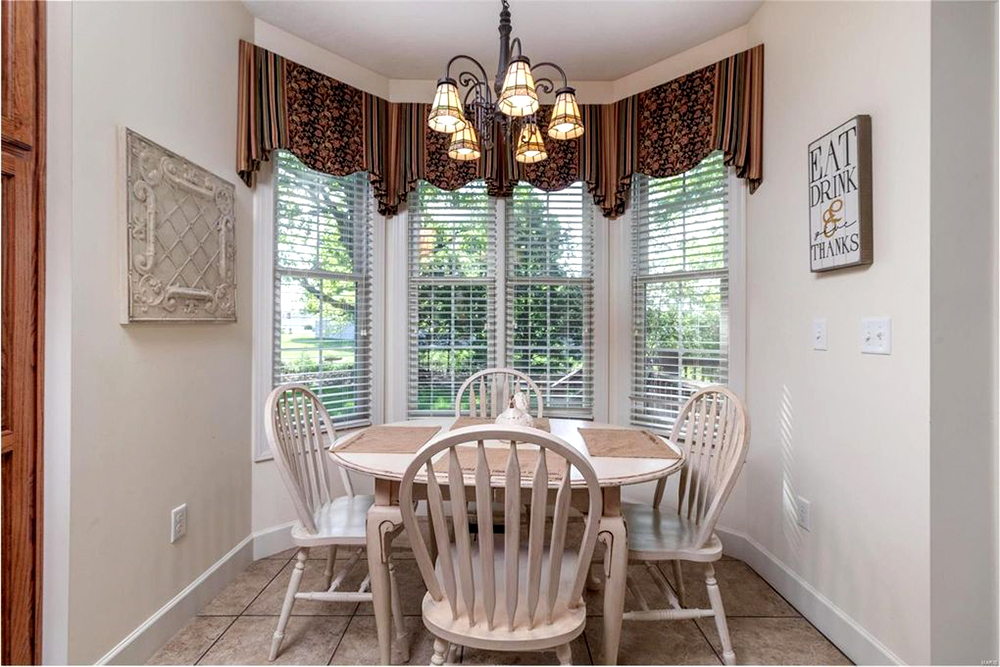 Looking to sprinkle a bit of old-world charm in your space? These floral pattern valances might just be the ticket. With their dark hues dancing with warm tones, they're a dream against the room's neutral canvas. And that sleek, straight-cut bottom? It's a crisp high-five to today's simplicity.
16. Ruby Ruffles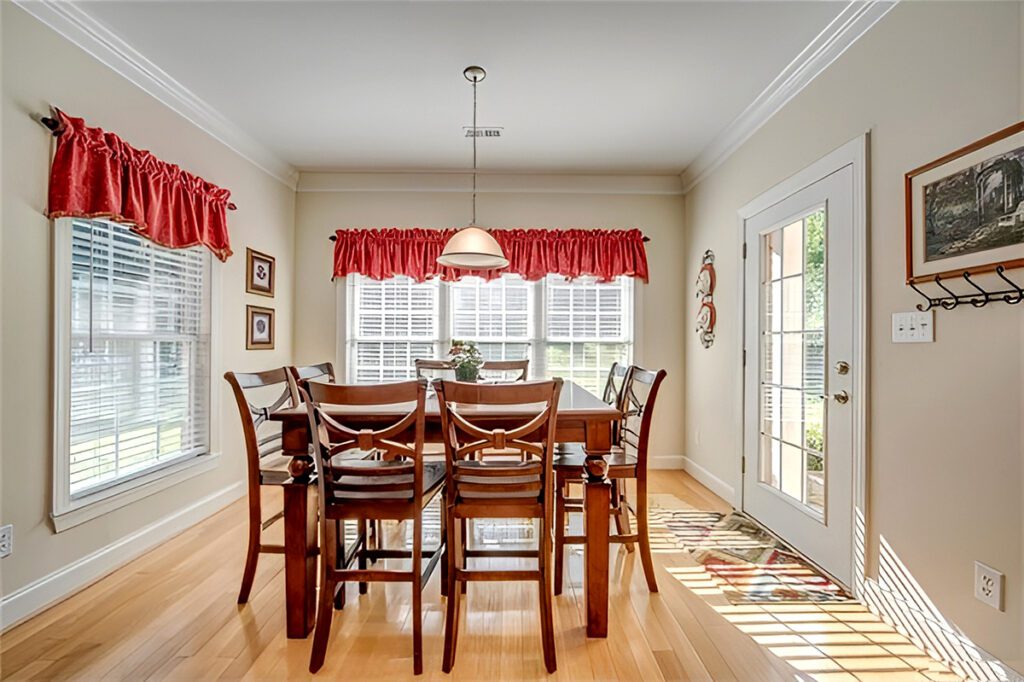 Are you thinking about jazzing up your dining space? Why not play with color like this? It's a surefire way to add vibrancy and character. These ruby-red valances pair a bold hue with playful ruffles, making the windows pop! You see, it's not just about the color; it's about the texture. These valances add depth and drama, turning simple windows into artistic frames. And remember, a bold choice like this ensures your dining room is always ready for its close-up.
17. Earthy Green and Cream Checks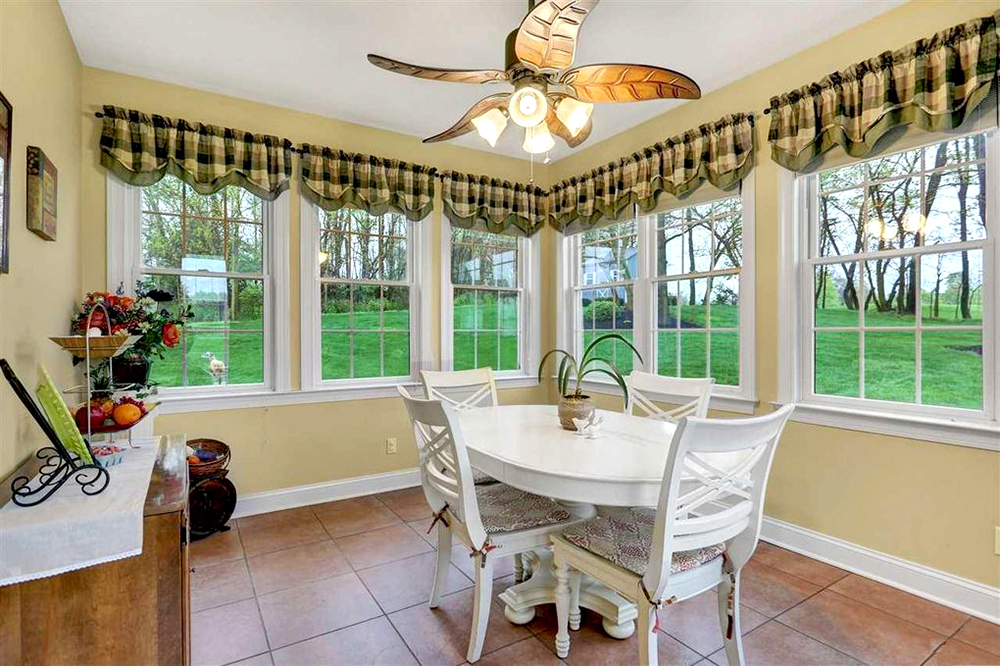 Dreaming of that countryside vibe every morning? Picture this: sipping your coffee, wrapped in the cozy embrace of earthy green and cream check valances. Their layered, scalloped designs aren't just about charm; they scream sophistication. And the best part? They blend effortlessly with nature right outside your window. If you're on the hunt for that perfect, warm pastoral touch for your space, look no further. Because, let's face it, sometimes the simplest patterns make the loudest statement. Here's to cozy mornings and windows that turn heads!
18. Opulent Elegance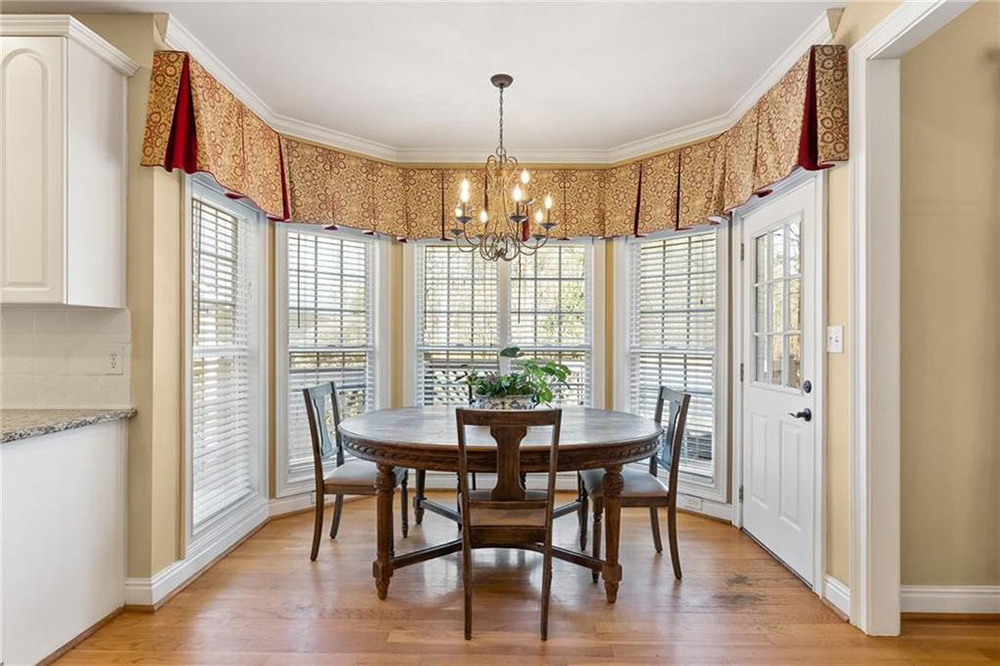 These valances, swathed in a rich golden fabric with intricate patterns, effortlessly infuse luxury into the space. The bold crimson underlayer? A brilliant touch! It adds depth and contrast, elevating the room's design quotient. These valances offer a splendid blend of regal sophistication and inviting warmth. If you aim to craft a space where memorable dinners and heartwarming brunches occur, consider adding a touch of luxury with valances like these. They're proof that elegance and coziness can coexist beautifully.
19. Contemporary Chic
Next up is the contemporary chic. These swoon-worthy valances radiating elegance sport a uniform draped look in a muted gold hue, seamlessly complementing the room's earthy palette. The pattern's subtlety keeps it from overwhelming, while the gentle folds add texture and dimension. If you're hunting for valance ideas, here's a thought: consider a design that not only frames your windows but also harmonizes with your dining space. These valances strike that balance, proving that sometimes, understated is the way to make a grand statement. Cheers to inspired decorating!
20. Classics Floral Valances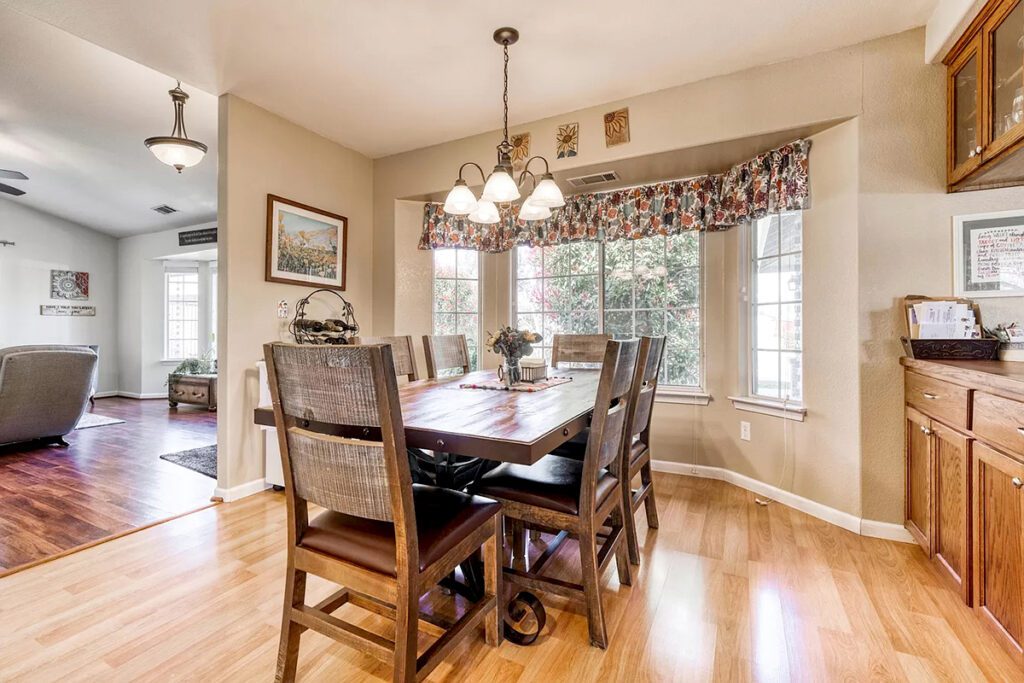 These vintage valances are dressed in a rich tapestry of florals that evoke memories of grandma's cozy kitchen. The warm hues of red, green, and beige intertwined create a comforting ambiance. And check out those scalloped edges! They add a touch of sophistication without feeling stuffy.
21. Ravishing Reds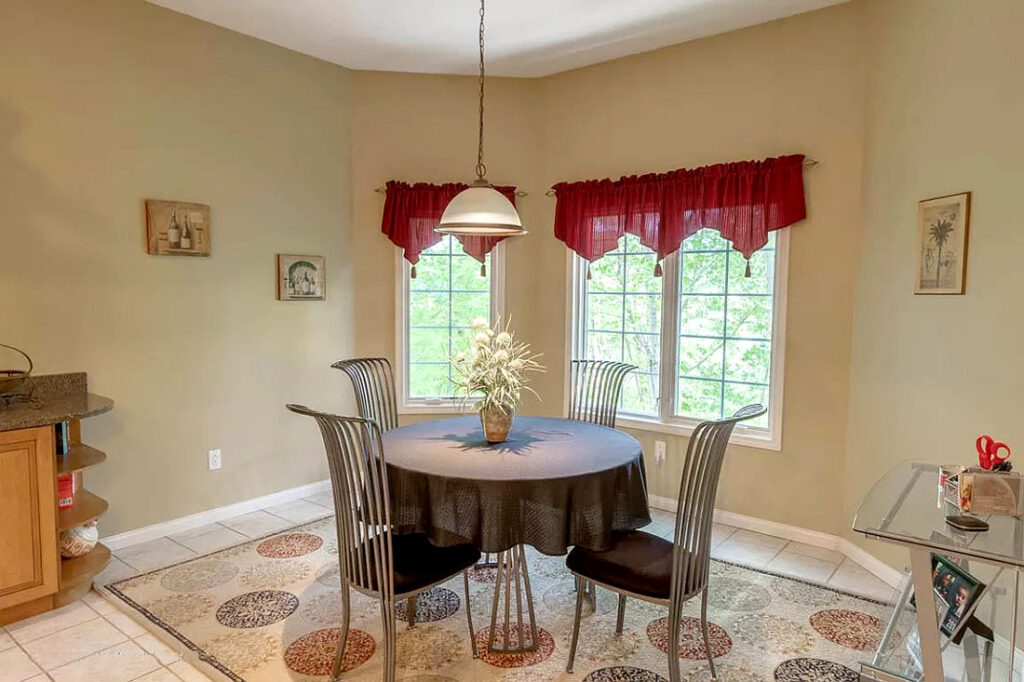 Thinking of adding a pop of color to your dining room? Say hello to these vibrant red valances! They're not just bold; they're game-changers. With those elegant gathers, they sprinkle a dash of royalty, transforming any space into a luxury haven. And while the rest of the room leans on neutral tones, these valances confidently proclaim, "Look at me!" This is how to do it if you're considering a pop of color for your dining room. Bright valances can inject personality and this shade of red. It's warmth, love, and style all rolled into one.
22. Golden Opulence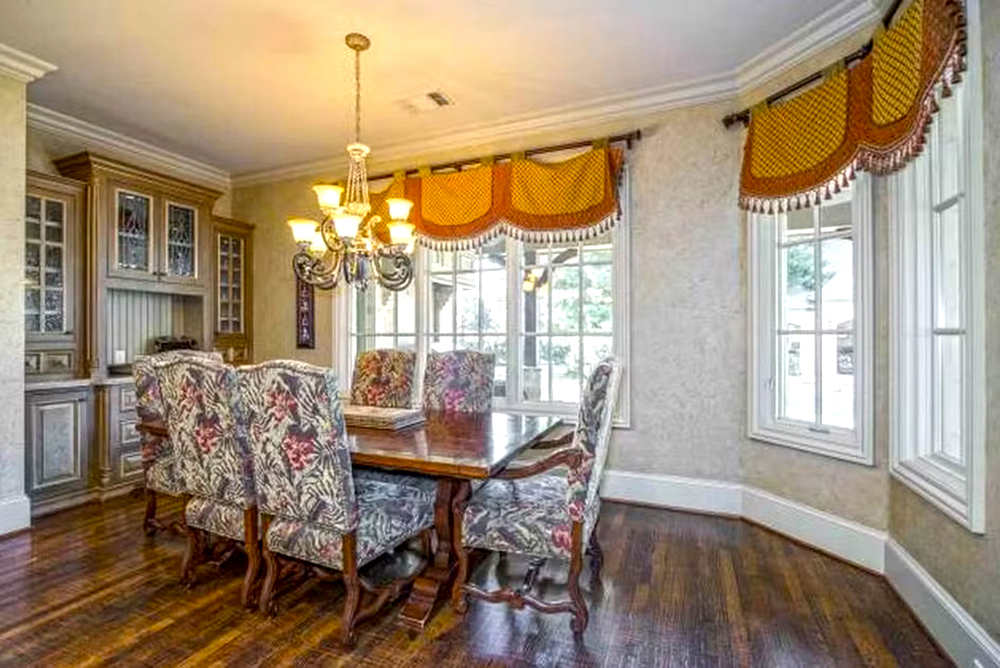 Have you ever seen valances that exude such grandeur? These golden-hued wonders are nothing short of majestic. Adorned with intricate patterns and tassels, they blend the charm of yesteryears with modern chic. And paired with the room's muted backdrop, these valances stand out, offering an air of sophistication. The scalloped edges add a touch of playfulness to an otherwise stately decor. For those seeking to elevate their dining space, this is a masterclass in doing it right. Drench your room in luxury and let these valances be the conversation starter at your next dinner party!
23. Tropical Tranquility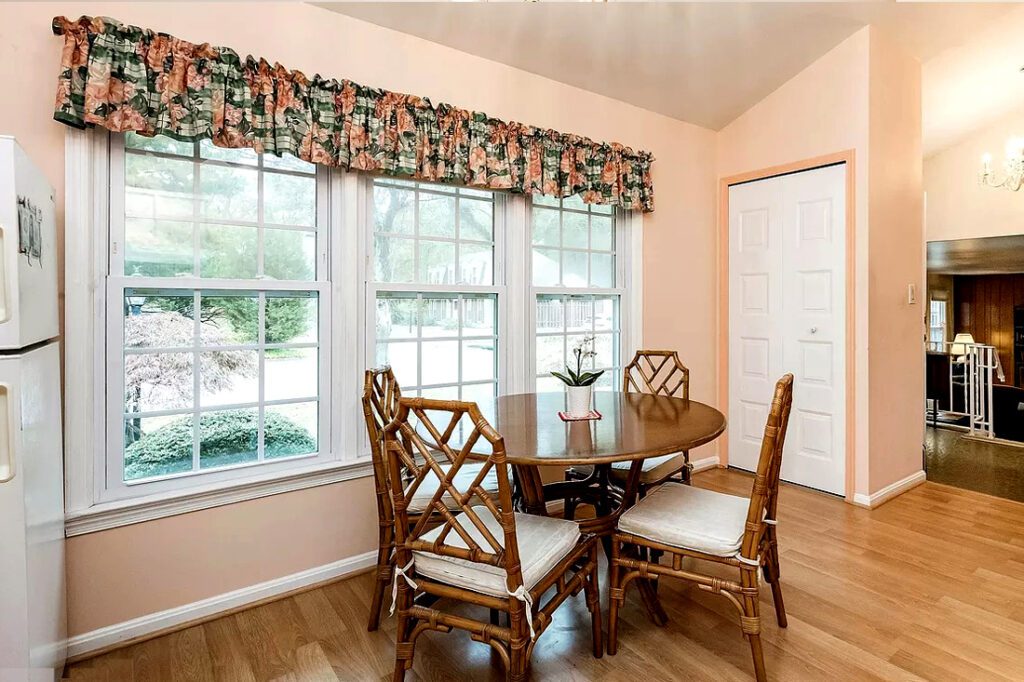 Picture this: Dining amidst a gentle, tropical breeze. These floral valances transport us straight to a serene island getaway. Bursting with lush greens and soft coral hues, they bring a splash of nature right into the dining room. The gentle ruffles on top add a dash of coziness. While the pattern is vibrant, it doesn't overpower – it harmonizes.
24. Rustic Elegance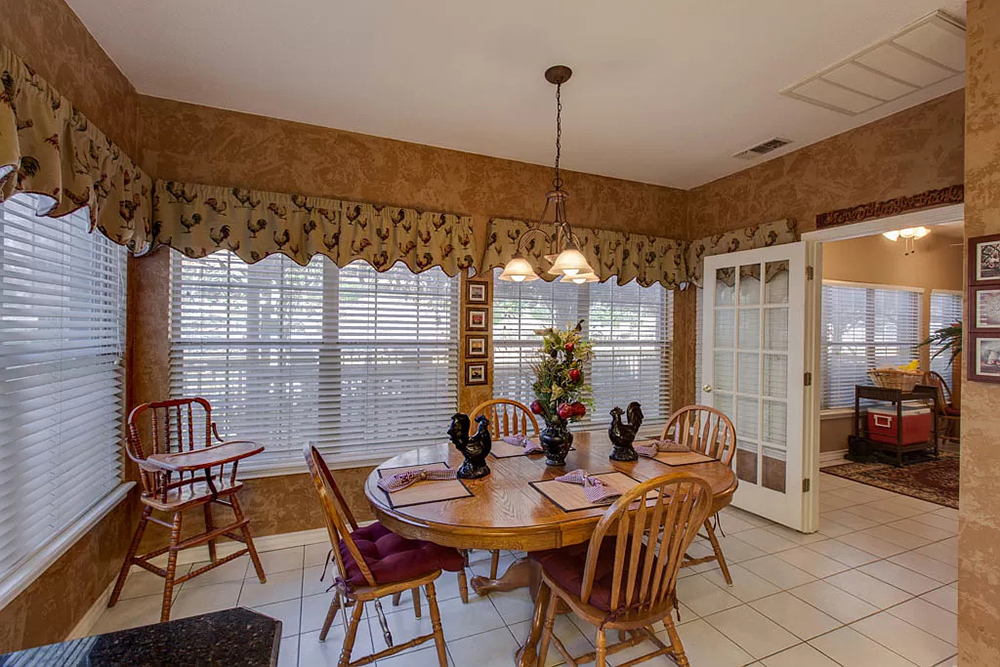 Ever dreamed of a countryside escape? These valances give us major rustic vibes. With a soft taupe base and delicate rooster motifs, they ooze warmth and coziness. They drape gracefully, creating an inviting and intimate dining atmosphere. The scalloped edges are a cute touch, aren't they?
And paired with the white blinds, a beautiful contrast is pleasing to the eyes. Thinking of infusing some rustic charm into your dining space? These valances might be your perfect pick. So, why wait? Turn your meals into countryside feasts with this lovely touch.
25. Bold Starry Pattern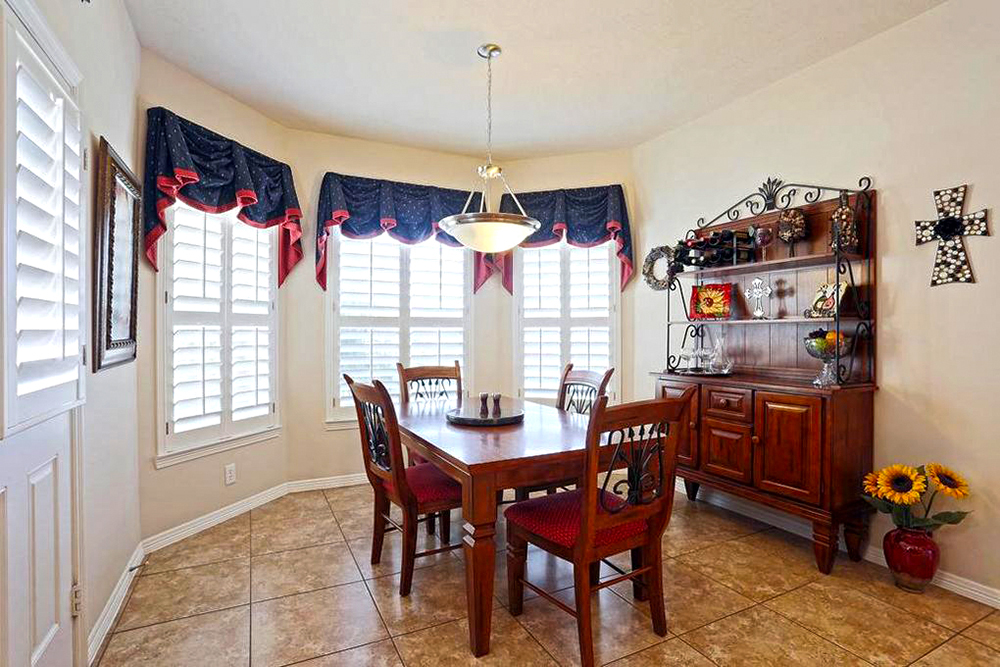 Fancy a touch of patriotic flair in your dining space? Check out these valances! Boasting a bold starry pattern on a deep blue background, they're paired with striking red underlays. The draping style is unique, allowing the two colors to shine simultaneously. And paired with crisp white shutters, these valances truly stand out. They're a delightful nod to the Stars and Stripes without going overboard. Seeking a fresh spin on the classic American look for your dining area? These valances might just be the star-spangled inspiration you're looking for.
26. Ruby Radiance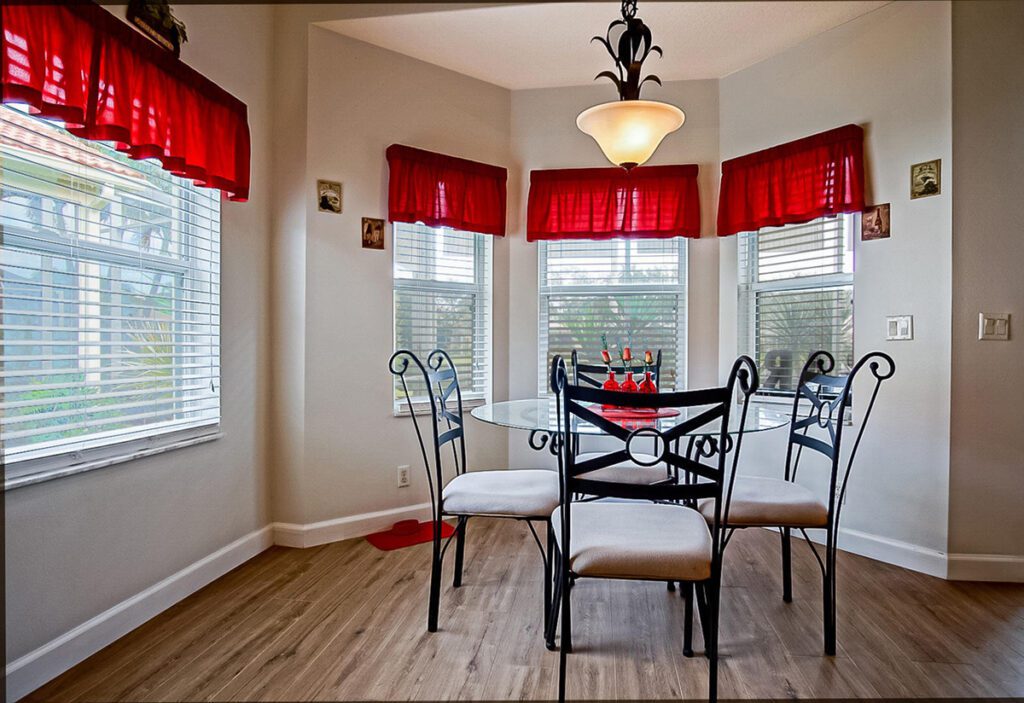 Seeking an elegant touch for your dining nook? Dive into these rich ruby-red valances. Their sumptuous velvet texture gives a regal air to any dining area. Their simple, straight-edge design ensures they don't overpower the space but rather accentuate it. Paired with neutral blinds, they pop and become the room's statement piece. Natural light filtering through them casts a warm, rosy hue that's oh-so-inviting. If you aim to uplift your dining experience with a touch of sophistication, these velvet valances are a must-try.
27. Tuscan Tidings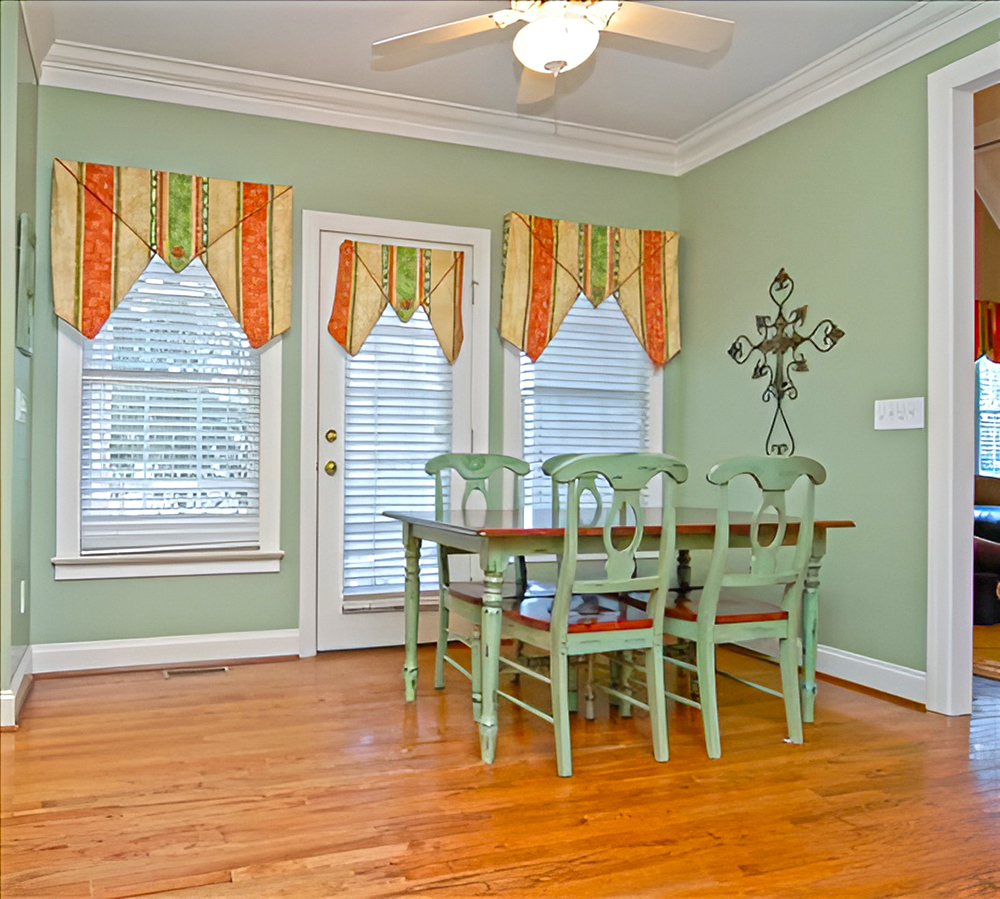 These Tuscan-inspired patchwork design valances, rich in rustic oranges and calming greens, oozes charm reminiscent of sun-soaked vineyards. With pointed ends, they offer an attractive visual break from the usual straight-lined valances. And paired with that soothing mint wall? Perfection! The juxtaposition of vibrant and muted tones creates balance, making the dining room cozy yet full of personality. If a hint of European countryside is what you seek for your mealtime ambiance, these valances are a delightful inspiration.
28. Golden Valances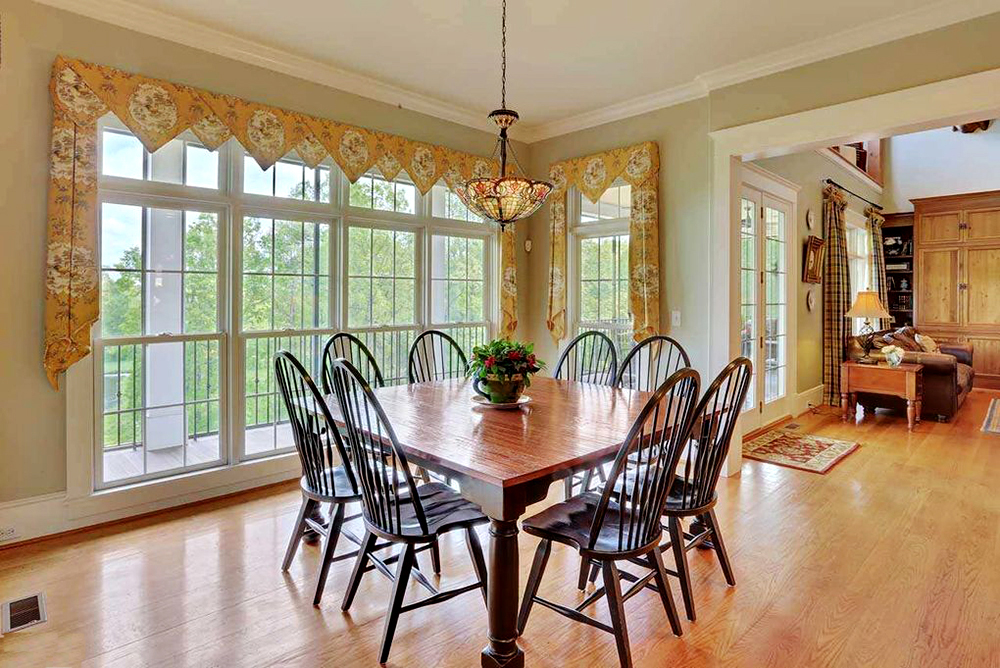 If you're dreaming of a blend of luxury and hominess in your dining room, these golden valances might be your ticket. Adorned with intricate floral patterns and a touch of blue, they effortlessly exude warmth and sophistication. These scalloped beauties provide a vintage feel, whisking us away to the grand manor dining of yesteryears. And see those translucent segments? They let in just the right amount of sunlight, casting a magical glow over your dining table.