Are you looking to give your patio doors a facelift? You're in the right spot! We've rounded up 10 curtain ideas that will make sliding doors absolutely pop. From the ethereal touch of classic sheer curtains to the sturdy elegance of bamboo shades, we have something for every style and need. Want to make a statement? Go bold with floral prints! Are you craving a modern vibe? Sliding panels are your go-to. Let's not forget the practical side—blackout and thermal insulated curtains are also on the list. Yes, you can have style and function! So, no more staring at those bare patio doors. Discover the perfect curtain idea to transform your space from "meh" to marvelous!
1. Classic Sheer Curtains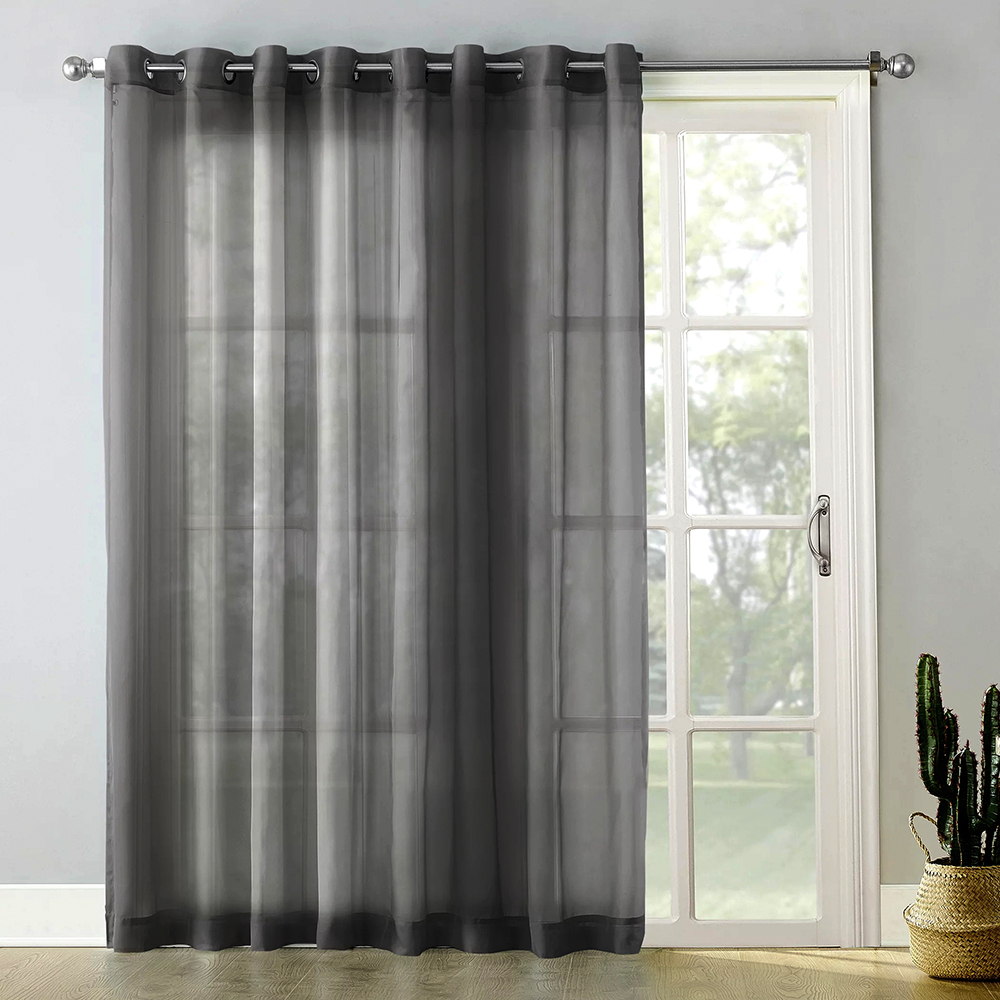 First, classic sheer curtains—let's talk about this timeless favorite. Imagine entering a room and being greeted by soft, diffused light that makes everything look dreamy. That's the magic sheer curtains bring to your space. These lightweight wonders are perfect for letting in that gorgeous natural light while offering a hint of privacy. You won't feel like living in a fishbowl, but you'll still get all that sunny goodness!
But wait, there's more. Sheer curtains are incredibly versatile. Want a romantic vibe for your bedroom patio doors? Sheer it is. Looking to keep your living room airy and open? Sheer's got your back. They come in various colors, from crisp whites to subtle pastels, making them super easy to match with your existing decor. And let's not forget, they layer beautifully with other types of curtains for a more dramatic effect. So, if you're going for that relaxed, easy-breezy atmosphere, classic sheer curtains are your ticket to paradise.
2. Sliding Panels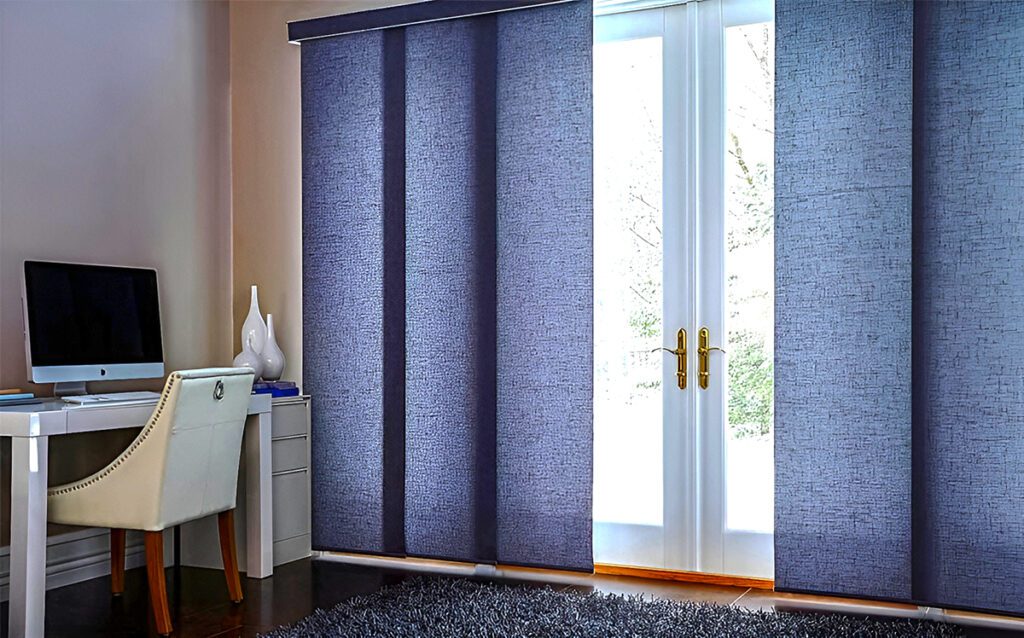 Ready to take your patio doors into the 21st century? Say hello to sliding panels! These aren't your grandma's curtains. Think of them as the sleek, minimalist sibling in the curtain family. Straight lines, clean design, and oh-so-modern. These panels slide effortlessly on a track, making them super practical for those wide patio doors. Bonus: they're also great as room dividers. How cool is that?
Now, let's talk materials. Sliding panels come in a range of options—fabric, woven wood, and even solar screen. Yep, you heard that right. Solar screen panels can protect your furniture from UV rays while letting in some light. It's like putting sunglasses on your patio doors!
What's more, sliding panels are a decorator's dream. You can choose from various colors and patterns to match your aesthetic. Want a cozy vibe? Go for a textured fabric. Are you craving an industrial look? Opt for a metallic finish. The possibilities are endless.
So, if you're all about that modern, streamlined look, sliding panels are a game-changer. Time to slide into a new era of home decor!
3. Bamboo Shades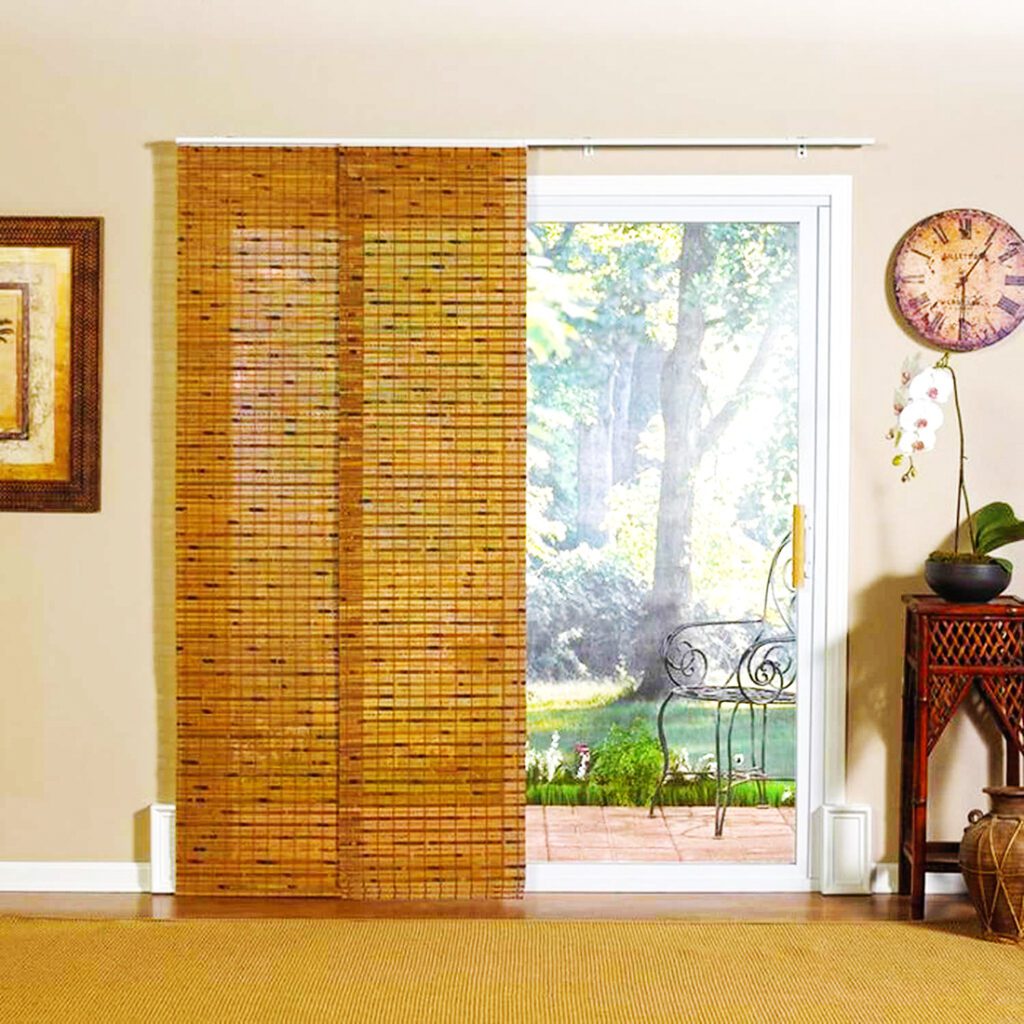 Going green? Try bamboo shades. These natural, eco-friendly options add texture and warmth. These aren't just any window treatment; they're a nature-inspired statement. Bamboo shades are a great way to add a bit of nature and vibrancy to your patio. They're made from sustainable materials, so you can be sure you're getting the most out of your outdoor space. Picture this: you're sipping on some iced tea, you glance over, and your bamboo shades harmonize with your potted plants. It's like a little piece of nature indoors!
But it's not just about looks. Bamboo shades are incredibly durable and easy to clean. A simple dusting or a quick wipe is usually all it takes to keep them looking fresh. And guess what? They offer pretty good light control, too. Depending on the weave, they can let in a soft, filtered light or block it out for more privacy.
In terms of style, you've got options galore. Lighter shades for a beachy, airy feel, or darker tones for a more grounded, cozy atmosphere. Some even come with a liner for added light blocking and insulation. So, if you want to add texture, warmth, and an eco-friendly touch to your patio doors, bamboo shades are a win-win. Get ready to go green in style!
4. Roman Shades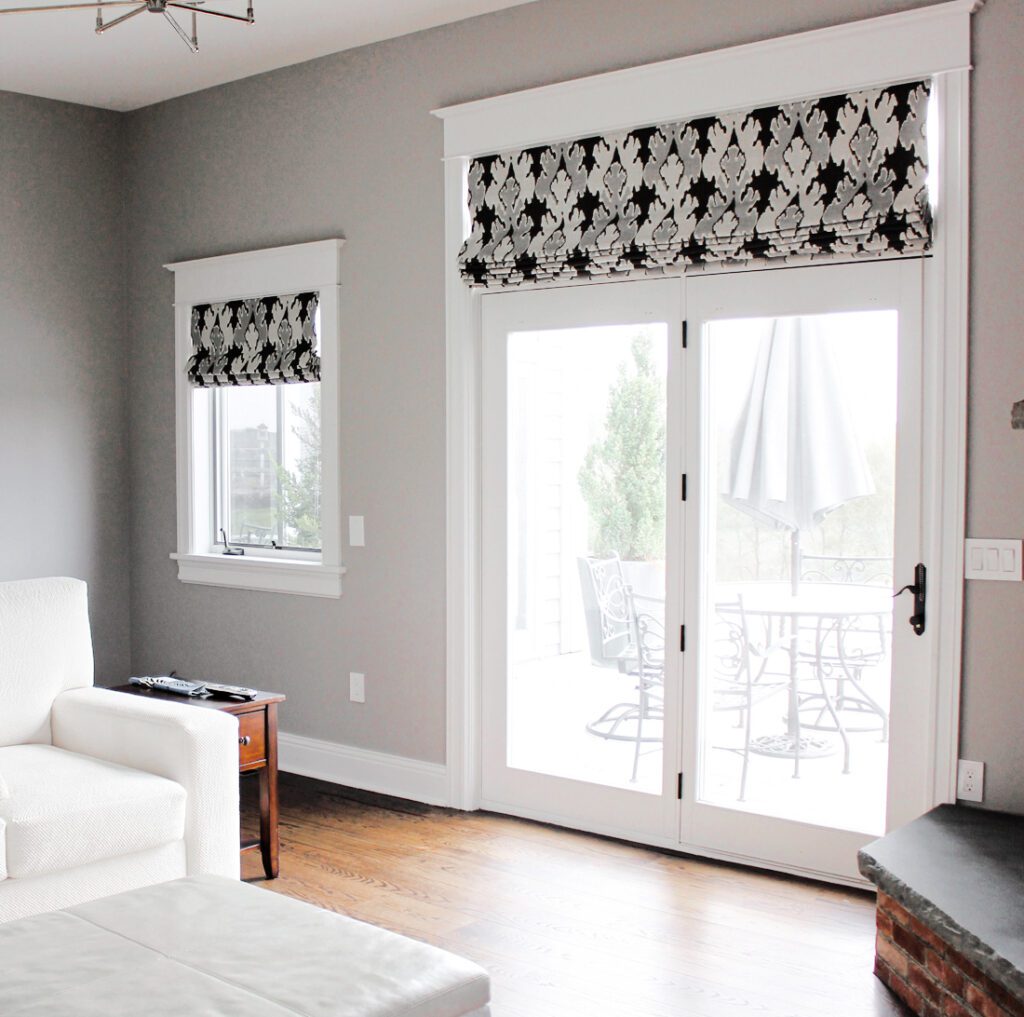 Who says elegance and practicality can't go hand in hand? Enter Roman shades, the epitome of classy functionality. Picture this: soft, billowing fabric that folds into itself, creating a neat stack at the top of your patio doors when raised. It's like your doors; just put on a tuxedo!
Roman shades are more than just pretty—they're smart, too. Need to block out the afternoon sun for a cozy movie date? Pull them down. Want to bask in the morning light? Pull them up. And here's the kicker: you can even get them with a top-down, bottom-up feature. This lets you control how much light you let in and where offering the perfect balance between privacy and illumination.
Fabric choices? You're spoilt for choice. From light linens to lush velvets, there's a Roman shade to suit every mood and setting. Go neutral for a classic look, or pick a bold pattern to make your patio doors the room's focal point.
And don't worry about installation. It's a breeze. You can easily mount them inside or outside the door frame, depending on what look you're going for. So, if you're after a blend of beauty and brains for your patio doors, Roman shades are a top pick. They're like the Swiss Army knife of window treatments—versatile, stylish, and oh-so-useful.
5. Grommet Curtains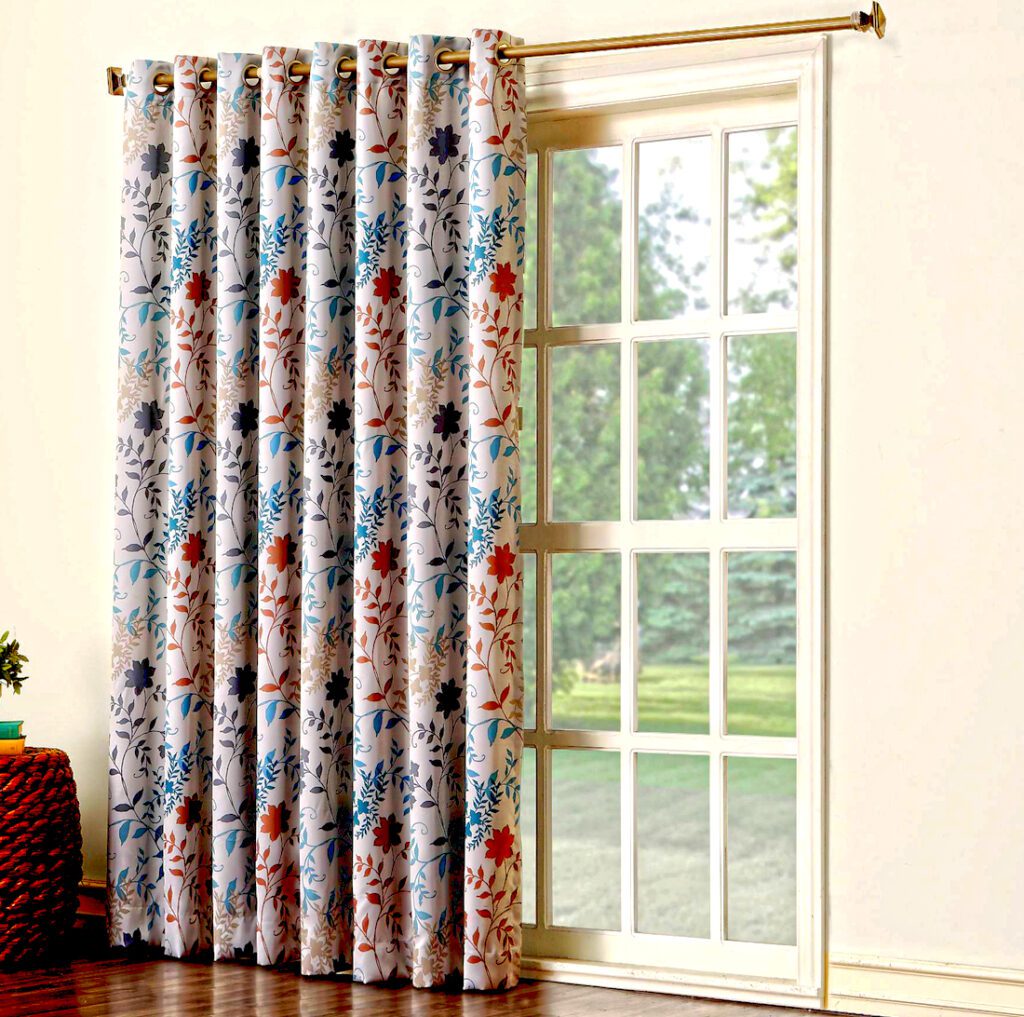 Meet grommet curtains. It's sleek, modern, and super easy to slide. These work well in contemporary settings and come in a variety of fabrics. Picture this: curtains that hang in wide, graceful folds, gliding effortlessly on a rod through metal rings. Sounds sleek, right? It's like your patio doors just got an upgrade to first class.
Ease of use? Check. The grommets make these curtains ridiculously easy to slide back and forth. No more tugging or straightening. Just a smooth glide every time.
Let's chat about style. Grommet curtains have a laid-back yet contemporary feel that works like a charm in modern settings. Think lofts, open-concept homes, or any space where clean lines and simplicity rule. And when it comes to fabric, you've got options galore—silky, sheer, heavy, or light. Choose a sheer fabric for a soft, romantic glow, or go for a heavier fabric for a more defined look.
Don't forget the color and pattern choices. Whether you're into neutral tones or vibrant hues, grommet curtains come in almost every color under the sun. And patterns? From geometrics to florals, there's a design to match your unique style.
6. Pinch Pleats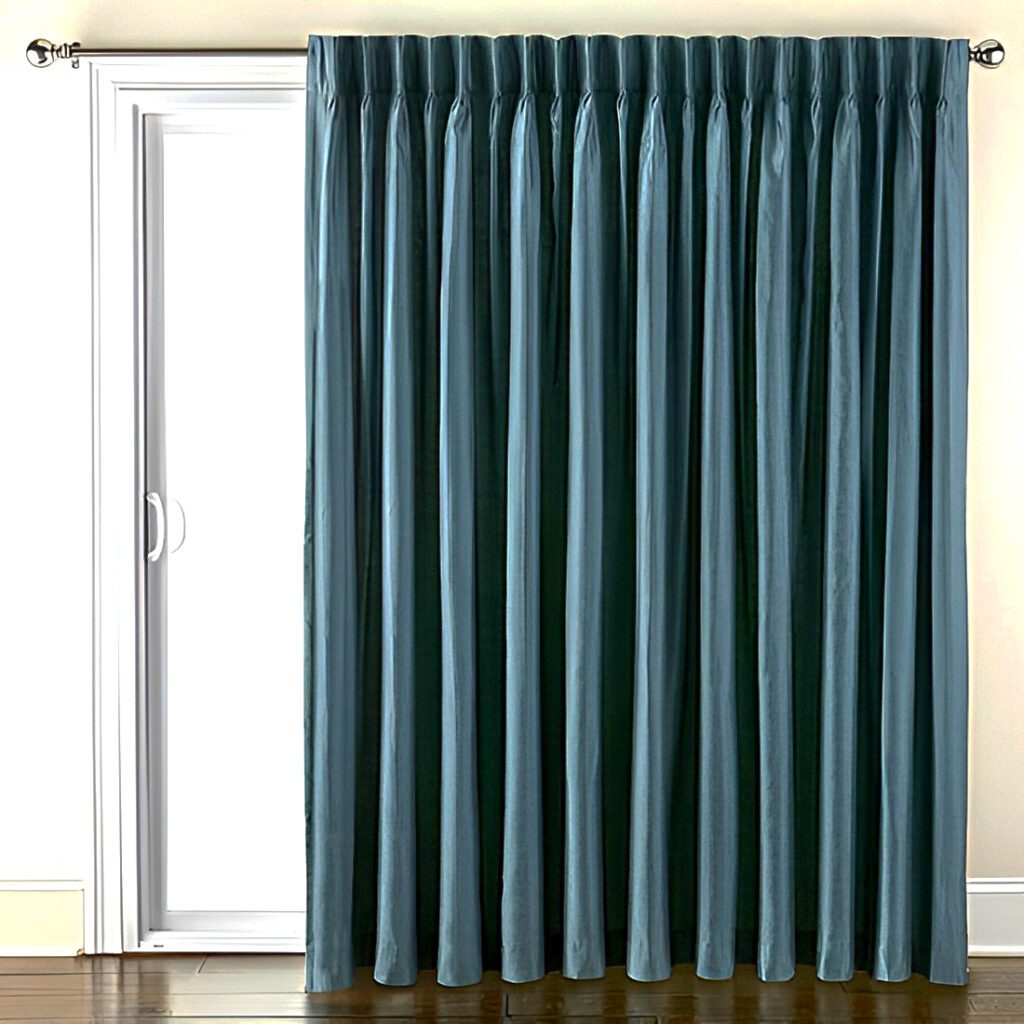 Love a classic look? Pinch pleats are for you. These are the Audrey Hepburns of the curtain world—timeless, elegant, and always in good taste. If you're the kind of person who loves a touch of vintage glam, pinch pleats are your new best friend. Picture tightly gathered fabric at the top, creating a tailored, structured look. It's like your patio doors just stepped out of a classic Hollywood film.
But don't let their old-school charm fool you. Pinch pleats can fit right into modern interiors, too. It's all about the fabric and color you choose. A luxe velvet in deep jewel tones screams luxury, while a light linen in soft neutrals whispers understated elegance.
Ease of use? Absolutely. These beauties glide effortlessly along a track or a rod, thanks to their handy hooks. No more wrestling with your curtains during those spontaneous late-night patio visits. They're designed to open and close with ease.
Styling tip: Go the extra mile with your hardware. Pick a rod or finials that complement the rich, formal look of pinch pleats. Think of ornate metal finishes or classic wooden rods for that perfect finishing touch.
In a nutshell, if you're craving a curtain that brings sophistication and a dash of drama to your patio doors, pinch pleats are the way to go. Trust me, they're the star of the curtain world for a reason!
7. Blackout Curtains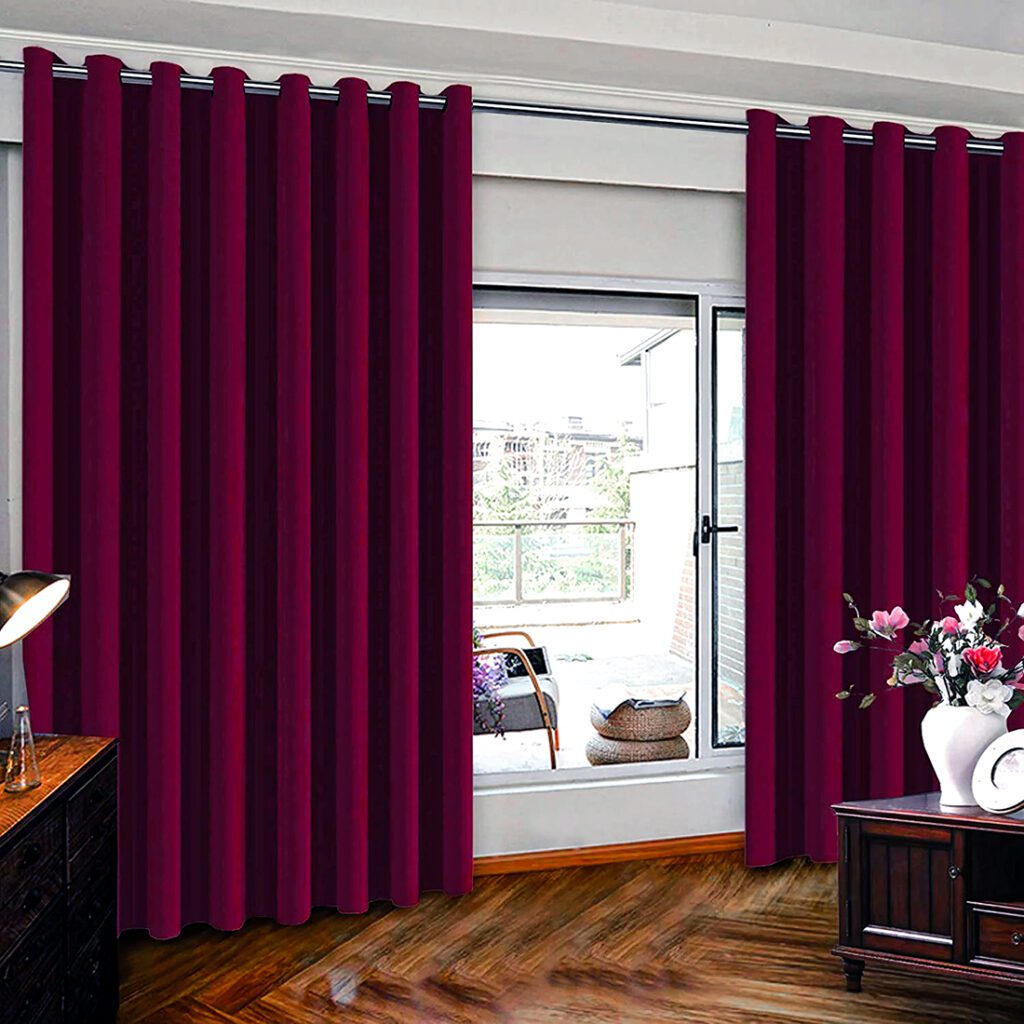 Now, let's talk blackout curtains. These are the superheroes of the curtain world, swooping in to save the day—or night! Imagine your patio doors covered in thick, lush fabric that shuts out light like a boss. That's right, these curtains are your ticket to perfect darkness.
It's not just about turning day into night. Blackout curtains also offer some serious insulation. Cold drafts in the winter and scorching heat in the summer? Not on their watch. These heavy-duty wonders can help regulate your room's temperature, making your space cozier and lowering energy bills.
And style? They've got it in spades. Blackout curtains come in a ton of colors and patterns. From deep, moody hues to vibrant, eye-catching prints, there's something to suit every decor. And if you're worried about them looking too heavy, don't be. Many options mimic the look and feel of regular fabric curtains—only with that magical light-blocking lining.
Here's a pro tip: To get the most out of your blackout curtains, make sure they're installed correctly. You'll want to cover the entire window frame, maybe even a bit more on each side, to ensure zero light leakage.
So, whether you're a night owl, a daytime snoozer, or someone who loves a dark, cozy room for movie-watching, blackout curtains are your new best friend. Say goodbye to glare and hello to your perfect, secluded haven!
8. Floral Prints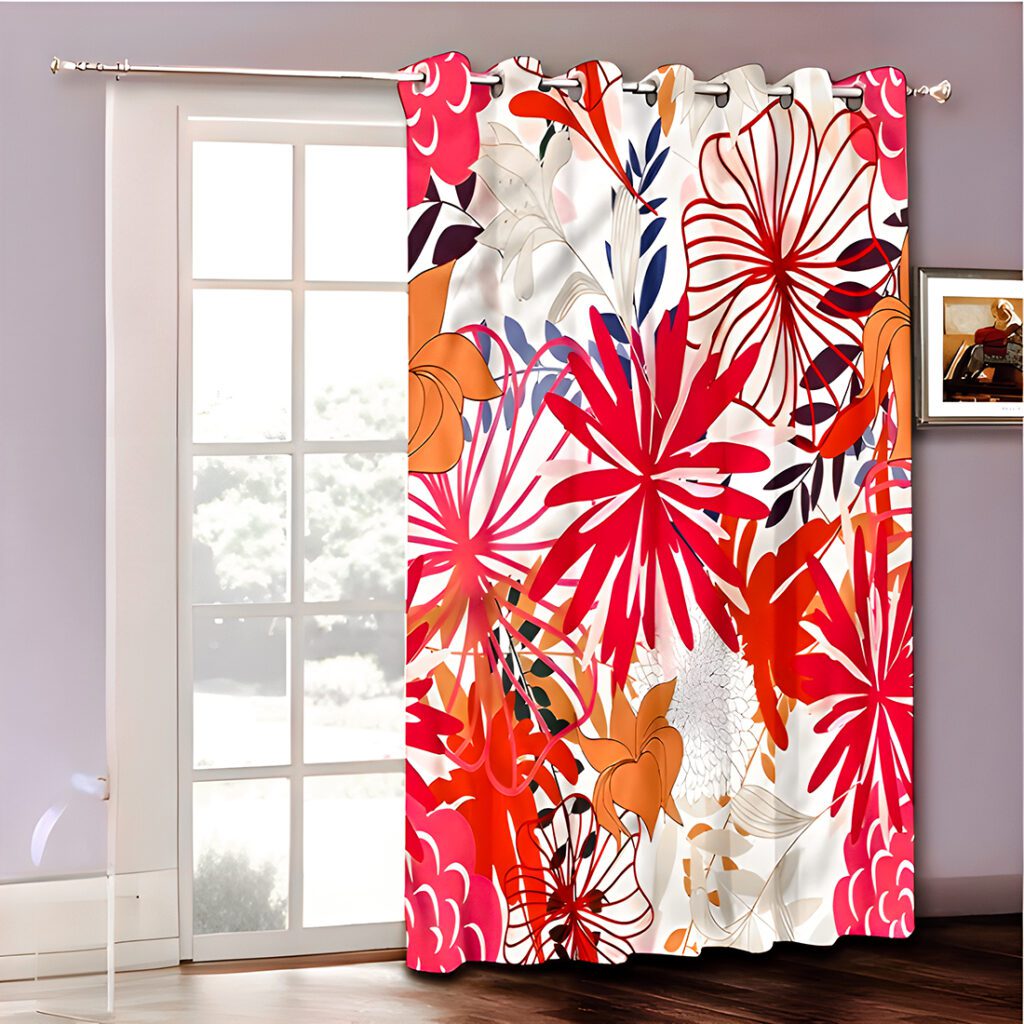 Feeling bold? Floral prints bring the garden right into your home. They are like a breath of fresh air for your patio doors. Imagine vibrant roses, dainty daisies, or lush tropical foliage printed on fabric. It's like Mother Nature herself waltzed in and gave your doors a makeover!
Now, floral prints aren't just for grandma's cottage anymore. These days, you'll find designs as diverse as a botanical garden. From big, bold patterns that demand attention to soft, watercolor-like prints for a more subdued look, the sky's the limit.
Feeling seasonal? Floral prints can set the tone for the entire year. Light pastels for spring, bright tropicals for summer, muted earth tones for fall, and icy blues for winter. And let's not forget: they're an instant mood booster. Who wouldn't feel happier with sunflowers or lilacs hanging around?
You might be thinking, "But will it match my decor?" Here's the cool part: floral prints are surprisingly versatile. They can be the show's star in a neutral room or play nice with other patterns like stripes or plaids. Mix and match to your heart's content!
So, if you want to inject some life, color, and maybe even a little whimsy into your space, floral print curtains are the way to go. Get ready to turn your patio doors into a stunning focal point blooming with style!
9. Cafe Curtains
Ever wished you could bring that quaint café ambiance right into your home? Say hello to café curtains! These cute-as-a-button window treatments are the epitome of cozy and charming. Picture this: curtains that cover just the lower half of your patio doors. Yep, you get privacy where you need it and tons of natural light streaming in from the top. It's like having your cake and eating it too!
Now, café curtains are not one-size-fits-all. They come in all fabrics, from classic cotton to elegant lace. Choose a light, airy fabric for that open, sunny café vibe, or opt for a heavier fabric for a touch of privacy and warmth.
And guess what? These curtains are super versatile. They're equally at home in a vintage-inspired kitchen, a shabby chic living room, or even a modern minimalist setting. It all depends on the fabric and color you choose. Whites and neutrals for a clean, timeless look; brights and patterns for a fun, eclectic feel.
Installation is a breeze. Just hang a rod midway down your patio door, attach the curtains, and voila! You've got yourself a cozy café corner. And if you ever crave a change, switching out café curtains is as easy as pie.
10. Thermal Insulated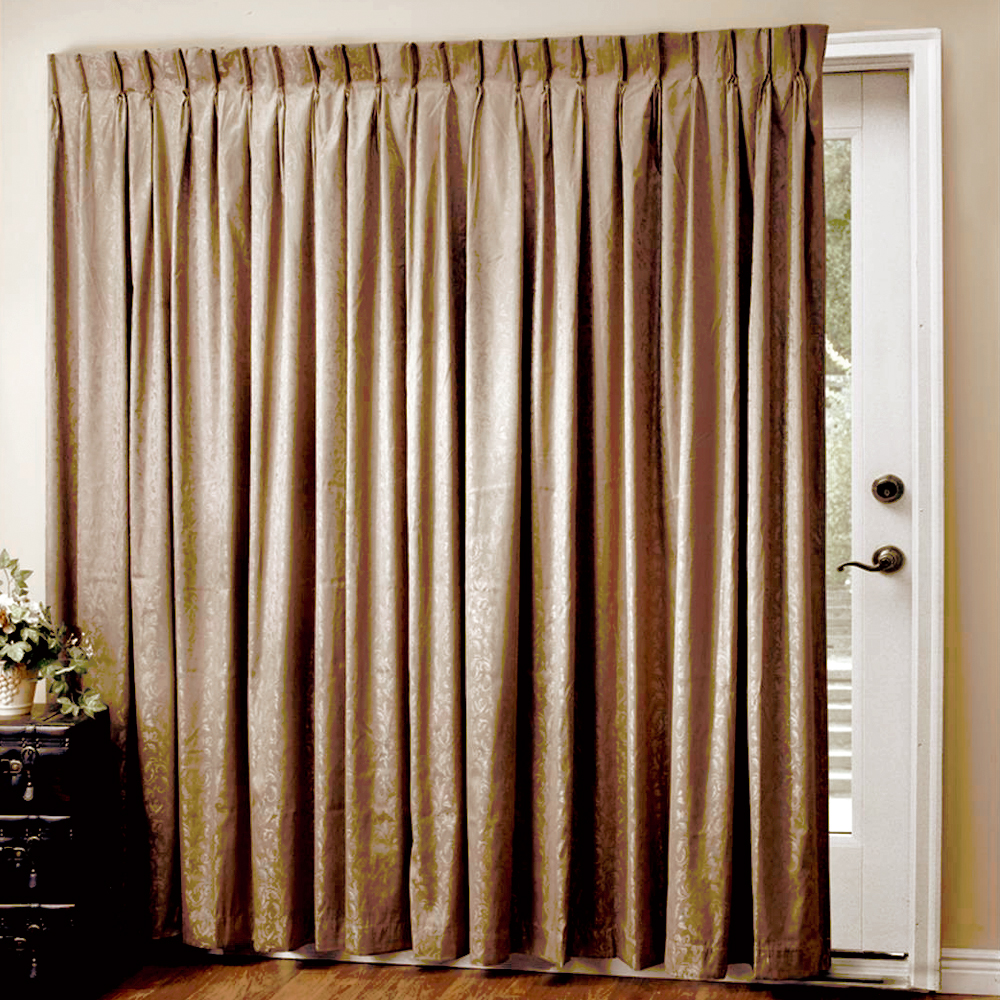 So, you love the vibe of your patio doors but not so much the draft or blazing sun they sometimes let in? Meet thermal insulated curtains, the unsung heroes of comfort and energy efficiency. Picture this: it's sweltering outside, but you're chilling in your living room, not a bead of sweat in sight. Or it's a frigid winter night, but you're wrapped in a cozy blanket, warm as toast. That's the magic of thermal insulated curtains.
These aren't your run-of-the-mill drapes. They're packed with a special layer of thermal foam or heavy-duty fabric that keeps the outside elements, well, outside. Think of them as a cozy sweater for your patio doors. They trap heat in the winter and keep it out in the summer, giving your HVAC system a well-deserved break.
The perks don't stop there. Want to binge-watch your favorite show without glare? Or maybe you're working from home and need zero distractions? These curtains are excellent at blocking out light, so you can focus on what matters.
Style-wise, you won't have to compromise. Thermal insulated curtains come in many colors, patterns, and fabrics to match any decor. From classic neutrals to vibrant hues, there's something for everyone.
In short, if you're looking for a way to stay comfy year-round while also being kind to your energy bill, thermal insulated curtains are a no-brainer. It's time to turn your patio doors into a fortress of comfort and style!