Valances serve up style, privacy, and practicality. They're like the triple threat of bathroom decor. And who doesn't want a bathroom that feels like a five-star spa? We've rounded up 40 chic valance styles that are total game-changers. There's something for everyone, from bold patterns to subtle textures.
Why a valance could be your new best friend in this intimate space? First up, style! Valances add a splash of fashion to any room, but in a bathroom, they shine. They frame your window like an elegant painting, giving that much-needed pop of color or pattern. You can match it with your shower curtain, towels, or other decor. It's like the jewelry to your bathroom's outfit.
Now, onto privacy. Bathrooms are personal spaces, right? A valance provides an extra layer of seclusion, especially if you add blinds or shades underneath. You get to enjoy the daylight without giving your neighbors a show. Plus, you can always roll up those blinds when you want a clearer view, keeping the valance in place for that decorative edge.
Let's not forget about light control. Sunlight streaming in can be energizing, but too much of it? Not so great. Valances help soften the light, turning your bathroom into a more serene, spa-like haven. No one likes a glare in the mirror when they're trying to shave or put on makeup.
Functionality is key as well. Bathrooms can get humid, and not all window treatments are moisture-friendly. Here's where valances have the upper hand. Pick a fabric like polyester or cotton that can withstand moisture, and you have both form and function wrapped up.
Lastly, easy upkeep. The high position of a valance keeps it away from water splashes, making it less likely to grow mildew or attract soap scum. Just a quick swipe with a cloth or an occasional wash, and it's good as new. Ready to elevate your bathroom windows? Let's dive in!
1. Elegant Draped Delight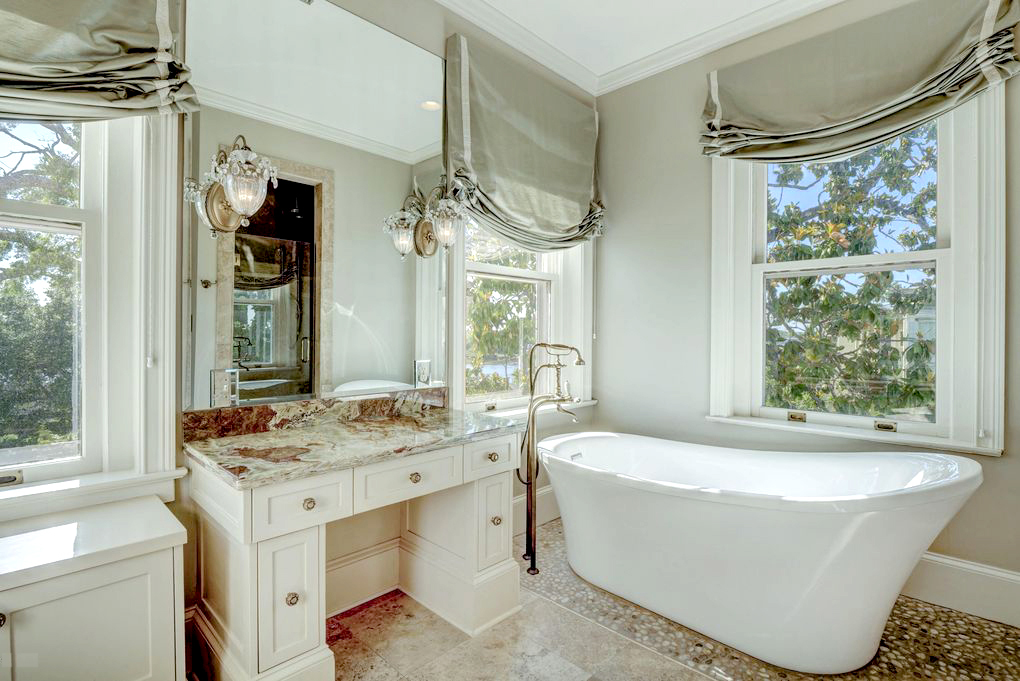 Ready to elevate your bathroom to royal status? This draped valance is a game-changer. Its luxe design screams sophistication, while the muted tones meld perfectly with a calming bathroom vibe. The fabric flows down in elegant folds, adding a majestic touch to any window. Oh, and did we mention the subtle shimmer? Match it with your room's ornate fixtures and marble countertop, and you've got a window that's anything but ordinary. Time to shine!
2. Regal Swag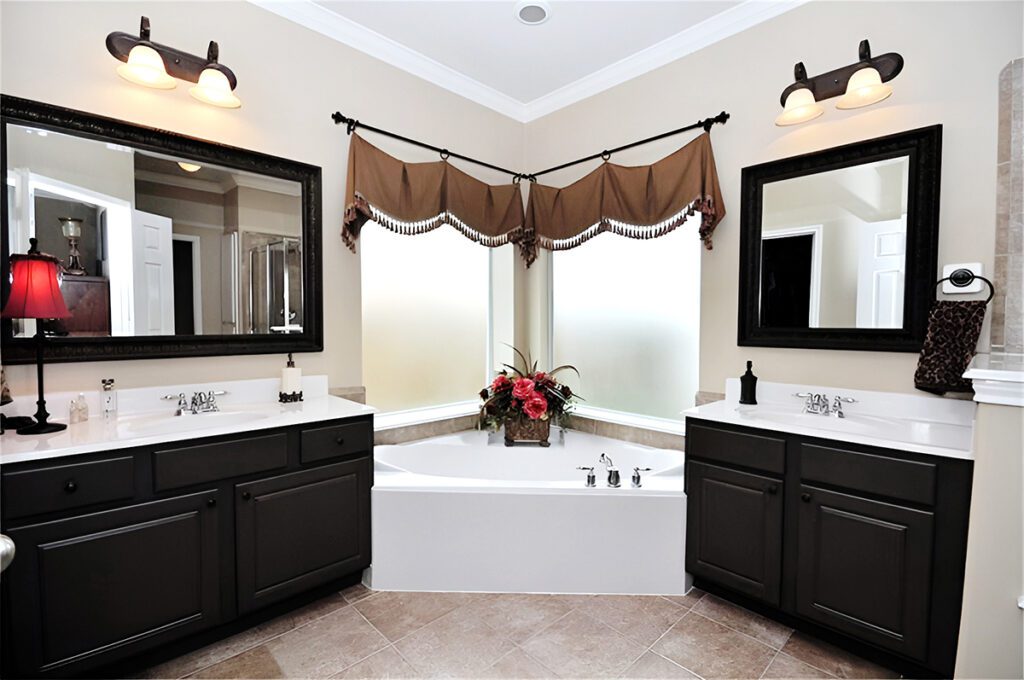 Check out this regal swag valance in a luscious chocolate hue. It's the perfect blend of old-world charm and modern sophistication. With its cascading design and dainty tassel trims, this valance oozes luxury. And guess what? Its neutral tone makes it a breeze to pair with your existing decor. Offering just the right amount of window coverage, it's your go-to for a tastefully refined bathroom look.
3. Vintage Flourish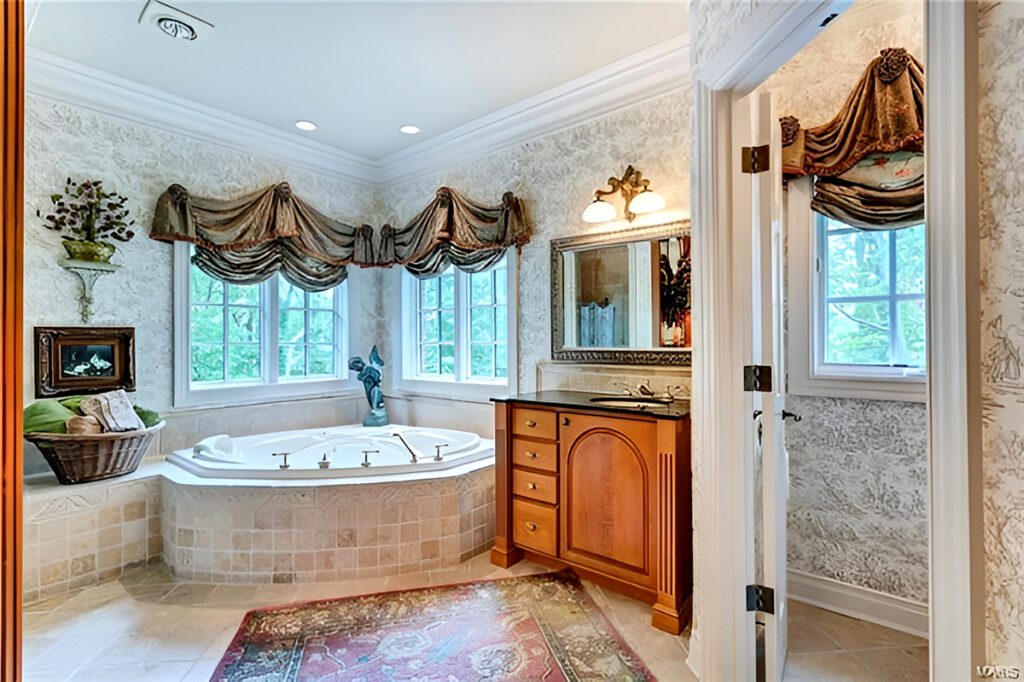 With its muted earthy tones and intricate weaving, this valance exudes a timeless charm that perfectly complements any sophisticated decor. Its layered, draped design is punctuated with floral motifs, offering a nod to traditional tastes. And what really ties the look together? Those exquisite rosette embellishments. Meticulously placed, they elevate the design to an art piece. As the soft fabric cascades gracefully over the window, it lends an air of romanticism to the space. This valance is nothing short of perfection for those aspiring to curate a classic, intimate bathroom haven.
4. Peachy Poise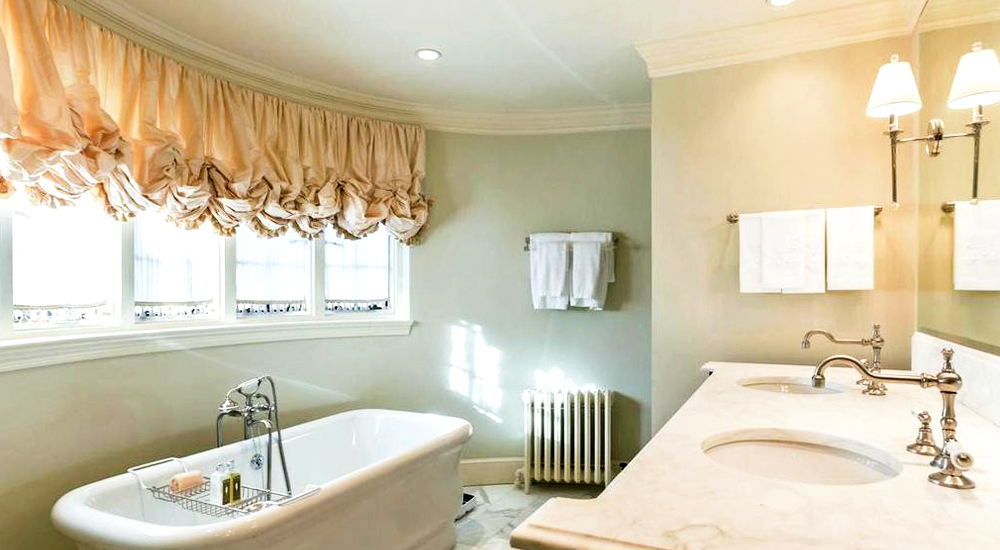 This peachy poise valance is a game-changer for bathroom elegance. Its soft peach tone feels like a warm hug for your space. Those cascading ruffles? Pure artistry adds a waterfall-like volume that's both opulent and understated. And let's talk about the fabric's sheen—it catches light perfectly, elevating the vibe. Bottom line: this valance is a must-have for anyone looking to make their bathroom a serene yet stylish retreat.
5. Victorian Glamour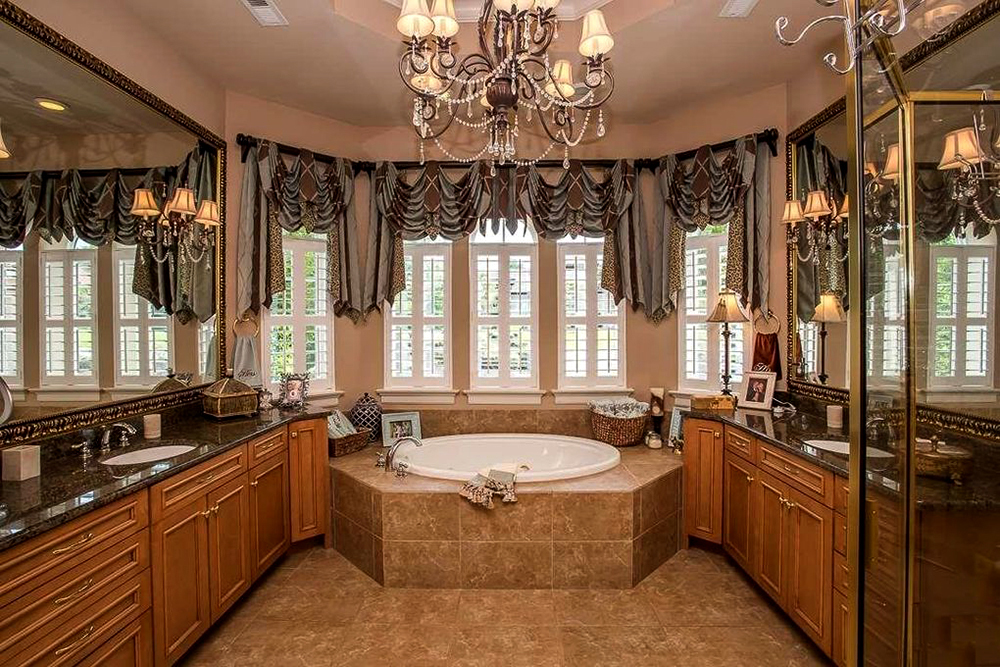 A charcoal and silver valance that screams Victorian glamour. Its opulent layers are adorned with intricate beading. The drapes pull back just so, creating a flirty peek-a-boo effect. This dark valance against a well-lit bathroom? You've got yourself a dance of shadows and light. It's the perfect pick for anyone aiming for sophistication with a side of drama. Yep, this valance truly makes a statement!
6. Bohemian Elegance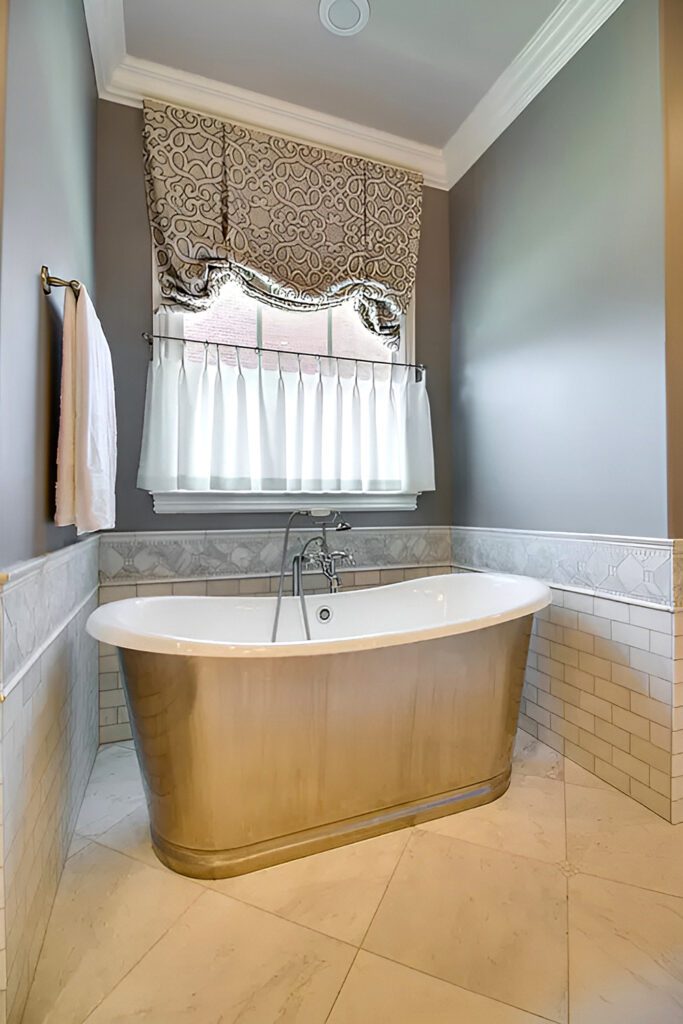 This valance showcases an intricate bohemian design that's effortlessly captivating. Its soft beige tones, complemented by the swirling patterns, blend seamlessly with the surrounding decor. Now, the twist: a crisp, white pleated layer is beneath this detailed print. It's fresh airy and ensures just the right amount of light filters through. Furthermore, the gentle curve along the bottom adds a playful flair.
7. Autumnal Allure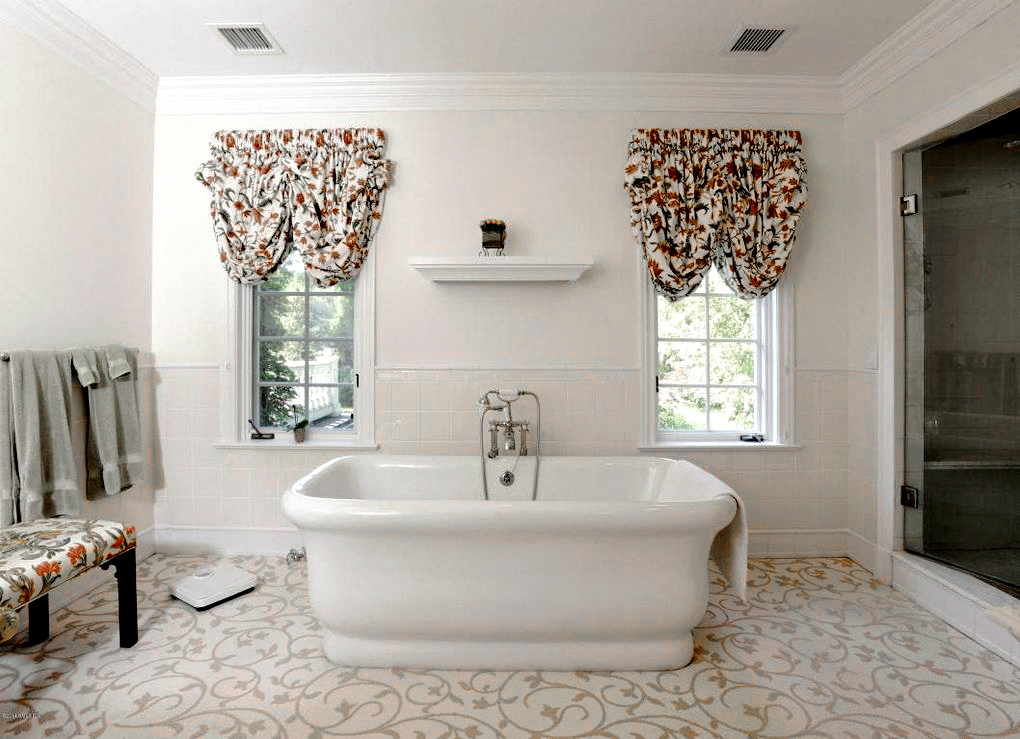 Are you looking to bring the fall season right into your bathroom? This valance is your go-to! It's not just any floral print; it's a symphony of autumn colors—fiery reds, earthy browns, and soft oranges. The cascading drape style makes it cozy and inviting. Plus, gentle gathers at the top add a plush vibe. It's the perfect mix of vibrant and tranquil. Seriously, if you're craving a bathroom that feels like a peaceful autumn haven, you've found your match!
8. Checkered Country Charm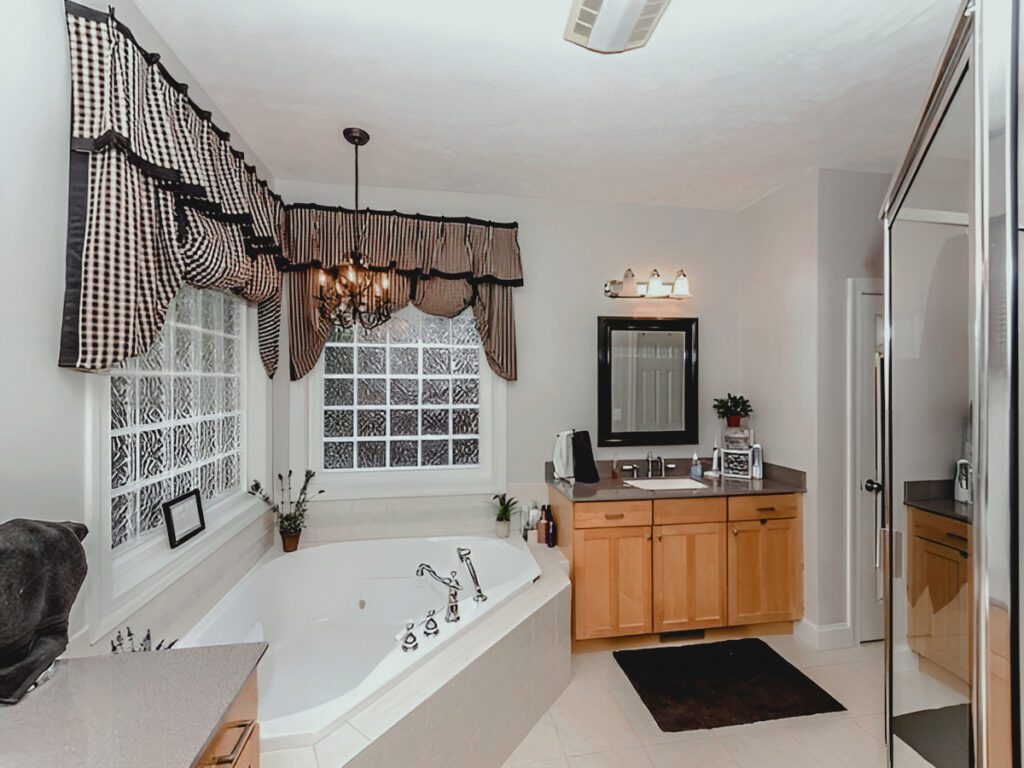 Searching for rustic elegance? This checkered bathroom valance has got you covered! With bold dark and light checks, it's a countryside dream. Plus, the scalloped edges lined with trim take it up a notch. Paired with a chandelier, it's sheer decor bliss. Perfect for blending homey vibes with upscale style, this valance is your go-to for a touch of pastoral grace without sacrificing chic. A total win and oh-so-irresistible!
9. Whimsical Waves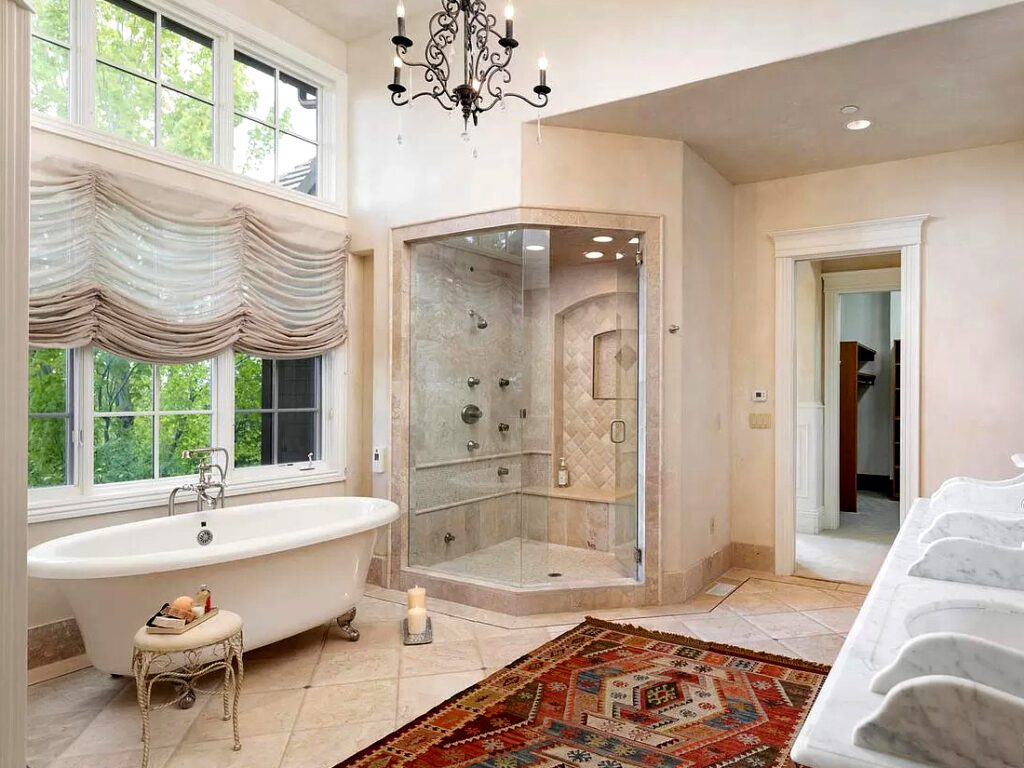 Say hello to the Whimsical Waves valance. This stunner layers sheer, flowing fabric in calming colors, creating a dreamy waterfall effect. It plays with light and shadows in a way that's simply magical. Plus, its soft hues vibe perfectly with a tranquil bathroom setting. It's not just a window treatment; it's an ode to elegance that ties the whole room together.
10. Royal Retreat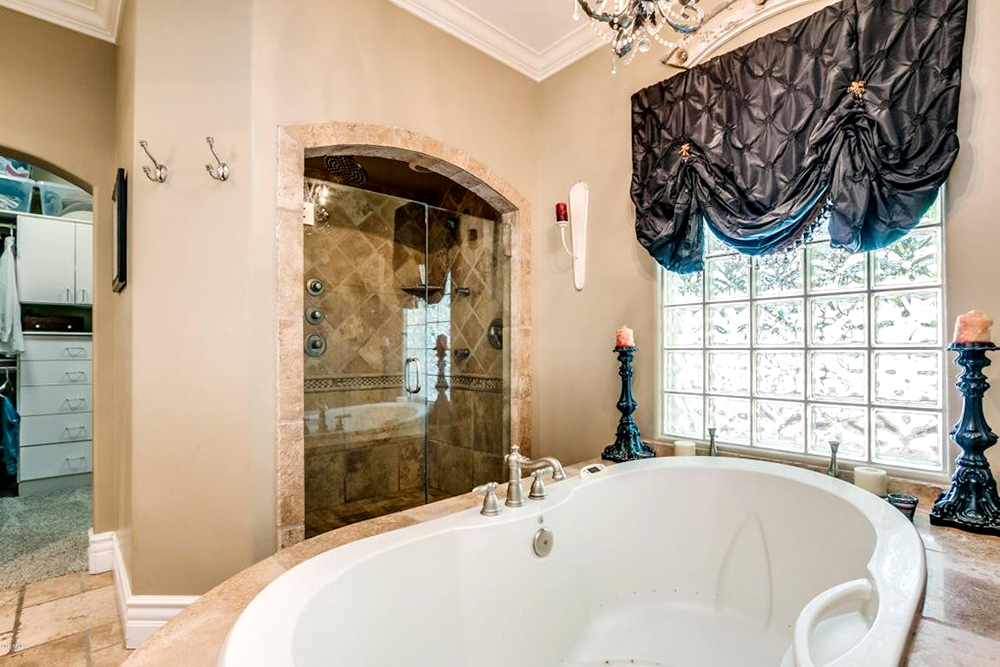 Craving a touch of elegance in your bathroom? Look no further than this show-stopping valance. Its glossy black fabric screams sophistication, while gold details kick it up a notch. The dramatic fabric swoops reveal a velvety underlay, adding layers of luxe. Pair it with some glitzy accessories, and you've got a window that's more than just a frame—a masterpiece of high-end style. Welcome to your personal palace!
11. Victorian Elegance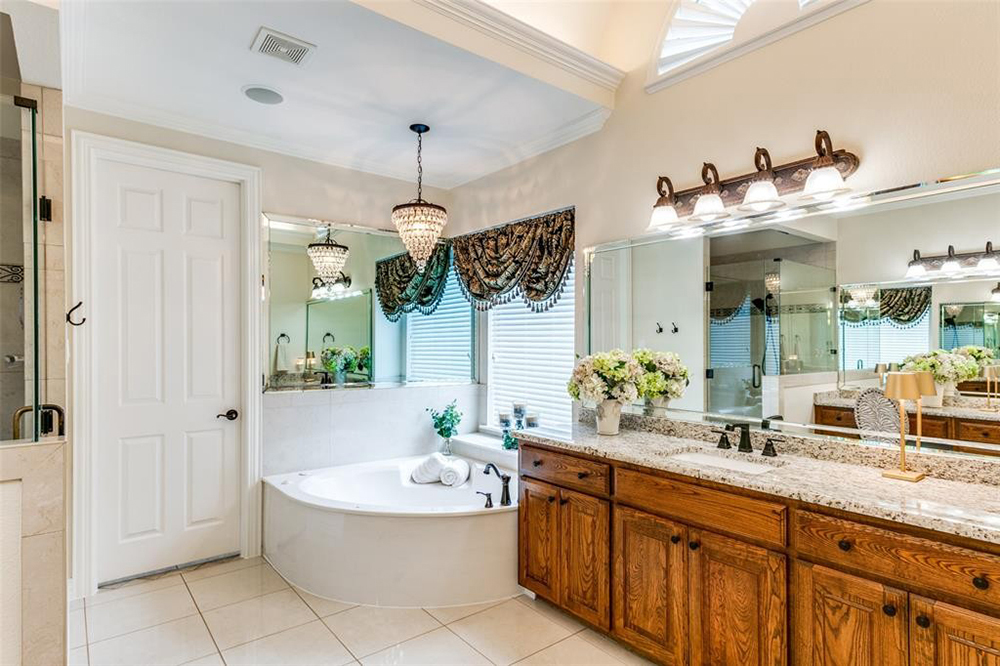 Are you dreaming of a bathroom that transports you back in time? Dive right into this valance's Victorian charm. This masterpiece boasts a rich palette of deep greens and gold. Intricate patterns wind their way through the fabric, showcasing unparalleled craftsmanship. Notice the swags? They cascade effortlessly, leading to beaded trims that glint in the room's soft lighting.
Moreover, this valance pairs brilliantly with the shimmering chandelier, giving the bathroom an undeniable aura of vintage glam. Suppose you're yearning to blend old-world allure with modern comforts. In that case, this valance whispers the secrets of yesteryears with grace and panache.
12. Serene Simplicity
Meet this epitome of understated elegance. Painted in soft blue, it's fresh air in the design world. The fabric, gently draped, creates a fluid, waterfall-like effect. Furthermore, the smooth curves are a delightful contrast to the bathroom's structured lines. What truly sets this piece apart is its sheer simplicity. No frills, no fuss. It's just a pure, uncomplicated style.
13. Crisp White Drapery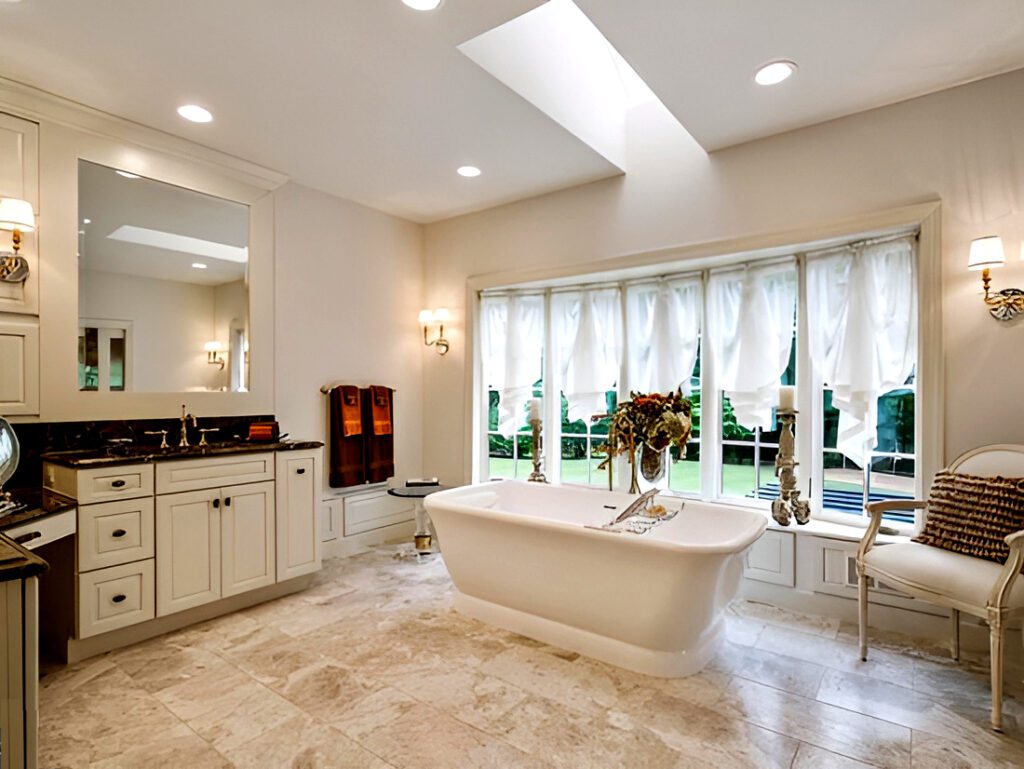 Check out this whimsical design! These dreamy valances mimic soft waves and set an airy mood. Crafted from crisp white fabric, they brighten the room and make it more open. Whether your bathroom vibe is modern or classic, these valances adapt seamlessly.
14. Bold Geometric Bliss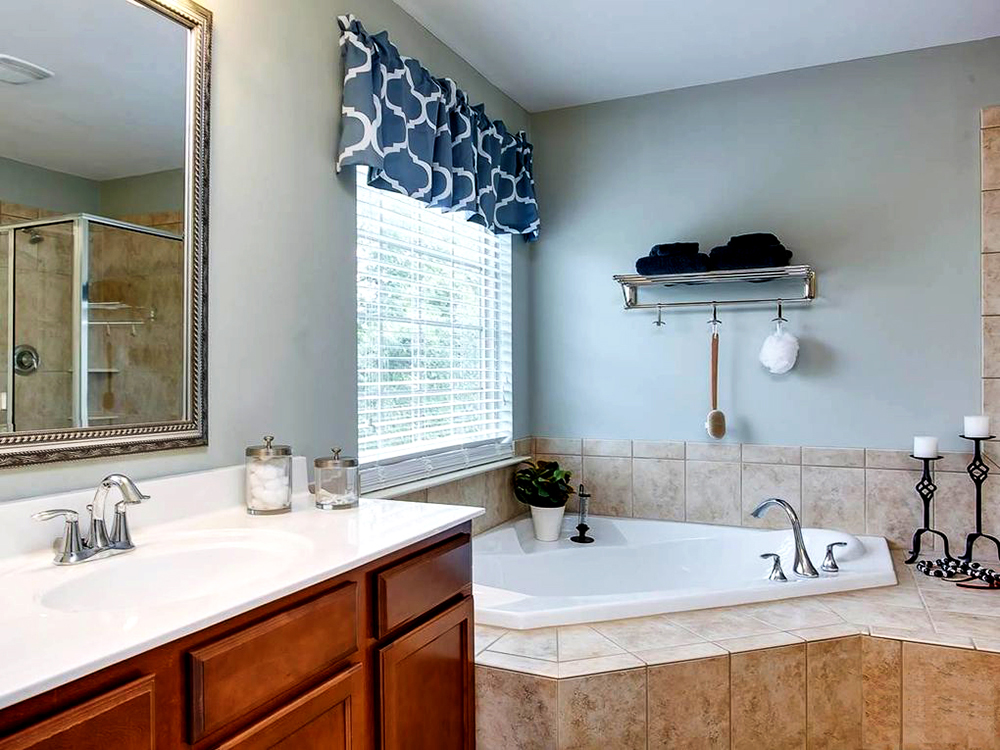 This valance boasts a bold geometric pattern, offering a delightful contrast to the bathroom's muted hues. Navy blue and white intermingle in eye-catching harmony, and the design's symmetry adds a touch of modern flair. Strategically placed above the window, it doesn't just function to filter light but also acts as an art piece. Paired with the bathroom's serene backdrop, it's the pop of character every space needs.
15. Sleek Black Valance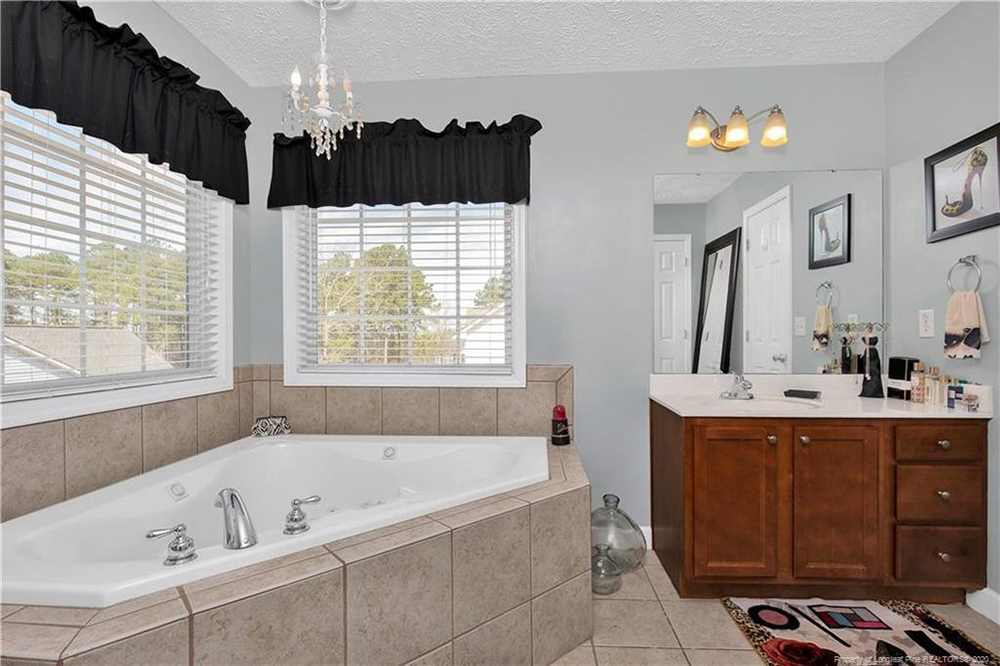 Have you ever thought a dash of black could transform your bathroom? Look no further than this sleek black valance. Its deep hue makes a bold statement against lighter walls, while ruffled edges add a touch of drama. Simple but never basic, it pairs perfectly with crisp white blinds. This valance delivers that chic, subtle elegance you've been searching for. Talk about a match made in design heaven!
16. Floral-Inspired Valances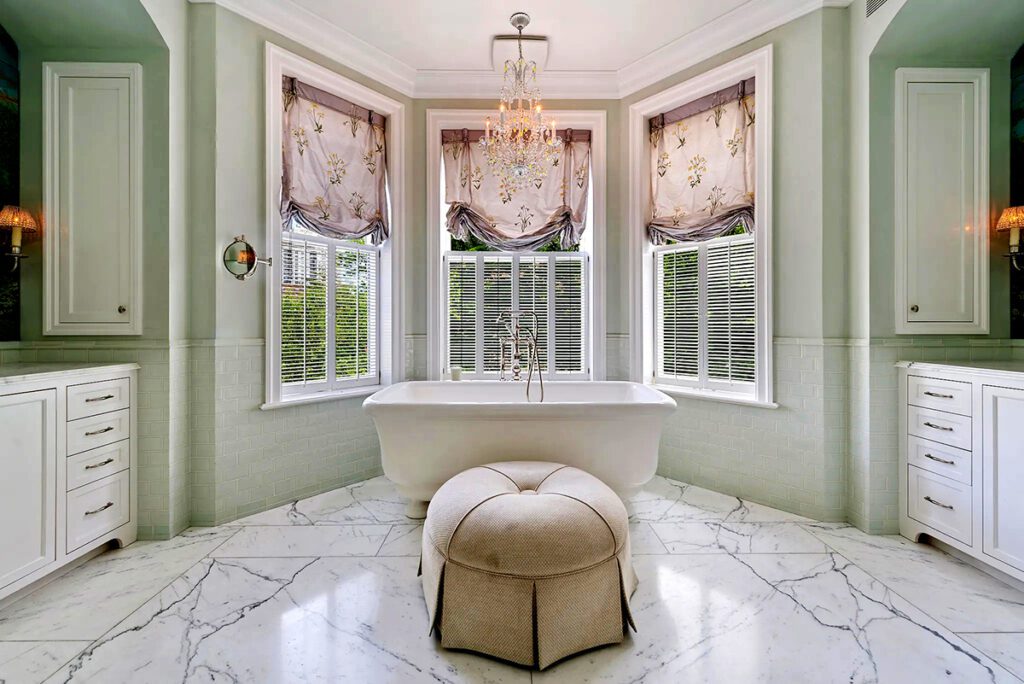 For you yearning to breathe life into their bathroom windows, this floral-inspired valance might be your ticket to a daily dose of magic. Its muted lavender shade soothes the soul, while golden floral motifs add that wow factor. Don't forget the draped design—it's pure romance meets elegance. Pair it with white blinds, and you've got a timeless look. Basically, this floral valance turns your bathroom into an enchanting garden escape.
17. Victorian-Inspired Valance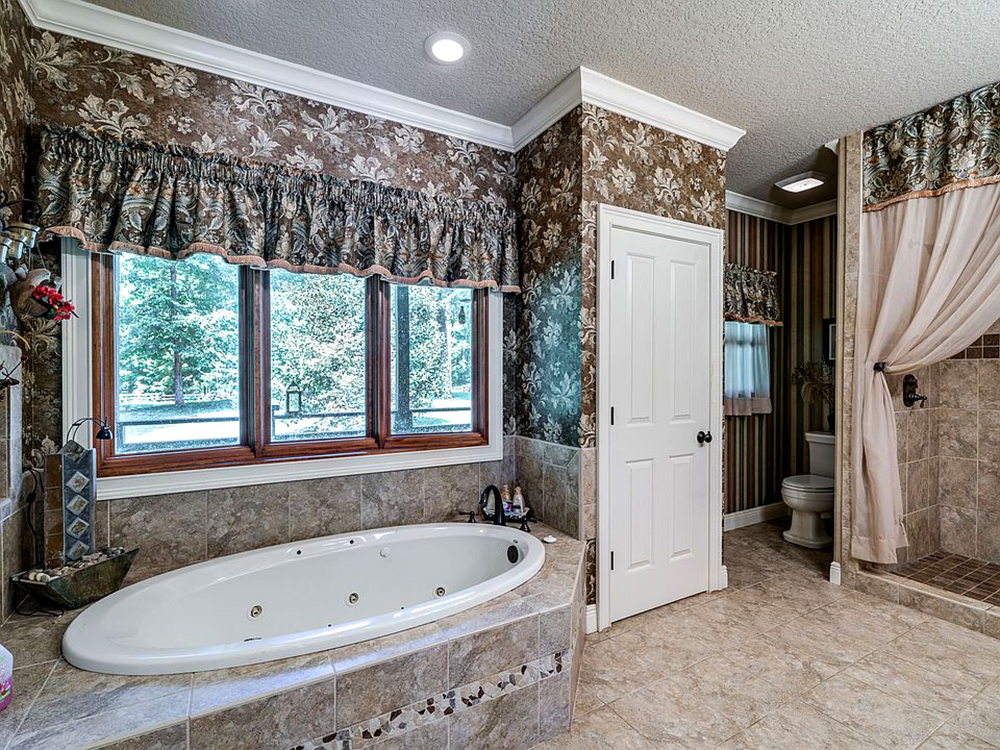 Ready to make your bathroom feel like a royal escape? This Victorian valance is your ticket to timeless elegance. Rich with intricate floral patterns and earthy tones, it complements your wallpaper beautifully. Plus, the ruffled finish amp up that vintage vibe. It's a visual feast, especially against large, clear windows. With this valance, your bathroom will go from drab to fab, instantly feeling regal!
18. Midnight Blue Majesty
Say hello to this midnight blue valance. Its deep, luxurious hue hangs perfectly above your window, popping against lighter walls. With its layered, ruffled design, it screams sophistication. Plus, the glass blocks behind it catch just enough light to make it the room's star. Match it with coordinating accents; you've got a bold and beautiful bathroom. It's a game-changer, folks!
19. Crimson Cascade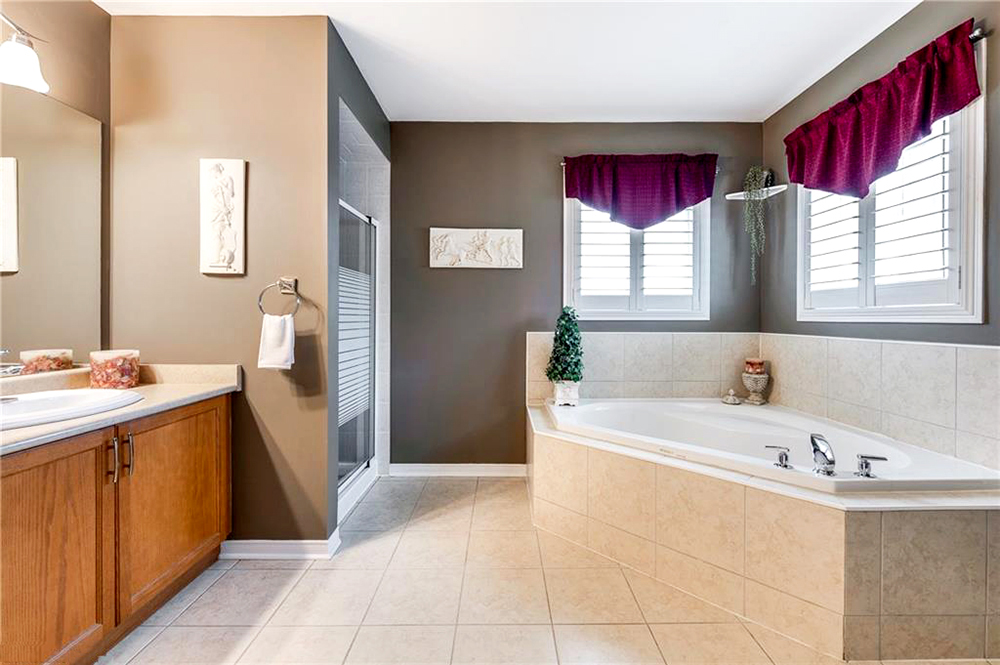 Check out the Crimson Cascade valance! This beauty's rich red hue grabs attention instantly. Its sleek, straight lines are a win for modern bathrooms. Plus, the plush fabric brings warmth and texture. And let's not forget, this red really pops when paired with a neutral background! It's the ideal pick for adding just the right color pizzazz. Elevate your bathroom's vibe with this beauty!
20. Victorian Velvet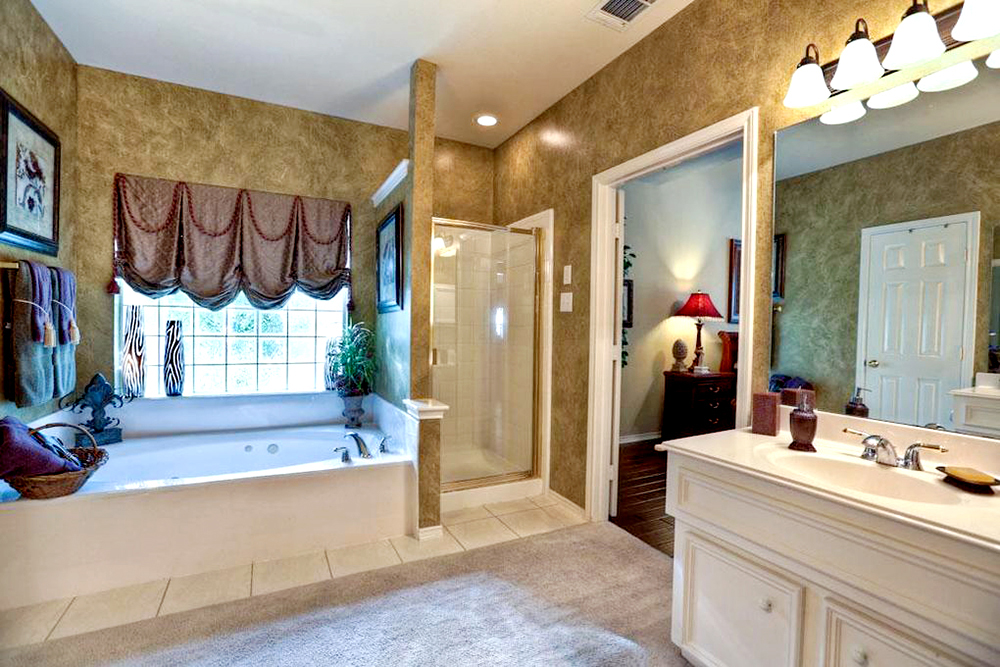 This Victorian Velvet could be your perfect match if you aim for a dash of classic grandeur in your modern sanctuary! The deep, mocha-shaded velvet draped in layered scallops captivates you the moment you see it. Additionally, the subtle sheen, combined with intricately stitched patterns, adds a layer of sophistication. Positioned against the earth-toned backdrop, it beautifully complements the room's textured walls. Furthermore, the gold bead trim that hangs down ties the whole thing together and looks great with the vintage vibe of the room.
21. Paisley Perfection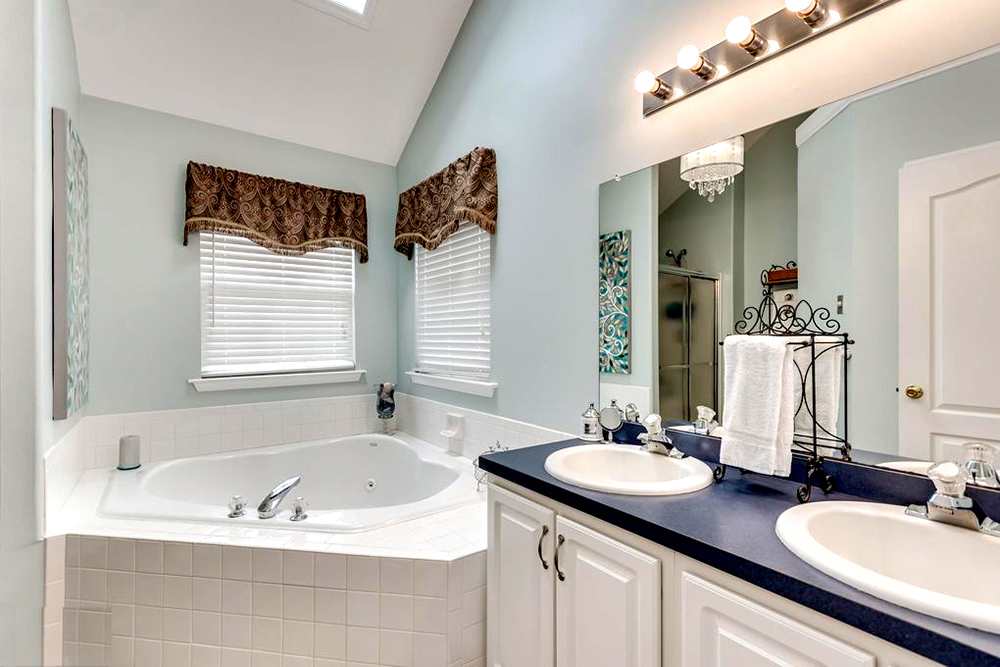 Say hello to the Paisley Perfection valance. This eye-catcher sports a classic paisley design in warm browns and gold. Plus, it sits beautifully against soft blue walls. The scalloped hem and delicate trims add a touch of luxury. Best of all, it enhances your windows without stealing the show. It's a harmonious blend of modern and vintage above-white blinds.
22. Lavish Lilac Elegance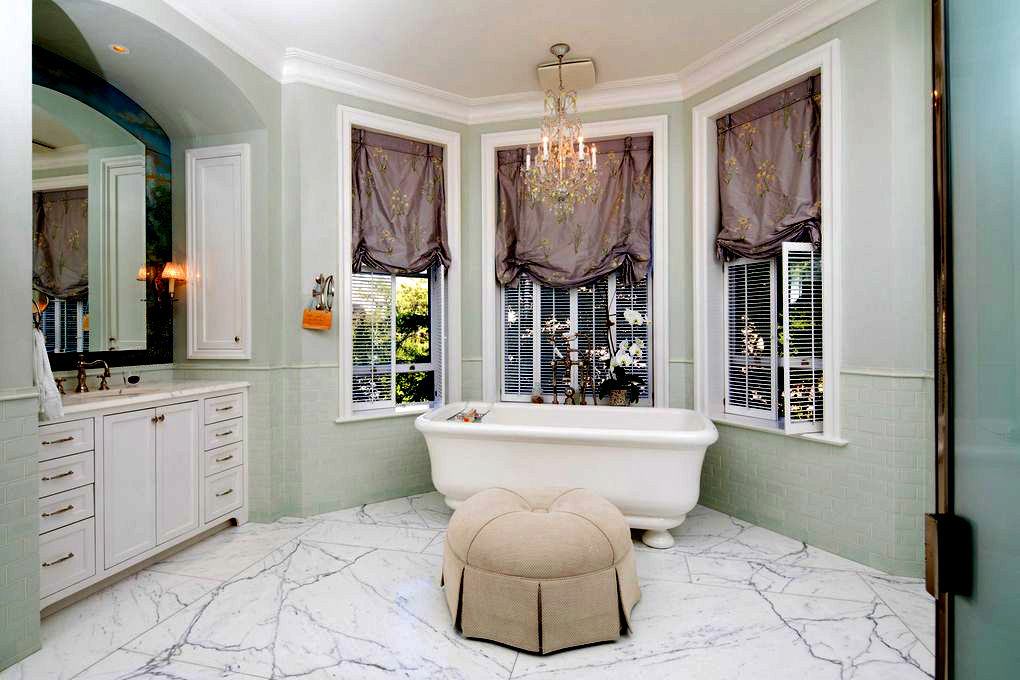 Meet the Lavish Lilac Elegance valance. Picture this: a soft lilac hue enriched with golden embroidery. It screams whimsical elegance! The fabric? Airy and translucent, adding just a dash of romantic mystery. Sunlight filters through, casting a dreamy glow. Pair it with bright white blinds, and it's a match made in heaven. This valance is the perfect blend of luxury and fun. It looks great against the pale green walls. It's a real game-changer!
23. Sunset Drapery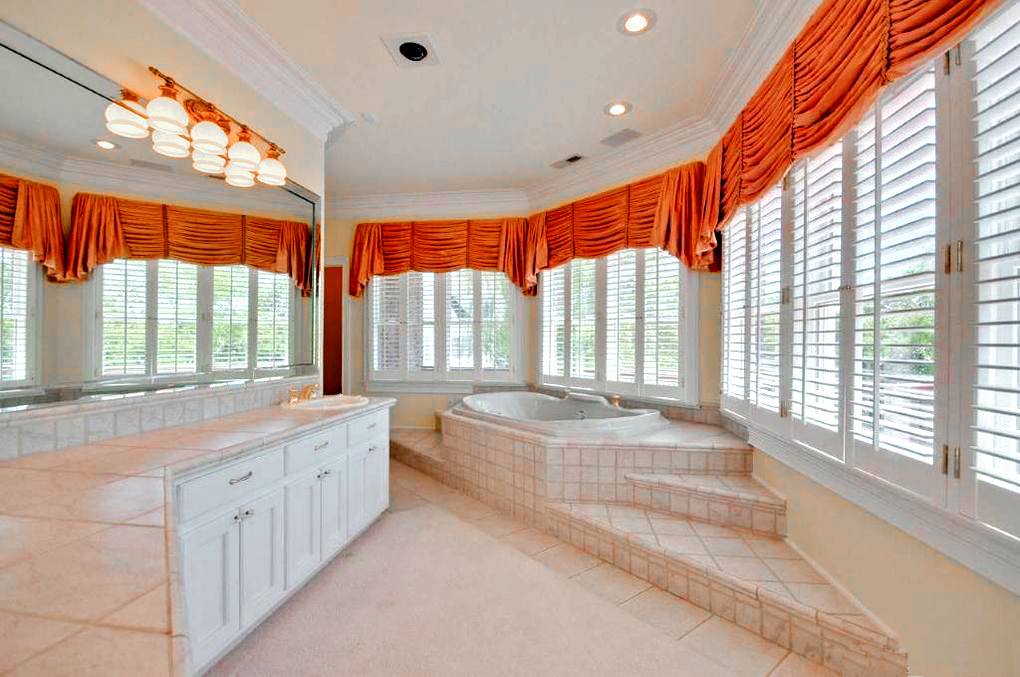 Are you looking to bring the comfort of a sunset into your bathroom? You've got to meet the Sunset Drapery valance. Its rich terracotta shade nails that cozy, golden-hour vibe. The lush, cascading folds add a dash of timeless grandeur. Imagine it next to white blinds—talk about a stunning contrast! And don't forget those soft curves; they make the whole space feel more welcoming. If you're after warmth and sophistication, this valance is your dream come true.
24. Soft-Touch Valance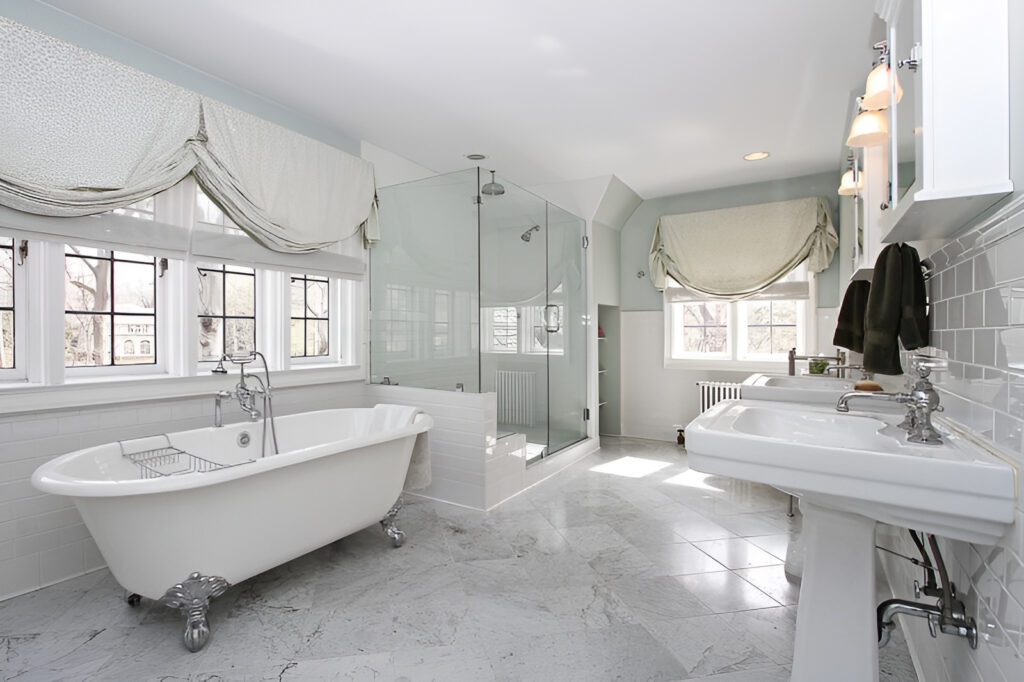 Love a chic touch in your bathroom? Check out the Soft-Touch Valance. Its light fabric immediately sets the mood, while the delicate center gathers add a hint of drama. The color? Think dreamy off-white that feels both fresh and pure. This valance isn't about making a loud statement but about understated elegance. Place it over white tiles and muted walls, and you have a cohesive, stylish look!
25. Terra Cotta Treasure Valance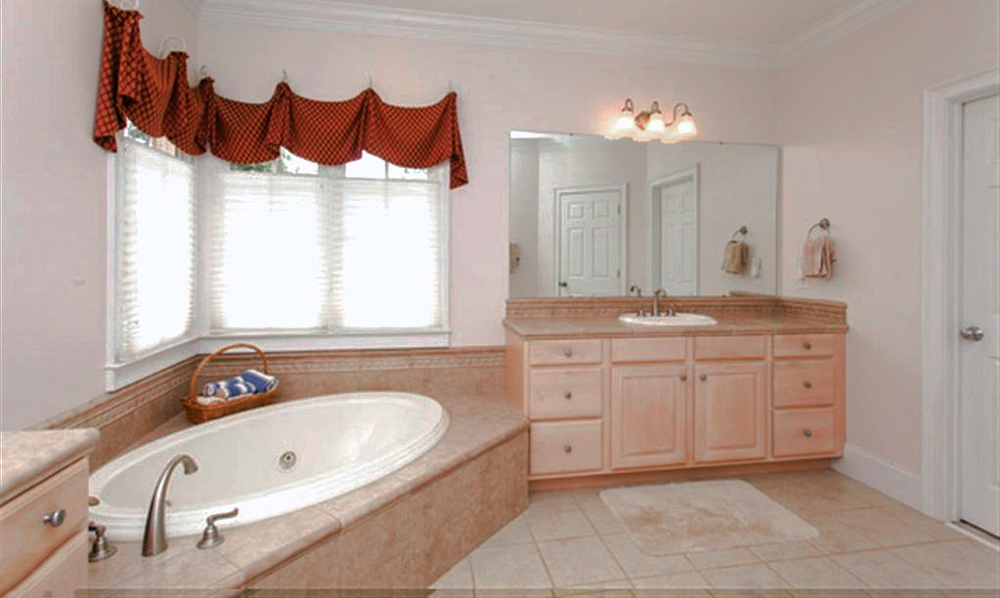 Next, the Terra Cotta Treasure Valance. Right off the bat, this valance brings warmth with its rich, earthy tones. The playful polka-dot pattern and its scalloped design add a hint of whimsy. On top of that, the cascading effect introduces layers of texture, creating depth and dimension. But it's not just about looks; it harmonizes perfectly with the neutral hues of the bathroom. This valance is your golden ticket to balance classic charm and contemporary chic. Dive into the world of rustic romance today!
26. Draped Cascade Valance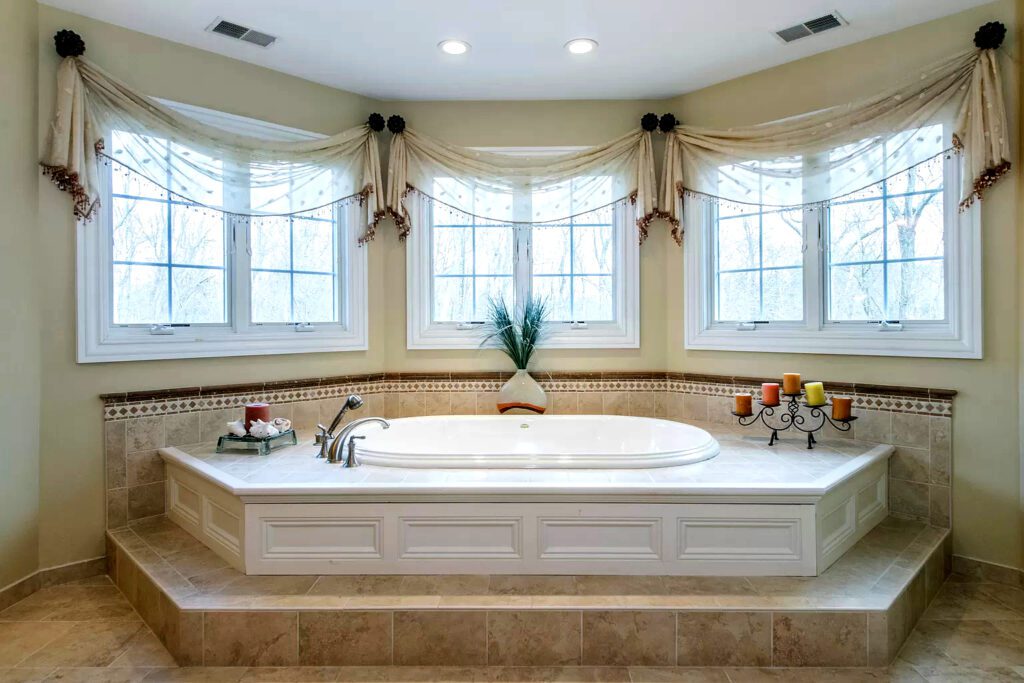 Next up on the list is the Draped Cascade Valance. This gem takes luxury up a notch with its shimmering, flowy fabric. And get this—it features adorable berry-like clusters for a touch of nature. The central swag steals the show thanks to eye-catching rosettes. It jazzes up the room and makes it look taller, too! Perfectly blending elegance and whimsy, this valance is a bathroom game-changer.
27. Ornate Swirl Valance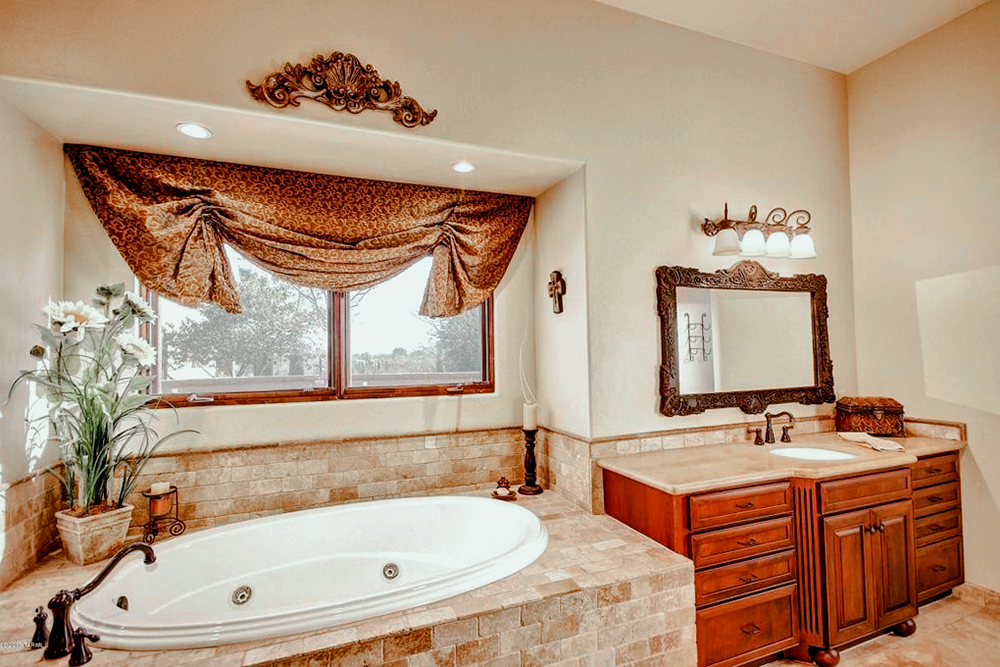 Are you looking to bring some royal vibes to your bathroom? The Ornate Swirl Valance is your go-to! Its lush golden tones scream luxury right away. Think intricate swirls that echo old-world elegance. And let's talk draping—so classy! When you pair it with rustic wood and fancy mirrors, it just nails the whole room together. It's where high-end taste meets skilled craftsmanship.
28. Charcoal Cascade Valance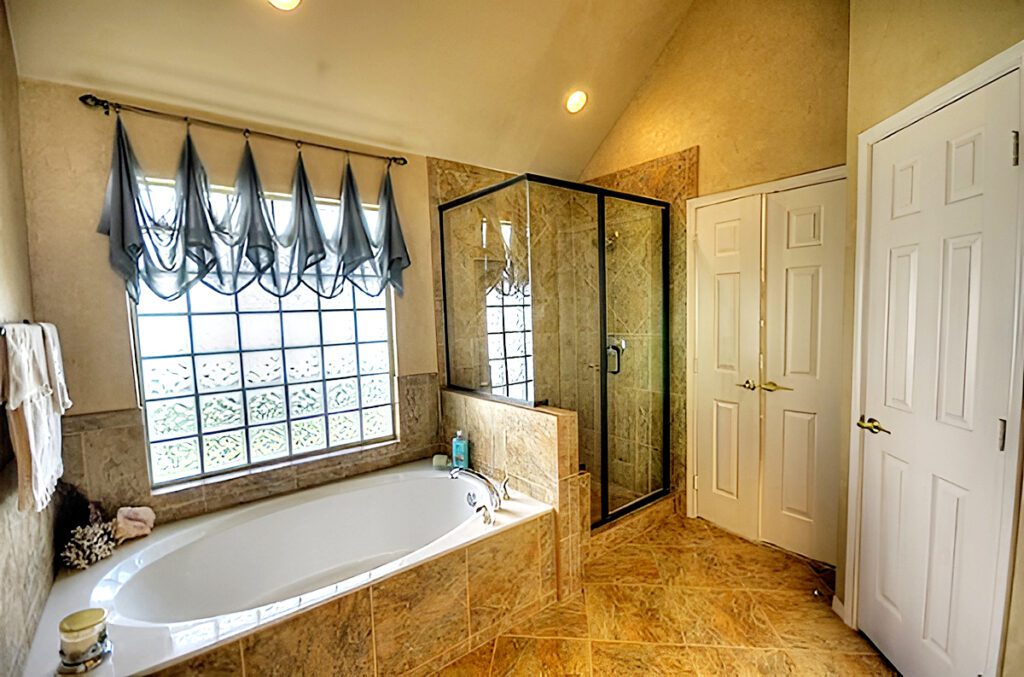 Meet the Charcoal Cascade Valance. Its sleek gray hue instantly adds a modern flair, while the graceful cascading drapes scream elegance. Best of all, the fabric softly filters daylight, giving your space a serene, dreamy glow. Perfect for any grid-style window, it's a must-have for anyone aiming for a mix of style and tranquility. Yep, it's modern chic at its finest!
29. Bronze Swag Valance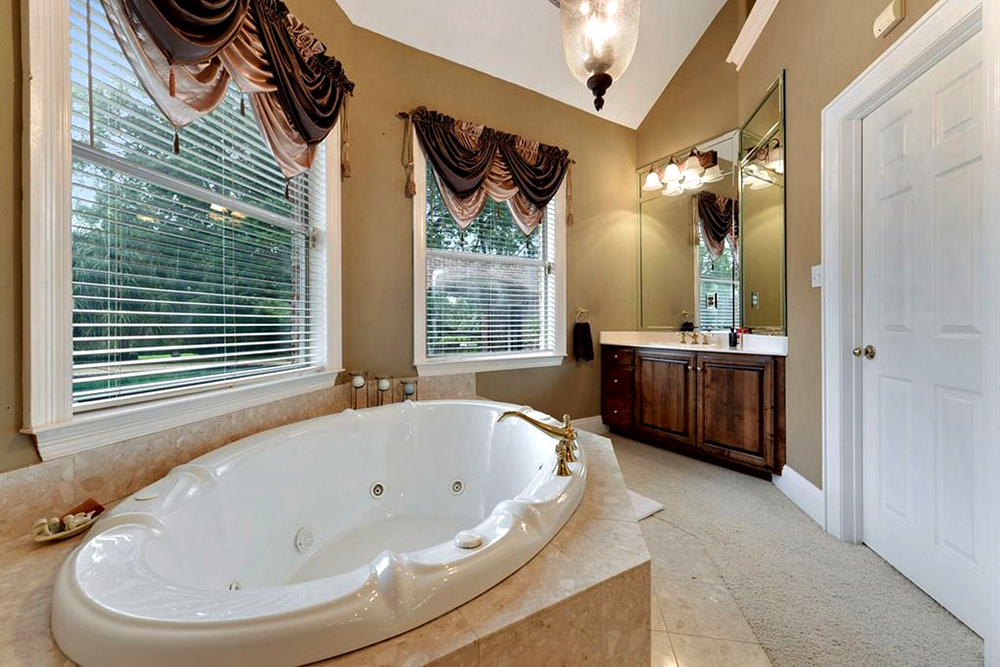 Are you looking for a way to amp up your bathroom's glam factor? You've got to check out the Bronze Swag Valance. This stunner has a velvety bronze hue that screams luxury. Plus, its elegant swags give it a timeless feel. Pair it with white blinds, and you've got an eye-popping contrast. The best part? The fabric catches the light, setting a warm, cozy vibe. Oh, and don't forget the scalloped hem—pure sophistication!
30. Botanical Bliss Valance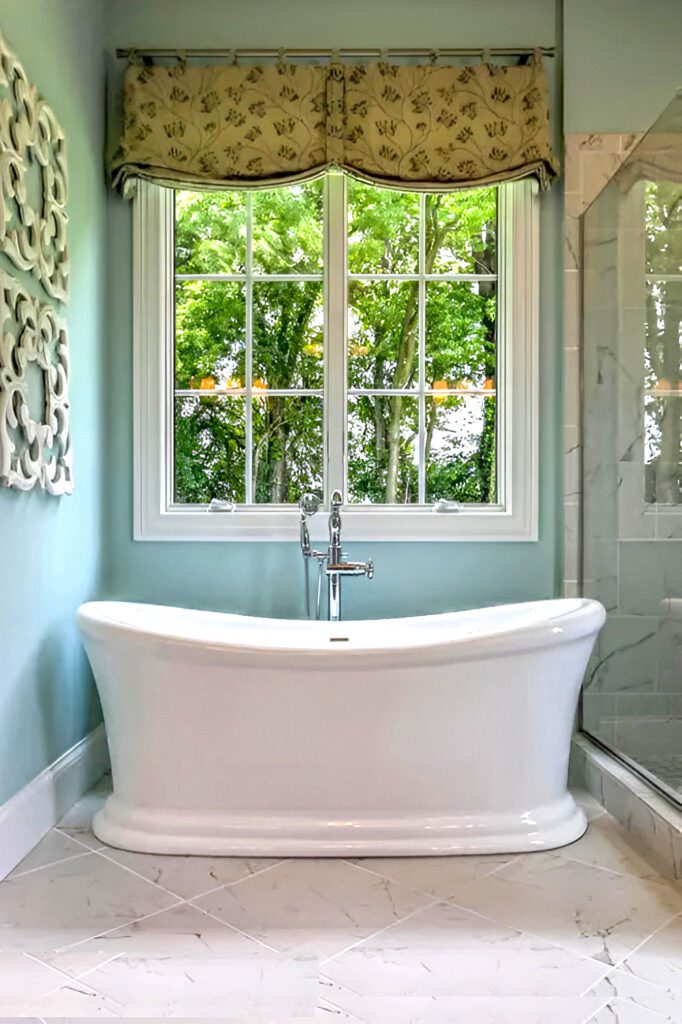 Have you ever thought of bringing a garden vibe to your bathroom retreat? The Botanical Bliss Valance is your go-to. With its delicate floral sketches, it takes you straight to calming meadows. The neutral backdrop keeps things subtle but eye-catching. Love vintage? The scalloped edge adds that old-world feel. Match it with fresh mint walls for a rejuvenating color mix. Plus, the rod-pocket style makes hanging a breeze. It's the perfect valance for those seeking a slice of nature indoors.
31. Regal Cascade Valance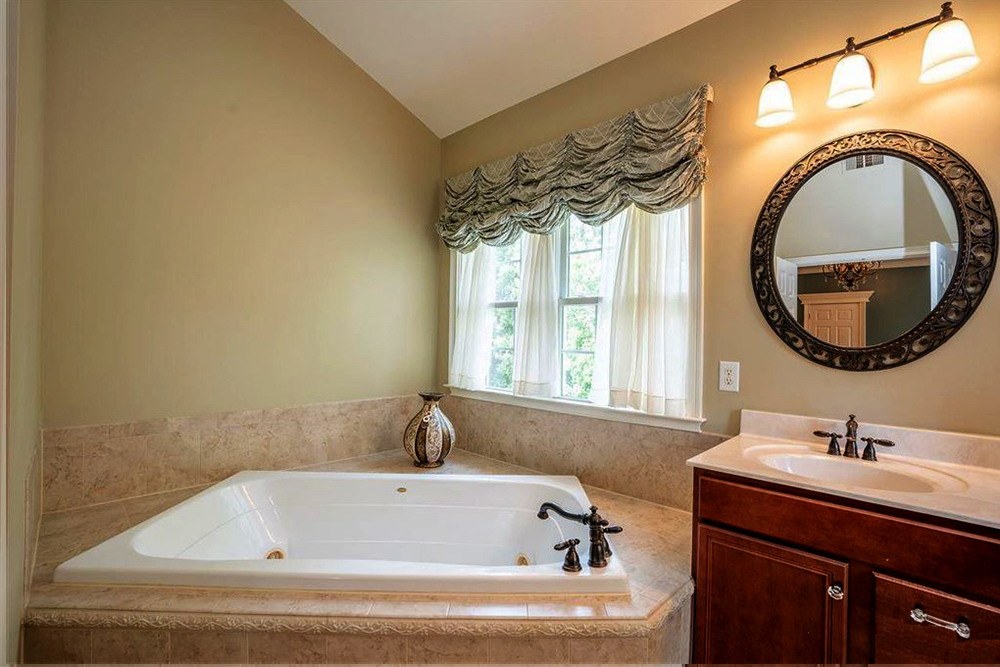 Next up, let's check out the Regal Cascade Valance. This beauty is all about layered, ruched elegance. Think grand ballroom vibes! The neutral hue is a perfect match for any warm bathroom palette. Plus, the draping style creates texture and depth. Let the sunlight in, and this valance turns into an instant eye-catcher. Trust us, it's your shortcut to a bathroom that feels like a palace.
32. Forest Whisper Valance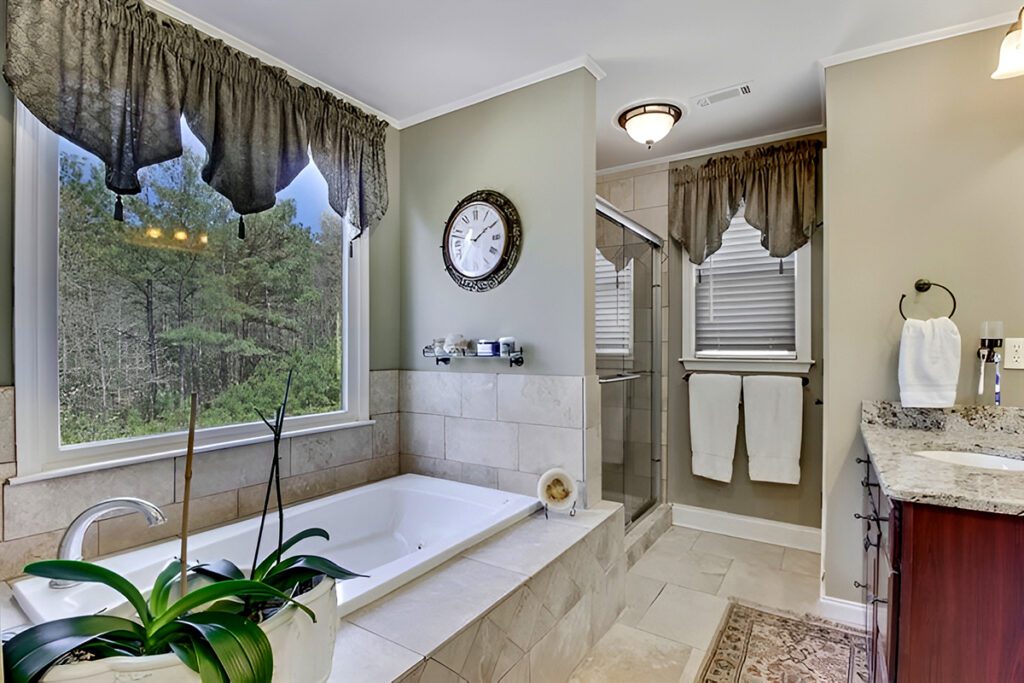 Want to make your bathroom feel like a forest retreat? The Forest Whisper Valance is your ticket to woodland bliss. With its earthy color and soft, flowing fabric, this valance sets a serene mood. It also lets in just the right amount of light, creating a calming atmosphere. It blends rustic charm with elegance, perfect for nature lovers. It's a quick, stylish way to escape to nature without ever stepping outside.
33. Royal Cascade Valance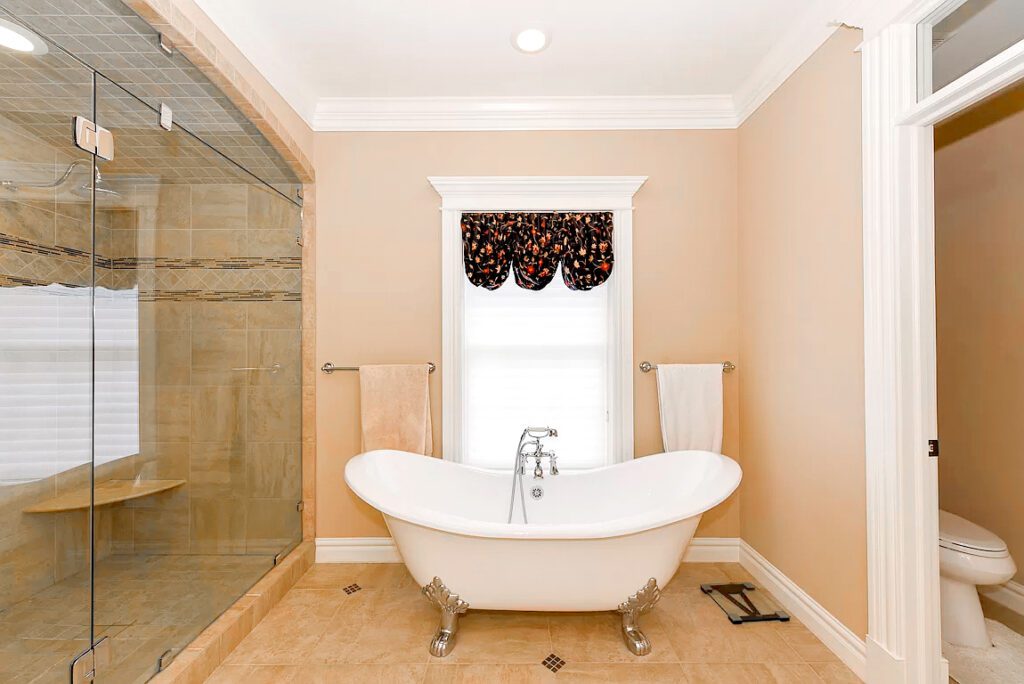 Looking for that touch of regal flair for your bathroom? Check out the Royal Cascade Valance. This showstopper boasts a rich, velvety texture and deep hue that instantly grabs your attention. It's all about the details—ornate patterns give it a lavish feel. As it hangs, it forms elegant folds that ooze sophistication. Best part? When sunlight hits, it casts magical shadows. It's a must-have for anyone seeking a dramatic yet timeless touch.
34. Gingham Grace Valance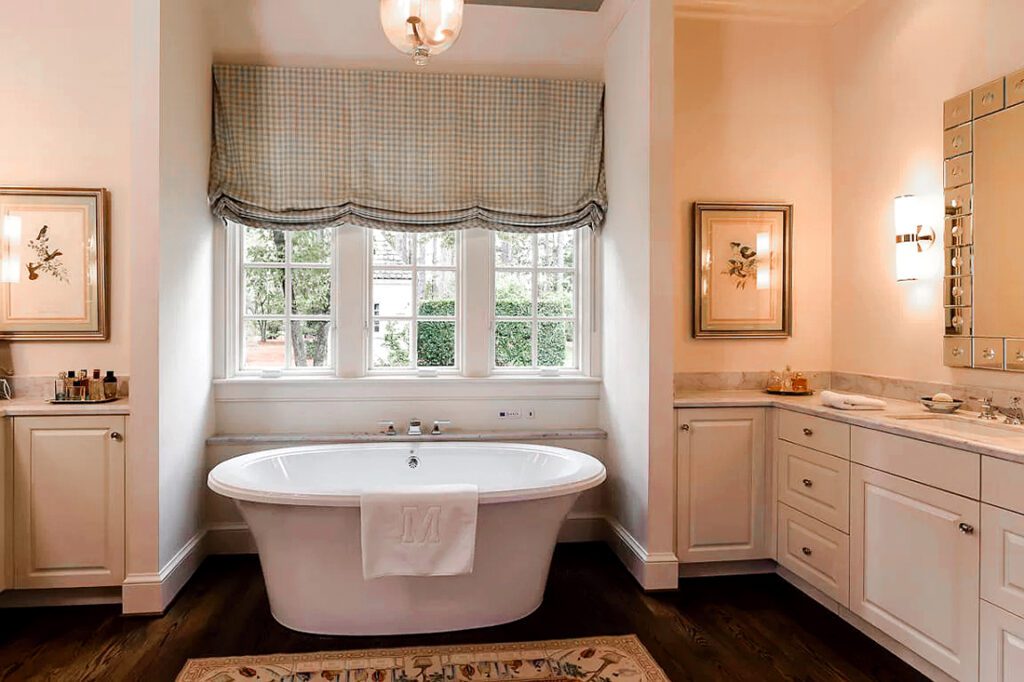 Dreamy combo of sleek style and homey vibes? Meet the Gingham Grace Valance! Its checkered pattern oozes subtle elegance, making it a forever classic. Plus, the soft hues blend effortlessly with your bathroom's color scheme. And let's not forget the scalloped trim—just the right dash of detail. In short, this valance doesn't just light up your bathroom; it takes you back to peaceful, country mornings. It is the ideal pick for lovers of both flair and simplicity.
35. Scarlet Swag Valance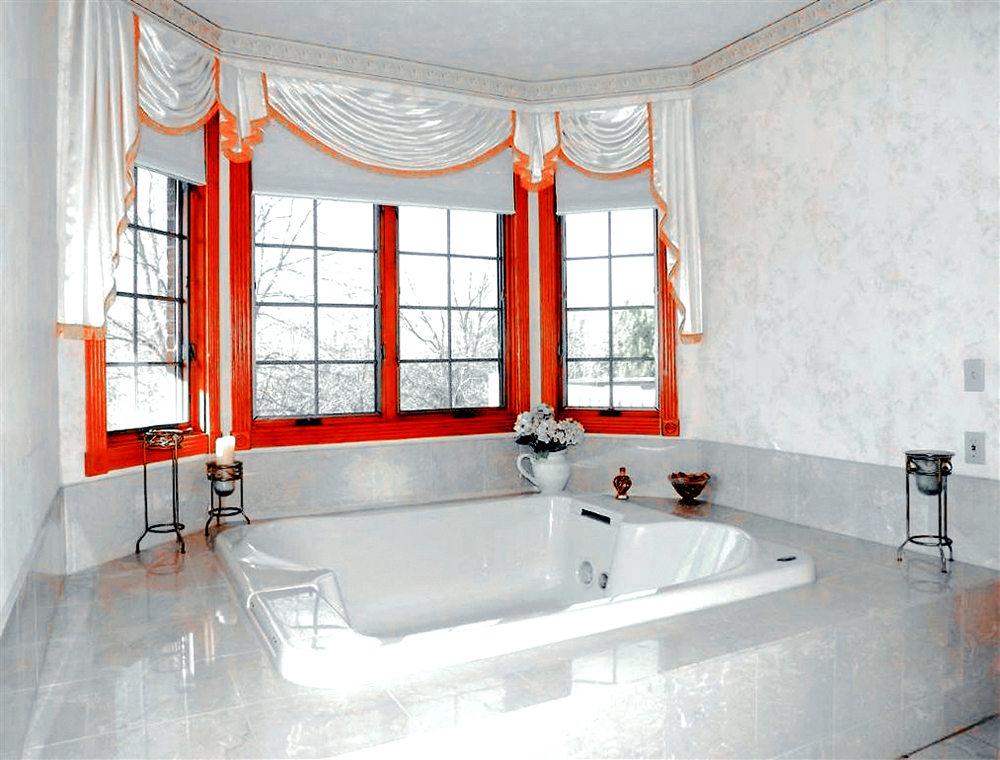 Ready to up the wow factor in your bathroom? Look no further than the Scarlet Swag Valance. With its eye-catching orange-red panels, this showstopper adds instant energy. White fabric adds contrast, giving the room a dynamic vibe. The graceful drape feels royal, like you're in a grand ballroom. Plus, matching red window frames keep that color pop grounded. Trust me, this valance is your shortcut to a bathroom that screams style and sophistication.
36. Whisper White Cascade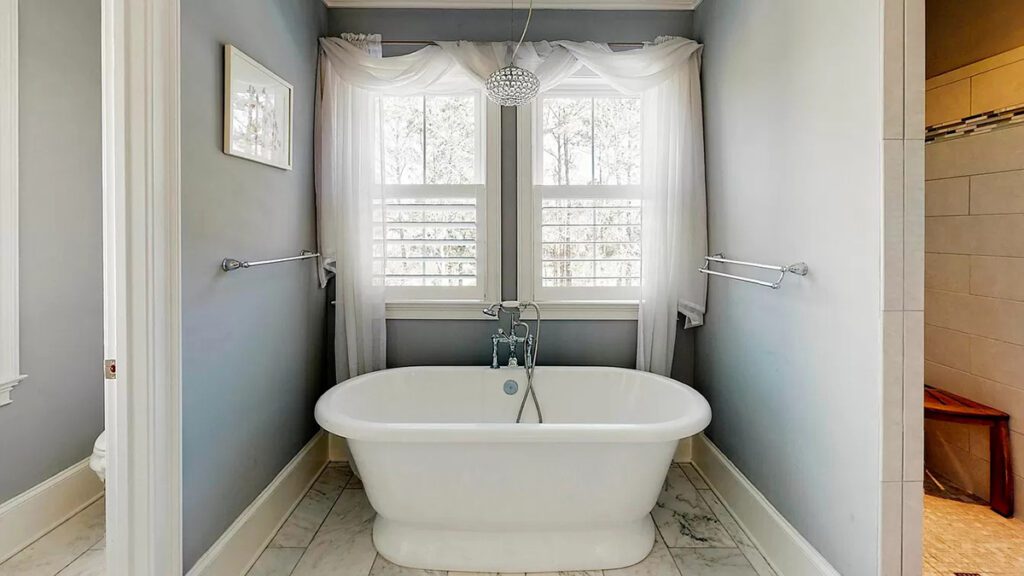 Need ideas to bring a calming vibe to your bathroom space? Let's dive into the Whisper White Cascade valance. First off, its sheer fabric brings a light and airy feel, instantly brightening up the space. The delicate draping on top introduces a waterfall effect, cascading gracefully and softening the window's edges. Moreover, its simplicity pairs beautifully with the muted tones of the bathroom, creating a harmonious blend. With this valance, you get privacy and a sprinkle of sophistication.
37. Vintage Lace Delight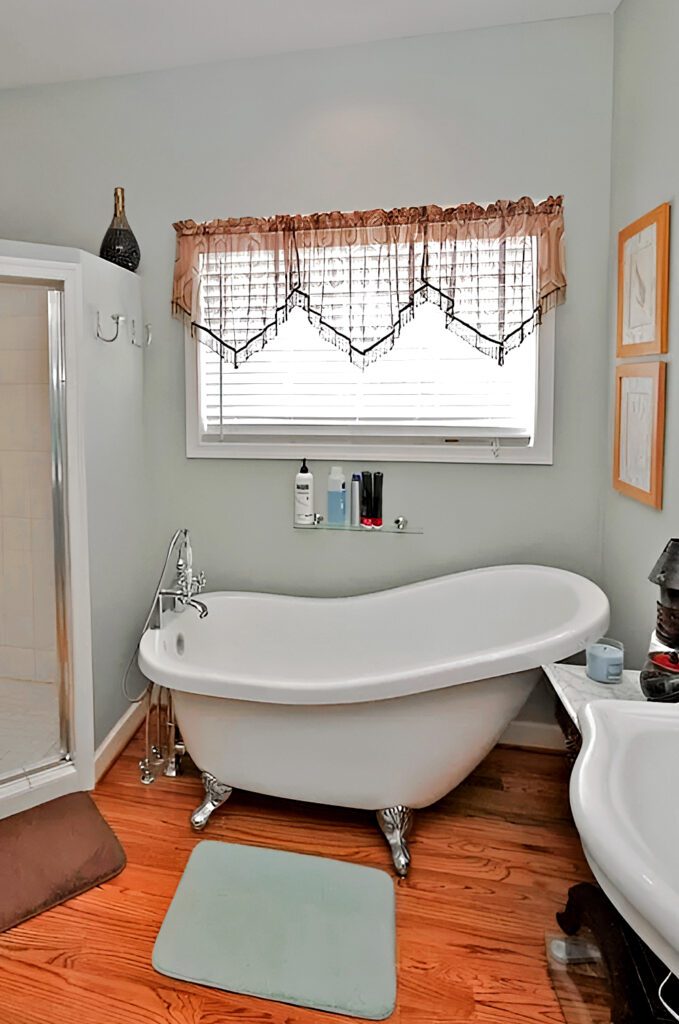 Want to add a vintage flair to your window treatment with a charming valance? Enter the Vintage Lace Delight. From the get-go, the peachy hue offers a warm, inviting vibe. Now, let's talk details: the intricate lacework steals the show, adding texture and a touch of yesteryear romance. The scalloped edges dance gracefully, offering a delightful contrast to the crisp modern blinds underneath. Plus, the ruffled top? It's the cherry on top, elevating the whole design.
38. Burnt Orange Blossom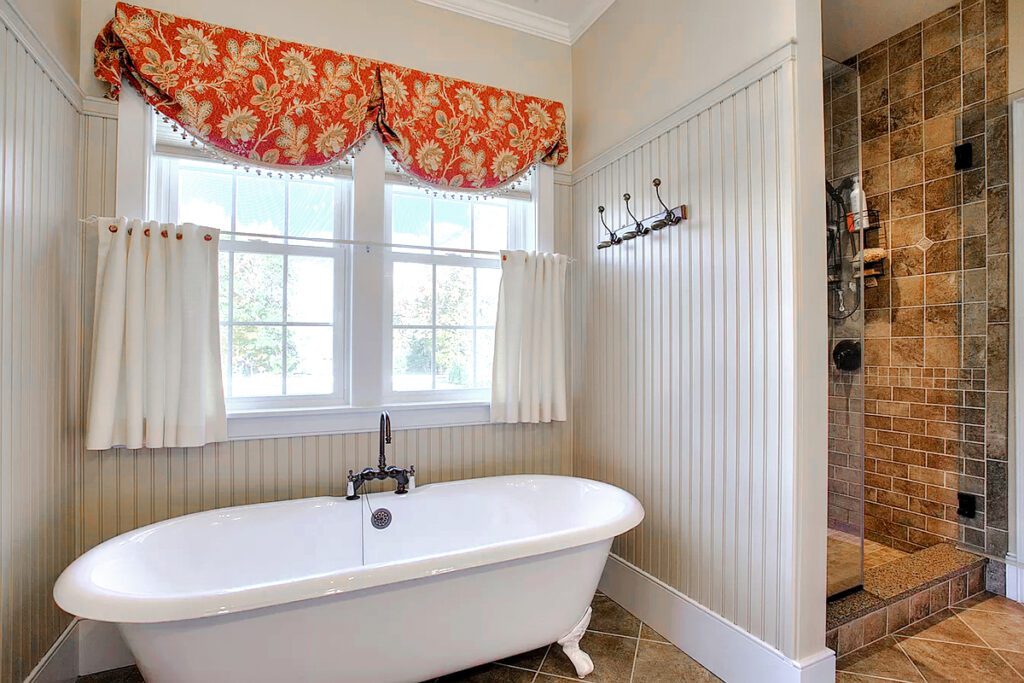 Need a little boho magic in your bathroom? Feast your eyes on the Burnt Orange Blossom! First off, the fiery orange backdrop instantly captivates, exuding warmth. Meanwhile, floral patterns, elegantly detailed, weave a narrative of nature and artistry. The gentle draping and tassel trims feel both whimsical and sophisticated. Set against crisp white curtains, this valance isn't just a window treatment; it's a statement piece.
39. Tide-Inspired Valance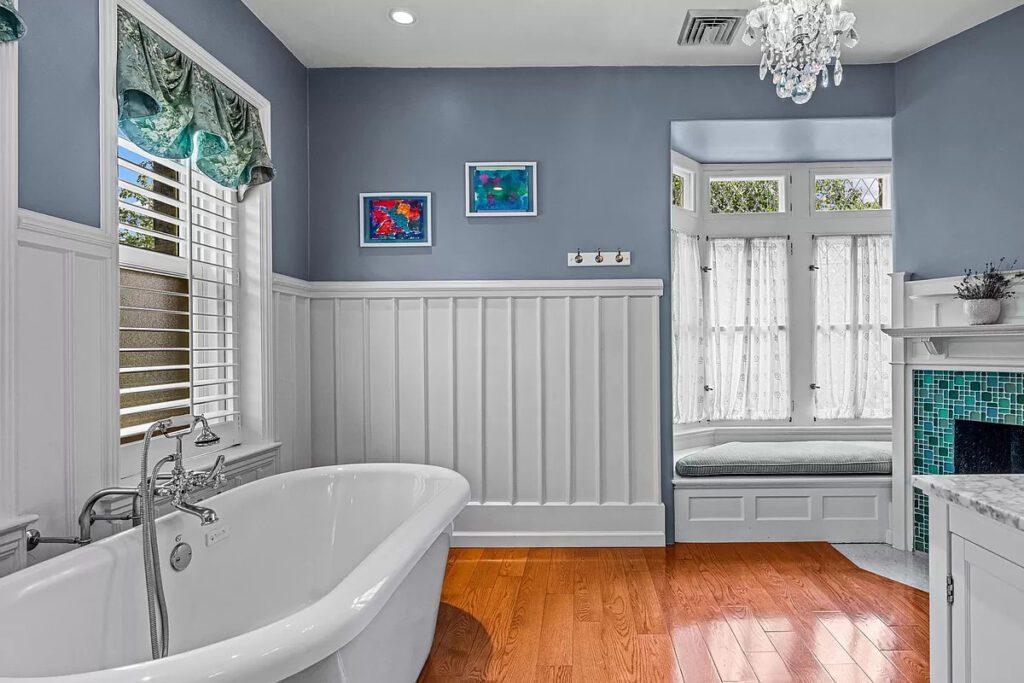 Ready to turn your bathroom into a seaside sanctuary? Look no further than the Ocean Whispers valance. With its swirling blue and green patterns, it's like gazing at a calm sea under a moonlit sky. Imagine that—watercolor art meets ocean tide right at your window! Best part? Pair it with a soft lavender wall to have an elegantly understated coastal escape. Ocean Whispers is your ticket to nautical nirvana without leaving home.
40. Tribal Tales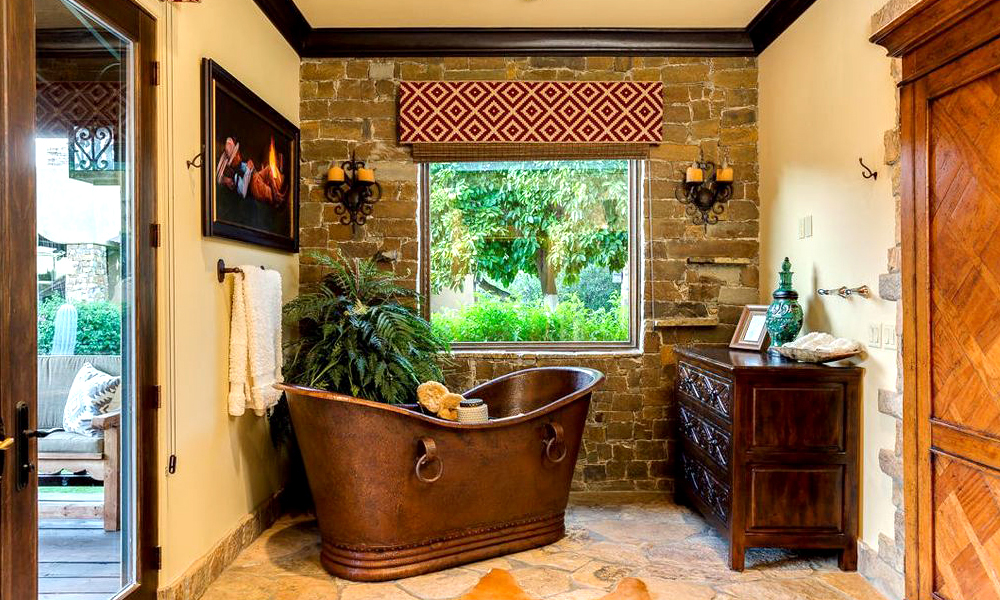 Lastly, let's unpack the charm of Tribal Tales. Its warm, geometric patterns whisk you away to distant cultures and ancient stories. Sporting deep reds and tans, this piece is a fusion of modern flair and timeless motifs. Set against exposed brick and wood, it doesn't just block light—it adds depth and drama. Are you looking for cozy yet captivating? Tribal Tales is your ticket to a bathroom oasis bursting with character.