Are you looking to spruce up your bathroom with the perfect window treatment? You're in the right place! Windows can be a bathroom's best friend, offering a splash of sunlight and a touch of nature. But let's be honest: sometimes you want a bit of privacy or a dash of flair. That's where curtains step in. There's a curtain for every taste, from elegant drapes to fun patterns, minimalist designs to classic styles. Dive into our list of 31 bathroom window curtain ideas tailored for every style. Whether you're seeking a cozy vibe, a modern edge, or a timeless look, we've got you covered. Let's give those windows the makeover they deserve!
1. Golden Glamour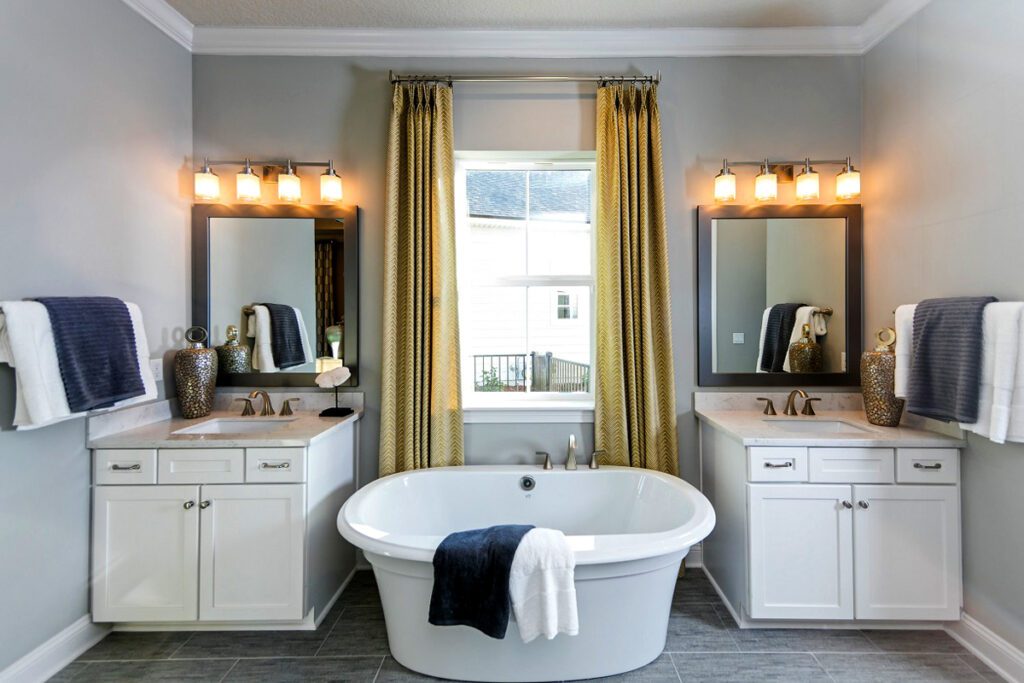 First, let's chat about the golden glamour curtains! These flowing gold chevron curtains elegantly contrast the soft gray walls. The light catches the shimmering fabric, creating a warm, welcoming feel. More than just functional, they act as a statement piece that elevates the contemporary bathroom.
2. Vintage Elegance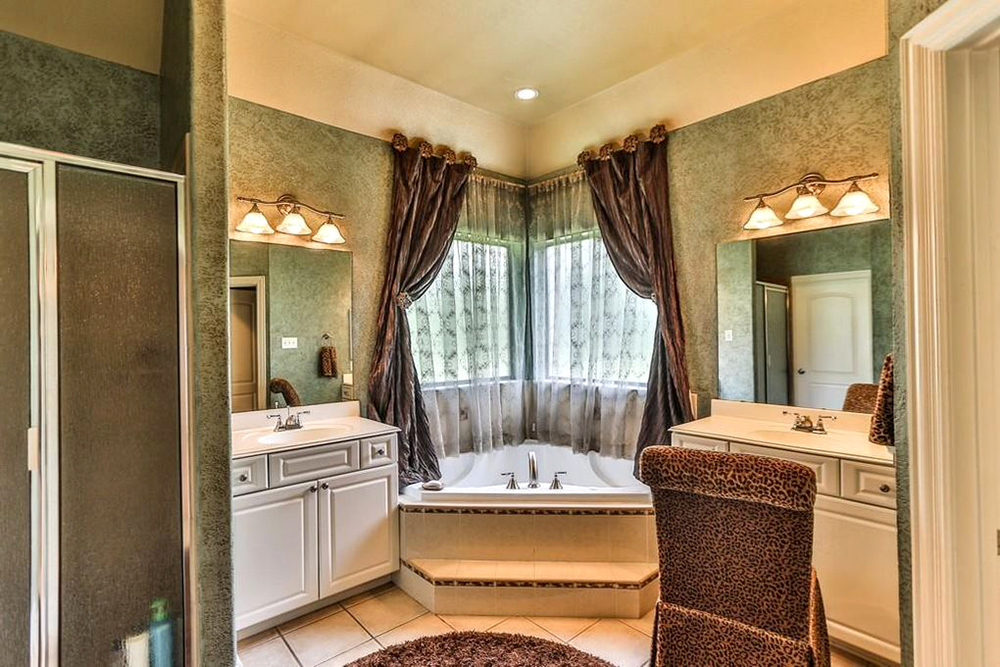 Get ready to fall in love with this stunning combo of sheer and velvet curtains! The sheer layer lets in just enough soft, diffused light while still keeping things private. Then we've got that outer layer of rich chocolate velvet draped to one side – talk about drama! And let's not forget those pretty rosette tiebacks adding the perfect final touch. These beauties blend vintage charm and modern luxury seamlessly. Absolute showstoppers for any bathroom!
3. Regal Refinement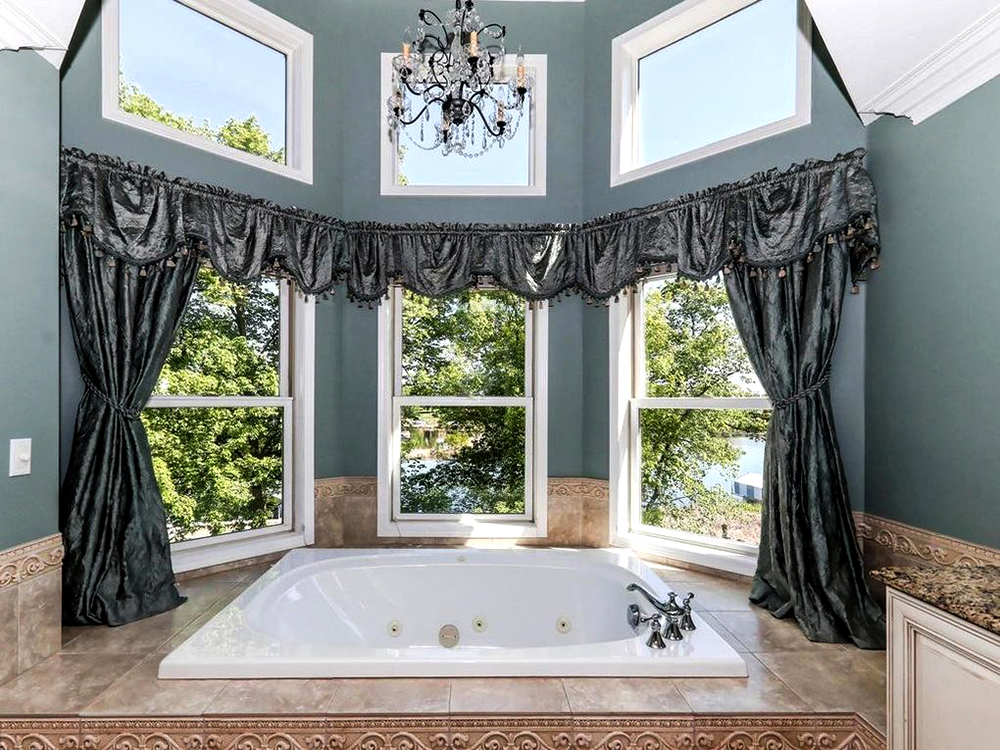 Stepping into this space, the first thing you'll notice? Those luxurious velvet curtains. First, the intricate ruched valance sets a stately tone. Moving downwards, the deep, charcoal hue of the drapes introduces an air of sophistication. Tied gracefully to the side, they reveal a picturesque view while offering an elegant contrast to the soft teal walls. With such regal drapes, this bathroom turns everyday moments into royal affairs!
4. Champagne Colored Curtains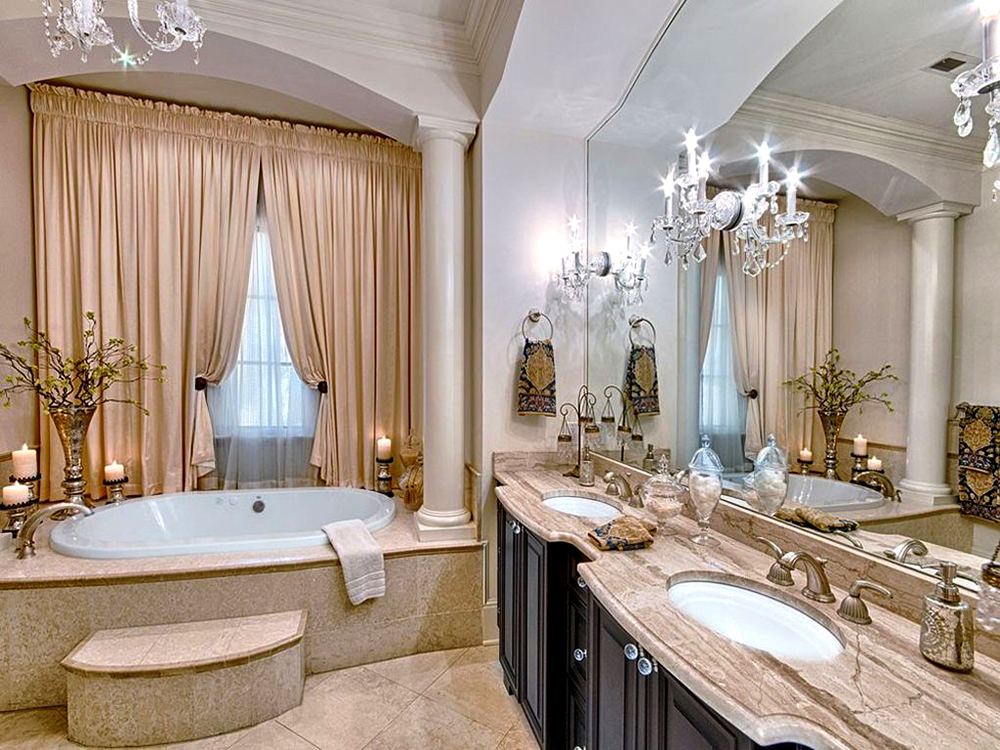 Take a look at this luxurious setting, and what stands out? Those beautiful champagne-colored curtains, of course. The gathered pleats give off a vintage vibe. As they cascade down, their smooth and shiny texture is captivating. Tied elegantly in the middle, they provide a glimpse of the outside world, adding a touch of balance to the room's grand atmosphere. Without a doubt, these curtains make bathing feel like a genuinely extravagant experience!
5. Modern Geometric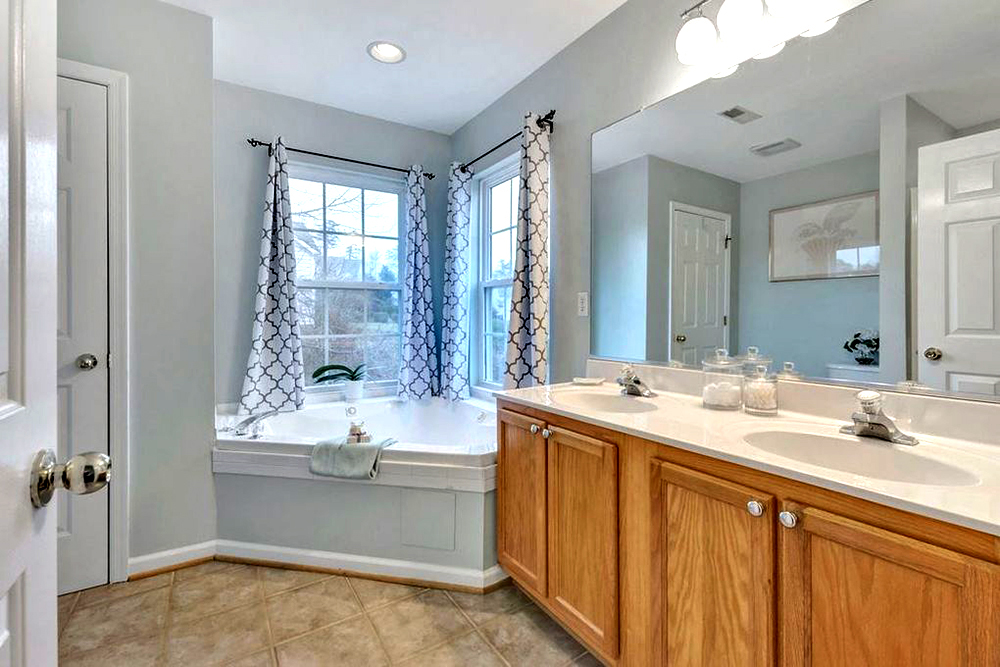 Walking in here, you instantly feel the minimalism meet playfulness! Speaking of, how cute are those geometric print curtains? The pattern is bold, but those muted colors perfectly complement the soft blue walls. Hung at just the right length, they give privacy without losing style. Put it all together, and you've got modern design magic! The simplest patterns make the biggest impact.
6. Victorian Elegance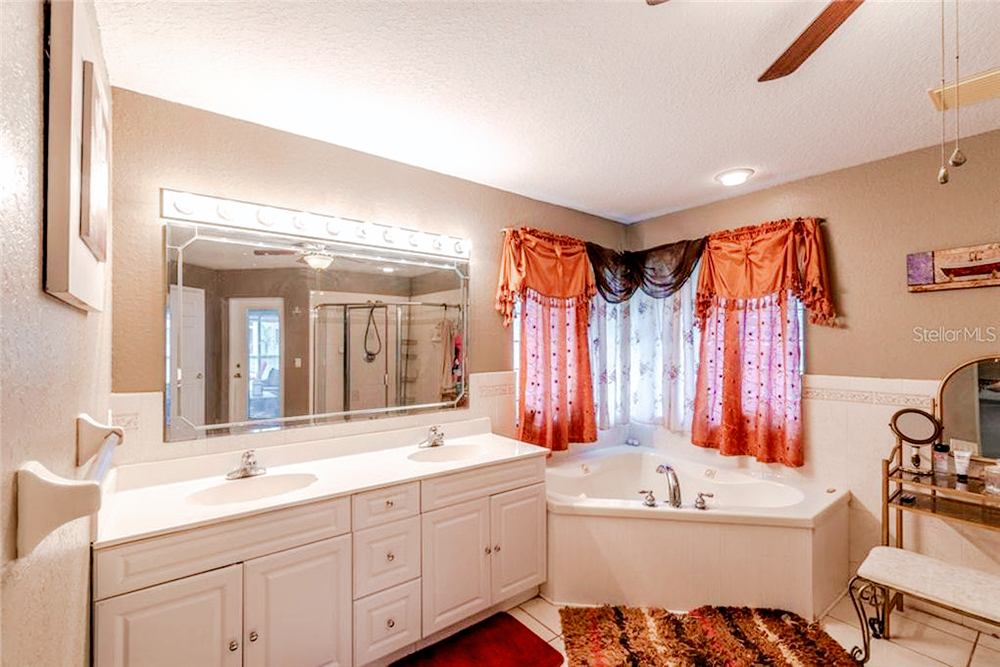 Do you feel like your bathroom is missing some grandness? Say no more! Check out these Victorian-inspired beauties. The rich rust color instantly catches your eye and works nicely with the floral details. Now, about that double layer – the silky top layer cascades down while the sheer bottom filters the sunlight. And the tasseled edges? Over-the-top glam! More than just function, these are bold statements. Ready to seriously upgrade your style? Try this on for size!
7. Minimalist Charm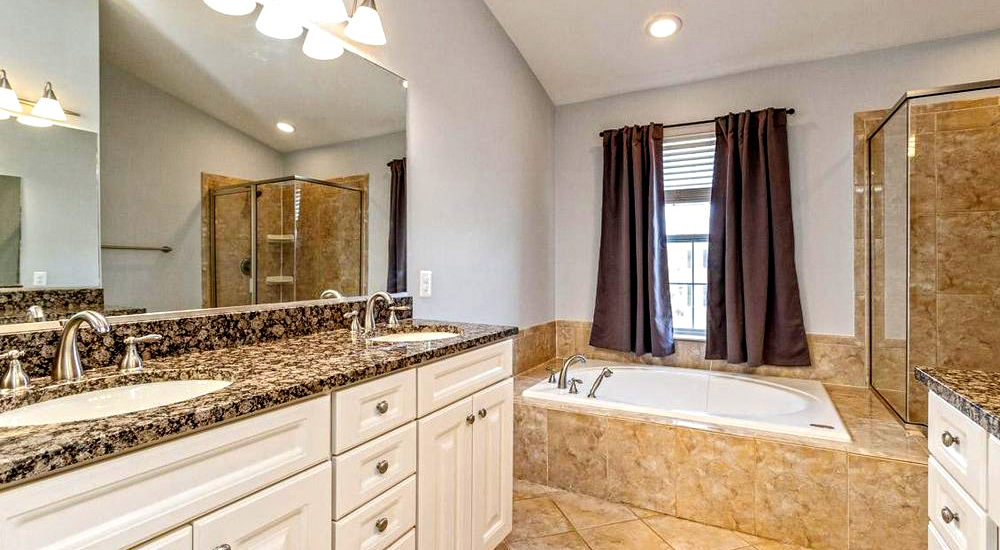 Looking for the sweet spot between simple and chic? Feast your eyes on these gorgeous taupe curtains! At first glance, the clean lines and muted color scream minimalism. But up close, the texture and matte finish adds subtle luxury. Paired with light walls? Genius contrast! They add warmth without overpowering. And the floor-length design gives privacy while making the space seem bigger. If you love refined style without the fuss, these are your vibe. A minimalist showstopper!
8. Luxurious Folds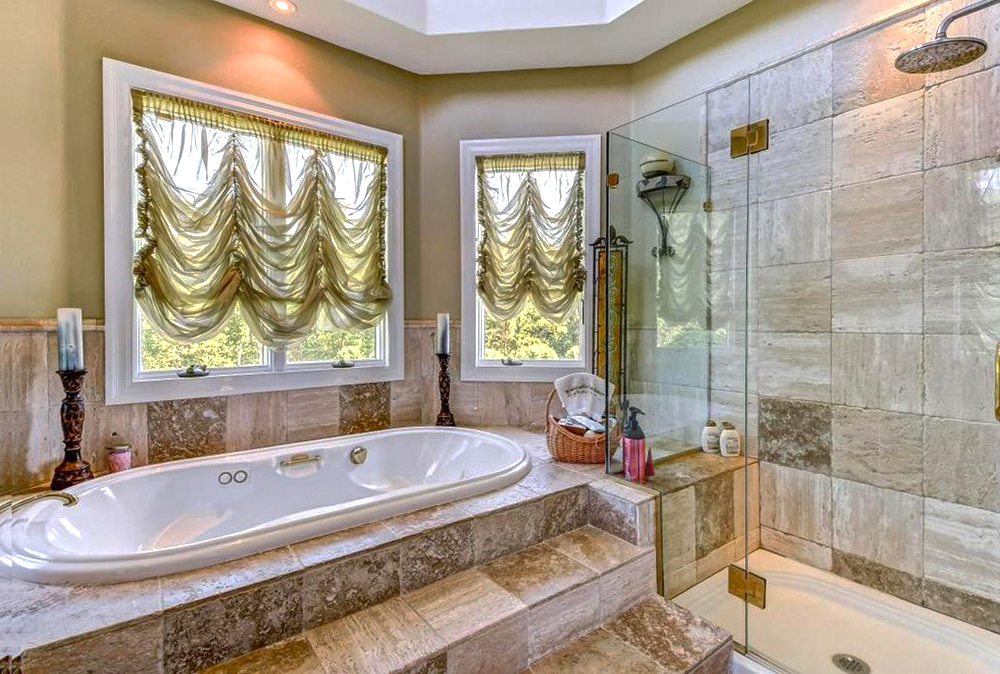 Ever envision walking into a bathroom that feels like a palace? Get ready with these opulent gold curtain baes! Right away, the shiny fabric catches your eye and just radiates luxury. Draped in flowy balloon style, they mix grandeur with softness seamlessly. The warm gold color pops against the neutral walls. Beyond looks, they're also functional – open for views or closed for privacy. With these babies, ordinary moments become straight-up glam!
9. Baroque Beauty
These curtains, adorned with intricate patterns, instantly evoke old-world elegance. The elaborate floral motifs intertwine gracefully, with pops of blue and gold adding depth and dimension. They lend an airy, expansive feel with the large, arched window. On one hand, they provide a stark yet harmonious contrast to the room's beige palette. On the other, they tie in perfectly with the vintage touches around. In essence, these curtains whisper tales of bygone eras while staying stylishly present.
10. Earth-Toned Elegance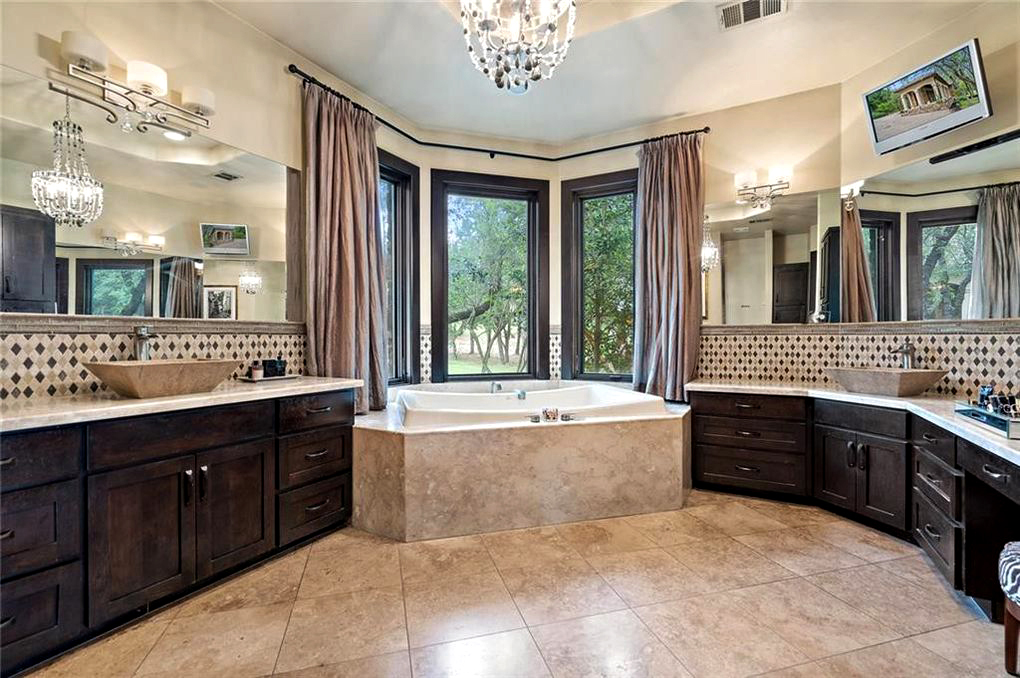 Craving a seamless blend of luxury and nature for your sanctuary? Here's your muse. These curtains channel a refined rustic charm with a muted brown hue, effortlessly echoing the serene backdrop of trees outside. Gazing at them, you'll notice how they drape freely, softening the room's bold, geometric patterns. As a harmonious companion to the bathroom's wooden cabinetry, they unify the space, creating a coherent visual story. While they offer privacy when needed, drawing them back lets in a cascade of natural light. In a nutshell, they're the perfect fusion of function, style, and nature's touch.
11. Bold Blue Bliss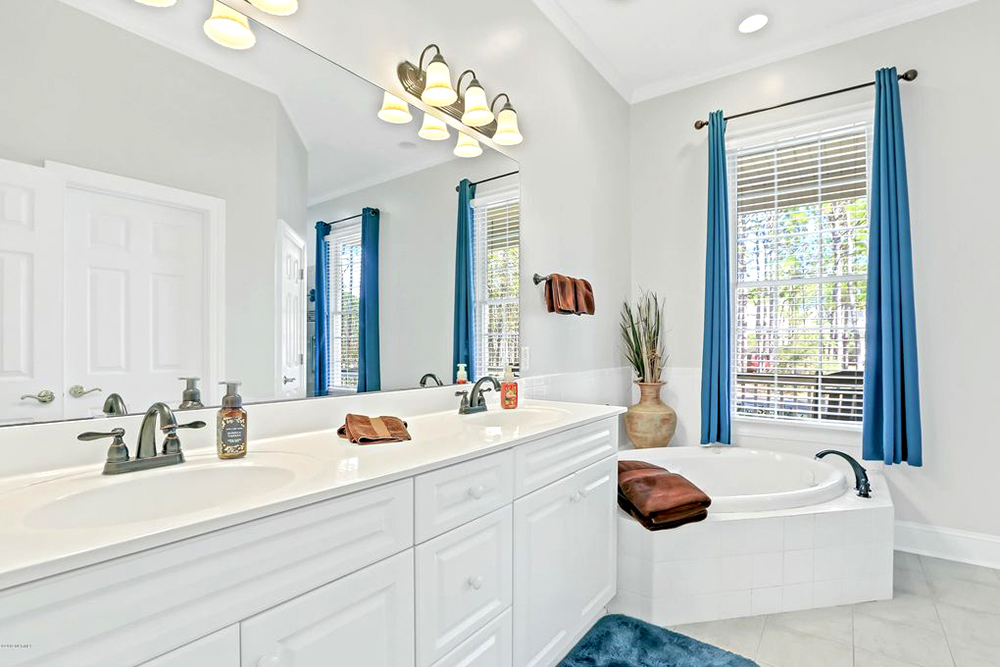 Seeking a pop of color in a white bathroom? Dive into this. These vibrant blue curtains splash the room with coastal vibes, instantly evoking feelings of a sunny beach day. Right off the bat, their deep shade contrasts brilliantly against the room's airy palette. They hang gracefully, skimming the floor, while their smooth texture adds a touch of sophistication. These curtains transform the space when paired with the room's sleek fixtures and crisp white cabinets. Not only do they offer privacy, but they also infuse a sense of calm. So, these curtains are your go-to for a breezy, coastal touch.
12. Classic Elegance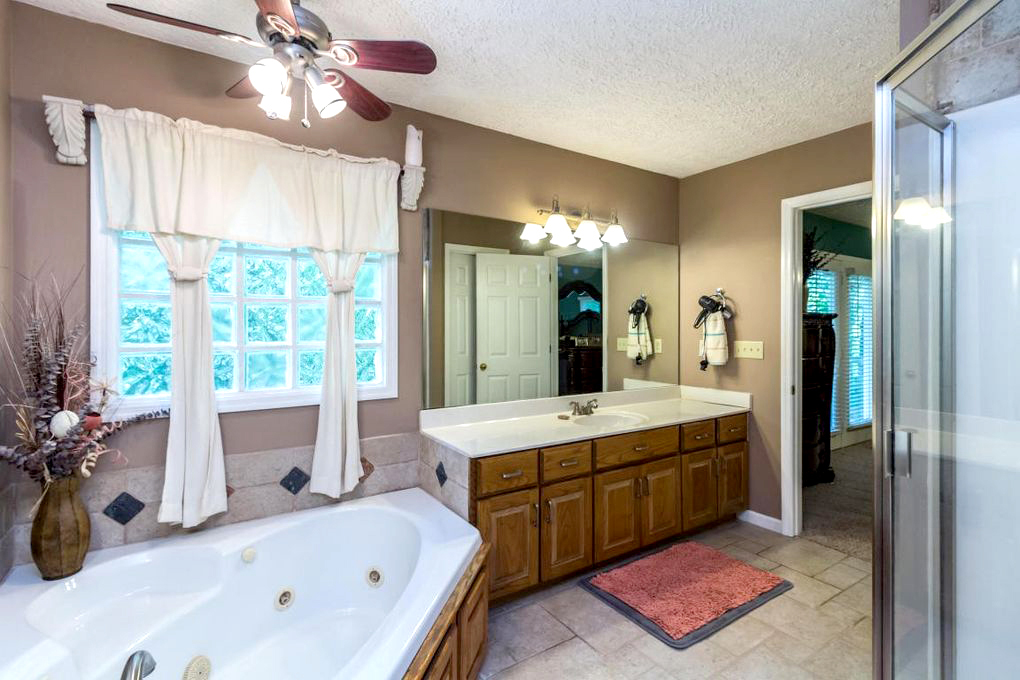 Did you want curtains with a quiet elegance? Look no further. These cream cuties are calling your name! They complement the bathroom's muted colors flawlessly, creating a soothing vibe. At first glance, the gentle folds and flowy shape catch your eye – both stylish and functional. Draped on that wooden rod, they bring a rustic touch to balance the modern details. More than just looks, they promise privacy for peaceful tub soaks. And that subtle sheen? Luxury! For an elevated but cozy bathroom feel, these are your curtains soulmates. Their understated elegance whispers style.
13. Sheer Blue Drapes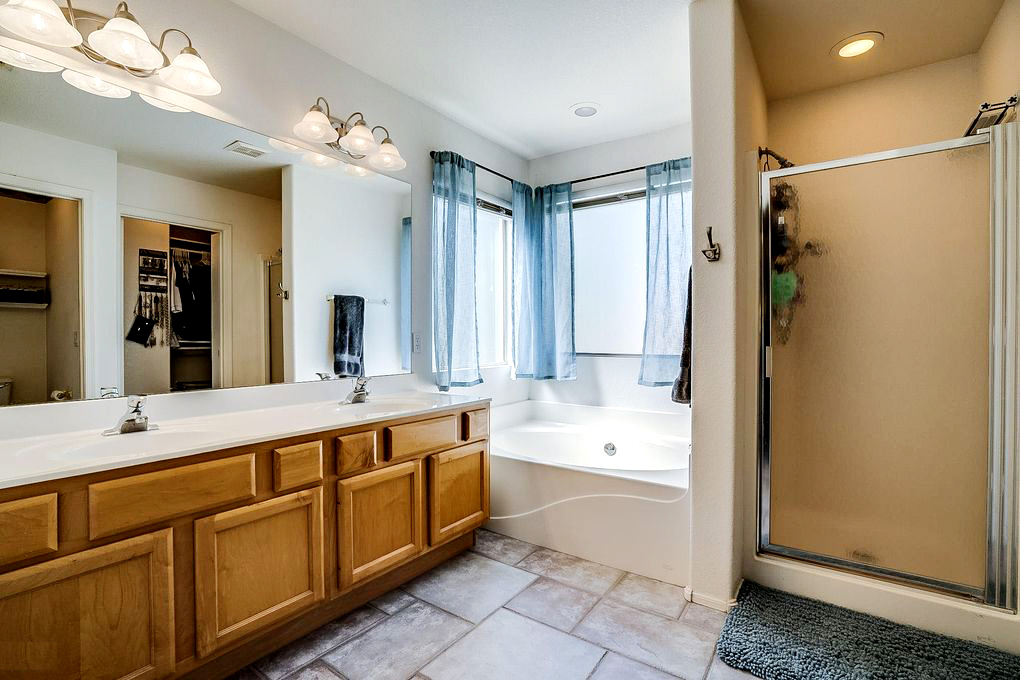 These sheer blue drapes are an absolute gem. They grace the bathroom with a light, airy presence as you enter, casting a soft hue over the tub. The straight, simple lines of the curtains work seamlessly with the bathroom's clean design. Additionally, their translucent nature lets just the right amount of sunlight filter in. These curtains add color to the room's neutral palette, giving it a refreshing touch. This design has everything you need if you want to blend modern style with a touch of tranquility.
14. Mystique in Mauve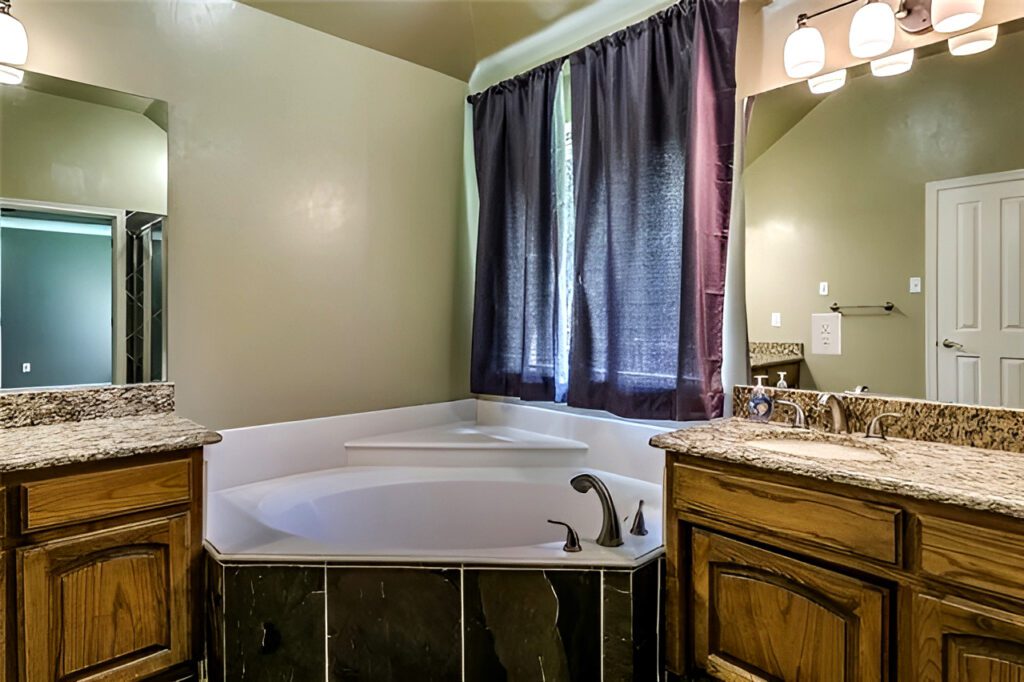 Looking for that perfect blend of luxury and drama? These opulent mauve velvet curtains could be your answer. Right from the get-go, they command attention with their rich texture and deep hue. The curtains match the muted tones of the room perfectly and add a touch of elegance. Their weightiness promises privacy, while their sheen catches and reflects subtle glimmers of light. Furthermore, the light filtering through gives the bathroom a soft, ambient glow. These velvet curtains hit the mark for those seeking to elevate their bathroom decor elegantly.
15. Crimson Cascade
These sumptuous crimson satin curtains exude regality. Their silky smooth texture and vibrant shade captivate your senses. Not only do they serve as a brilliant contrast to the neutral tones of the bathroom, but they also introduce warmth and depth. The graceful fall of the fabric feels almost majestic, and the light sheen adds glamour. Look no further if you're yearning for that statement piece in your bathroom. These curtains are sure to reign supreme in style.
16. Seaside Serenity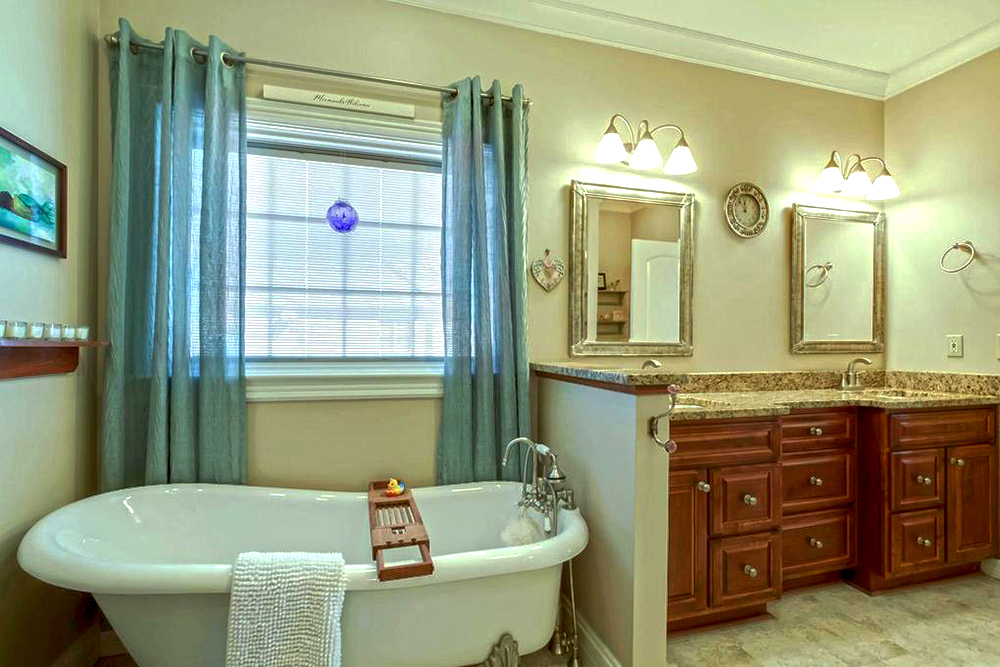 Ready to dive into an ocean-inspired retreat? Let's talk about these stunning azure blue curtains instantly transport you to the seashore. Their translucent, lightweight fabric allows soft, filtered light to permeate, creating a soothing ambiance. As you gaze at them, you'll notice the subtle shimmer that mirrors the gentle sparkle of sunlit waves. Additionally, the silver grommets not only make them easy to hang but also add a modern touch. These curtains add color to the room's neutral palette, giving it a refreshing touch. This design has everything you need if you want to blend modern style with a touch of tranquility.
17. Earthy Elegance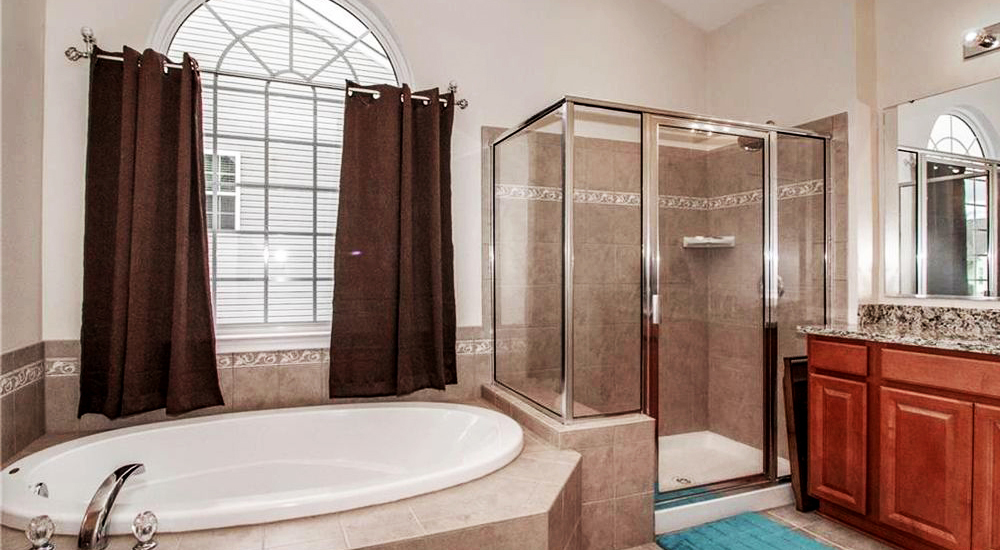 Are you on the hunt for curtains that balance coziness with chic? These deep espresso drapes exude a warmth and richness that's hard to resist. At first glance, their velvety texture beckons, promising a plush touch. The full-length design ensures optimal privacy, especially in a bath setting. Furthermore, the refined hue is versatile, seamlessly complementing lighter tiles and darker wood finishes. As for the metallic eyelets, they offer a touch of contemporary flair. So, if you're aiming for a mix of modernity and timeless sophistication, these drapes might just be your perfect match. Dive in and transform your space!
18. Taupe Tones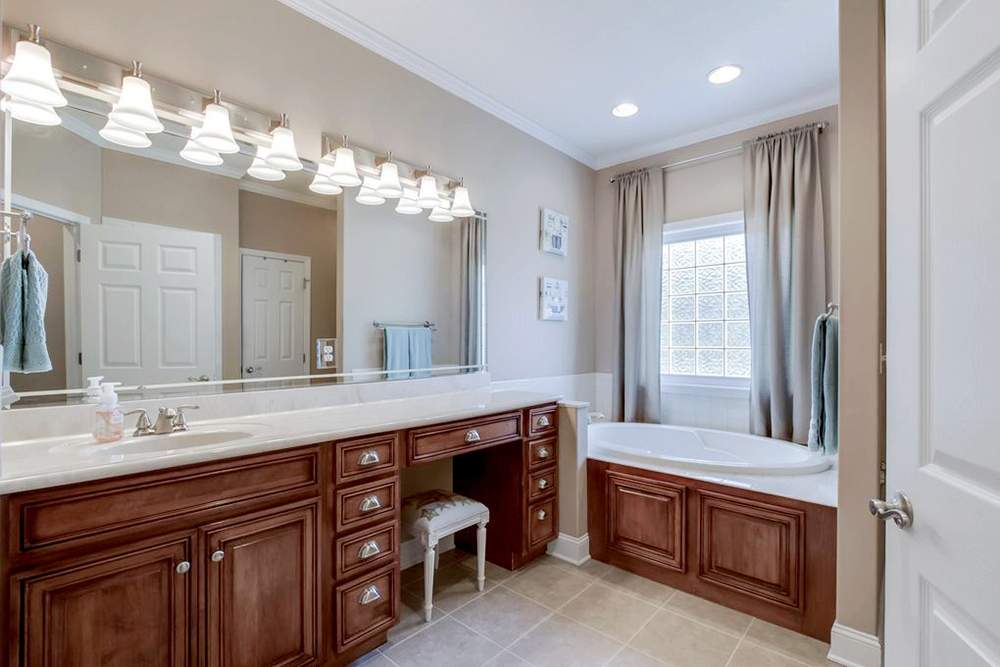 These soft taupe curtains embody a sense of calm and understated luxury. Their muted color works magic at the outset, blending effortlessly with neutral bathroom palettes. Silky to the touch, the fabric gently flows, granting an airy feel. These drapes are not just about aesthetics, though; they serve a practical purpose, too. Drawn close, they allow a soft, filtered light while ensuring privacy during those precious moments of relaxation. So, when contemplating that finishing touch for your bathroom, think subtle, serene, and taupe.
19. Modern Dark Drapes
Looking to make a statement with your bathroom curtains? These chic, dark drapes are the showstopper here. They create a striking contrast against the room's light and earthy tones. Straightaway, you notice how they command attention yet effortlessly balance the room's ambiance. Silken in texture, they cascade gracefully, enhancing the room's contemporary appeal.
Furthermore, these curtains serve more than a decorative role. Pulled to the side, they unveil a breathtaking view, and when closed, they wrap you in a luxurious retreat. So, if drama and modernity are your things, dark drapes might just be your answer.
20. Rustic Charm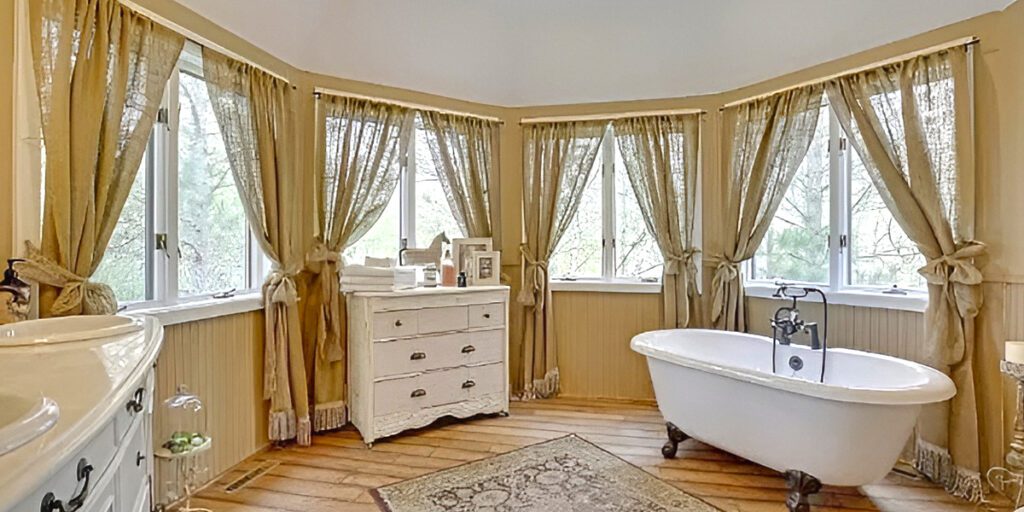 These curtains perfectly capture the essence of rustic charm. At first glance, the sheer lace overlay softens the room, allowing filtered light to pour in. Delightfully, beneath it lies a thicker burlap layer that provides privacy when needed. Tied up in casual knots, they exude an easy-going, countryside feel. The wood floor and old-school fixtures make this space becomes a cozy sanctuary. So, if you're aiming for a blend of elegance and comfort, this layered look is the way to go.
21. Elegant Sleek Charcoal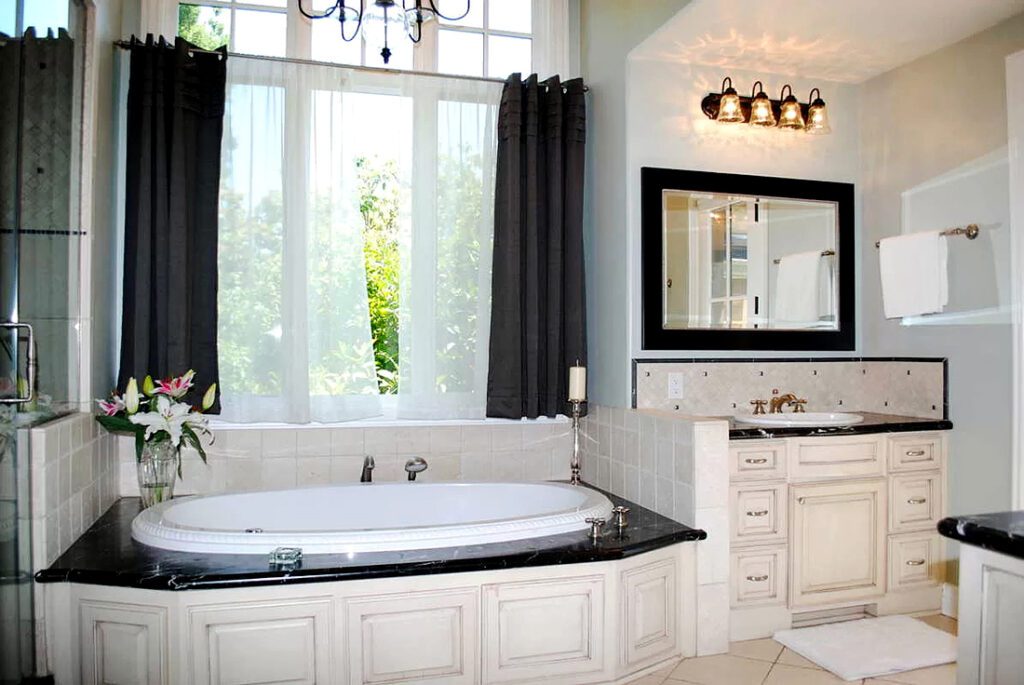 These stunning charcoal curtains boldly offer a rich contrast to the room's soft palette. Adjacently, the dreamy sheer panels gently diffuse daylight, setting a serene ambiance. What's genuinely delightful is how they can be drawn back to reveal the beauty outside or draped for privacy without darkening the space. This is the perfect combination of style and practicality. It is ideal for those who want something stylish and airy without sacrificing functionality. Dive into this style, and your bathroom will shine with unmatched elegance.
22. Regal Drapery
Searching for curtains with a touch of royalty? These drapes are a game-changer. At first glance, the intricate geometric patterns catch the eye, oozing luxury and finesse. Paired with these are the soft, cascading swags that add an opulent flair. The combination of earthy browns with silvery undertones crafts an ambiance of old-world charm yet feels contemporary. And let's not forget functionality; the swooping design allows for adjustable light control. Perfect for those days you want to bathe in natural light or indulge in a secluded soak. Give this style a whirl, and turn your bathroom into a regal retreat!
23. Golden Elegance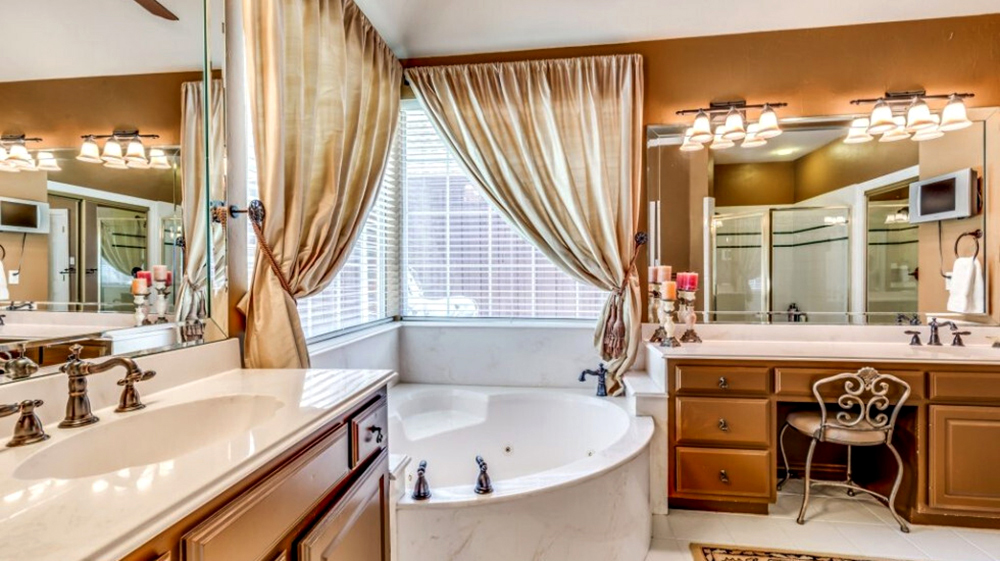 Ever thought about draping your windows in gold? Dive right in with these stunning satin curtains. Immediately, the soft golden sheen grabs your attention, enveloping the room in warmth. With their smooth fall and simple tie-backs, these curtains blend sophistication with simplicity. Plus, the gentle pleats at the top add just the right texture. They maintain their regal stance, whether pulled back for a sunlit bath or drawn for privacy. It's not just a curtain; it's an experience. Elevate your bathroom's vibe with this touch of elegance, and watch the compliments pour in!
24. Whispering Blossoms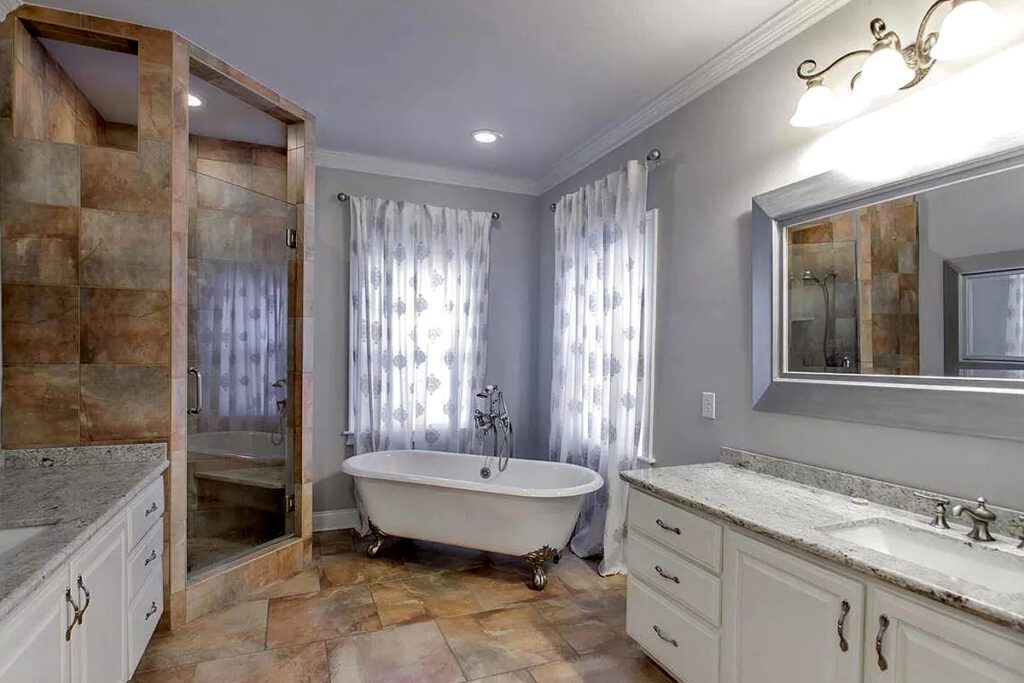 In search of a curtain that speaks serenity? Check out these ethereal delights! At first glance, the delicate floral patterns dance across the sheer fabric, casting enchanting shadows in the room. These curtains strike a balance between privacy and natural light. The neutral tone complements the bathroom's muted palette, while the floor-length design adds a touch of drama.
Moreover, the subtle floral design brings nature, softening the room's hard edges. Hung effortlessly, they sway gently, turning your bathroom into a serene escape. It's a whisper of elegance in an everyday setting!
25. Emerald Allure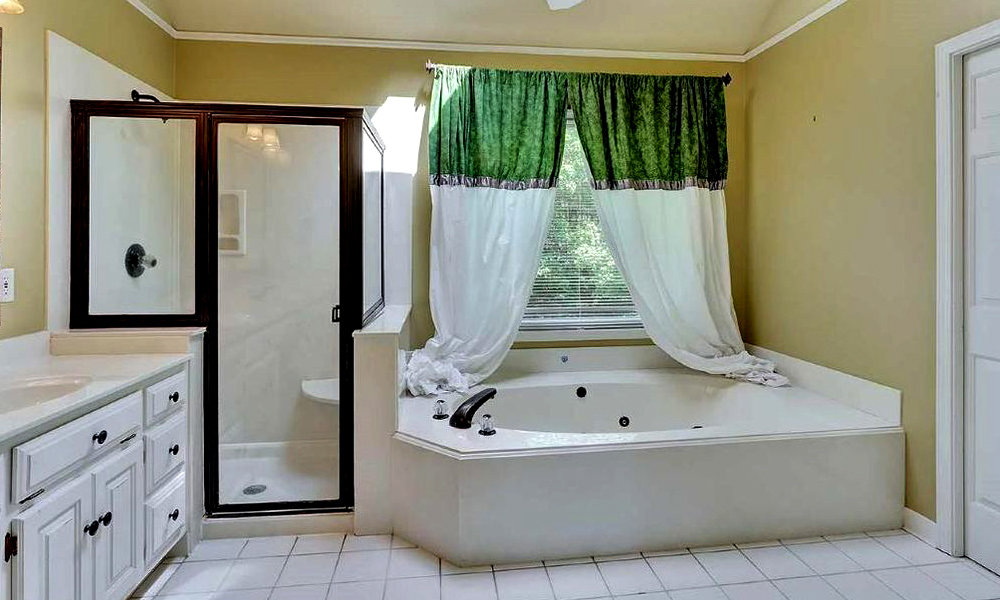 On the hunt for a splash of color? Check this out. These dual-layer curtains introduce a delightful contrast to the bathroom. The vibrant emerald valance, rich and velvety, pops against the room's muted palette. The white undercoat adds a touch of lightness and grace to the room, while the lace trim adds a touch of elegance. These curtains are a mix of old and new.
Moreover, they offer just the right amount of privacy while letting in a subtle, natural glow. Positioned over the bathtub, they create a serene backdrop for relaxation. It's a fresh, chic, timeless bathroom curtain choice.
26. Regal Elegance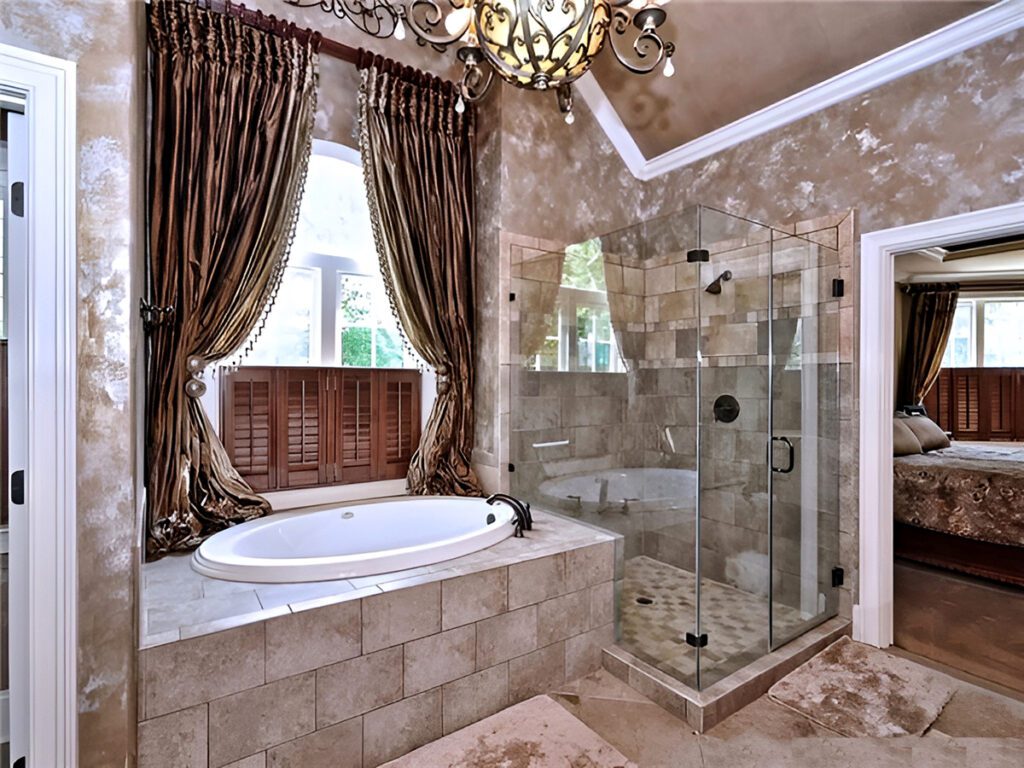 Are you dreaming of a bathroom that feels like a palace chamber? Dive into this design. These luxurious curtains exude opulence with their rich, deep bronze tones. At first glance, the heavy, pleated drapes adorned with intricate bead detailing steal the show. The velvety texture harmoniously complements the room's upscale ambiance. Furthermore, the curtains pool gracefully at the bottom, adding depth and dimension. The tiebacks? A classic touch that showcases the stunning wooden shutters behind. Pair this with the room's ambient lighting; you've got a curtain design that's nothing short of majestic. It's grandeur at its finest.
27. Nature Palette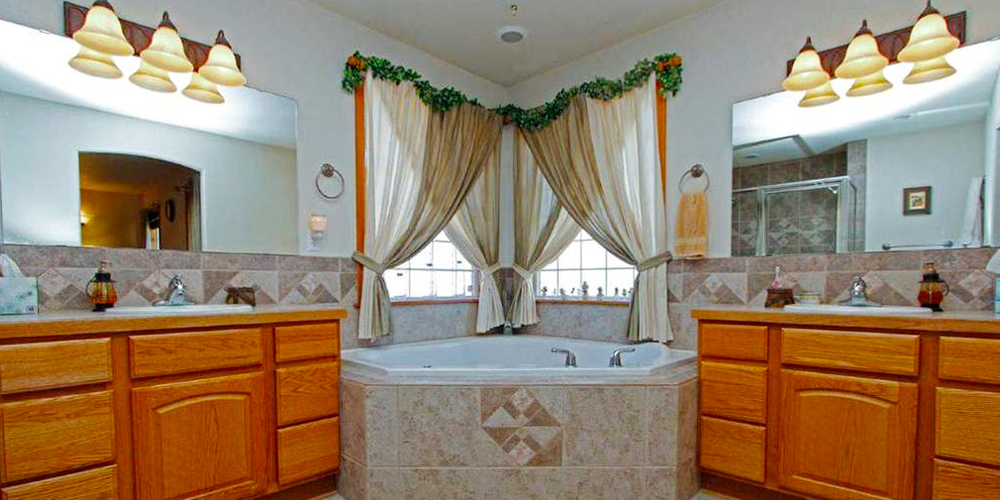 Ever thought of bringing a touch of the outdoors inside? Look no further. These curtains perfectly capture a rustic, nature-inspired vibe. Right off the bat, the soft beige drapes, effortlessly tied in the middle, invite a sense of warmth and relaxation. The light lets enough sunlight filter through, setting a calming tone.
Moreover, the leafy garland gracefully draped on top provides a delightful pop of green. It's a subtle nod to Mother Nature. Everything comes together seamlessly, with the wooden cabinets mirroring the curtain rod's hue. These curtains make the space a beautiful blend of comfort and style.
28. Royal Red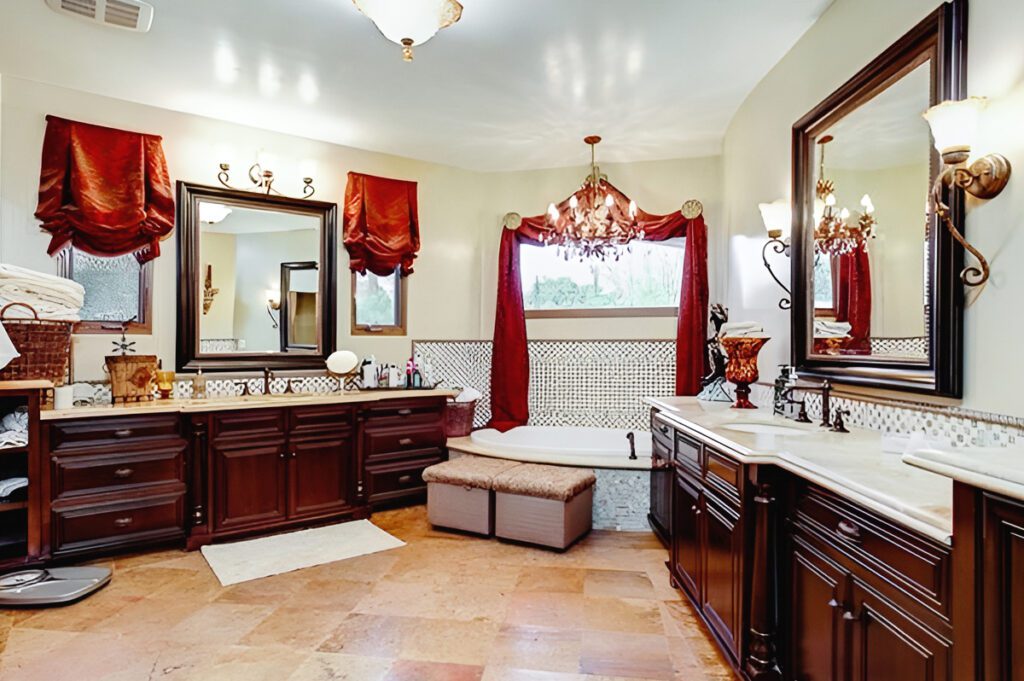 These opulent red curtains are the epitome of luxury and sophistication. First, the rich, velvety texture exudes a sense of royalty. And those sumptuous drapes? Tied up in stylish poufs, they offer privacy and serve as an eye-catching focal point. Meanwhile, the full-length curtain, gracefully framing the window, adds depth and drama. Pairing these curtains with the ornate fixtures and dark wood finishes elevates the entire space. In essence, they transform an ordinary bathroom into an elegant, regal retreat.
29. Bronzed Beauty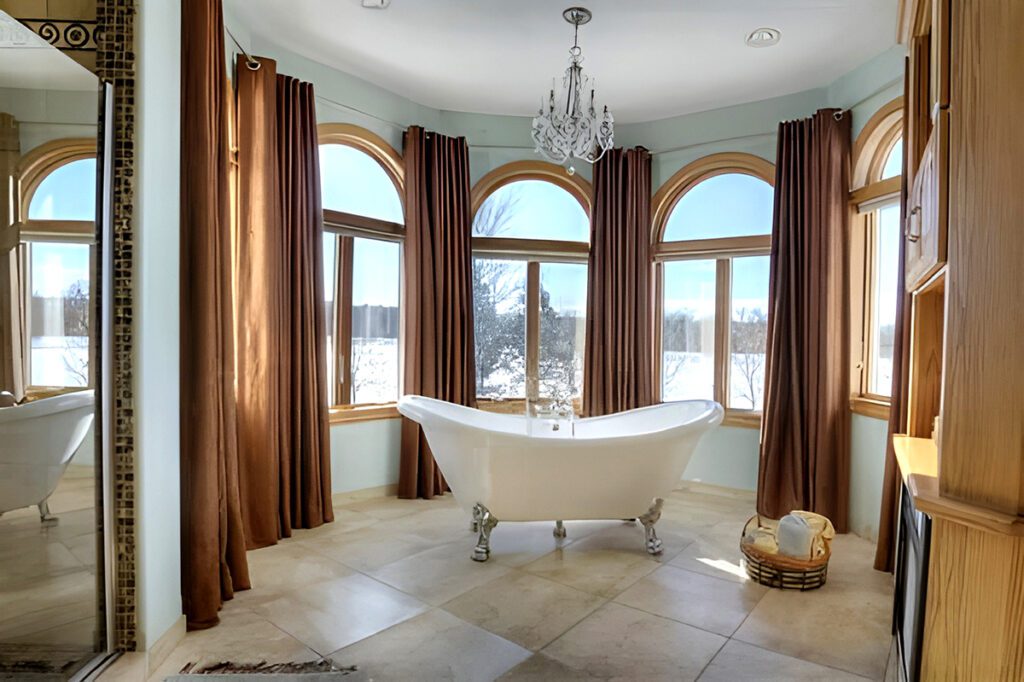 If you want curtains that marry style with simplicity, these beauties are your perfect match. These bronzed curtains radiate warmth and elegance. At first glance, the silky-smooth texture effortlessly catches the sun's rays, infusing the room with a gentle, natural glow. What's more, the full-length design magnifies the spaciousness of the area. But here's the kicker: the subtle detailing along the curtain's edge adds a hint of vintage charm. Paired with the arching windows, they create a serene, timeless look.
30. Midnight Serenade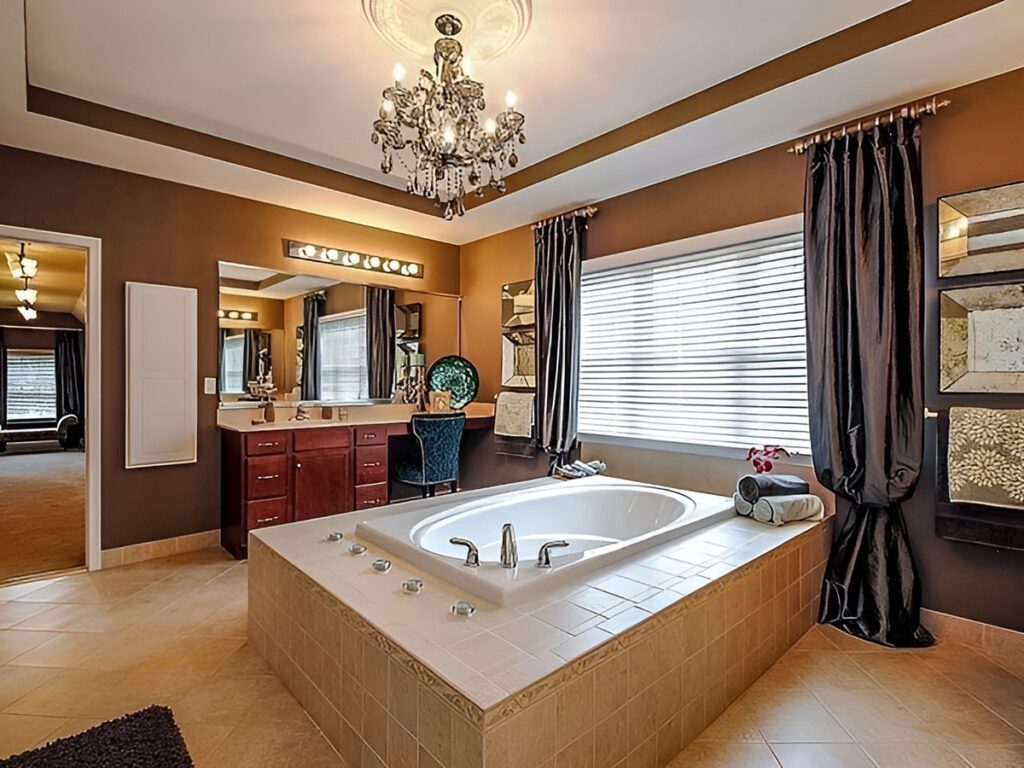 The deep, charcoal-hued curtains in this bathroom exude confidence and sophistication. Their velvety texture immediately commands attention, giving the room a rich, opulent feel. Paired with modern blinds, they offer privacy and light control versatility. Interestingly, their floor-length drape adds a touch of dramatic flair, playing beautifully against the room's neutral palette. To sum it up, if you're yearning for curtains that blend the contemporary with the classic, these dusky drapes are a dream come true.
31. Ruby Ruffles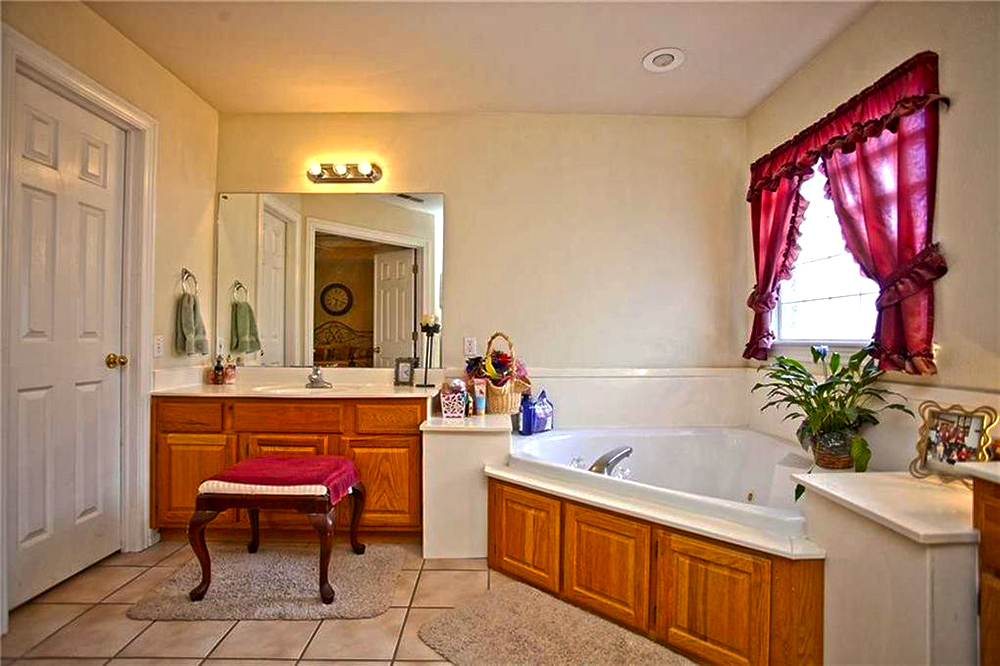 For those after a blend of old-world charm and contemporary brightness, these ruby-red ruffled curtains are a gem. Their vibrant hue injects a splash of warmth and nostalgia into the bathroom. With their intricate ruffles, they radiate a classic, vintage appeal. Now, pair them with the creamy walls, and you have a striking contrast that's hard to ignore. Moreover, their modest length ensures privacy while allowing ample natural light.