Black curtains in the bedroom? It's bold, audacious, and oh-so-chic. But, your bedroom decor must be harmonious to let them shine truly. Ready to unravel the mystery of pairing those dark drapes with the perfect decor? Let's explore the 29 elegant bedroom designs with black curtains.
1. Traditional Charm Meets Modern Aesthetics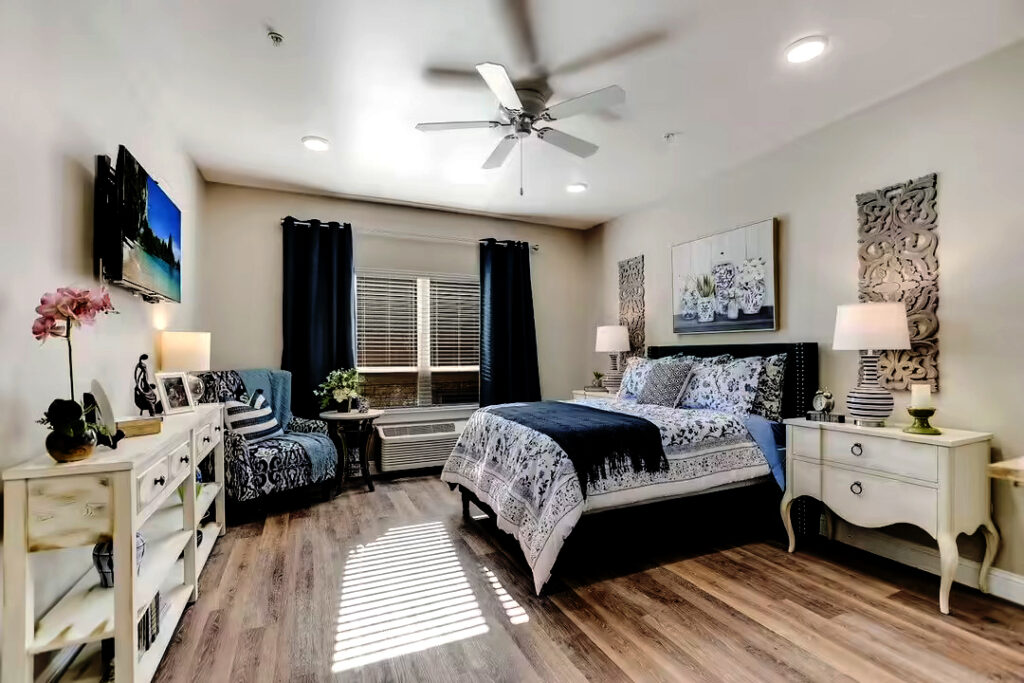 Right off the bat, this room gives us a cozy handshake of yesteryears and a high-five of today's style! Those black curtains? A nod to contemporary style, elegantly framing the window and adding a touch of modern sophistication. Meanwhile, the white and blue-patterned bedding and chair whisk us to a vintage era, offering a comforting nostalgia. Don't even get me started on the intricate wall art and classic wooden pieces; they scream timeless charm. And that pop of green from the plant? Perfection! This room is a masterclass balancing today's trends with yesteryear's classics.
2. Black Curtains Meet Urban Chic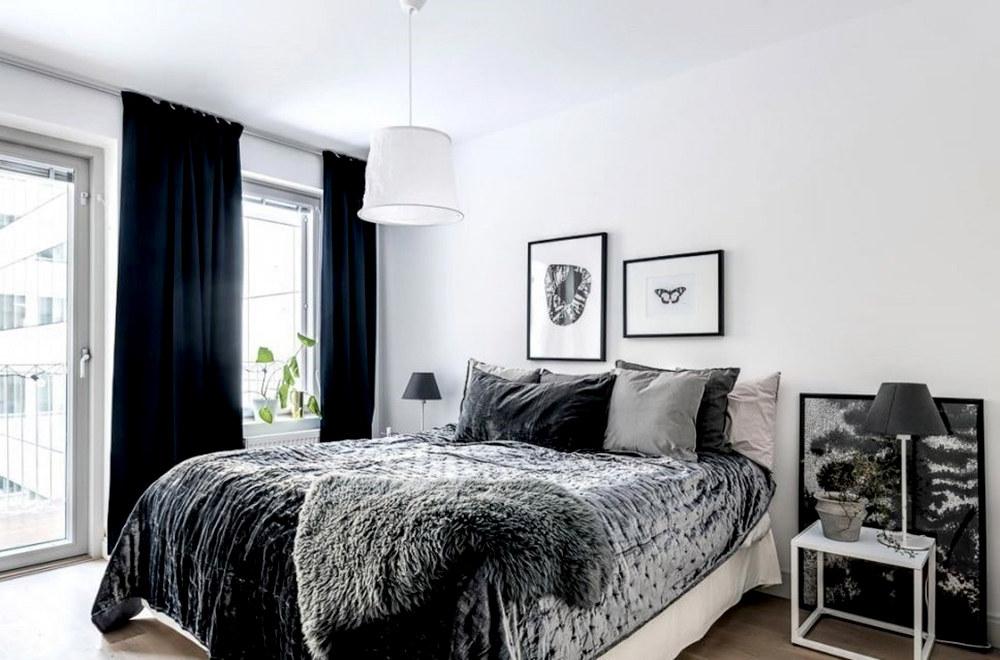 Feast your eyes on this ultra-modern oasis. Those jet-black curtains? They're the unsung heroes, setting a moody, chic tone while perfectly contrasting the bright white walls. Dive into that plush bedding with its varying shades of gray – it's like a cloud with a silver lining, right? Now, let's talk art: minimalistic frames that nod slightly to nature and whimsy. The plants perched by the window? A refreshing pop of green that breathes life into the room. This is it if you aim for a stylish, urban retreat with black curtains! Pure inspiration!
3. Coastal Calm Meets Modern Glam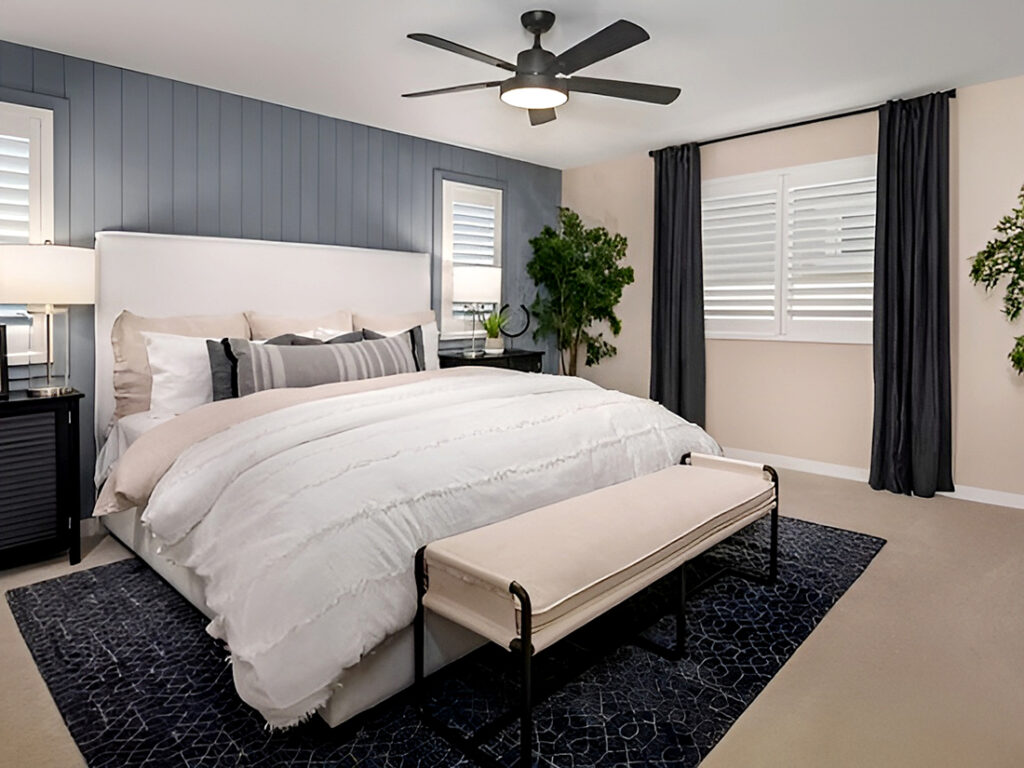 Let's dive into this serene bedroom space! Can we take a moment for that gorgeous shiplap wall in muted blue? It's giving us major coastal vibes. Now, enter the black curtains. These aren't just window treatments; they're the statement piece, adding depth and a touch of drama to the room's soft palette. Dive into the bed – with its plush white bedding and contrasting pillows, it's a dream waiting to be had. Notice the geometric rug? A modern twist in an otherwise tranquil space. And those shutters framed by the curtains? Sheer genius! This bedroom? It's where coastal dreams meet modern elegance.
4. A Palette of Comfort & Elegance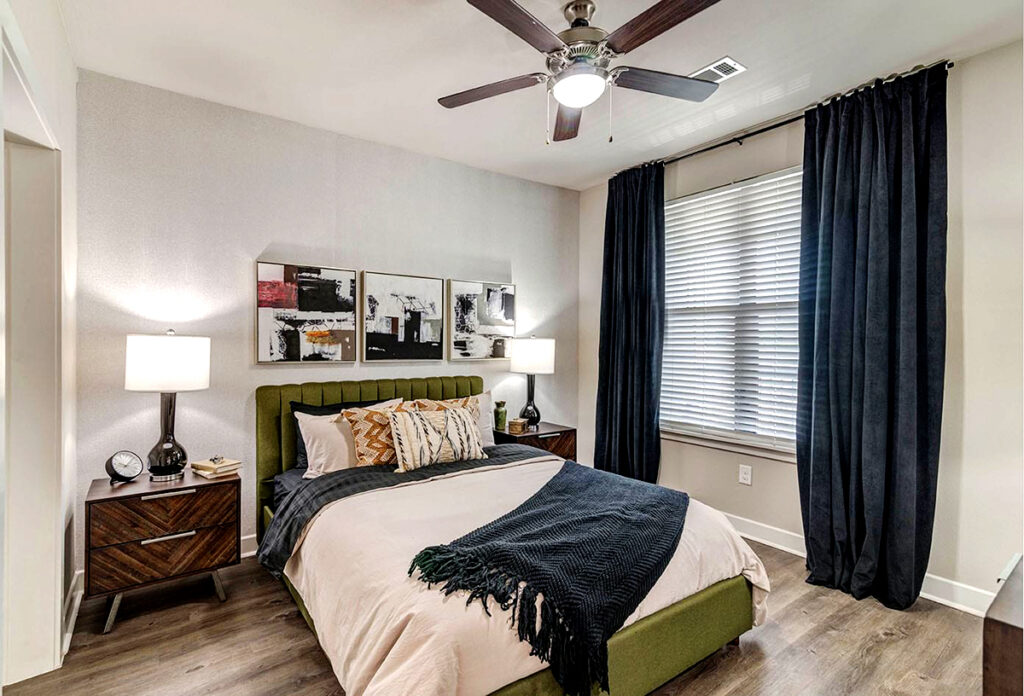 This space is a delightful blend of comfort and style, proving black curtains can elevate your bedroom game. Notice the black curtains? They lend a touch of sophisticated drama while beautifully offsetting the muted walls. Now, let's talk statement pieces: that olive-green tufted headboard? A total scene-stealer! Paired with eclectic monochrome wall art, it adds flair without overwhelming the senses. The earthy wood nightstand and geometric bedding patterns further bring warmth and texture. And that cozy navy throw? Perfect for snuggling under during chilly evenings.
5. Nautical Nuances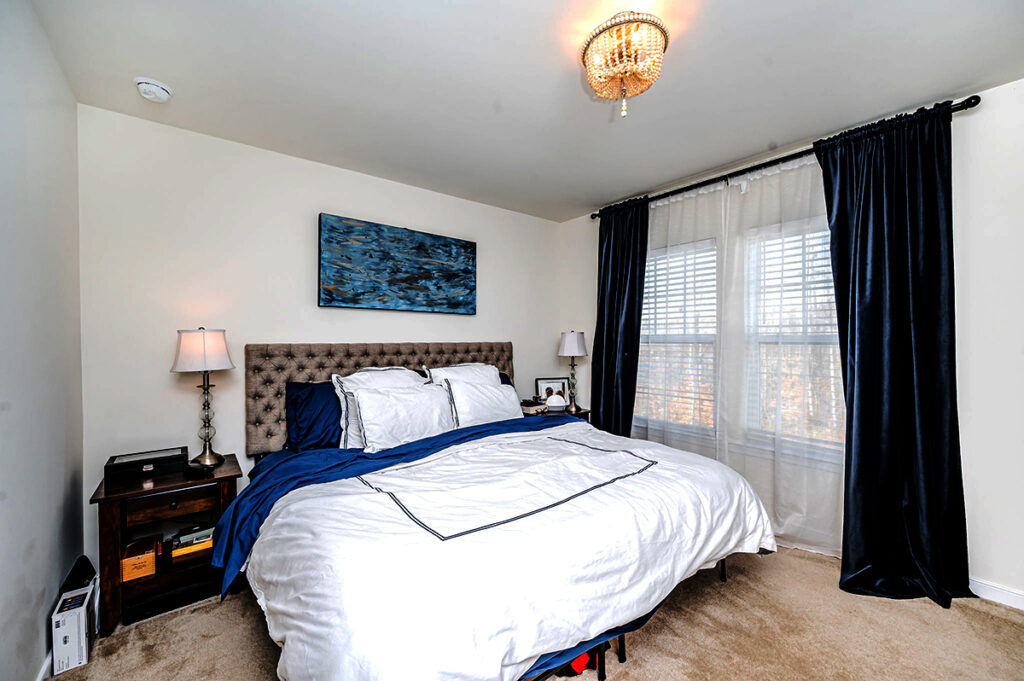 Next is the serene sea-inspired sanctuary. Those velvety black curtains? A dream. Paired with gauzy sheers, they allow for that dreamy soft light while offering evening privacy. The tufted headboard in taupe? It oozes luxury and comfort. Now, let's set our sights on that deep blue and crisp white bedding combo – it's like the ocean meeting the clouds. And speaking of oceans, the abstract blue artwork above the bed ties the theme together. Don't miss that glitzy chandelier, adding a sprinkle of glamour. This bedroom? It's where maritime meets luxury. Talk about sailing into sweet dreams!
6. Merging Minimalism with a Burst of Color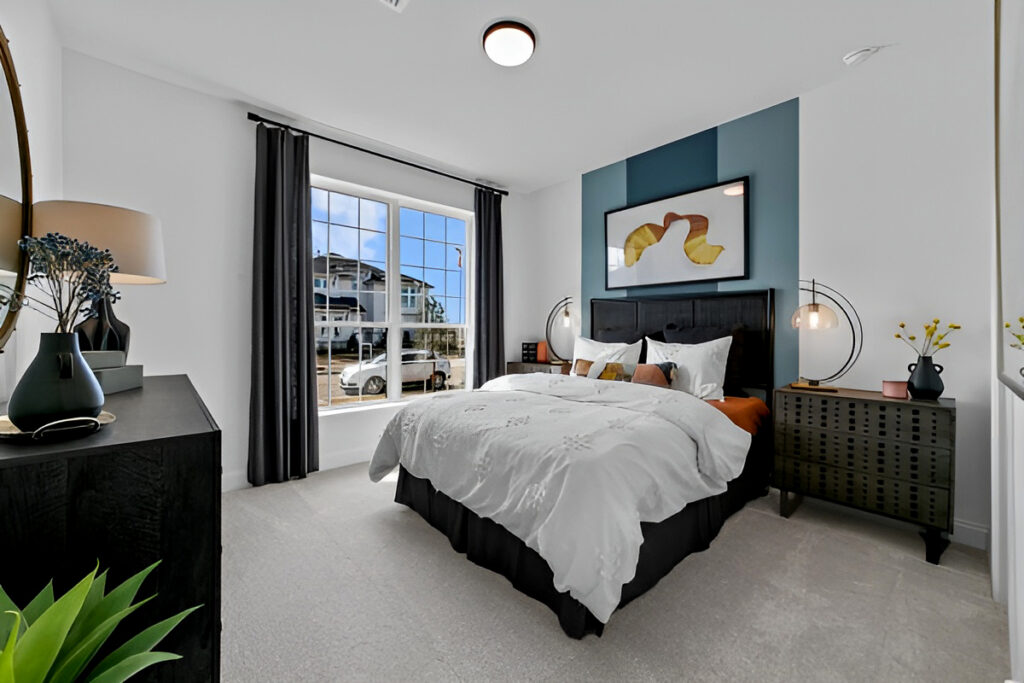 This bedroom is a testament to the fact that black curtains and bold colors can coexist! Those curtains gracefully frame the window, subtly complimenting the room's clean lines. Dive into the center, and an inviting bed greets you, but that bold teal accent wall behind it steals the show. Paired with abstract art, it creates a focal point that's both refreshing and sophisticated. Love details? Check out the dark-toned furniture, each piece exuding modern charm. And those hints of greenery? They breathe life and warmth into the space.
7. Zesty Lime Meets Oceanic Blue
Let's dive into this beauty! Those deep black curtains set a luxurious backdrop, adding instant elegance and contrast. But, oh, the real star here? That zesty lime green wall creates a vibrant pop that energizes the room. Balance it with a calming ocean-blue quilt; you've got harmony. The dark headboard and furnishings ground the space, while fun details like striped vases and eclectic cushions add personality. It proves you can pair bold with calm and achieve a cozy, chic bedroom retreat. Black curtains, you've met your vibrant match!
8. Golden Hues & Midnight Blues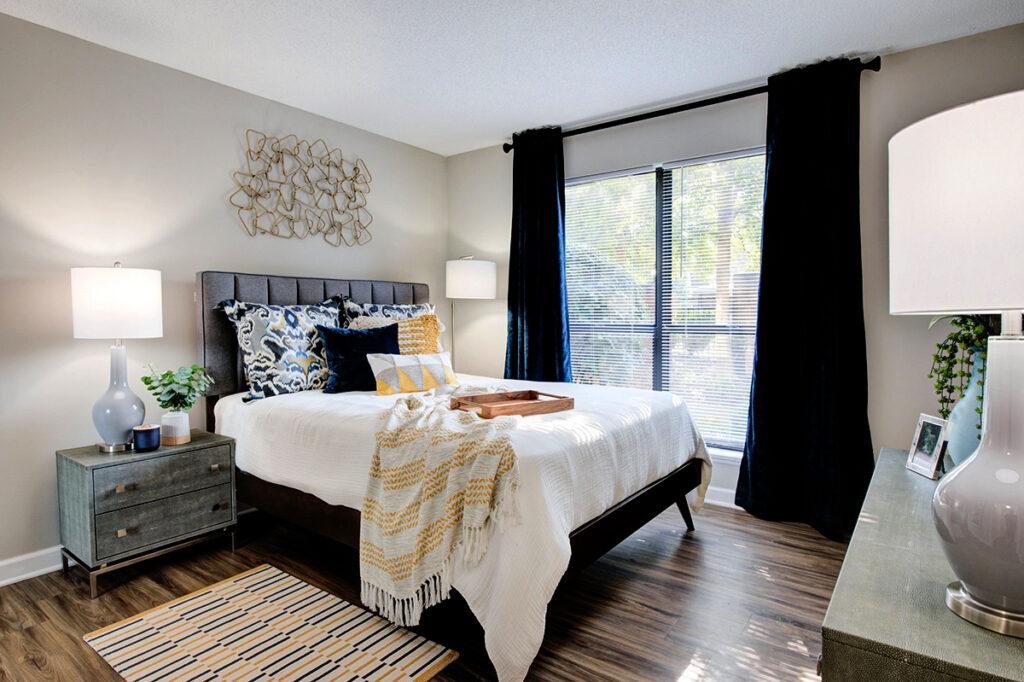 These rich black curtains are the perfect frame for a serene outdoor view. But take a step back, and you'll see they also blend beautifully with a neutral palette spiced up with golden and blue accents. The art on the wall is a subtle nod to nature, tying in the outdoorsy vibe. With playful patterned pillows and that chic striped rug, this room screams style and comfort. The blend of textures and colors is just right – like modern artwork. Who knew black curtains could be the key to such magic?
9. Sleek Lines & Whimsical Designs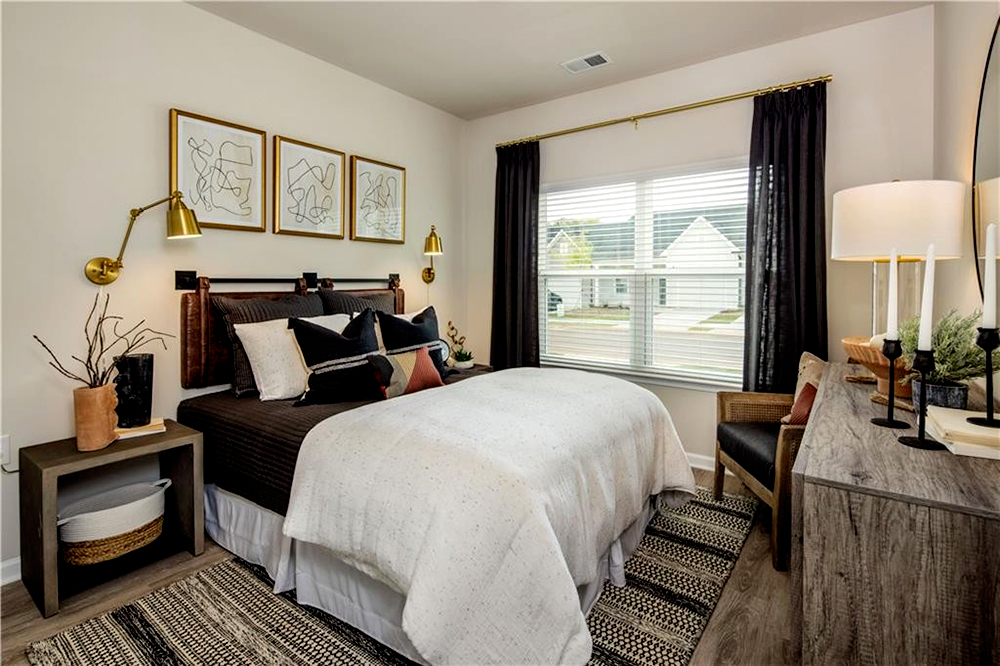 Next, the bedroom oasis that is both stylish and cozy. Notice those sleek black curtains? They don't just offer privacy; they add drama to the space. The room exhibits modern elegance and abstract line art in golden frames. The mix of patterns on the cushions breaks up the formality, adding a touch of whimsy. Brass light fixtures add a vintage flair, while the wooden bedside table brings an earthy warmth. It's all about balance here. Every piece has its place, creating a harmonious blend of textures and tones. What a delight!
10. Geometric Harmony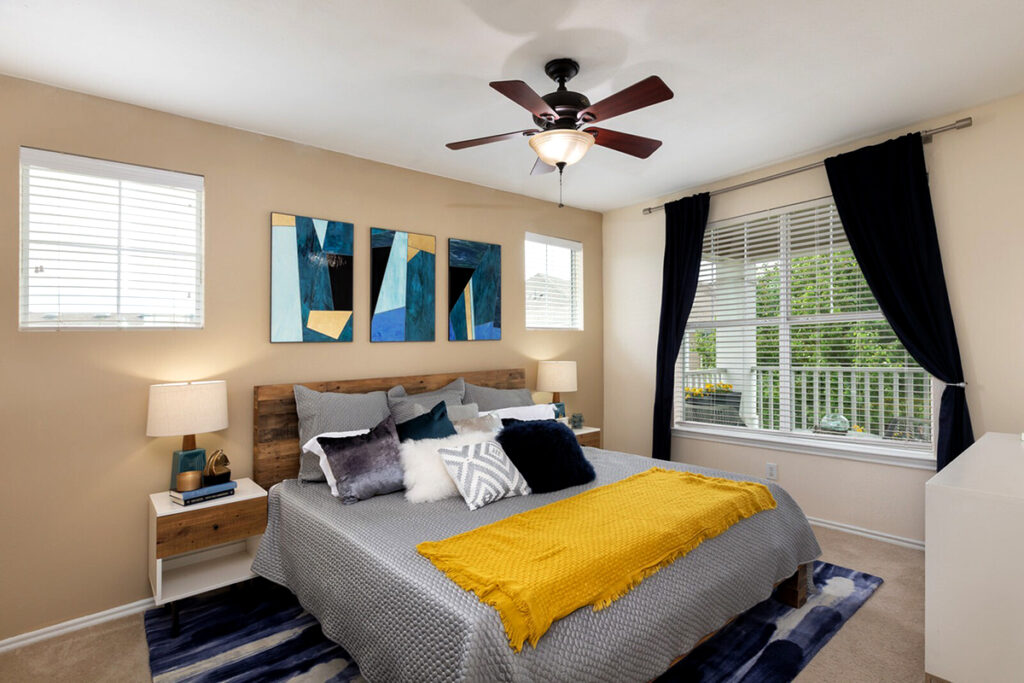 Here's a serene bedroom that effortlessly blends geometric patterns and plush textures. The striking black curtains frame nature's beauty, while those vibrant artworks catch the eye. Cozy pillows, a pop of yellow, and that chic rug—this space radiates comfort and style. It's a modern masterpiece!
11. Golden Elegance with a Touch of Noir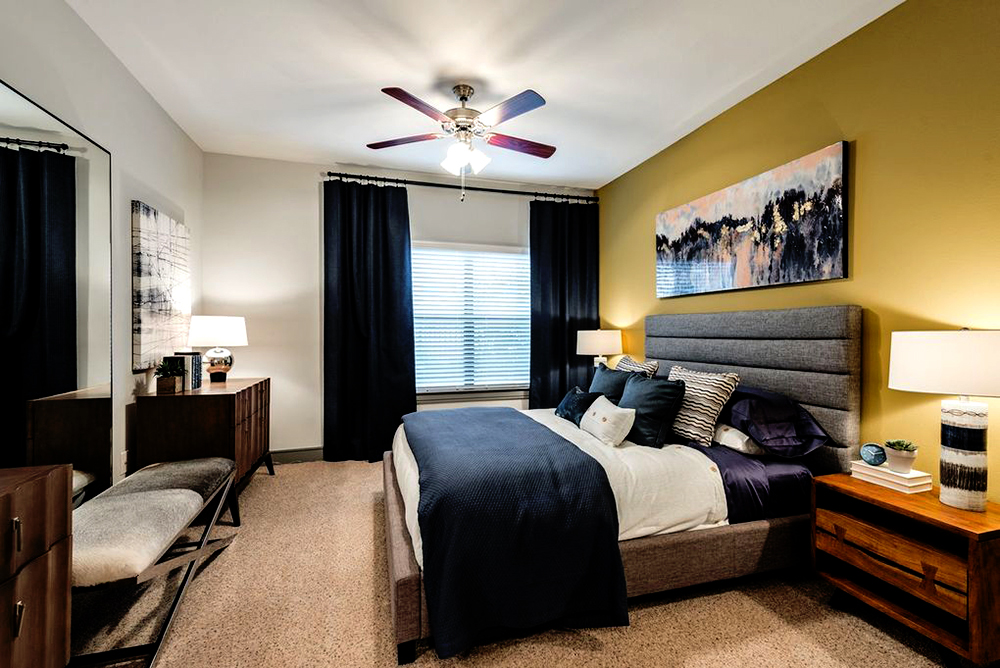 Rich golden walls meet sleek black curtains for a dash of drama. The abstract art piece sings harmoniously with deep blue bedding, while wooden accents ground the space. It's where timeless elegance meets modern charm. Total dream, right?
12. Subtle Sophistication Meets Sunlit Serenity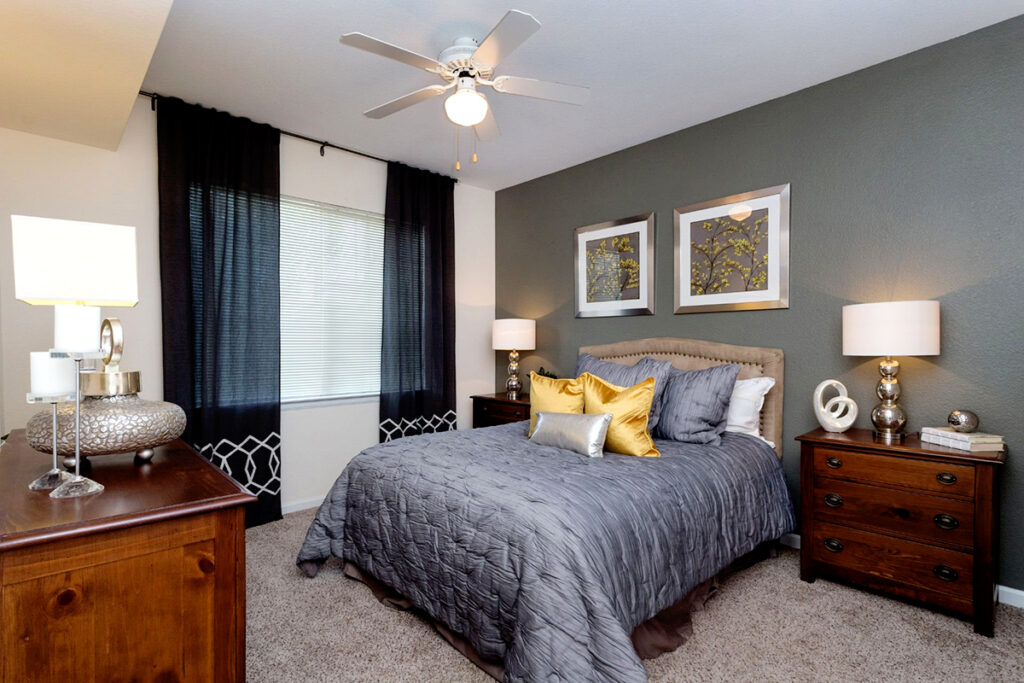 Look no further if you're looking for a cozy and chic bedroom. This decor highlights black curtains and luxurious gold pillows against calming gray bedding. Dive into the plush quilted comfort, and you might never want to leave! This design is also a masterclass blending modern art with vintage-inspired wooden furnishings. It's a sanctuary where soft lighting pairs perfectly with dreamy gray walls, ensuring every morning and evening feels like a pampered retreat. How's that for living the good life?
13. Timeless Tranquility with a Modern Twist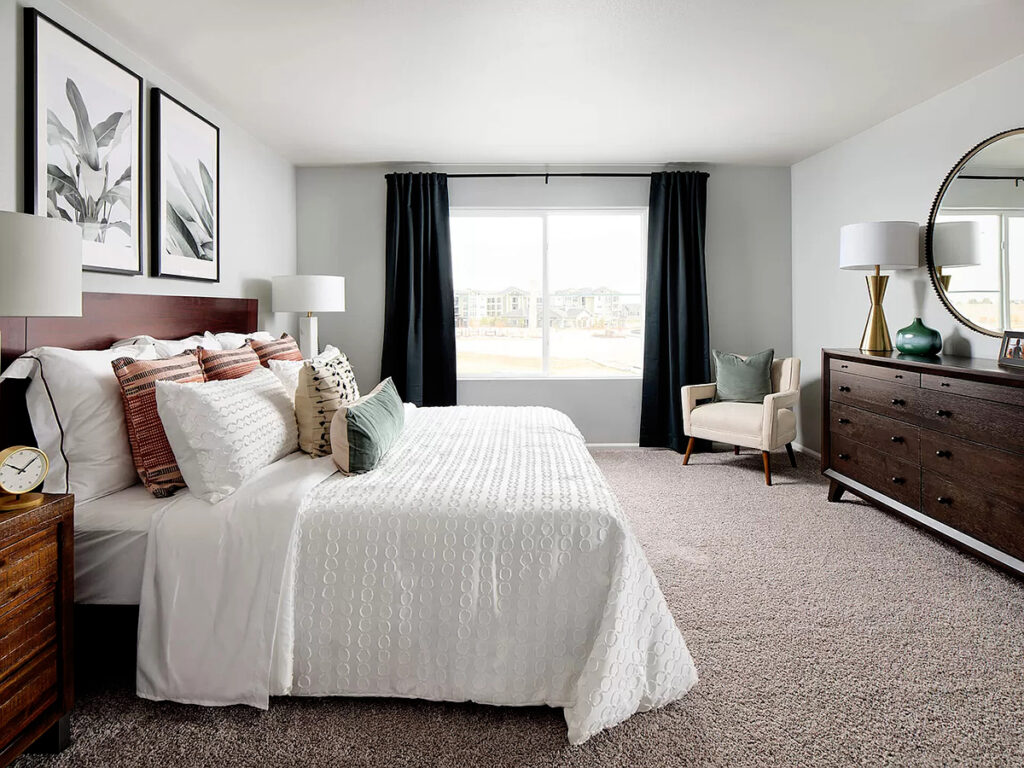 This bedroom is the definition of a modern-day retreat! It seamlessly marries classic and contemporary. The soft, white bedding with its delicate pattern invites you for a peaceful slumber. The muted colors of the cushions add a touch of earthy warmth, don't they? And can we talk about those botanical prints? They lend an air of nature-inspired sophistication. The dark wooden furnishings ground the space, while the quirky, green-hued lamp and circular mirror keep things fresh. And that cozy armchair by the window? It's the perfect spot to curl up with a book. It's a room that says, "Relax, you're home."
14. Chic Comfort with Vintage Vibes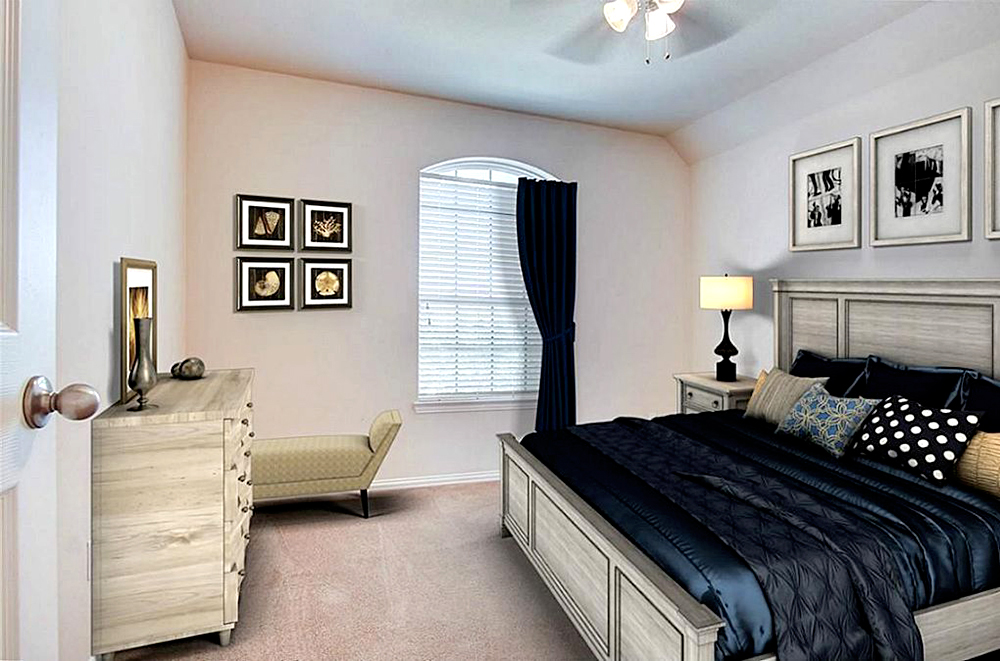 Welcome to a bedroom that sings of elegance and nostalgia! That soft, blush wall, for starters, sets a serene backdrop. It's subtle yet so chic. The black-and-white photos? They whisk us away to yesteryears, adding a beautiful touch of vintage charm. That deep blue bedding is a bold choice and paired with the patterned pillows, it's a match made in decor heaven. The light wood dresser and bed frame bring a natural vibe, complemented beautifully by that plush bench. And, let's not forget the tall, dramatic black drapes. They're the cherry on top, adding just the right amount of drama!
15. Urban Oasis with Modern Flair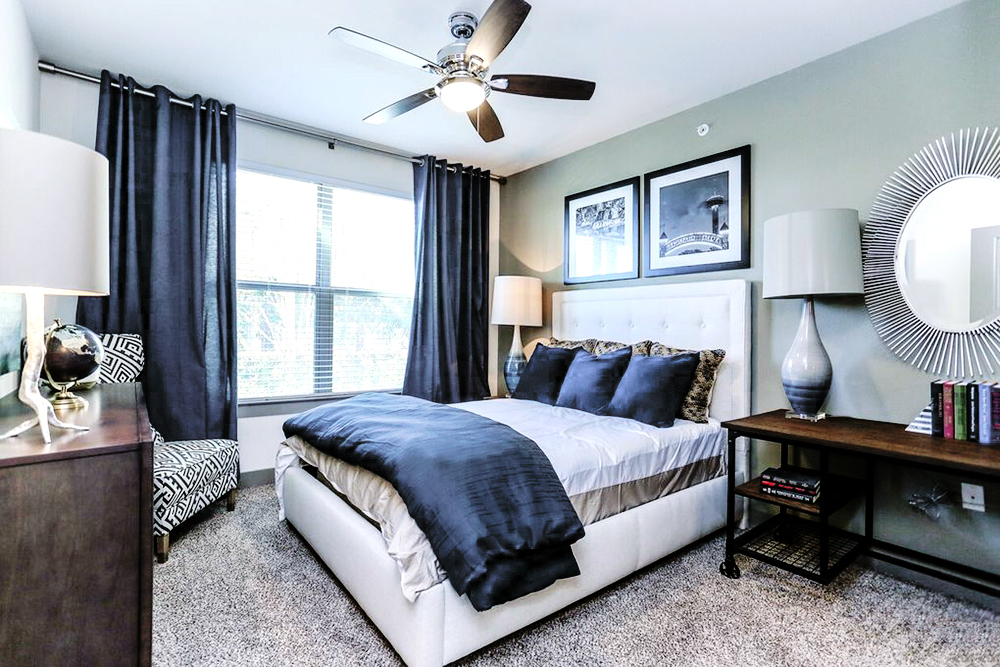 Next up. Let's dive into this bedroom's contemporary charm. The soothing sage wall gives an inviting warmth, perfectly offsetting those deep black curtains and matching bedspread. Admire the framed cityscapes above the bed – talk about chic urban vibes! A geometric patterned chair add a fun twist, while that standout sunburst mirror? Absolute showstopper! Let's not miss the lamps with their unique bases. Together, they curate a room that's both trendy and restful.
16. Classic Elegance Meets Modern Comfort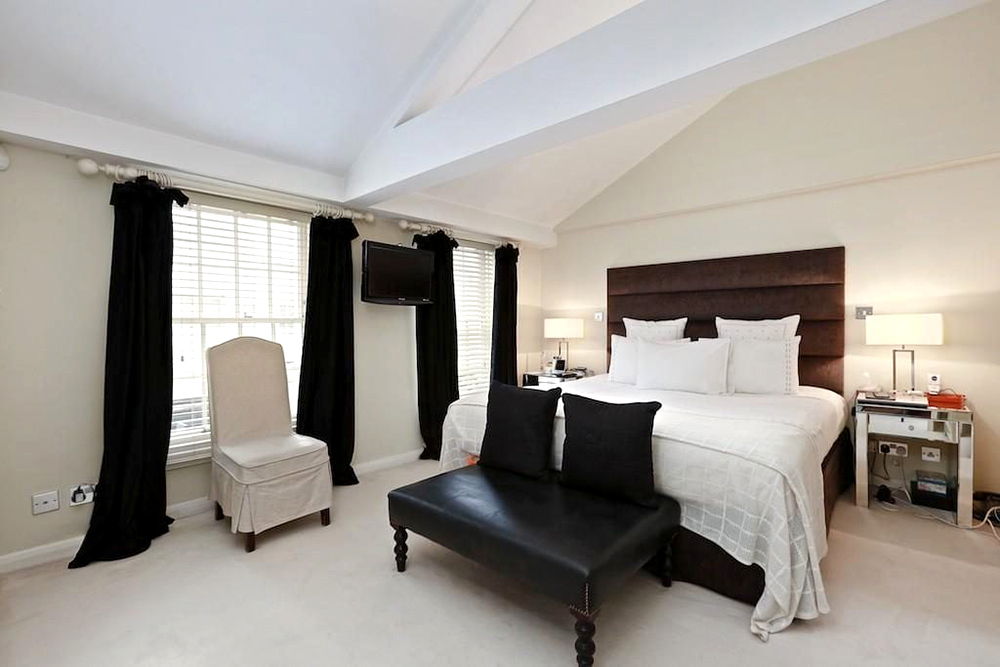 Stepping into this bedroom feels like a breath of fresh air. Notice the bold contrast? Plush white bedding against that rich wooden headboard screams sophistication. Black curtains add drama, while the chic chair offers a vintage touch. And that sleek nightstand? Perfect for your bedtime reads. Pure class, right?
17. Cozy Corners and Artistic Flair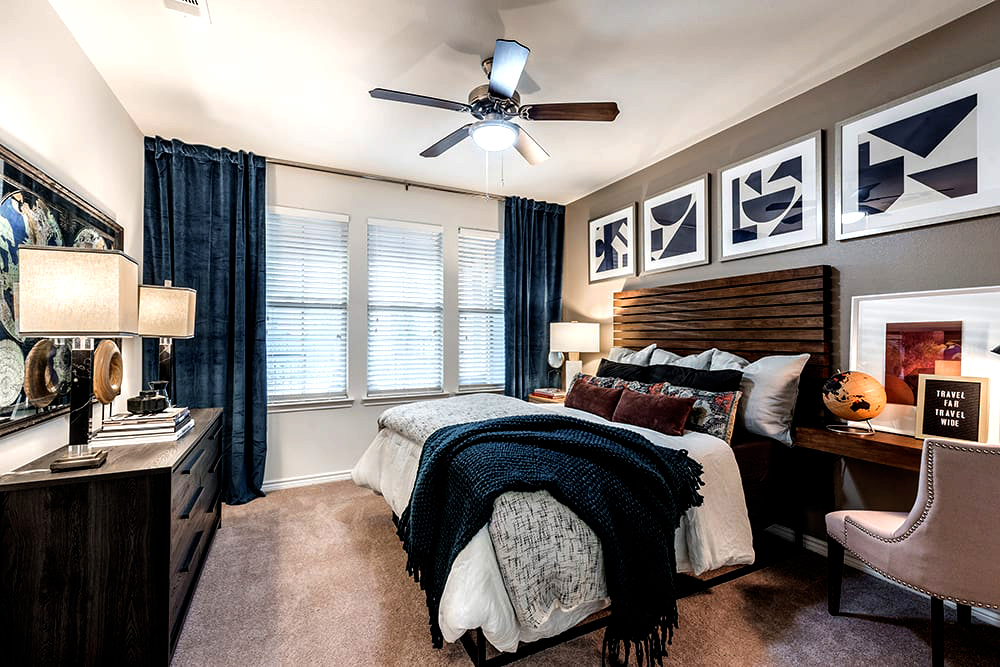 Talk about bedroom goals! The modern abstract art catches the eye, doesn't it? I love how those cozy textures, from the knitted throw to the velvet pillows, blend seamlessly with the wooden accents. The inspirational quote by the bed? A gentle reminder to embrace every adventure. The deep black curtains add a touch of elegance and contrast. They're stylish and functional, too – perfect for blocking out morning light for those lazy Sundays. The rich hue ties the room together, beautifully complementing the art and bedding. An authentic statement piece!
18. Coastal Elegance Meets Modern Comfort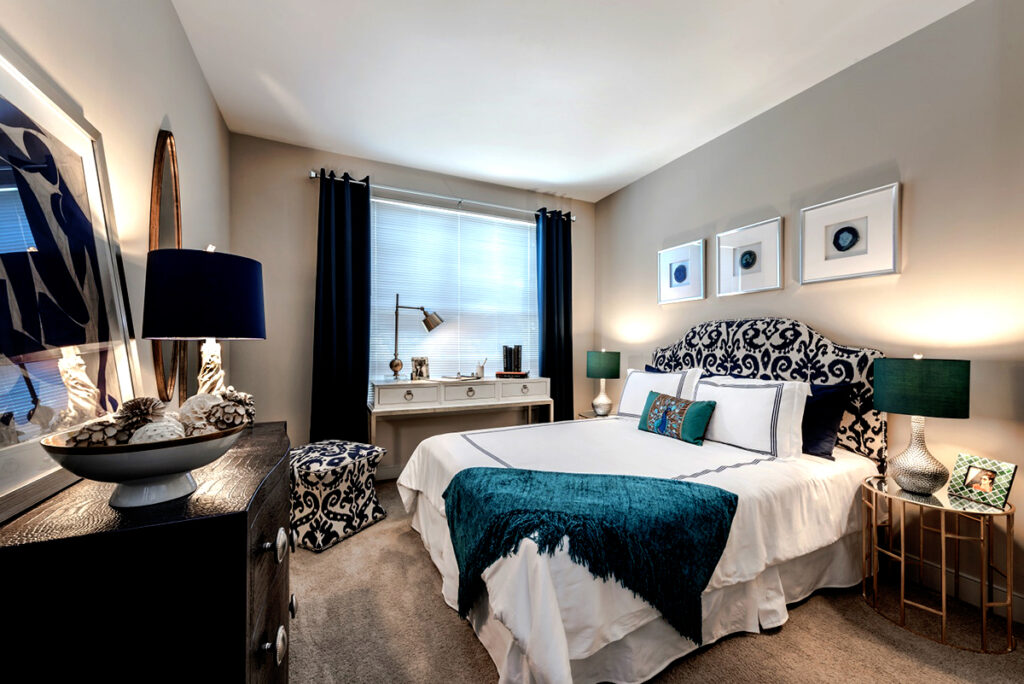 Next up, the coastal elegance meets modern comfort. First up, that majestic headboard – isn't it a showstopper? Slide your gaze over to our art trio, minimal but oh-so-striking. And can we talk about that sleek desk? Work meets style right there. Now, those deep black curtains paired with breezy blinds? They're channeling some major oceanfront vibes. And to wrap it all up, that teal throw that's just twinning with the bedside lamps. In this room, every little touch tells a story.
19. Surfer's Retreat in the City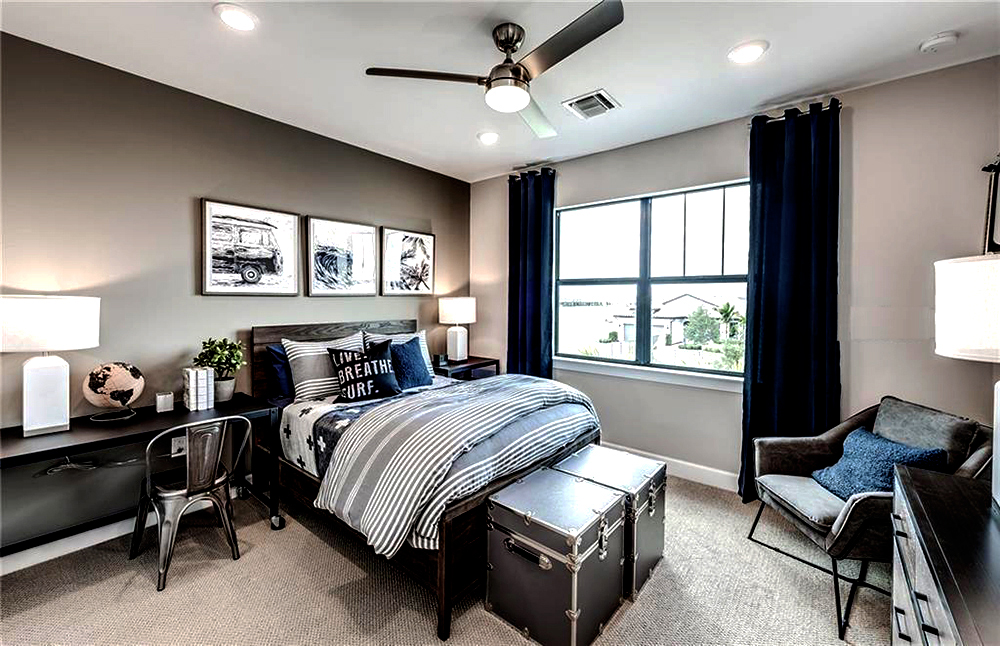 Let's ride this wave of urban-meets-beach! Bold black curtains frame a city view, grounding the room. The monochrome surf-themed art? Totally rad. Dive into striped linens and that catchy pillow. And hey, the metallic chair and trunk? They're like sleek surfboards for the city. Chill vibes, right?
20. Nautical Meets Modern Elegance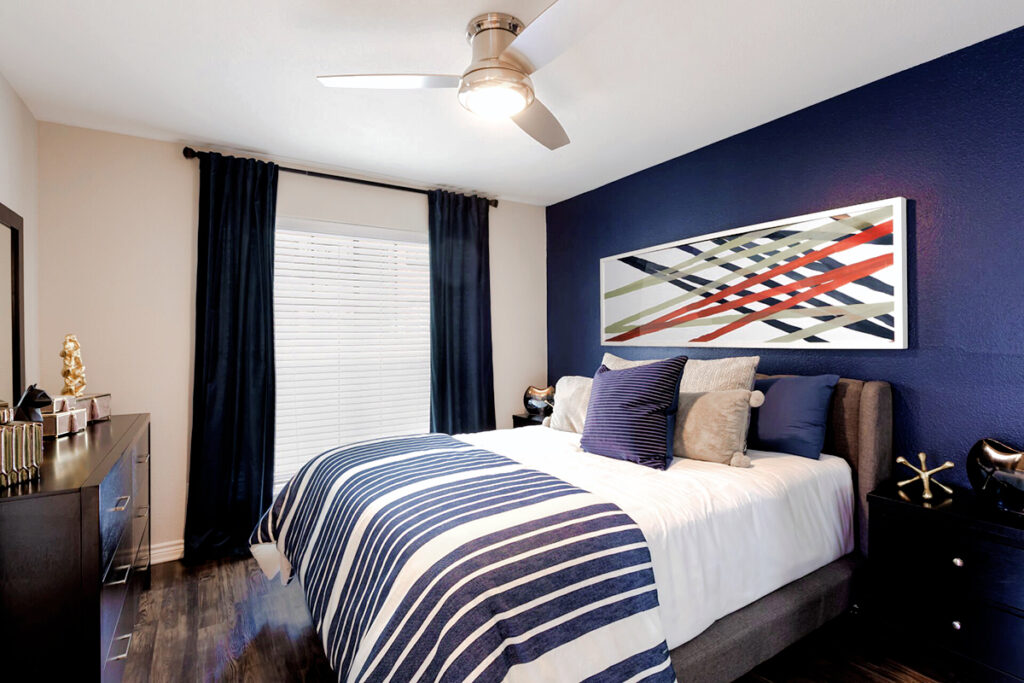 Set sail on this bedroom's sea of sophistication. Those black, luxurious curtains? Perfectly anchored against a navy accent wall. And can we talk about that statement artwork? Stripes intersect at all angles, pulling the room's color palette together. The striped comforter and plush pillows? It's pure coastal chic. Notice the gleaming decor accents and that cheeky anchor. Dreamy, right? It is a perfect blend of ocean vibes and urban glam.
21. Black & White Bliss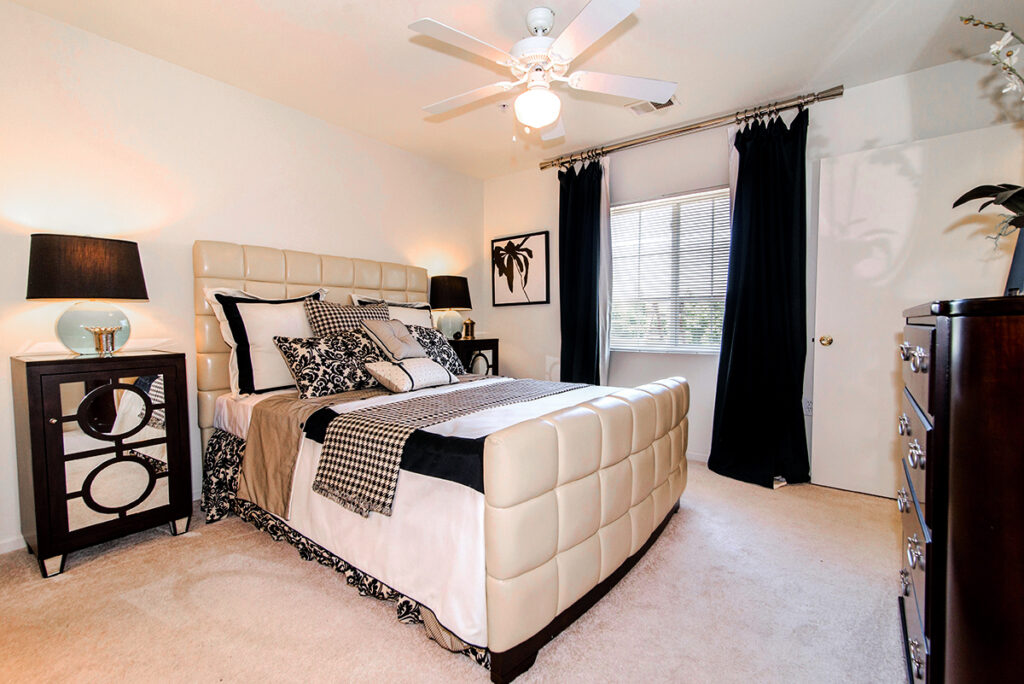 This bedroom exudes refined elegance with a refreshing touch! Those deep black curtains create a striking contrast against the pristine walls. Do you feel that? Drama and sophistication in one fell swoop. And that tufted white bed? It's like sleeping on a cloud. But wait, there's more: check out the intricate patterns on the bedding. Mix and match done right! Those geometric nightstands and sleek lamps? The cherry on top. Indeed, this room shouts refined elegance with a modern twist. How refreshing!
22. Rustic Elegance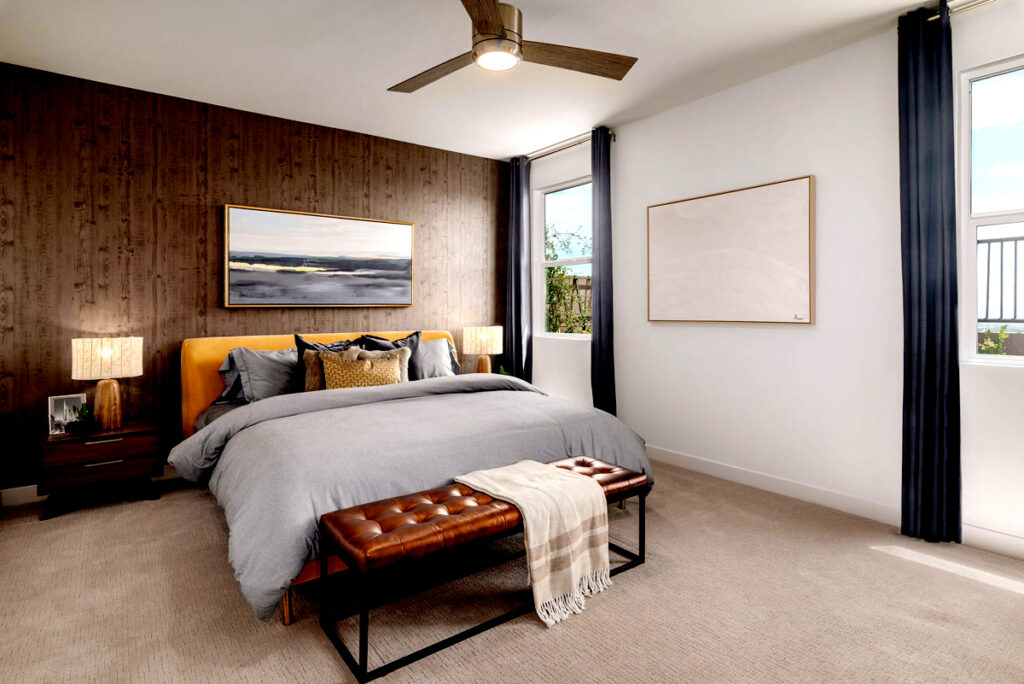 This room's got the magic touch of blending rustic vibes with modern allure. Notice those black, flowing curtains? They frame the window like art, letting in just the right light. Now, let's talk about wall texture. That wood paneling? It brings warmth and an earthy vibe. And those paintings? Pure serenity. But the star here? That mustard headboard—oh-so-trendy and plush! Paired with the silver bedding and the leather bench at the foot, it's clear: this room mixes rustic and modern effortlessly. A true retreat after a long day!
23. Bold Meets Serenity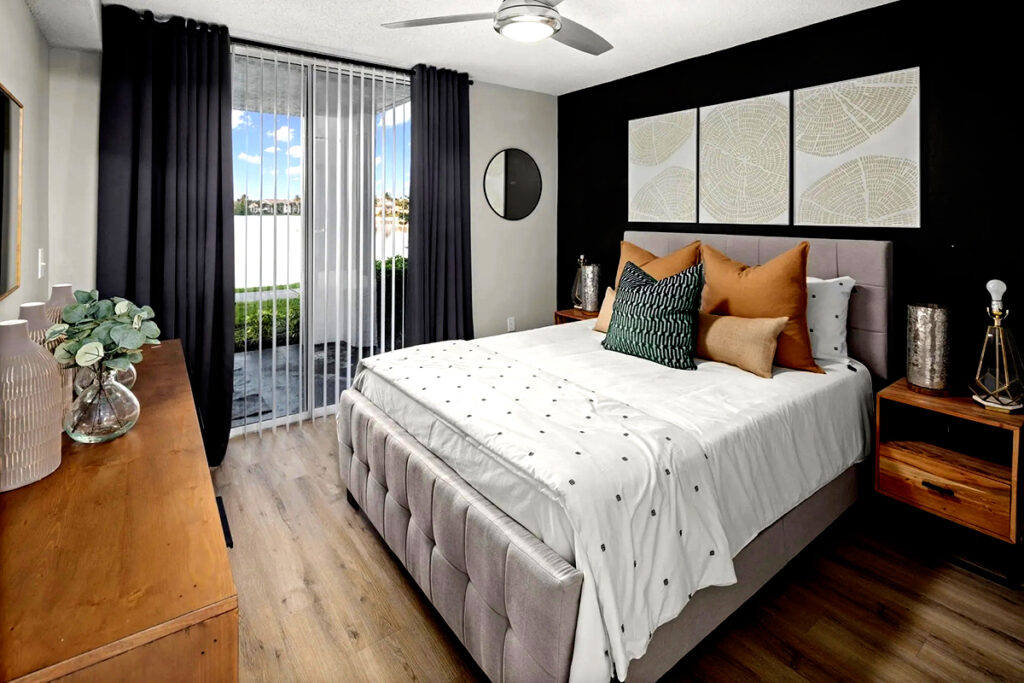 This room perfectly blends the urban edge with serene comfort. Those deep black curtains? Absolute showstoppers, right? They complement the black accent wall behind the bed, giving the room a bold, contemporary feel. But what really catches the eye? Those geometric art pieces – so chic! Dive deeper, and you'll see the harmony in the color palette: soft lavender, earthy browns, and pops of burnt orange. Every detail, from the dotted duvet to the vases, screams style. And that wooden furniture? A nod to nature. Just brilliant!
24. Elegant Simplicity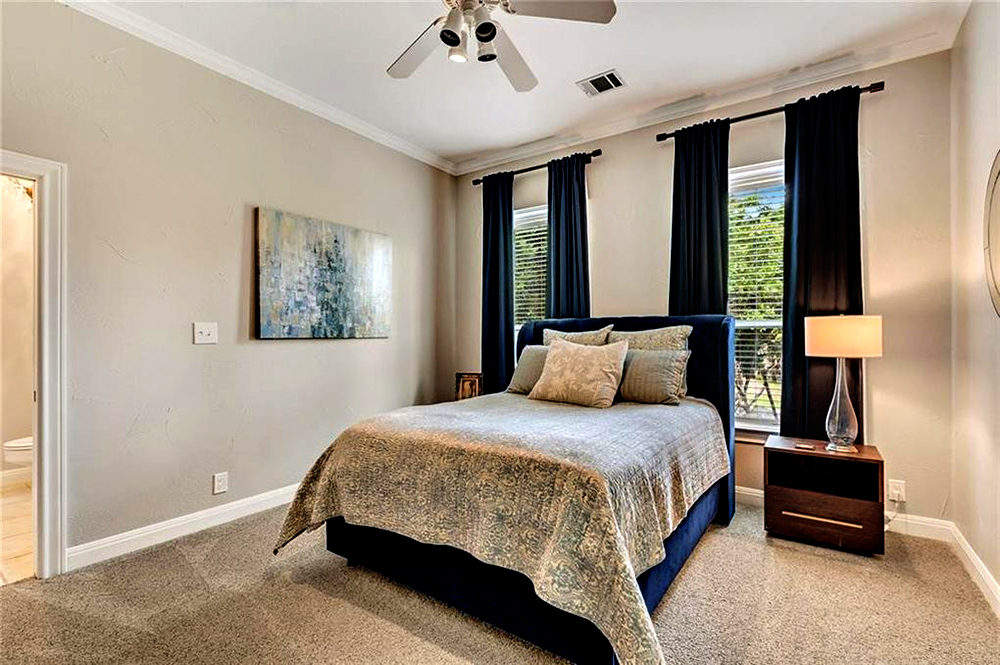 Check out this tranquil bedroom. The black curtains? Pure sophistication, pairing so well with the deep blue of the bed. The muted tones of beige and soft gray paint create a calming backdrop punctuated by mesmerizing abstract art. A patterned bedspread adds texture, and that sleek bedside lamp? Lighting goals! Together, every piece whispers elegance in this cozy haven. Don't you just love it?
25. Light Meets Lively Patterns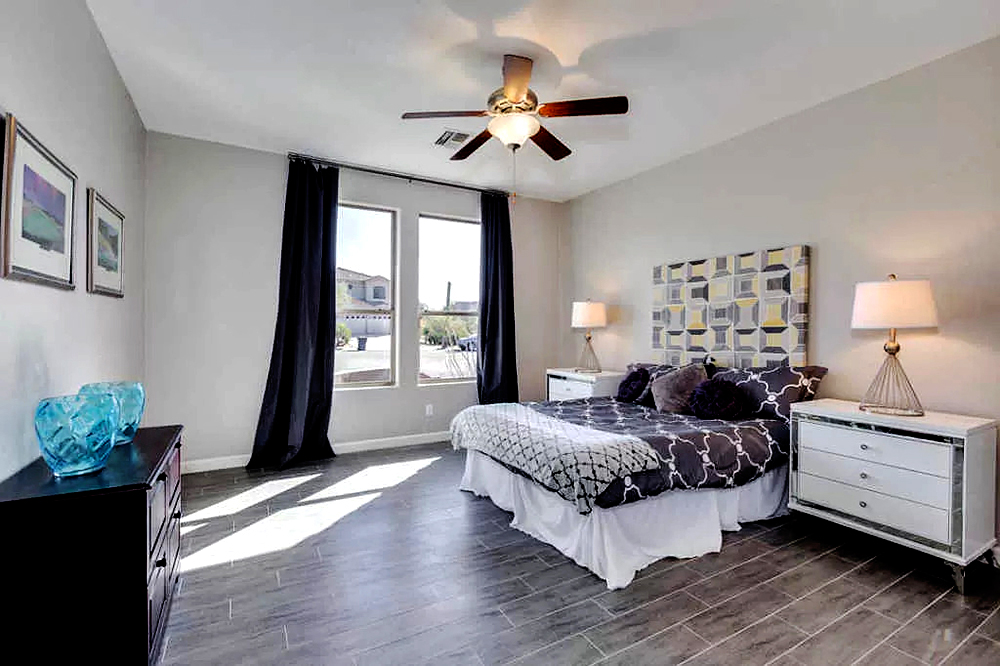 Next is the airy bedroom. Those inky black curtains? Drama in the best way, contrasting the room's light palette. A playful gray and yellow headboard steals the show, echoed by those inviting bed linens. The glossy tiled floor mirrors the sun, while framed art and a turquoise vase add pops of color. Sleek white nightstands, capped with classic lamps, finish the scene. Dreamy, right?
26. Classic Meets Cozy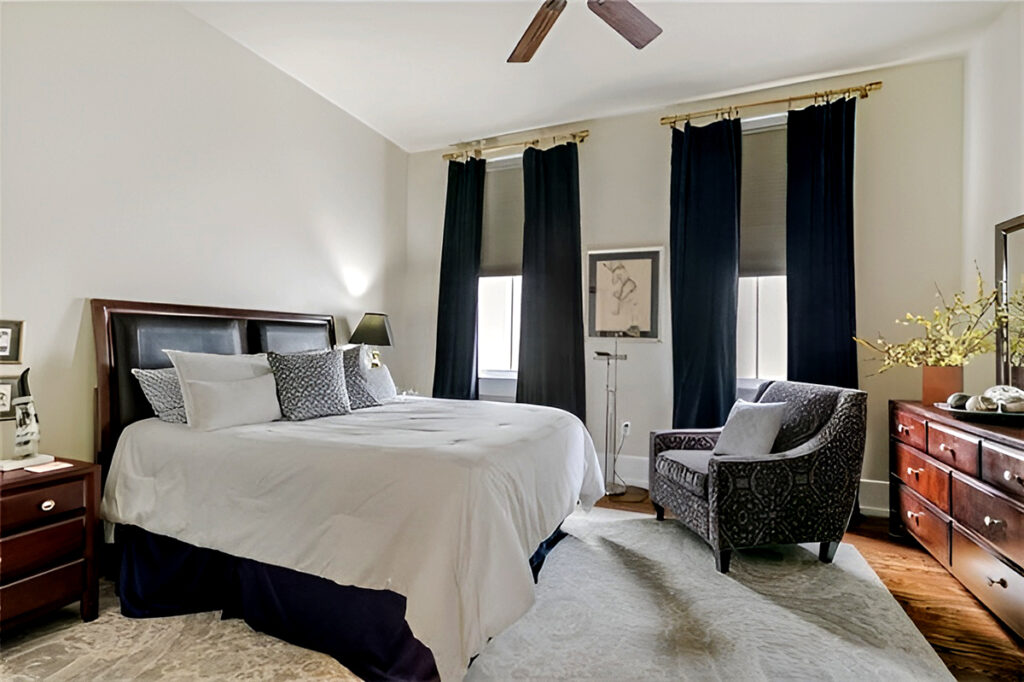 Take in this bedroom's plush vibe. The deep black curtains? Pure sophistication. Paired with soft, neutral walls, they pop! The patterned chair? A touch of boho charm. With crisp white bedding, wood accents, and that artsy touch on the wall, it's a harmonious blend of classic and fresh. Delightful, isn't it?
27. Cool Blues & Eclectic Vibes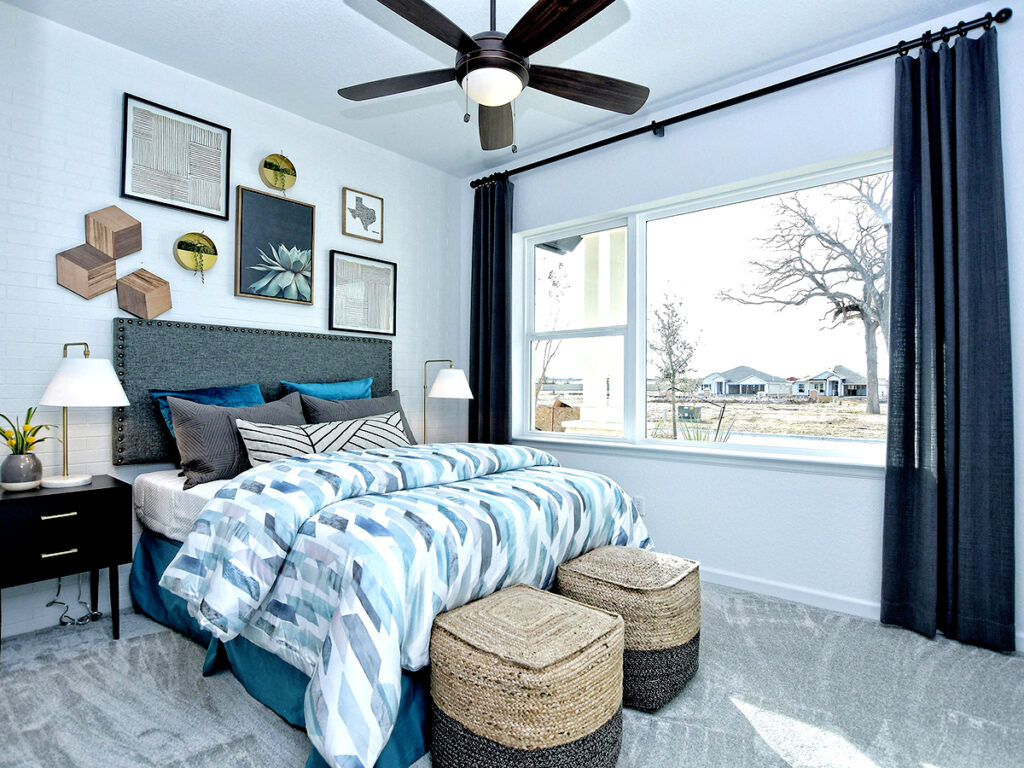 Let's check out this chill, blue oasis. Notice those sleek black curtains? They frame the view perfectly. The color palette is dreamy—shades of blue and calming grays everywhere. Eclectic wall art? Check. A dash of rustic with those wooden cubes? Absolutely. And those patterned pillows and striped bedding? A masterful mix! It's all about blending style with serenity. Pure magic, don't you think?
28. Muted Palette Retreat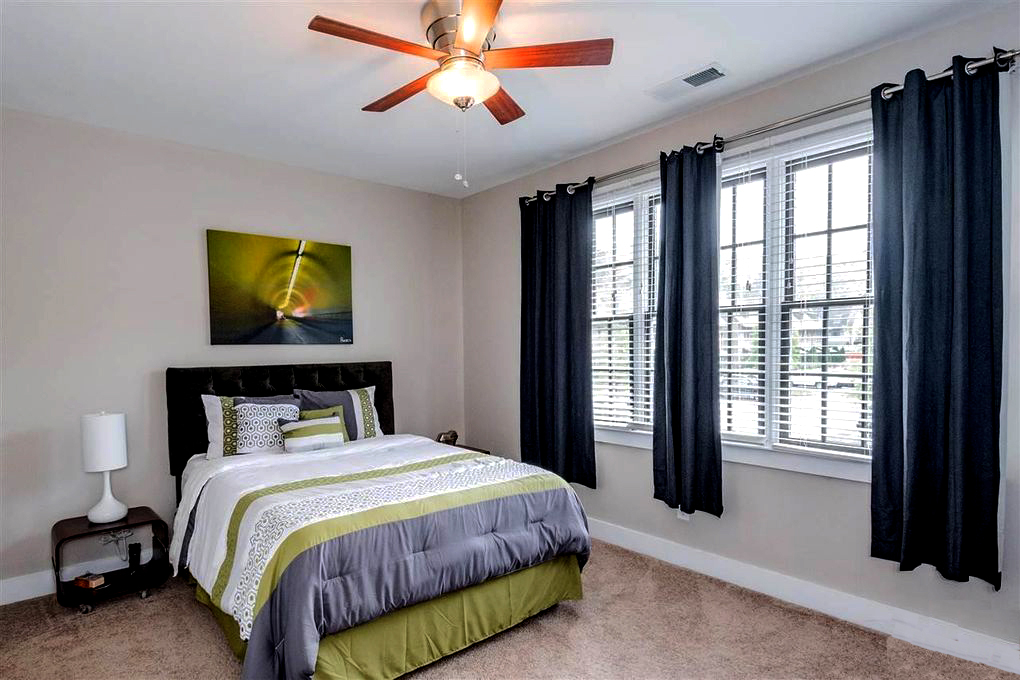 This bedroom is a blend of understated charm and modern touches. Those black, full-length curtains are spot-on if you want a serene escape. They provide privacy while balancing out the room's muted tones. This bedroom decor shines with its chic headboard and a vibrant art piece injecting color. Next up, let's talk bedding. Layers of white, gray, and green harmonize beautifully, echoing the abstract design on those playful pillows. Plus, the white lamp and vintage suitcase side table? They're the cherry on top of this cozy nook. A room that honestly whispers elegance.
29. Monochrome Charm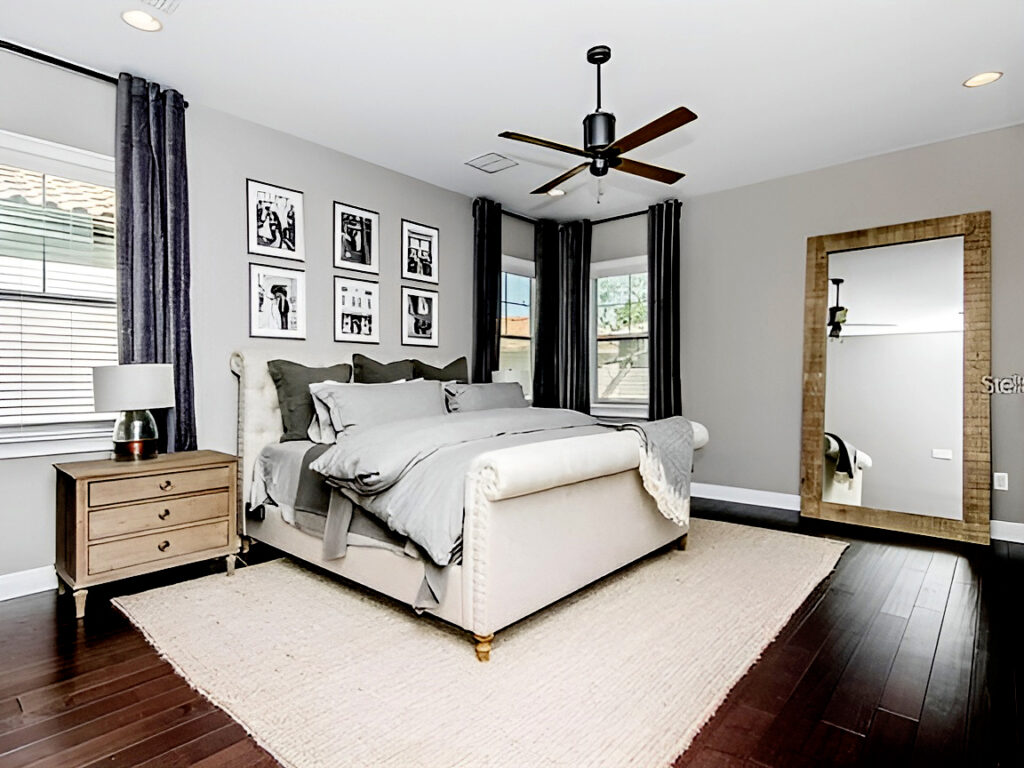 This bedroom design showcases a masterful play on black and gray. If you're searching for sophistication, those velvet black curtains are a showstopper, framing the room's ambiance. This bedroom decor draws you in with a gallery wall of monochromatic art, adding a contemporary splash. Next up, the calming gray and white bedding complements the dark wooden flooring, setting a cozy mood. And let's not skip that rustic wooden mirror! A touch of earthy texture that warms the space. Pair it with the vintage-inspired nightstand, and you have a room where modern meets classic in the best possible way.
Tips for Decorating A Bedroom With Black Curtains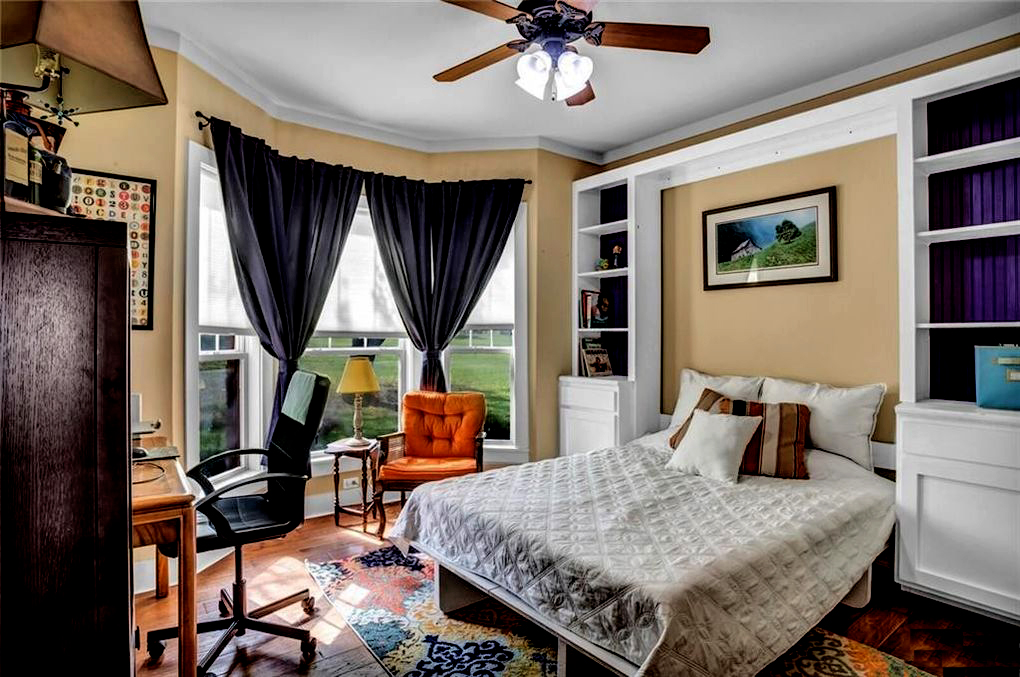 So, you've decided to plunge with those oh-so-chic black curtains. Either way, decorating a bedroom with these dark divas can feel intimidating. But fear not! We have some killer tips to turn that bedroom into a stylish oasis.
1. Wall Colors
Black curtains are a statement. Balance them with lighter wall hues like soft greys, pale blues, or even crisp whites. Want to go wild? A textured or patterned accent wall could be the perfect backdrop.
2. Metallic Accents
Think of black as the night sky. Now, sprinkle in some stars. Gold, silver, or brass decor pieces—frames, lamps, or bedside accessories—pop spectacularly against black. It's like a sprinkle of stardust in your bedroom!
3. Textures and Patterns
Monochrome can be magical. Mixing patterns and textures—a plush rug, a velvet chair, or geometric bed linens—adds depth. It ensures the room feels warm and layered, not flat.
4. Pops of Color
While monochrome has its charm, a dash of color doesn't hurt. Vibrant throw pillows, a bold blanket, or even colorful art pieces can break the monotony and add excitement.
5. Natural Elements
Soften the boldness of black with some green buddies. Plants, whether large potted ones or cute succulents on your nightstand, breathe life (literally!) into your space. Plus, the green contrasts beautifully against the black.
6. Light Play
Lighting is key. Soft, warm lights, perhaps through statement lamps or fairy lights, can create a cozy ambiance. Consider sheer curtains or blinds behind the black ones, allowing diffused light during the day and pitch black for the night.
7. Minimalist Approach
With such striking curtains, sometimes less is more. Choose furniture and accessories wisely. Keep it sleek simple, and let each piece have its moment to shine.
8. Play with Sizes
Who said both curtains need to be black? Try one panel in black and the other in a contrasting hue. Or, use tie-backs to reveal a splash of color or texture from behind.