Sunshine-yellow bedroom walls radiate warmth and positivity. To enhance this sunny ambiance, selecting the right curtain color is essential. From classic white's pristine simplicity to navy blue's bold depth, the perfect curtain hue can elevate the entire room's look. Discover the top curtain color picks that flawlessly complement yellow bedroom walls, balancing vibrancy and relaxation. Your window treatments are about to get a sunny upgrade!
1. A Cozy Corner with Yellow Hue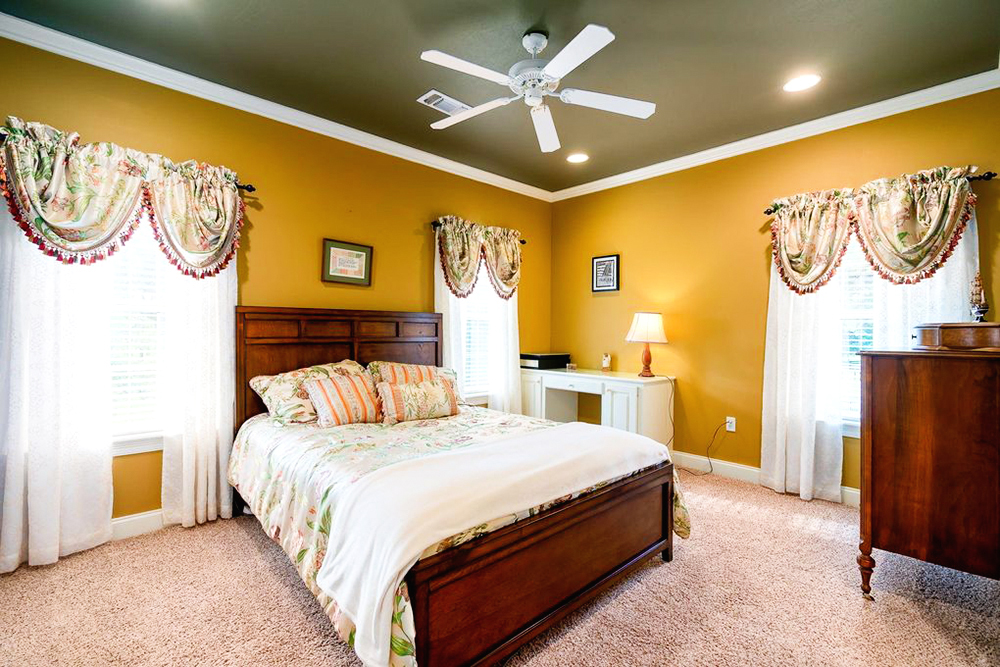 The white base of the curtains is a timeless choice that contrasts subtly against those buttery-yellow walls. But what truly steals the show is the over-the-top valance adorned with delightful floral patterns and tasteful fringe details. These colorful designs bring a touch of vintage charm, don't you think? They perfectly echo the hues in the bedding. It's a masterful blend balancing the room's sunny backdrop with soft, calming neutrals and vibrant pops of color. A genuinely harmonious haven!
2. A Nook of Vintage Elegance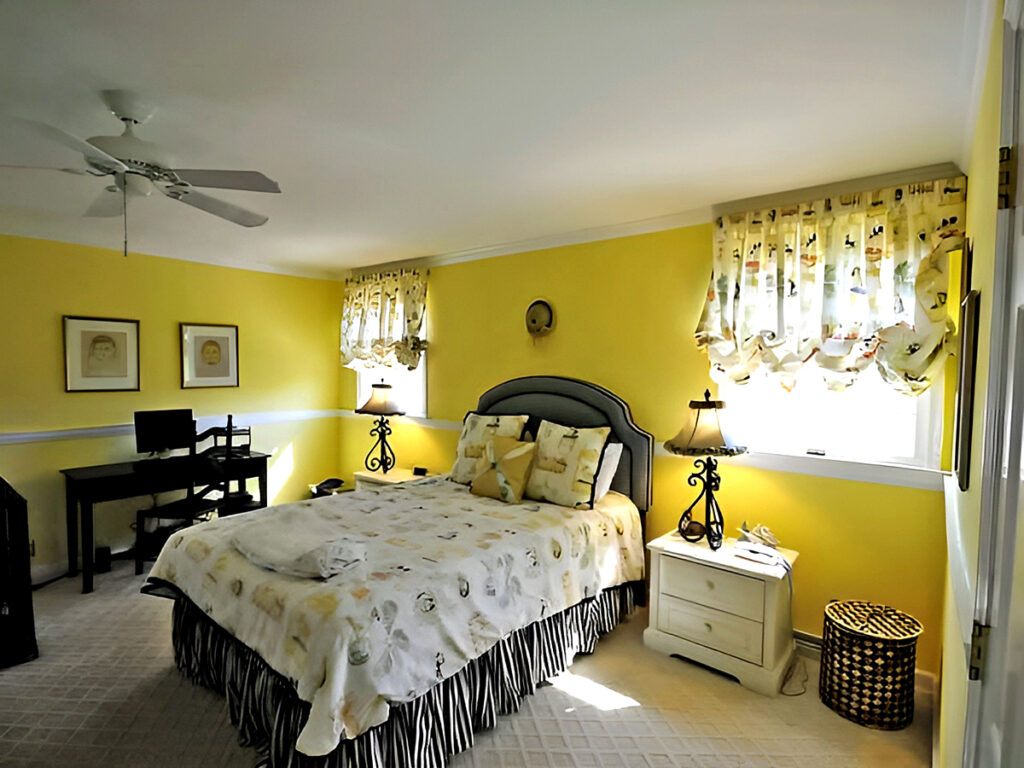 These bedroom walls, painted in a vibrant lemon-yellow, truly set the stage. Now, let's chat about those curtains. With their playful, almost whimsical print, they inject a touch of personality without overwhelming the room's essence. The soft hues in the curtain design complement the room's yellow palette, while the ruffled edges ooze vintage vibes. It's like a nod to yesteryears but with a fresh twist. And that bedside lamp? It ties everything together, creating a cozy, cohesive look. This room is a sunny daydream come to life!
3. Golden Retreat with Dusky Blue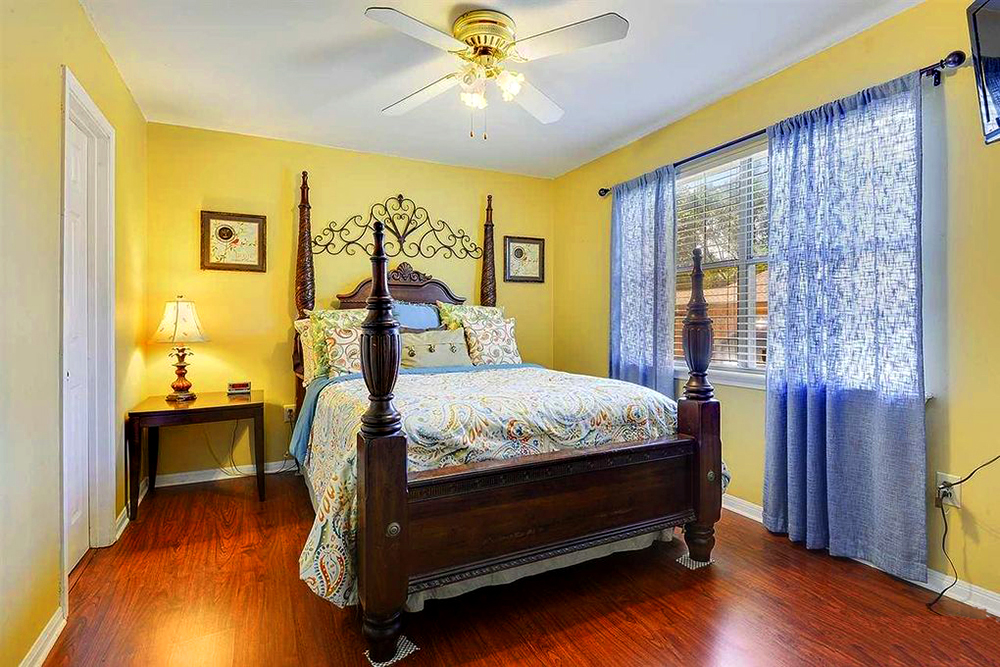 The buttery-yellow walls give off that sunny, optimistic vibe we all love. But what's got me really excited are those dusky blue curtains. See how the design introduces a mellow contrast? Their textured pattern captures the light, adding depth and intrigue. It's like having a calm ocean view right in the middle of this sunny haven. The wooden furnishings and ornate bed frame lend an old-world charm, but the curtains bring a contemporary twist. This room, my friends, is where classic meets modern, and boy, is it a match made in heaven!
4. Nautical Nuances Meet Sunlit Charm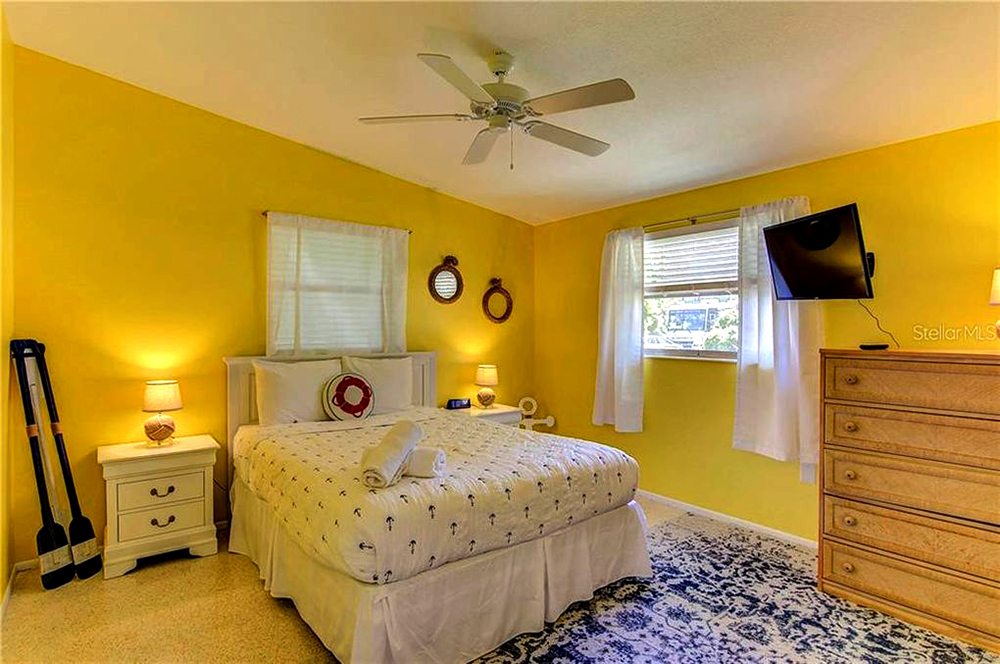 Dive in with me into this sun-drenched oasis! That vibrant yellow on the walls? It's like a summer's day in a room, right? Now, cast your eyes on those pristine white curtains. They're the perfect foil, lending a calm, breezy feel. Simple, but oh-so-effective. And can we talk about the nautical touches? The anchor pillow, round mirrors reminiscent of ship portholes, and the oar casually leaning transport you straight to the coast! While the room basks in its sunny glow, those curtains ensure a cool retreat from the hustle and bustle. It's like a day at the beach, every day!
5. Muted Gray Curtains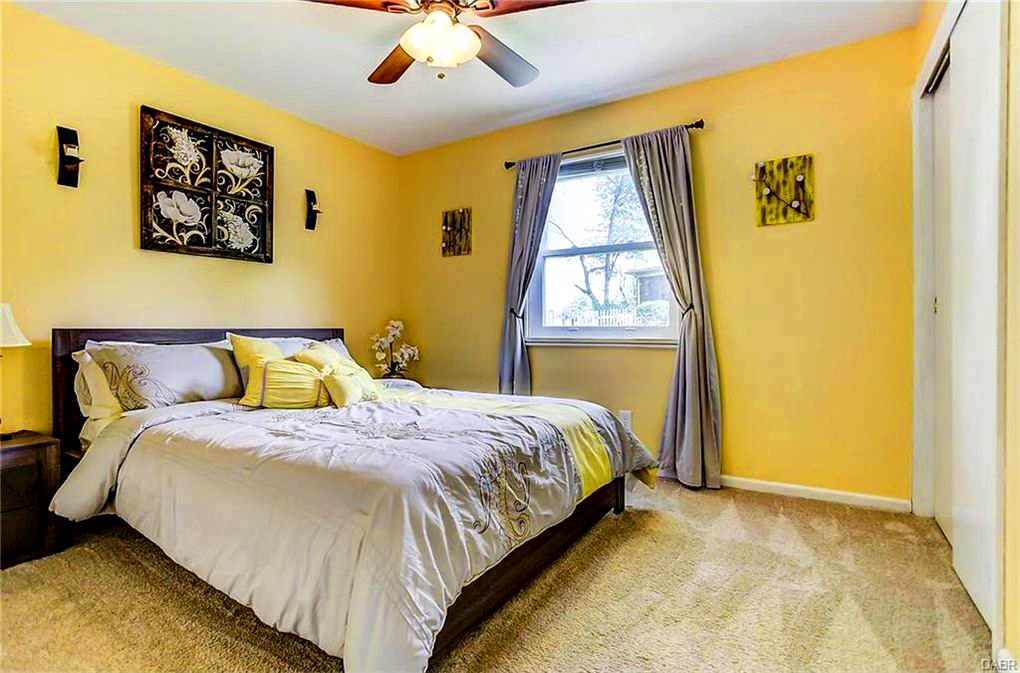 Those yellow walls are like a soft morning hug, aren't they? Now, glide your gaze over to the muted gray curtains. They're a subtle masterpiece, contrasting the room's sunny demeanor gently. Their understated elegance plays off the vibrant walls without stealing the show. And can we pause for a moment on the wall decor? Those ornate panels and artistic installations exude vintage charm, tying the space together in a nostalgic embrace. It's a symphony of warmth and sophistication, orchestrated perfectly in this inviting bedroom!
6. Deep Olive-Green Drapes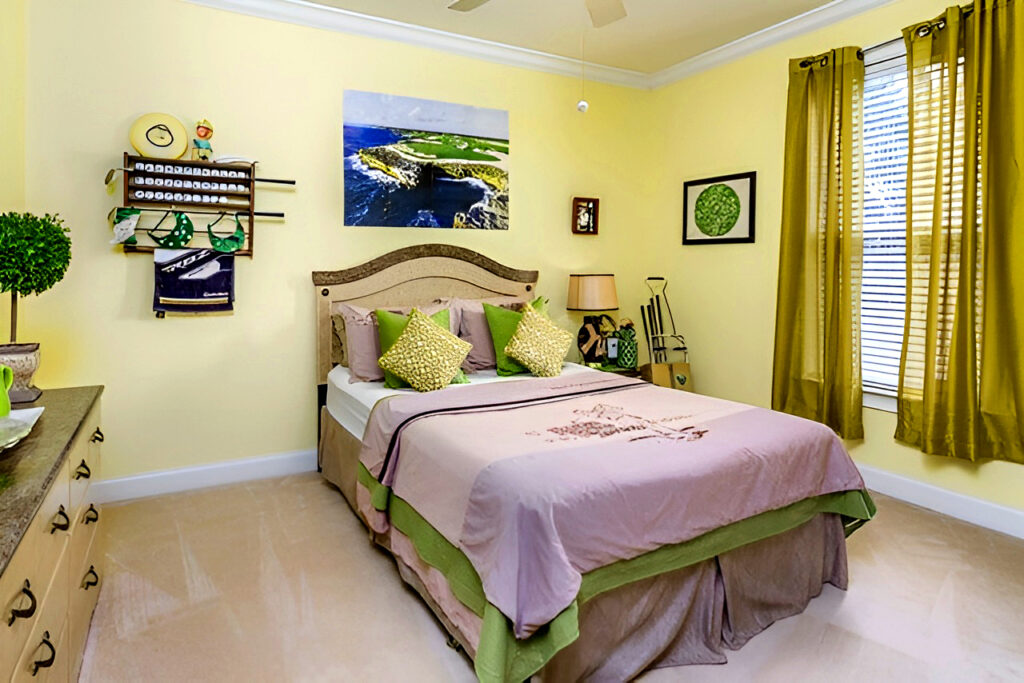 This room indeed feels like a vacation! Bathed in a calming lemon hue, it's an instant mood-lifter. Now, let's sail over to those curtains. The deep olive-green drapes are a genius choice. They complement the yellow walls and evoke a tropical island vibe. Pair that with the eclectic mix of island-themed decor — the ocean canvas, the paddle, the vibrant pillows — and you're transported to a beachfront resort! It's a seamless blend of color and theme, making for a breezy, sun-soaked retreat. Who needs a vacation when home feels this good?
7. Draped in Calming Hues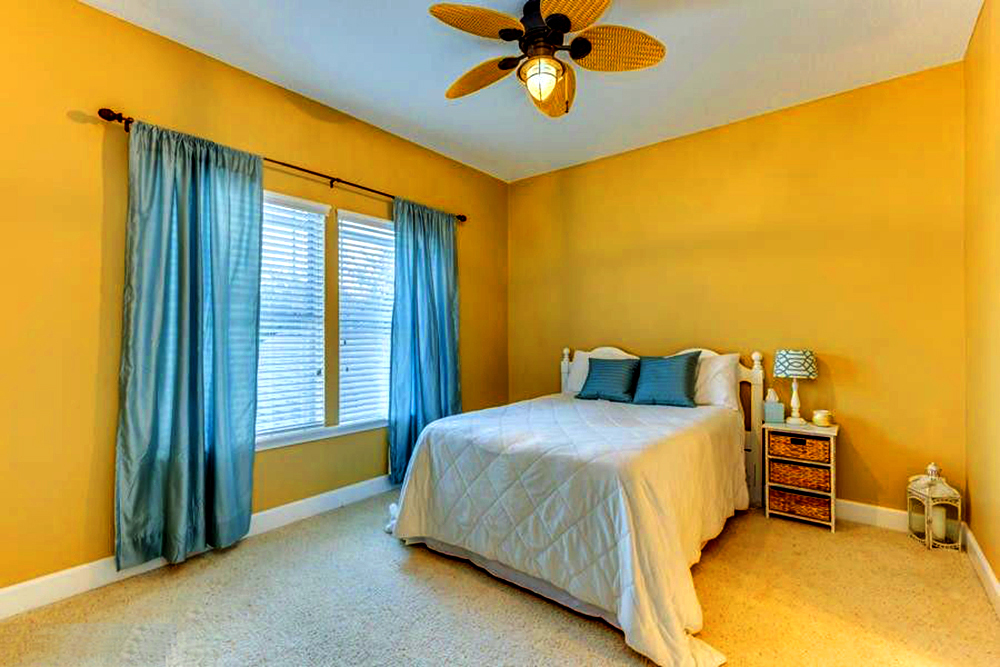 This bedroom radiates a calm serenity that's hard to resist. Those sun-drenched yellow walls set a cheerful stage, but the powdery blue curtains caught my eye. They introduce a gentle, contrasting coolness, like a soft sea breeze flowing through the room. The delicate drape of the fabric adds a touch of elegance, harmonizing perfectly with the walls. And those teal accent pillows? They subtly echo the curtains' hue, creating a balanced look. It's simplicity at its best, where each element plays its part to perfection. Now, that's room goals right there!
8. Breezy Blue Curtains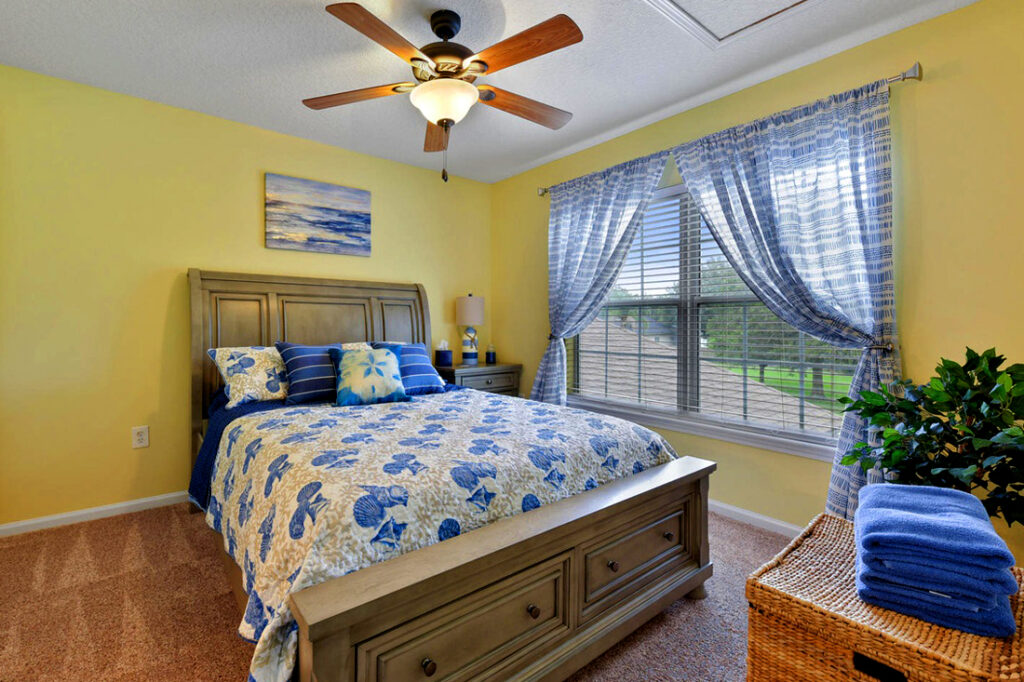 Next, let's dive into this bedroom's coastal vibes, where the sea meets the sun. Those vibrant yellow walls channel warm, sunny days while the breezy blue curtains whisk us away to the coastline. With their gentle patterns, the curtains playfully dance with the light, creating a calming ripple effect. Paired with the oceanic-inspired bedspread and cushions, it's a heavenly maritime match. And that tranquil seascape artwork? It's the perfect finishing touch. This room isn't just a bedroom; it's a seaside escape.
9. Classic Meets Contemporary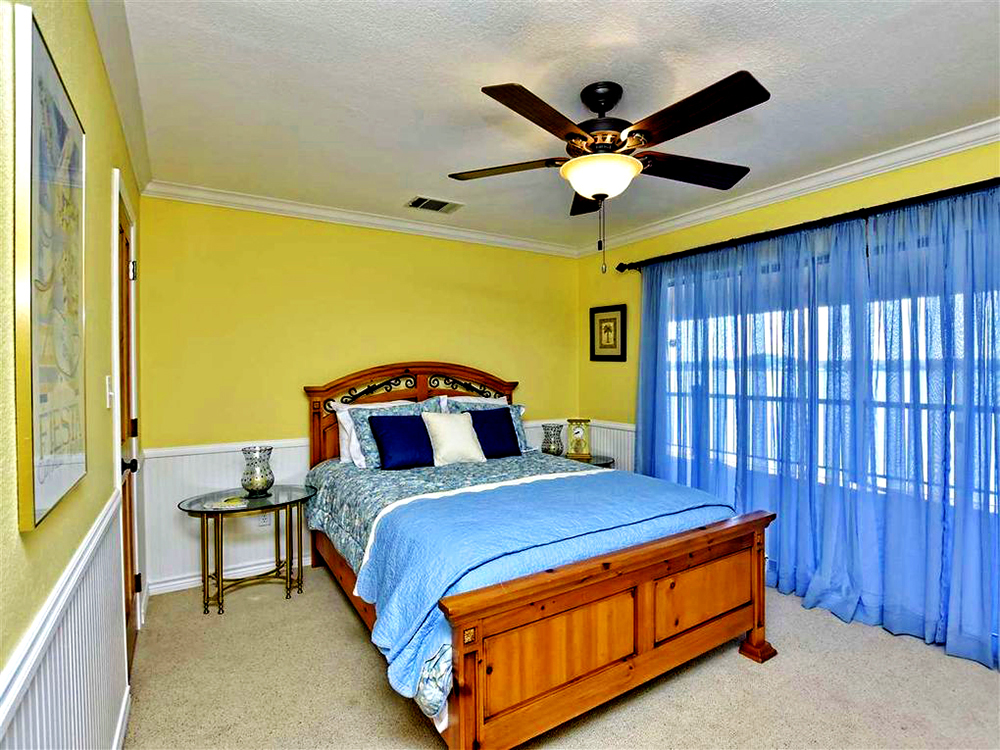 Here's a bedroom that's both classic and contemporary. Those sunny yellow walls exude warmth and cheer, setting a bright backdrop. Now, let's chat about those dreamy blue curtains. They're like gentle morning mists, providing a soft contrast to the room's vibrancy. Their sheer texture allows the sun to play peek-a-boo, casting delicate patterns on the floor. Pairing them with the ornate wooden bed and tranquil blue bedding is simply genius. Every detail, from the wainscoting to the timeless art pieces, enhances this room's inviting aura. It's a modern-day classic, wouldn't you agree?
10. A Symphony in Yellow and Peach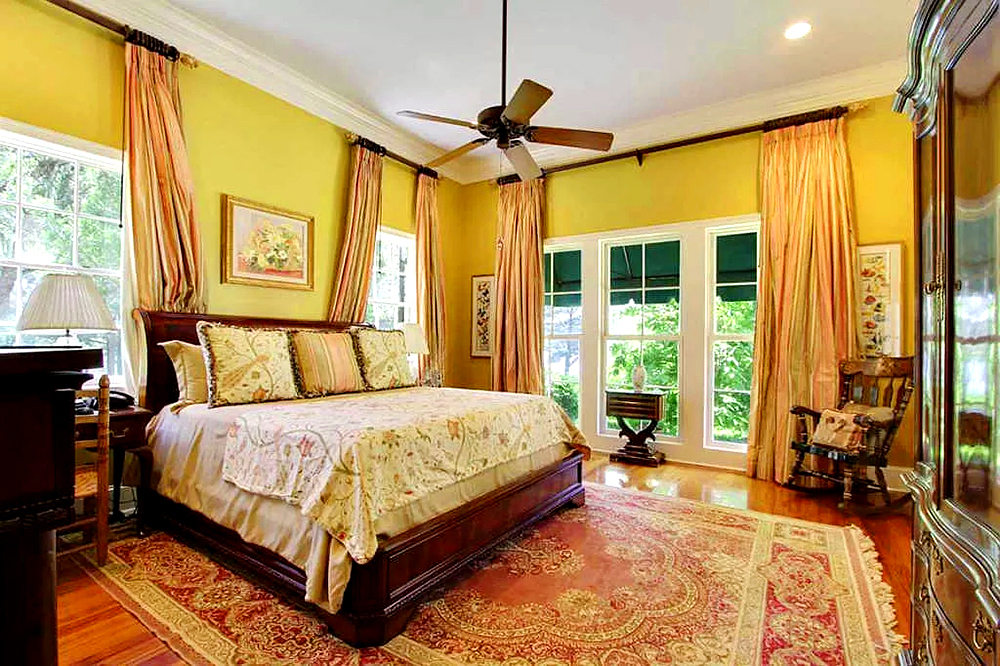 Take a peek into a room that feels like a step back in time but with a fresh twist. With walls painted in a sun-kissed yellow, the stage is set. The real stars here? Those opulent peach curtains! Their velvety cascade frames the windows with a regal touch, contrasting beautifully with the vibrant walls. The tie-backs give them structure and allow the outside greenery to be a part of the room's charm. Paired with a vintage rug and classic wooden furniture, it's a harmonious blend of the ancient and the contemporary. Truly a timeless gem, right?
11. Sunny Retreat with a Dash of Elegance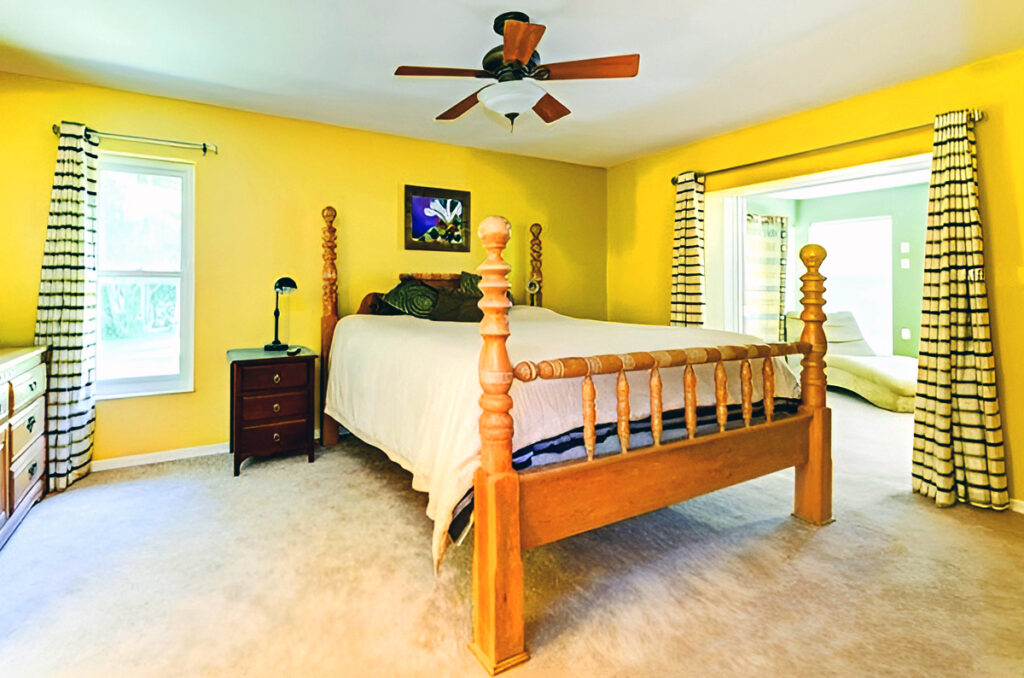 Those yellow walls radiate warmth, don't they? And can we talk about those curtains? Their grid-like pattern breaks the monotony, adding a hint of sophistication. The earthy hues in the curtain design are the secret sauce — they ground the room, creating a balance with the vibrant walls. Pair that with the rustic charm of the wooden bed, and you've got a serene yet stylish bedroom. These patterned curtains are the way to go if you aim for a sunny yet refined look. Cozy and chic — the best of both worlds!
12. Vintage Elegance Meets Sunlit Charm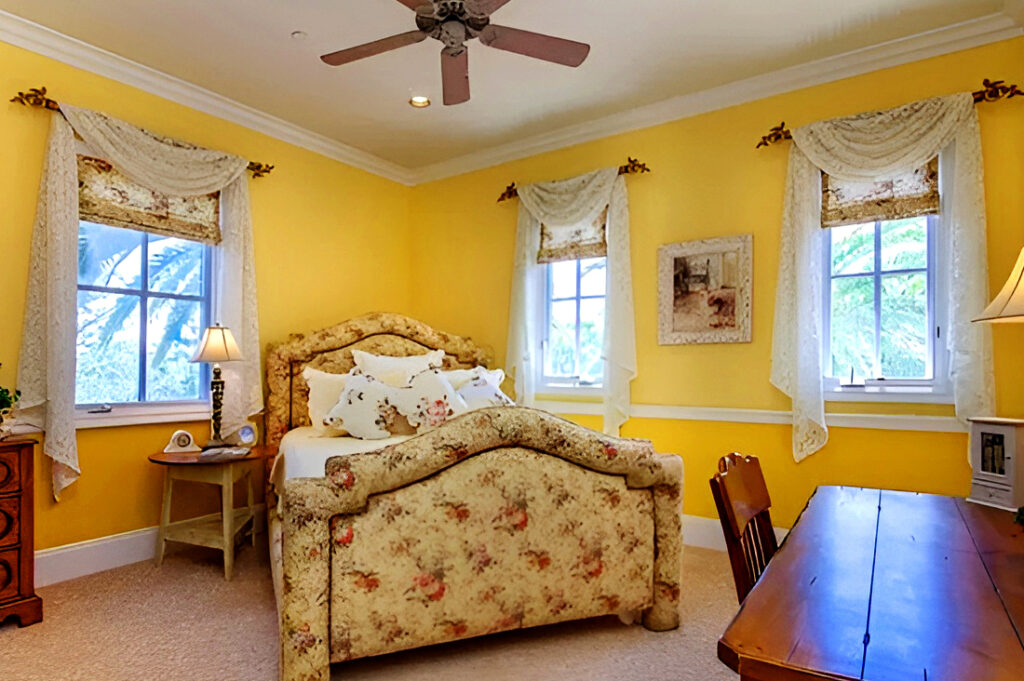 Stepping into this room is like diving into a pool of golden sunlight. Those buttery yellow walls are pure joy, right? But let's zero in on those curtains. The lace design oozes vintage elegance, while the creamy color complements the sunny backdrop without overpowering it. And here's a tip: lace curtains in light hues are perfect for bright rooms — they allow light in while maintaining privacy. With the floral-patterned bedding and rustic furniture, this bedroom feels like a nostalgic dream. Looking to give your yellow bedroom a touch of old-world charm? Lace might just be your best bet!
13. Modern Chic in a Sunlit Sanctuary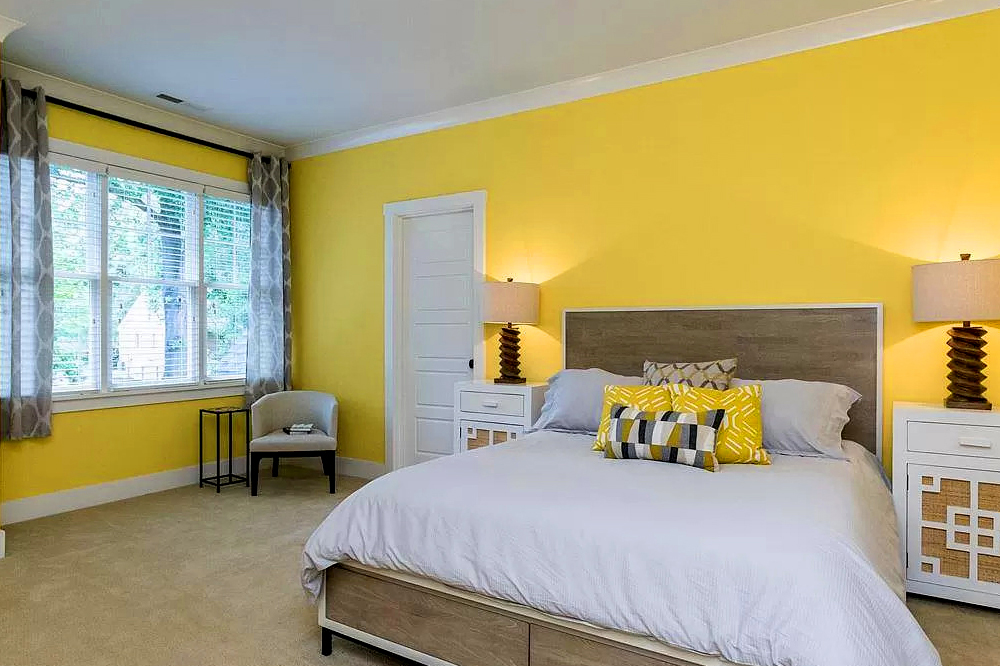 Picture waking up in this bright, sun-kissed space. The vibrant yellow walls? Totally refreshing! But let's talk about those curtains. The subtle gray with geometric patterns brings a modern twist. It's a cool contrast to the warmth of the yellow, creating a balanced look. Gray is versatile and blends with almost any color, especially with vibrant yellows. Add some matching pillows and contemporary furniture, and voila — it's a stylish haven. Consider a dash of gray if you're thinking about jazzing up your yellow bedroom. It's chic, modern, and oh-so-cozy!
14. Bold Elegance in a Sunshine Suite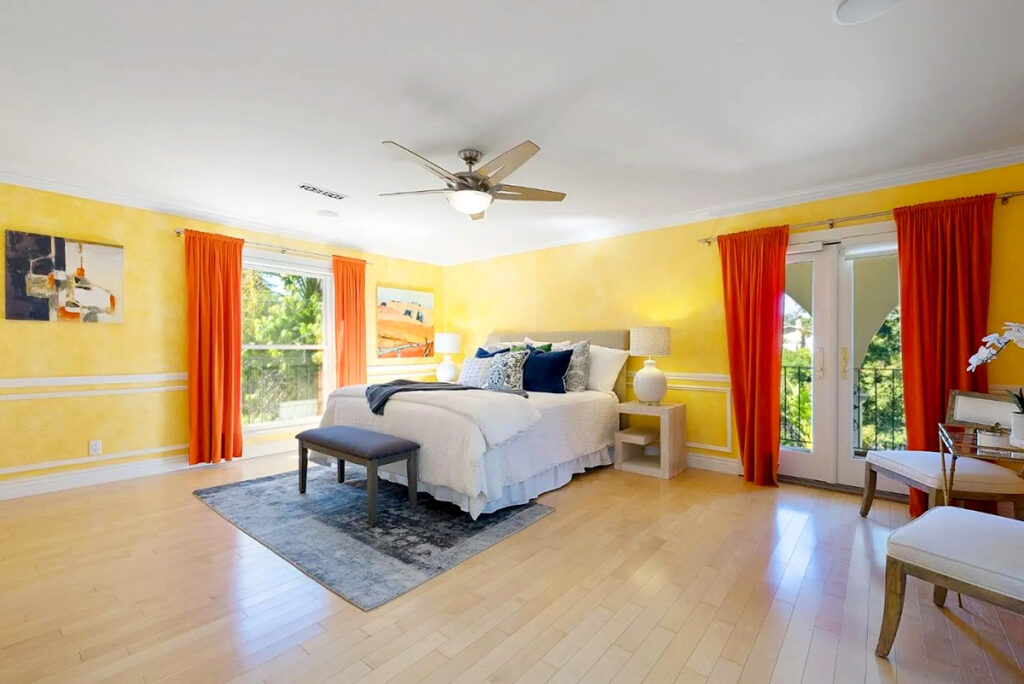 With a rich yellow setting the stage, those bold, fiery-red curtains steal the show. It's a daring choice, but oh, how it works! The red curtains pop and evoke warmth and passion when paired with a golden yellow. The combination is dynamic yet balanced. It's like a sunset every day in your room! If you've got yellow walls and a daring spirit, why not flirt with a touch of red? It's bold, it's beautiful, and it's a game-changer.
15. Nature-Inspired Curtains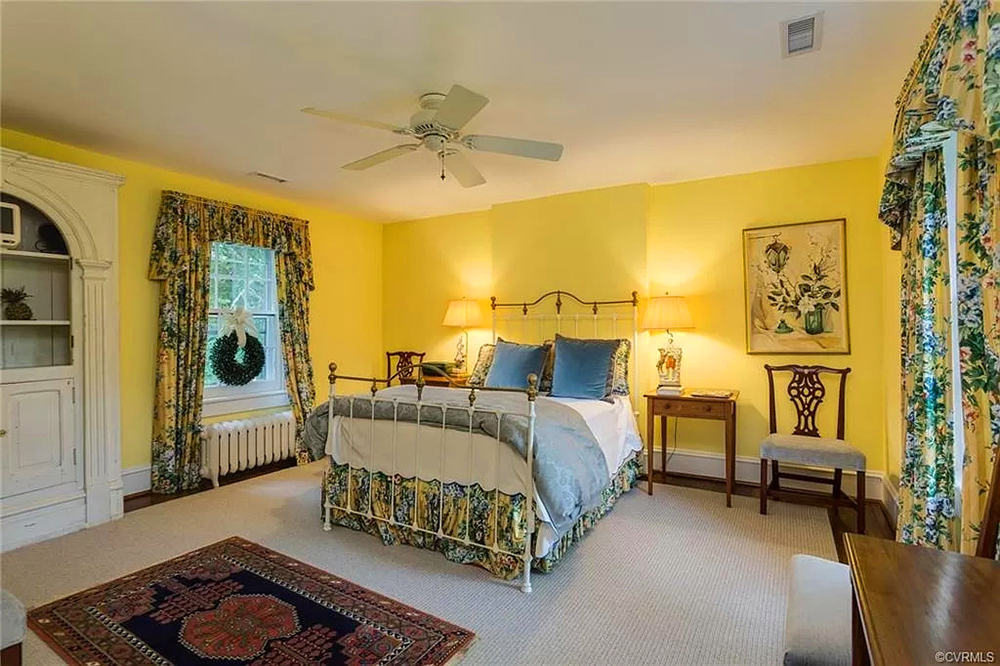 With a sunlit yellow background, the room sings with the harmony of nature-inspired curtains. The mix of florals on a dark backdrop makes them pop, creating an inviting, garden-like atmosphere indoors. If you're thinking of jazzing up a yellow room, consider intricate designs that pull in complementary colors, like these blues and greens. The look feels cohesive, sophisticated, and a tad whimsical. The curtains' vintage charm paired with that delightful bedspread? Simply delightful! So, if you're aiming for timeless elegance with a hint of nature, this is the way to go!
16. Sunshine & Playtime Vibes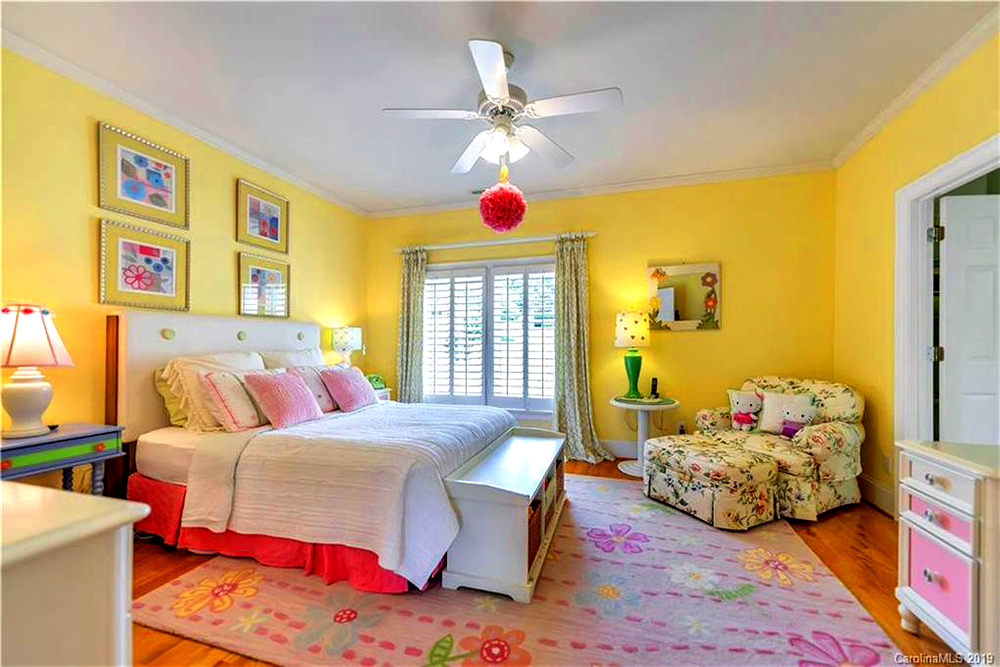 Here's a room that shouts fun and whimsy! This buttery yellow room is the epitome of youthful charm. The drape's soft pattern, with its muted greens, doesn't compete with the vibrancy of the walls but rather complements it. When choosing curtain colors for a yellow room, especially one with such a playful tone, subtle patterns can be your best friend. Add in framed artwork, a colorful rug, and eclectic furniture, and you've got yourself a lively, cohesive space. Remember, it's all about balance, and this room nails it by combining subtlety with pops of color. Love it!
17. Elegant Vintage Reverie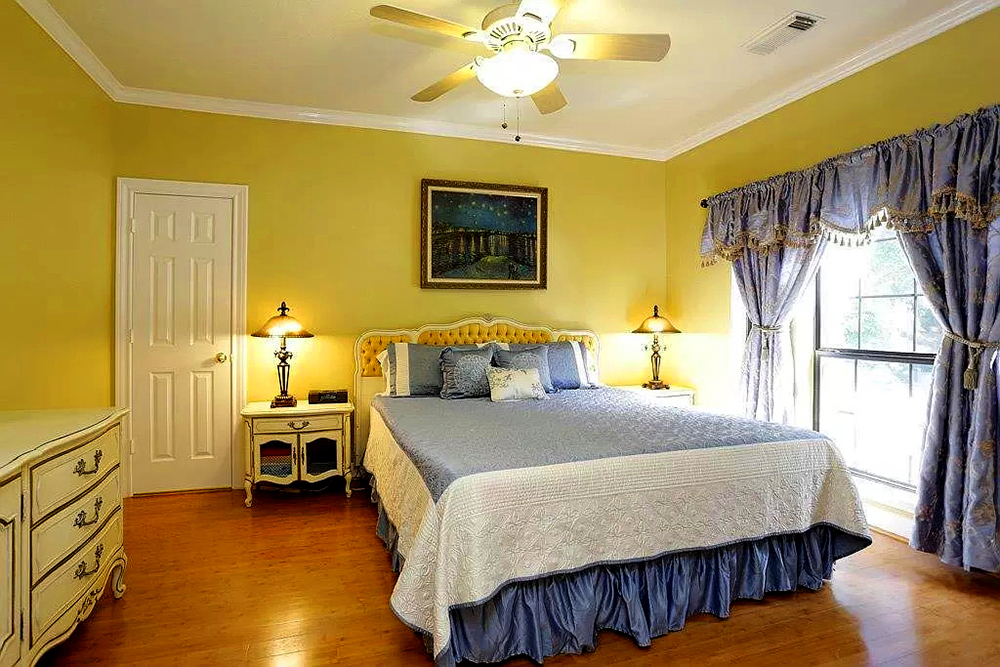 Step right into a room that's a nod to the past with a touch of today. Those soft blue, vintage-inspired curtains? Pure elegance! Pairing them with buttery yellow walls offers a soothing contrast. Cool tones like these muted blue curtains work wonders when aiming for a sophisticated look in a yellow bedroom. The tassels and valance add texture and a hint of grandeur. In short, the room incorporates matching blue linens and classic white furniture. So, if you've got yellow walls and a penchant for the past, this curtain style might be your ticket to vintage heaven.
18. Timeless Opulence in Sunshine Yellow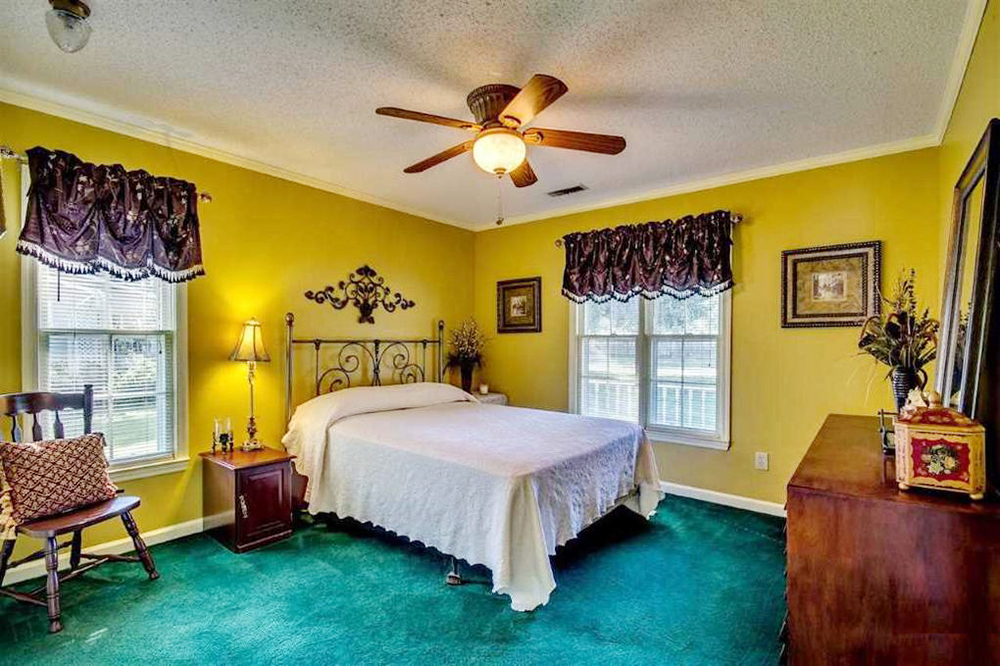 Yellow walls and deep purple curtains? It was a bold move, but oh, how it pays off! This room is the definition of rich contrast. These ornate, deep purple valances exude a regal flair, making them a striking counterpart to the room's sunny walls. The key is the intricate lace detailing and lavish draping, which bring an old-world charm into the space. When set against a vibrant yellow backdrop, these curtains are jewel-like. If your yellow bedroom craves drama, consider a deep hue like purple. It's unexpected, undeniably classy, and creates an ambiance of timeless luxury.
19. Luxurious Olive-Green Velvet Curtains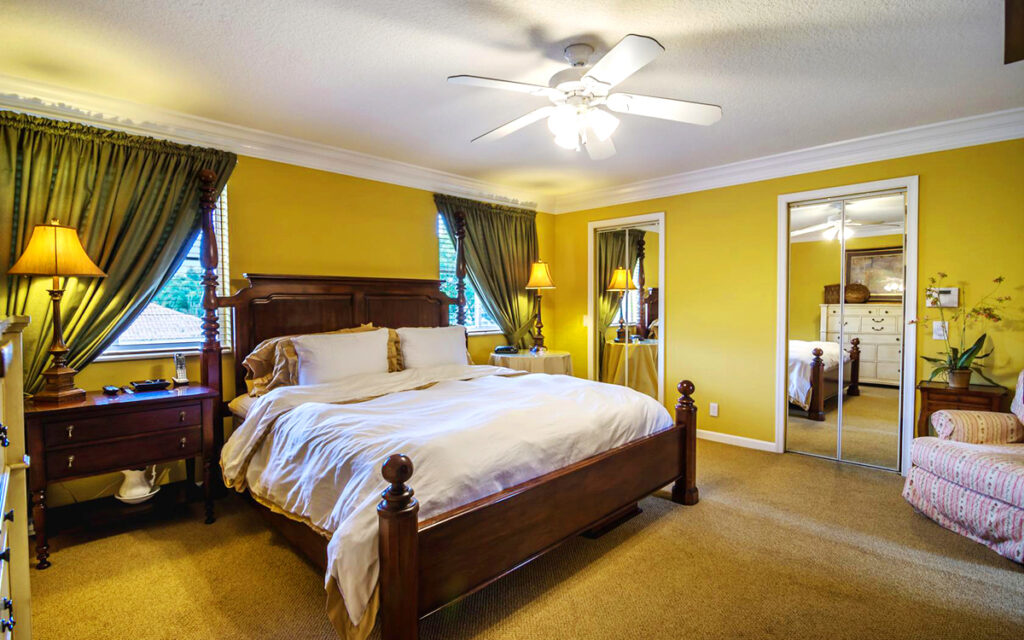 You know what's magical? Mixing deep, plush curtain fabrics with a bright room palette. Take a look here: these luxurious olive-green velvet curtains elevate the entire vibe. They offer a rich contrast to the golden-yellow walls, providing depth and a touch of sophistication. What's great about this combo is the way the velvet reflects light, creating a cozy ambiance. Think of it as bringing a touch of an old-world manor into a sunny countryside cottage. Pairing yellow walls with a deeper shade of curtain like this green brings balance and grandeur. It's a bedroom fit for royalty, don't you think?